County fair season is making its way around the corner!
This is the time of year where we gather with our families and friends and prepare for a good time outdoors at local county fairgrounds. Whether you wish to indulge in deep-fried treats on a stick, listen to great music, enjoy thrilling rides, or tour multiple exhibits; there is something fun for people of all ages to experience.
Related: 9 Kid-Friendly Places to Check Out on Your Next Minnesota Summer Vacation
With over 90 county fairs to choose from this year, your family will be able to experience the uniqueness and distinct events that take place at each fairground. No two are ever alike.
We have compiled up a short list of this year's upcoming Minnesota county fairs that you should absolutely visit this summer:
We are kicking off this summer with the Hennepin County Fair, located in Maple Grove. Visitors have the opportunity to experience great entertainment, contests, hands-on activities, bounce houses, and great food.
Don't forget to stop by the petting zoo or even participate in an animal calling contest. If you've got little ones, register them for the Hennepin 500 Power Wheels Obstacle Course Race. Kiddos get to experience the thrill and excitement of racing their power wheels along an obstacle course! May the best time win!
Entry fee to this fair is $4, and free for children under the age of 5 years old.
Parking is FREE!
Address:
Corcoran Lions Park
6847 County Rd 101
Maple Grove, MN 55311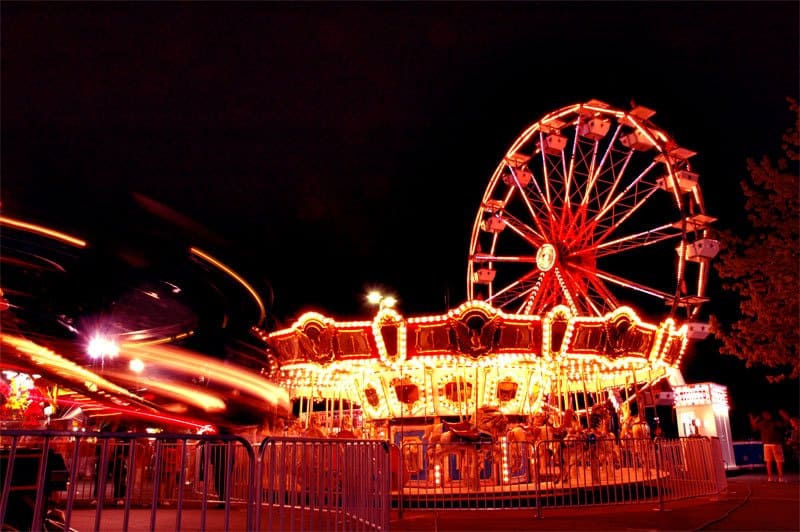 The Ramsey County Fair located in Maplewood is packed with numerous opportunities for fun and a wide selection of great food! This fair is the perfect size in terms of seeing everything all in one day.
Stroll through the fairgrounds to catch a glimpse of the annual car show which ends in a "Top 10" award ceremony on July 14th, 3:30 PM.
If you've got talent, consider registering in this year's talent show for a chance to win the first-place prize. The competition will take place at the Ramsey County Fairgrounds on July 14th, at 3:00 PM. All contestants must be a resident of Ramsey County (or if in a group, one person must be a resident). The competition is open to all amateur entertainers, and there is no age limit!
Entry fee to the fair is FREE!
Parking is $3.
Address:
Ramsey County Fair
2020 White Bear Avenue
Maplewood, MN 55109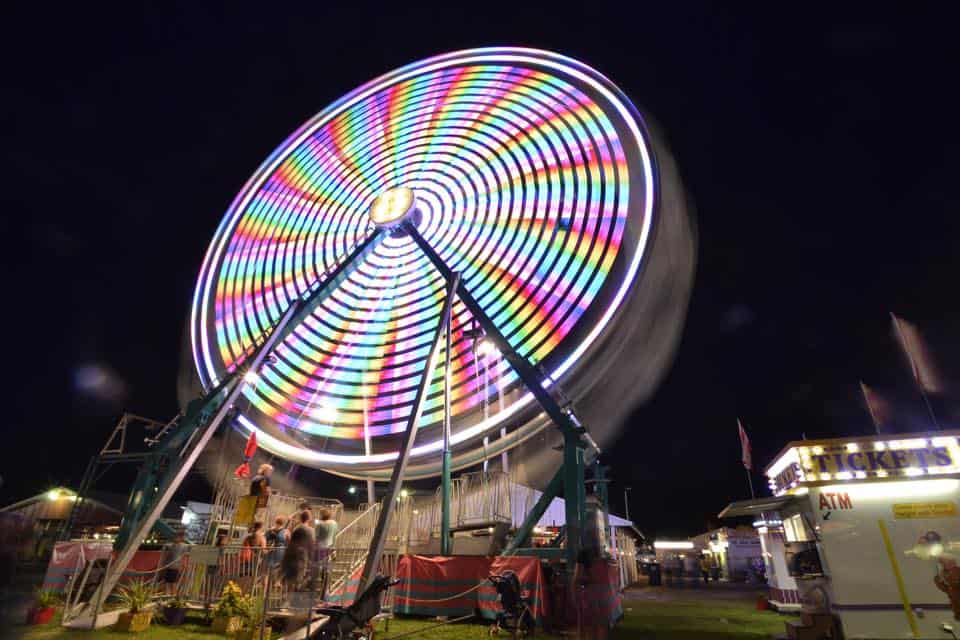 The Rice County Fair is held in Faribault and full of attractions for all the family to see. Enjoy demolition derby day, horse shows, and numerous kid activities.
If you've ever visited this fair in the past, you'll know that they crown a new Rice County Fair Queen at the Sellner Stage. This year, all applications are due by June 28th, 2019.
Among other events are hog calling contests, talent shows, karaoke contests (which includes a finals round), and daily prize drawings. To finish off your fair fun, stop by the Beer Garden to see some great musical entertainment. All bands will be playing from 8:00 PM to midnight with no cover charge.
Entry fee to the fair is FREE!
Parking is $5 a day with a pass being set $20 for the week.
Address:
Rice County Fair
1814 2nd Avenue NW
Faribault, 55021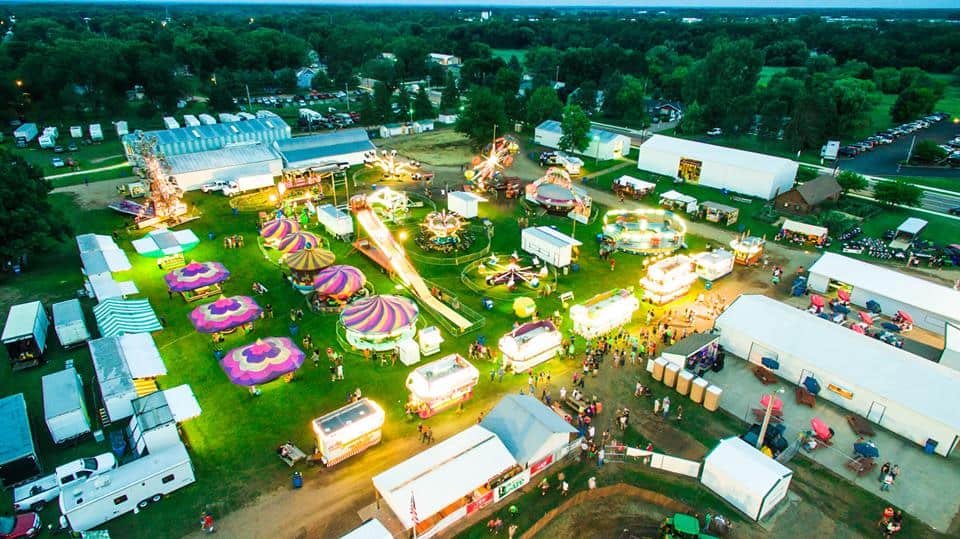 The Chisago County Fair is located in Rush City. This bustling fair is filled with something fun for every single fair-goer to enjoy. Come on out to experience the food, games, rides, activities, motocross, and derby events. You can even plan your visit to the six full animal barns.
If you have a talent that you wish to bring to the surface at the fairgrounds, now is your time to shine! Whether you dance, sing, or play an instrument, you can enter in one of the three amateur contest categories (based on age) for your chance to win a trophy and a $50 first place prize.
Anyone interested in displaying their talent during this year's talent show is encouraged to register along with a $15 entry fee to Tim Holt, 20192 345th St, Taylors Falls, MN 55084, before July 15th.
Entry fee to this fair is FREE!
Parking is $3 a day, or $7 for four full days of fair fun.
Address:
Chisago County Fairgrounds
905 W 4th St
Rush City, MN 55069
The Anoka County Fair in Anoka allows for community members to get involved and showcase their greatest skills and talents. Come join others in Open Class competitions such as photography, artwork, canned goods, baked goods and so much more!
This year's Grandstand Entertainment events include Motocross, Bull Riding & Mutton Busting, and Demo Derby. Pop on over to the fair website for a full list of all of their events to take place!
Other things to enjoy are pony rides, animal shows, coloring contests, carnival fun (which begin after normal fair hours), pedal tractors, and of course the goodness of all things deep fried.
Make note that this year's firework display is scheduled for one day only, which is to take place dusk on Wednesday.
Entry Rate:Seniors: 62 and older: $5 (Wed 8AM-2PM); 13 and older: $10; 7-12 years: $5; 6 and under are FREE!
Entry rate includes FREE Grandstand shows!
Parking: FREE!
Address:
Anoka County Fair
3200 St Francis Blvd
Anoka, MN 55303
If you're into shows, you don't want to miss out on the Scott County Fair located in Jordan. Enjoy the NEW Monster Truck Summer Nationals and Thrill Show, watch the All American Lumberjack Shows, or become one of many spectators at the One Man Circus and Fire Shows. Talk about endless opportunities for fun!
Some other shows to look out for are the Draft Horse, Ranch Rodeo, and Strongman Competitions. There is plenty more to see while enjoying these 5 days of summer fair fun!
Visit the Main Stage and listen to live music! A few of the bands that are scheduled to play this year are Tim Sigler Band, Dirt Road Dixie Band, Solid Gold, and Church of Cash. A complete list of this year's Main Stage Bands can be found at the Scott County Website.
For additional entertainment, take a spin on the fair's vintage Ferris Wheel, witness the miracle of birth of the farm animals, and enter into drawings for bikes and more prizes.
Entry fee to the fair is FREE!
Parking: Daily per Vehicle: $10; Season Pass: $20; Motorcycles: $5
Address:
Scott County Fair
7151 190th St. W Suite 145
Jordan, MN 55352
The Washington County Fair, located in Lake Elmo, is now bigger and better than it has ever been in past times! This year Senior day is on opening day, as well as the day that U.S. Veterans will be honored for their services.
For the second year in a row, Washington County Fair will be featuring their Autocross event located at the main stage. A cross between demo derby and racing, this event will surely catch the attention of all visitors!
So make plans this summer to enjoy music by the Rock n' Hollywoods, partake in Extreme Ball, and visit the many barn animals. Other things to do is watch the fair's horse shows, enjoy the carnival rides and tons of games. You can also test your baking and canning skills, as well as capture the creativity of the master gardeners.
Entry fee to this fair is $7 for ages 16 and over; $4 for ages 6-15; and FREE for children under the age of 6.
Season Passes are available for purchase as well: $18 for ages 16 and over; $6 for ages 6-15; and free for ages 5 and under.
Parking is FREE.
Address:
Washington County Fair
12300 North 40th Street
Lake Elmo, MN 55042
Get ready for an action-packed day at the Dakota County Fair located in Farmington. Stop by for an ice cream cone or a 1919 Root Beer at Heritage Village. Don't forget to visit the Ahlberg Heritage Center's new museum exhibits and agricultural displays! These locations are open to the public at no additional charge during the fair week events.
There is a lot to see this year at the Dakota County Fair, visit their events page for a full list of things to do! Saturday is "public safety day" and will include police departments and fire departments from many cities within Dakota County.
Also, mark your calendars! Monday is free admission day at the Grandstand!
Entry fee to the fair is $5 for adults; $2 for kids ages 6-12; and $2 for seniors. Children under the age of 5 are FREE!
Parking is $5 a day.
Address:
Dakota County Fair
4008 220th St W
Farmington, MN 55024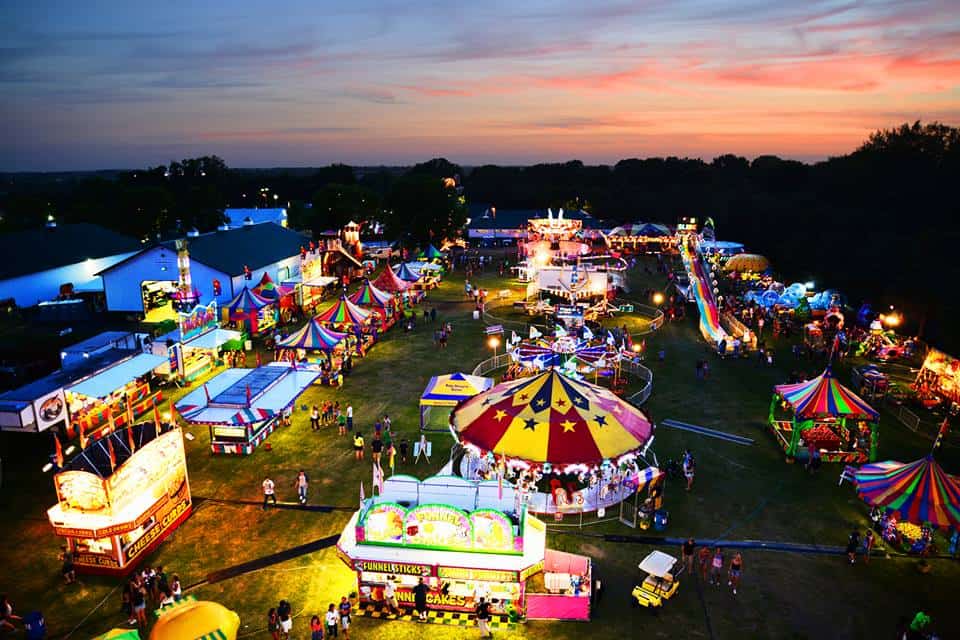 Carver County's Peace. Love. Fair. is located in Waconia. Come and enjoy free live music at the fair's entertainment center. This year's guests are Johnny Holm Band, John Paulson Band, The Bingos, and Chuck Thiel and the Jolly Ramblers – Polka Church Service, just to get your list started.
Children are sure to enjoy countless free events ranging from story time to tractor pulls, and even pig races! In addition, take a moment to learn skills that, unbeknownst to you, you may be a master at, like cake decorating, herb gardening, or pottery.
Make time during your visit to attend other events such as animal judging contests, the diaper derby, and even a chance to register and participate in a Rock-Paper-Scissors Competition, which includes a $500 Grand Prize!
Entry fee to the fair is $8 for ages 7 and up and free for children under the age of 7 years old.
Senior Day is Thursday: Seniors pay 1/2 price from 8:00 AM – 6:00 PM.
Military Appreciation Day is Friday: Free admission with current military ID.
Take advantage of FREE admission day on Sunday beginning at 6:00 PM. That's right, Come on up for Sunday dinner at the fair and pay no admission!
Parking is FREE!
Address:
Carver County Fair
501 W. 3rd St.
Waconia, MN 55387

Each year, the Itasca County Fair, located in Grand Rapids, promises fun and excitement for all the family to enjoy. This particular fair is a long-standing tradition in Itasca County, which began way back in 1892.
With a variety of free entertainment each day and many things to see from their 4-H exhibits, Children's Barn, and fun activities to participate in, a day spent at the Itasca fair will make for great memories!
If you're into demolition derbies, register for a chance to win $1,000 at the Demolition Derby, which is to take place on Saturday.
Check the Itasca County Fair Website for the entry fee and parking rates.
Address:
Itasca County Fairgrounds
1336 Fairgrounds Rd
Grand Rapids, MN 55744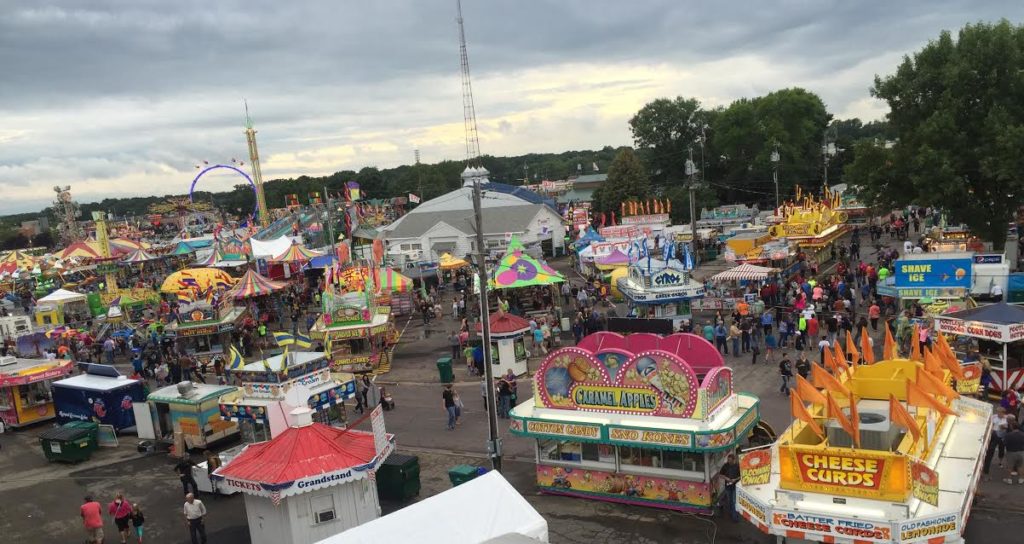 Steele County Fair, located in Owatonna, is filled with endless amounts of fun for your crew! Come and see the many attractions and make time to stop on by the beer garden this summer. With hundreds of food and drink selections to chose from, you will definitely get your chow down, county fair style!
So be prepared to indulge in fried treats such as deep-fried alligator and deep-fried Snickers. You'll be happy you did.
Before you leave the fair, be sure to visit one of the many livestock displays. The 4-H features rabbits, dog shows, beef cattle, poultry displays, swine, and goats. Open Class includes sheep, horses and dairy cattle, just to name a few.
Entry fee to the fair is FREE!
Parking is $5/day on the fairgrounds.
Address:
Steele County Fair
1525 S. Cedar Avenue
Owatonna, MN 55060
Douglas County Fair, located in Alexandria is a fair that meets all expectations. Capture memorable moments with family at make it and take it events, animal shows, princess pageants, and exciting carnival rides.
Want free money? Be present every day at 6:00 PM sharp at the Main Stage for a chance to win $250 in cash at the Daily Progressive Cash Giveaway! If no winner is selected, the $250 will roll into the Sunday Drawing.
Also at this fairgrounds is the 9/11 Never Forget Traveling Exhibit.
This traveling exhibit was started by the Siller Family. The Stephen Siller Tunnel to Towers Foundation honors the memory of their brother, Stephen, who was a New York City firefighter and lost his life on September 11, 2001.
Lastly, don't forget to head on over to the Grandstand Entertainment and Free Stage Entertainment events during the fair week!
Grandstand entertainment includes Lawn Mower Demo Derby on Thursday; Automobile Demo Derby on Friday; Stock Car Races on Saturday and Firemen's Water Wars on Sunday.
Their many Free Stage Entertainment Events include Red Letter Band on Thursday night; Honky Tonk Stardust Cowboys on Friday night; Transit Authority – Chicago Tribute Band on Saturday; and the Holy Rocka Rollaz on Sunday afternoon!
Entry fee to the fair is $6 for adults and free for children under the age of 12 years old. Season gate tickets are available in the amount of $18.00.
Parking is FREE at the main and west parking lots. You can find the paid parking option located on the east side of the fairgrounds.
Address:
Douglas County Fair
300 Fairgrounds Road
Alexandria, MN 56308
Some other county fairs to check out are:
Dodge County Fair: July 17th, 2019 – July 21st, 2019
Isanti County Fair: July 24th, 2019 – July 28th, 2019
Mille Lacs County Fair: August 7th, 2019 – August 11th, 2019
Carlton County Fair: August 15th, 2019 – August 18th, 2019
Be sure to let us know about your exciting fair experiences this summer!
Editor's Note: Fair entry and parking fee information have all been obtained directly from the corresponding fair website and verified from fair representatives themselves. Fairs may charge an entry fee for Grandstand events. Please visit the fair websites for more information.
Ready for more Minnesota advice, info, and guides? Whether you're a local or a passerby, discover the best of Minnesota that our great state has to offer!
Looking for some warm weather recommendations? Discover spring and summer in Minnesota for best destinations, travel recommendations, small (and big!) town events, and more!