Tuesday morning was very exciting over here at Muddy Flowers. I received a phone call from Edward Moody from WCCO channel 4 News!! He asked if he could come visit our family and talk about the camping blog we started – Beyond The Tent.com
We are going to be Almost Famous!!
I was thrilled even though he told me to expect him to arrive at our house at 5am on Thursday morning! I assured him the whole family would be up and ready to go LIVE by 5.
Kids, do you like coffee?
The plan was to go LIVE in two different segments. The first one we would introduce ourselves and talk about starting the camping blog. The second half would have all the kiddos in it and we would go through a few camping things we had set up in the front yard. I had 2 days to clean the house, the front and back yard (I wasn't sure if they would want to sit in the back in between the two features) and collect the gear we wanted to highlight. I need a super cape!
Ryan and I went to Cabela's with Isaiah to pick up a few items for the morning show. I love Cabela's in Rogers, MN. The store is fun to visit even if you don't need to shop for anything. They have a huge fish tank full of MN fish and they have everything you can think of for outdoor gear.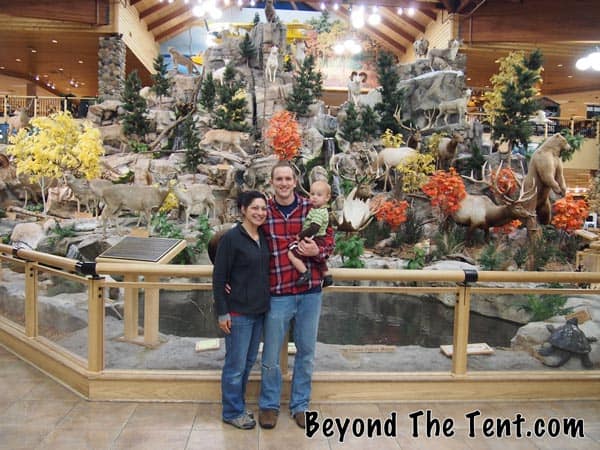 Thursday came fast and so did 5am!
Edward went on before us to give the people watching the news a "teaser". It was fun watching him as he got ready to go in front of the camera.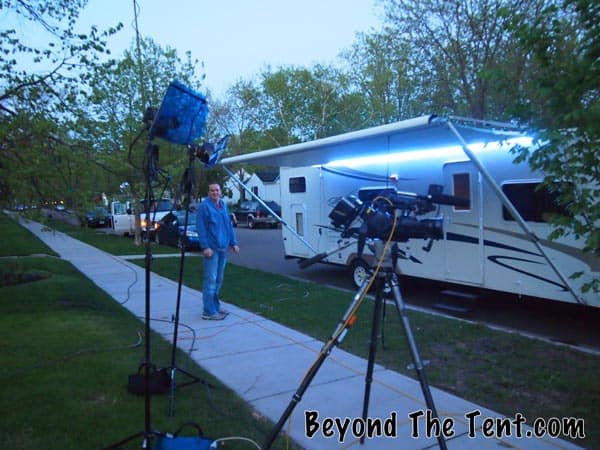 I felt a bit sheepish before going on air. It was a little odd having a camera right there while talking to Edward. I wasn't sure where I was suppose to be looking when I was answering his questions!
Morning Runners Couldn't Figure Out
What Was Going On –
Last minute Details –
We had 2 minutes to hook up the power to get the lights to work inside the trailer! It was a mad rush as the camera man did a count down. The first half went well with Ryan and me inside the camper. Then we had an hour break until the second half. So, I went to get a Caribou coffee.
The next part was super fun with the kids being involved. Everyone was given a station to be at while Edward went around discussing the items we had outside.
The little girls were inside the Cabela's Alaskan Guide tent. I tried to have them pop their heads out to say Hi to their Grandma, but they were being shy or sleepy.
Keegan and Mikaela had the job of playing Disc Golf. We got a portable basket from Gotta Go Gotta Throw this week (which my husband did a review of at Beyond The Tent). It is over the top fun!!
My Neighborhood is still sleeping…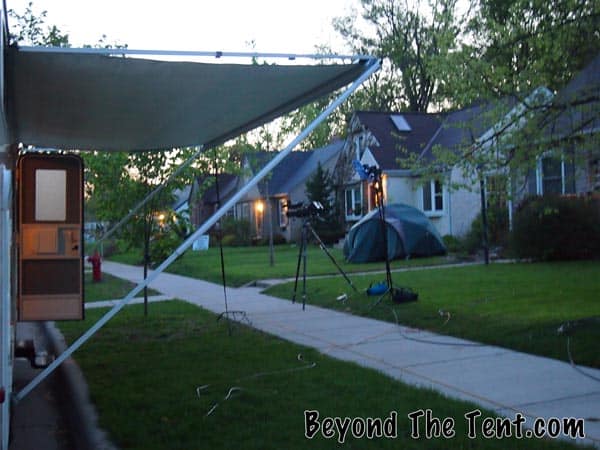 Ryan went around with Edward explaining the features of the tent, the highlights of the disc golf and our plans for the camper. My job was to talk about the Little Red Campfire we got from Coates RV, recently. Isaiah didn't want to be on TV, instead he wanted to eat the S'more we had been making during the segment.
Edward tells the viewers to stay tuned for some camping fun –
You can check out the article and the first LIVE feature Here. I still need to check out the second half. My friend has it on DVR for us to watch. The link to the post about the items we talked about on WCCO 4 is Here for you. It was so much fun hanging out with the WCCO 4 guys. I hope to do it again soon. Thanks Edward Moody for stopping by our crazy house!
xoxo Kelly
About the Author
Latest Posts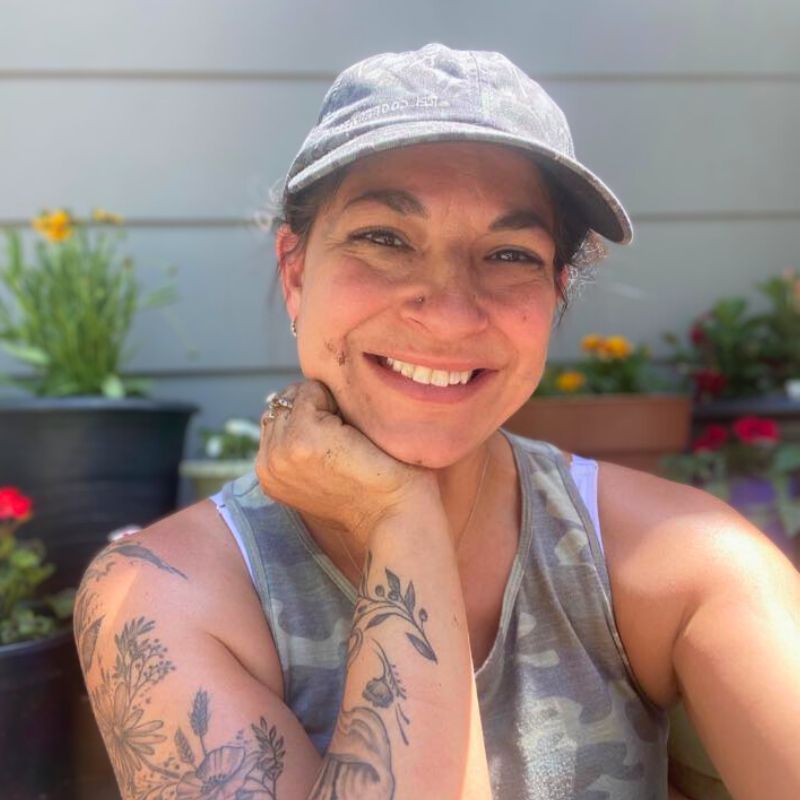 Hi! My name is Kelly and I run Life In Minnesota with my husband, Ryan.
My vision for LIM is that it shares engaging stories of unique Minnesotans and that it's considered a wonderful resource that helps make every life in MN more awesome!
I can be reached at kelly@lifeinminnesota.com
#LoveWhereYouLive #LifeInMN