Did you know that deck construction is possible at any time of the year? Contrary to popular belief, backyard decks don't only have to be constructed during the warmer months.
In fact, many contractors prefer late fall and winter months for breaking ground because of the lesser risk of damaging your landscaping. Plus, labor costs are cheaper.
If you're budgeting to redo your current deck or preparing to break ground on an all-new backyard deck, take a look at these 15 backyard deck ideas you'll be sure to love.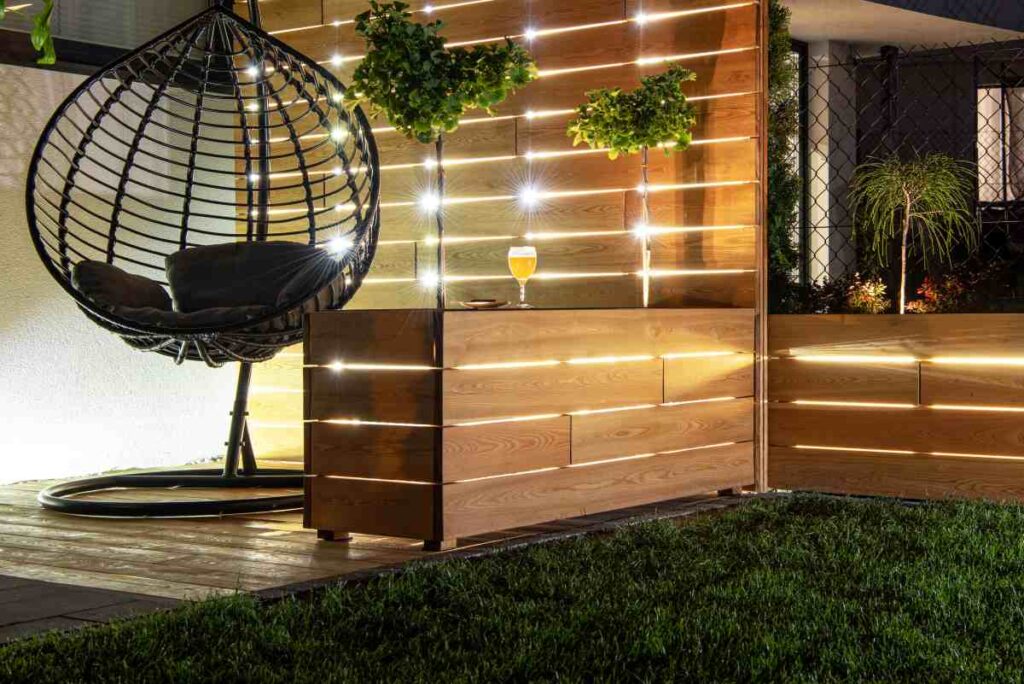 ---
Small Deck Ideas
1. Storage
You can make the best of your small deck space by getting creative with storage. A clutter-free area will be a sigh of relief, and adding storage on your deck is the perfect way to free up storage in your garage!
Use your backyard deck storage to hide kids' toys, firewood, garden tools, and more.
Consider a bench with storage underneath so that you can hide blankets for chilly nights spent relaxing on your newly designed backyard deck. Also, center tables are perfect for hiding outdoor necessities like extra blankets or toys.
Break up your small deck to make it homier with a center storage unit to prevent congestion on your deck. You can even make two rooms.
2. Plants and Landscaping
A small deck can quickly become a beautiful oasis with the addition of plants and landscaping.
Hanging potted plants are beautiful accents. Best of all, they don't take away from seating, storage, and dining on your deck. Fragrant plants like begonias, snowdrifts, and petunias are great backyard deck ideas to add a sweet scent in the warmer months.
Consider whether your deck is shaded or receives sun when choosing the perfect plants to add to your deck. Did you know that you can grow hostas in containers? Hostas are an easy, low-maintenance plant deck idea.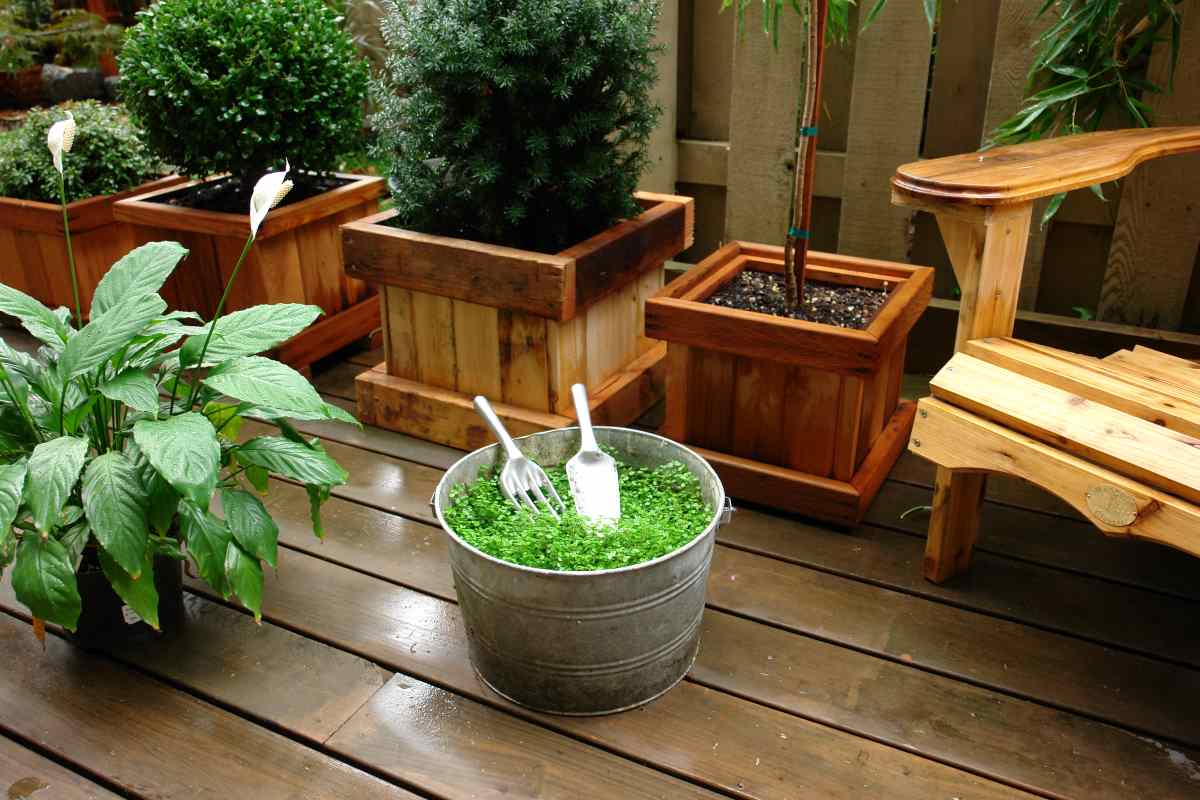 Minnesota decks are also perfect for fuchsia plants because they don't thrive well in temperatures above 80 degrees. Fuschia plants will make your backyard deck luscious from spring through frost. If you love this sweet aroma, you'll love this deck idea.
You can also surround your deck with trees, shrubs, or rock beds. Mulching is a great way to prevent overgrowth around your backyard deck, so you don't have to mow as often near it. Layered gravel beds will help prevent weeds from growing.
---
Elevated Ground Deck Ideas
3. New Perspective of Backyard
When building your elevated backyard deck, consider the new perspective you'll create for your backyard.
If you have a garden, you can look at it in a way not possible before. You'll have a new viewpoint all year. Creative types will especially appreciate the visual appeal for inspiration to paint, write, or draw.
If you're seeking a new way to enjoy nature in your backyard, start laying out plans for an elevated ground deck.
4. Shaded Sitting Area and Sundeck
Do you like to lie back and read a book in the sun? But do you also like relaxing with friends in the shade on a hot day? Then take a look at this backyard deck idea.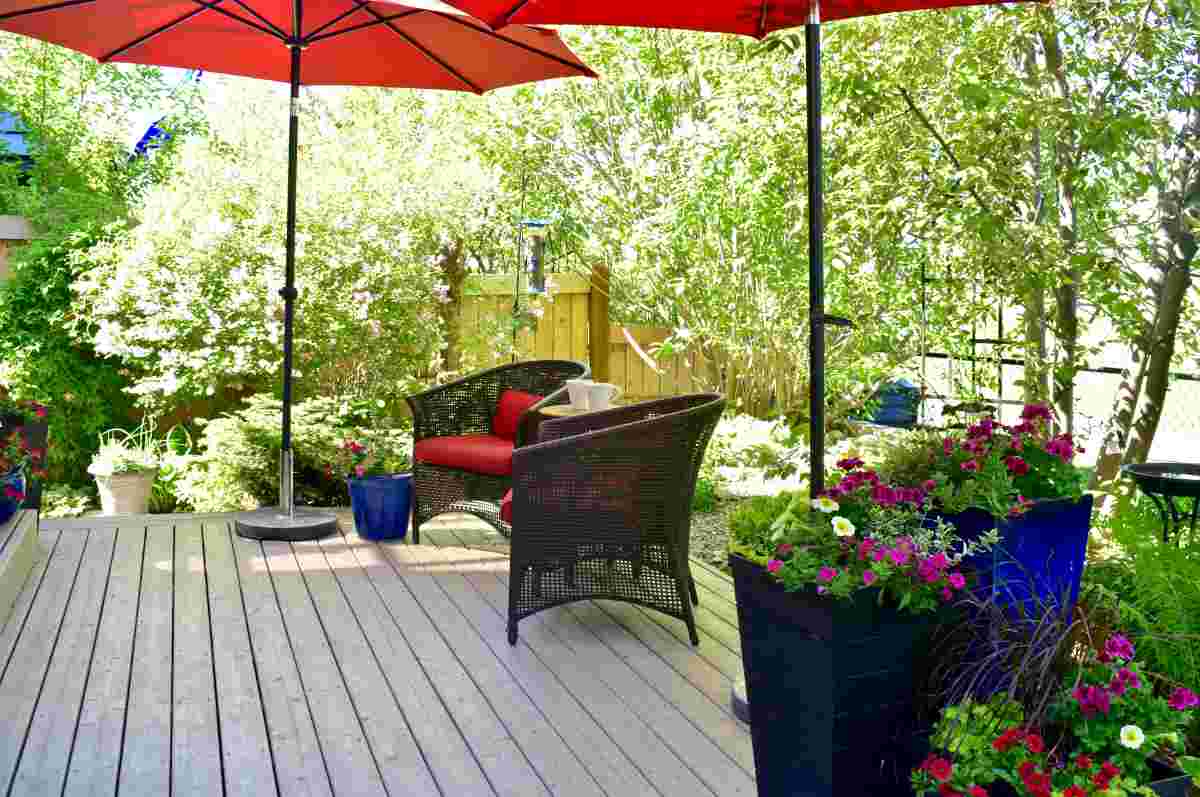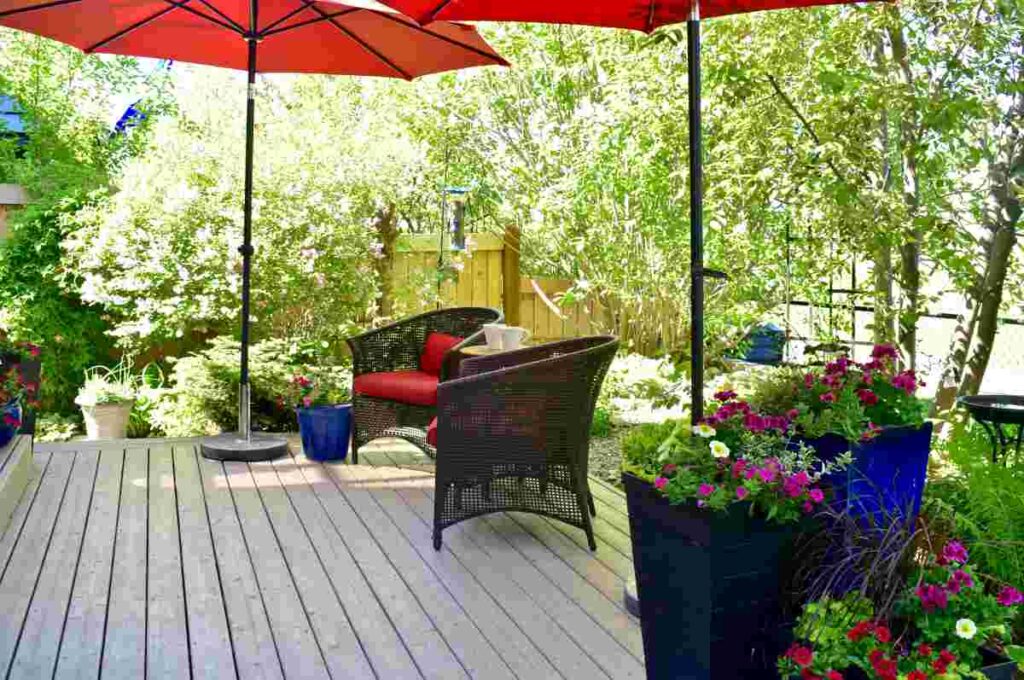 A shaded sitting area and a sundeck will offer you the best of both worlds.
This is also a great way to optimize your outdoor space. You can hang shaded plants below and take advantage of decorating your sundeck with plants that prefer direct sunlight.
5. Above-Ground-Floor Porch
Consider this unique backyard deck idea: An above-ground-floor porch. This is a deck above a porch.
Above-ground-floor porches also provide the option of a shaded sitting area and sundeck for your backyard.
A screened-in porch under your deck will keep the bugs out in the summer, and it can be used in the winter months. My family loves using the porch as a freezer during the holidays.
PS–If you're wondering about the difference between a porch and a deck, think of it like this: A porch is like an extended version of your living room. A porch almost always has an awning or added layers to protect your house. Decks are more open to the elements.
---
Fancy Deck Ideas
6. Kitchen and Dining
Create the perfect second kitchen with this backyard deck idea.
Outdoor grills spice up any meal, but outdoor stoves take cooking to a new level. Did you know a wood-fired pizza oven can change the way you eat pizza forever? Consider adding a pizza oven to your deck.
A beautiful dining table can be placed on one side of your storage units to create a dining room feel. If you're short on space, a round table will save space.
7. Gazebo
Your friends and neighbors will be mesmerized by this fancy deck idea.
You may have thought of a gazebo as an addition to your garden, but you can also add gazebos to existing decks. Modern hard-top gazebos make adding a gazebo to your yard quite simple!
Gazebos provide a safe hideaway from the sun on bright days. They're also the perfect addition to any backyard get-together.
Just don't be surprised if all your friends want to have their weddings in your backyard in your gazebo!
8. Sauna
This backyard deck idea will enhance your life in ways you'd never imagine.
Imagine stepping into a sauna on a cold winter day. You may have thought about adding a hot tub to your deck already, but a uniquely designed sauna can add a special charm to your deck.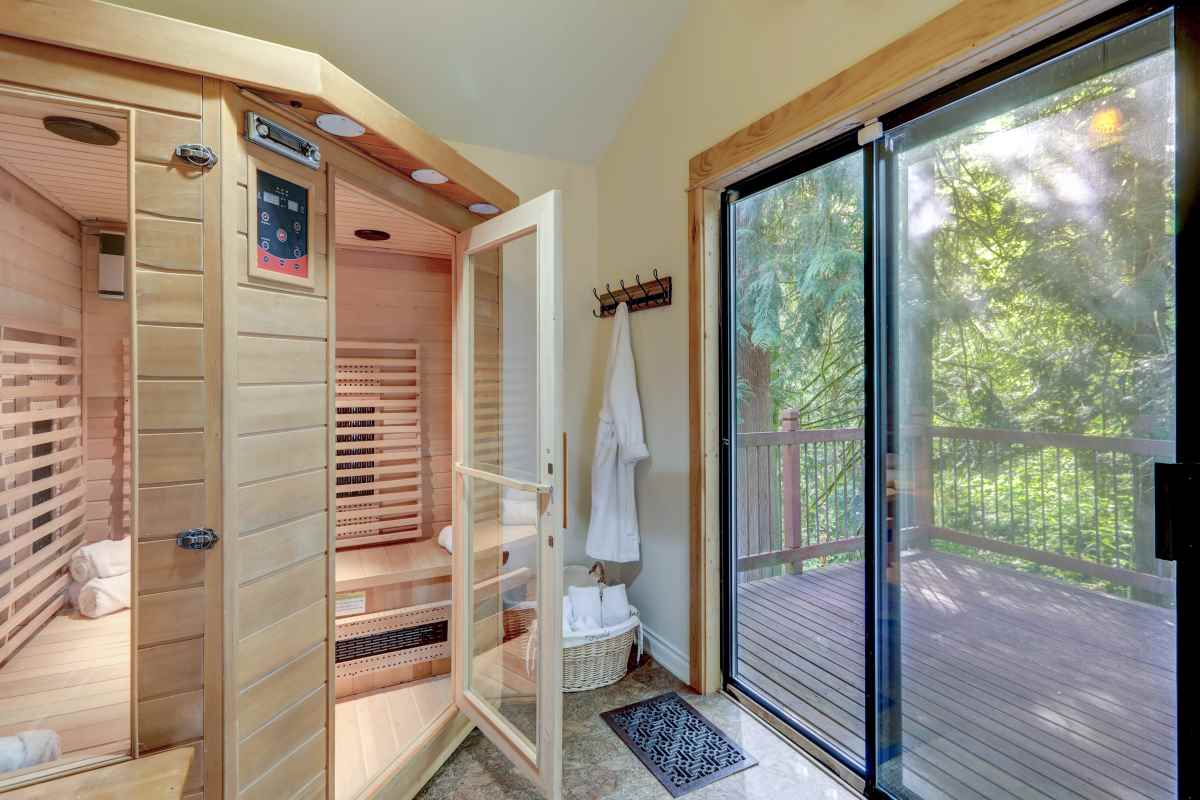 Saunas have tons of benefits, too. Relax your tense body, detox, invite friends and family to socialize, and improve your overall heart function.
---
Poolside Deck Ideas
9. Pergola
Pergola will set your pool deck area apart from the rest. With the use of a pergola, you can create a special area off the side of your pool deck.
Imagine relaxing in a living room or even a small bedroom by your pool. Adults can lay back while the kids swim. It'll be like your own cabana in your backyard!
10. Seating
We all know most of the time spent at the pool isn't actually in the pool. Sitting by the pool is just as relaxing as being in it, and there's nothing like socializing by the pool in a comfy chair.
Look for water-proof and sun-resistant fabrics.
Solution-dyed polyester and nylon are two fabrics to keep an eye out for when considering seating for your backyard deck. Also, consider ripstop. While ripstop is technically not a fabric, it is a fabric that is woven together with nylon and other fabrics. It is more resistant to tearing and ripping
Consider the positioning of your seating. You may opt to place an awning over your chairs or place your seating area under a pergola.
11. Pathways
Explore pathways when contemplating poolside backyard deck ideas.
Pathways are fabulous because there's nothing worse than stepping out of the pool and having to walk through the grass. They also keep dust and dirt out of your pool with less debris coming into the pool from your feet walking on grass.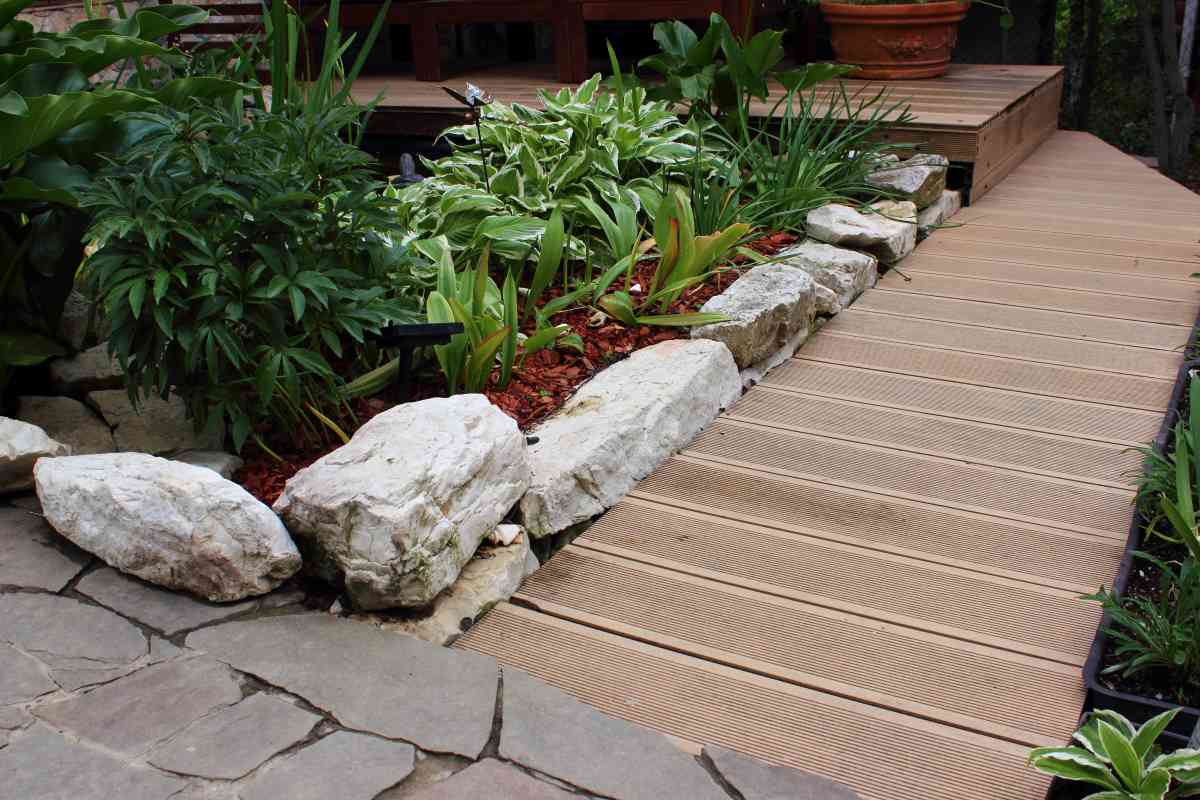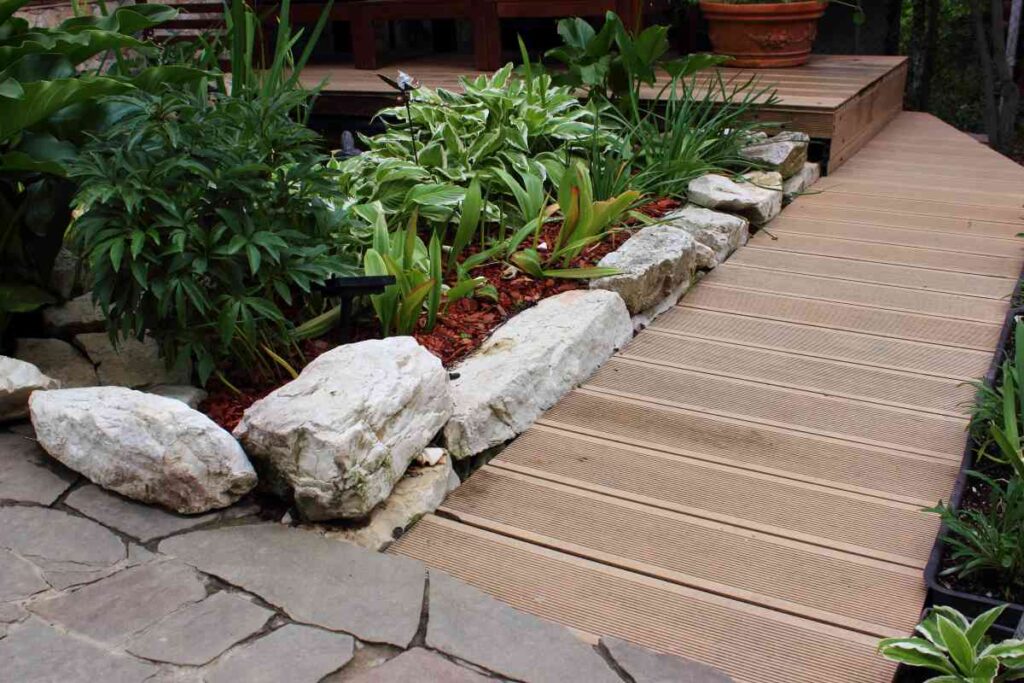 The pathway can lead to your pool seating, or you can have paths leading all the way to your backdoor and around your yard.
Pathways also provide an opportunity for unique decorative landscaping around your backyard.
12. Deck Railings
Railings are wonderful for pool backyard decks because they add an element of privacy. If you don't want to go all-out and put up a privacy fence, then get creative with the railings around your pool.
Wooden railings tend to be the most popular, and they are the most cost-efficient. Keep in mind, wood requires regular maintenance to keep it clean and in top-notch condition. Repair costs add up over time.
Metal is a low-maintenance option and can be spray-painted. However, steel paint can rust and will need preventative care to stay rust-free.
Composite and PVC railings are popular because they look like wood, but they're not. Therefore, they don't require the care that wood does.
---
Ground Level Deck Ideas
13. Privacy Wall
Consider adding a privacy wall to your ground-level deck if you have neighbors able to see your backyard deck.
With this backyard deck idea, you can rest assured knowing your social gatherings are truly private.
Privacy walls have other benefits, too. They improve the look of your ground deck. You're able to match the look of your house to guarantee an aesthetically pleasing look.
Additionally, they add an extra level of safety if you have pets or toddlers, particularly if you do not have a fenced-in yard.
14. Playhouse
Here's a backyard deck idea the kids will love.
Ground-level decks are perfect for playhouses because you don't have to worry about kids falling down the stairs.
You can keep the kids close to the house and within view with a playhouse on your ground-level backyard deck. You'll have peace of mind knowing the kids aren't far from your sight.
The kids can experience creative play while you can watch them from the nearest window.
15. Bench Planters
Bench planters are perfect for ground-level decks. You can step outside and sit down while enjoying the aroma and sight of your plants from all around.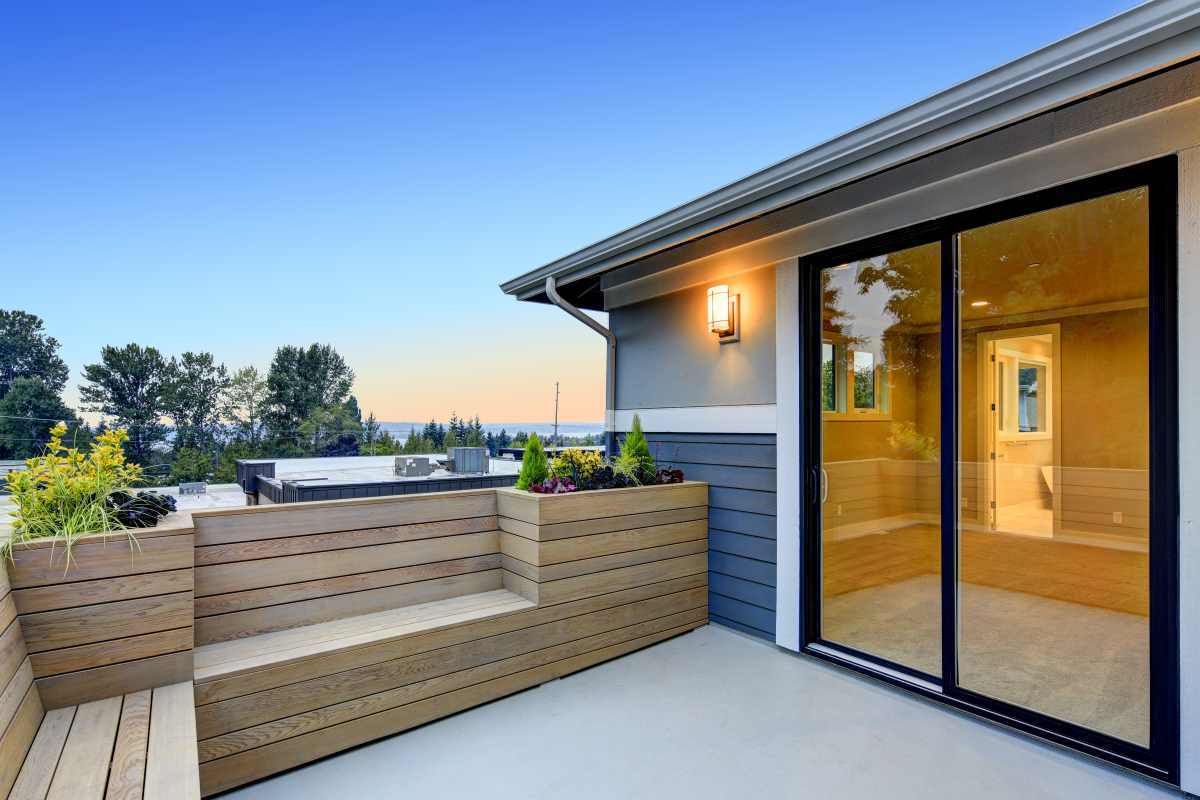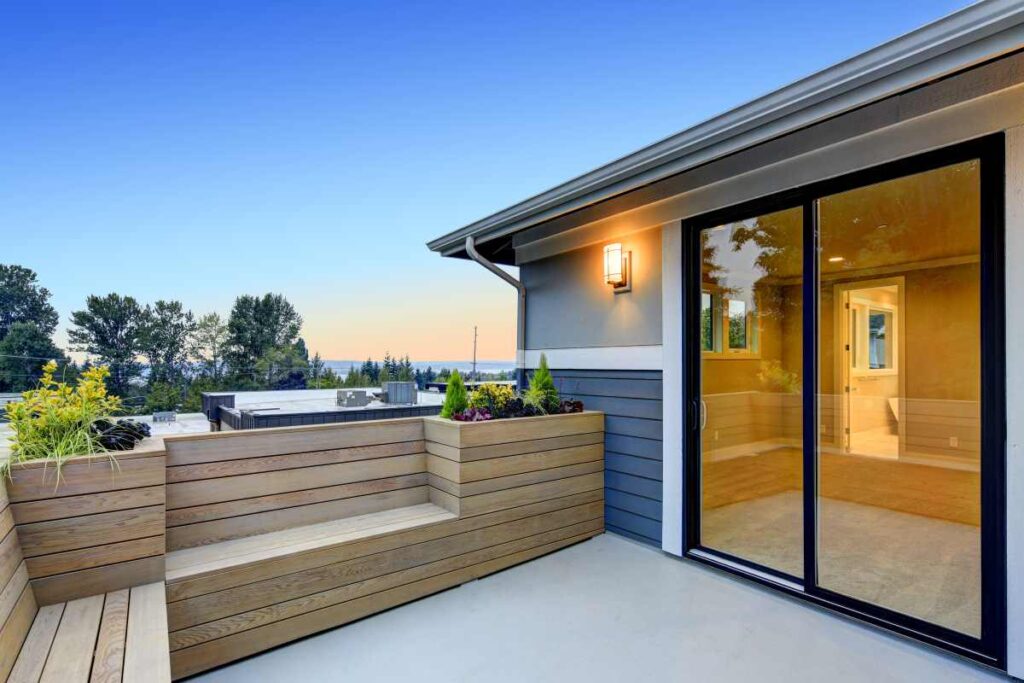 Most importantly, you don't have to worry about lugging a heavy bench up flights of stairs.
---
Wrapping up 15 Backyard Ideas You'll Love
You're all set to start planning your new deck with these backyard deck ideas. Whether you have a small deck, elevated deck, ground-sized deck, or pool deck, you're definitely going to love your new backyard outdoor space.
Before you go, make sure to read 11 of the Best Shrubs for Minnesota Yards and Gardens to know the best shrubs to plant around your deck.
Looking to upgrade your outdoor spaces at home? Then find inspiration for your Minnesota backyard with our landscaping ideas, outdoor furniture suggestions, gardening recommendations, and more!
Looking for some warm weather recommendations? Discover spring and summer in Minnesota for best destinations, travel recommendations, small (and big!) town events, and more!
Looking for more autumnal activities? Then visit our Minnesota Fall page to find inspiration for sweater weather fun!
About the Author
Latest Posts
Nicole Kinkade loves taking regular road trips with her family around Minnesota. She especially enjoys visiting the Twin Cities area, where she can often be found hanging out at Mall of America and Como Park. Her favorite Minnesota restaurant is Fat Lorenzo's!
With a bachelor's degree in Business Administration and an associate's degree in Media Communication, Nicole is passionate about sharing her experiences with others through writing. She is currently writing full-time and loves every minute of it.
Nicole can be reached at nicolek.author@gmail.com