Gathering with friends and family around a bonfire, roasting hot dogs and marshmallows, watching the flames, and feeling the heat warm your face and toes. Can you picture the perfect spot to make these memories but don't know where to start building a fire pit? We've got you covered with our best backyard fire pit ideas.
The first thing you need to decide is whether you want to make your fire pit idea or order it online and take a few minutes to set it up.
After that has been decided, then comes the decision of how you want your backyard fire pit to look. Let's take a look at options for upcycling, building your own, and even a few options if you just want to have your fire pit delivered to your front door.
---
Upcycled Fire Pit Ideas
As the name implies, upcycled backyard fire pits are made out of items you have on hand or can find at a flea market, rummage sale, online marketplace, or maybe even in your grandparents' barn.
1. Washing Machine Drum
If you have a washing machine that doesn't work anymore or can find a great deal on a broken machine, you can turn it into a backyard fire pit idea.
Start by removing the drum, the part where you put your dirty clothes to wash. This will vary from machine to machine, but it should be as simple as unscrewing the top and back of your machine.
Once the drum is removed, be sure to remove any plastic parts, as well as the agitator, if your machine has one.
If your machine has a metal tube sticking out of the bottom, don't remove that. It will be perfect to poke in the ground to help keep your fire pit upright.
These next steps are totally personal preference. You can leave the drum as is for a rustic look or paint it with heat-resistant spray paint. You can also add legs, as shown in these instructions.
If kids are going to be near your washing machine drum backyard fire pit, you might want to pile some large rocks around the bottom because the drum will get hot.
2. Tractor Tire Rims
Most people don't have tractor tire rims just lying around the yard. So, for this project, you might have to do a little searching. Checking online, visiting flea markets, or even a junkyard will be your best options for finding rims for this backyard fire pit idea.
However, once you find the rim, this fire pit is mostly done! All you need to do is prepare the spot and place the rim with the deeper side facing up to hold the wood.
3. Old Wheelbarrow
Old metal wheelbarrows are fairly easy to come by at flea markets if you don't already have one, and they make great backyard fire pits. Just be sure your wheelbarrow is metal and not plastic!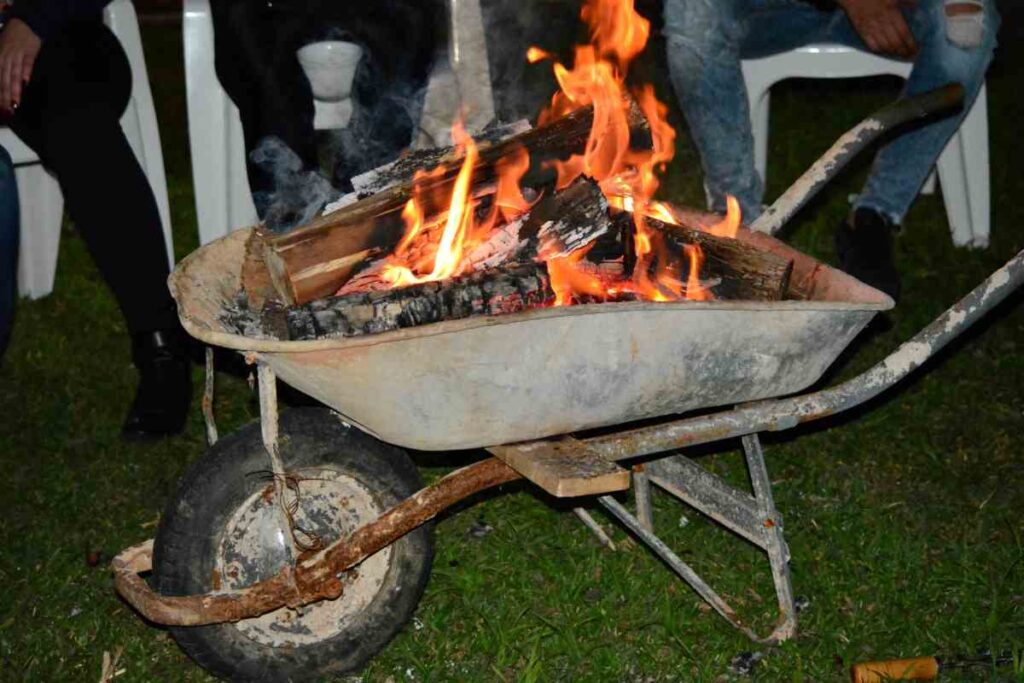 Make sure there are no cracks and minimal rust. You can clean up the inside and spray a coating of heat-resistant spray. Be sure to use large rocks or cinder blocks to chock the tires.
As a bonus, when it's time to dump the ashes, you can just wheel them wherever you need to.
4. Galvanized Wash Tub
Another flea market find is the galvanized wash tub. These are the big metal tubs with handles on the sides. Like the tire rims, you basically bring these home, set them up, and you're ready to go.
If you choose to paint your find, Rustoleum has a silver high-heat paint. It won't look exactly same but will be very similar.
5. Cast Iron Pot
Cast iron comes in lots of sizes to choose from for your backyard fire pit idea, from large dutch ovens to huge vintage pots and even cauldrons. This is another item to keep an eye out for at a flea market or junk store.
One thing to keep in mind if you find one of the huge pots to use, it will get really heavy if it rains and fills with water. Drill a few drainage holes in the bottom, so you don't have to remember to flip it over every time it rains.
Also, the first few times you use it, it might have a funny smell until it burns off all the years of built-up residue.
---
Fire Pit Ideas to Build
If you prefer the look of a backyard fire pit not made from recycled materials, you can always use pavers, concrete blocks, or bricks. The concept is pretty much the same, no matter which material you use. It all depends on the look you're going for.
Start by measuring your area and gathering the appropriate amount of whichever material you choose. You'll also need sand and construction adhesive.
Clear the area of any flammable debris. At this point, you can dig a pit if you would prefer a sunken fire pit. Or just place your blocks on top of the ground. Next, place a layer of sand over the area or in the pit.
6. Patio Pavers, Concrete Blocks, or Bricks
Line the area or the pit you've dug with your patio pavers, bricks, or concrete blocks. This is where you can let your creativity run wild!
Rather than just placing your bricks or blocks in a square or round shape, try mixing it up a little bit. Try standing a row of bricks in the middle on their ends with space in between. This will create windows and allow good airflow. Think Stonehenge.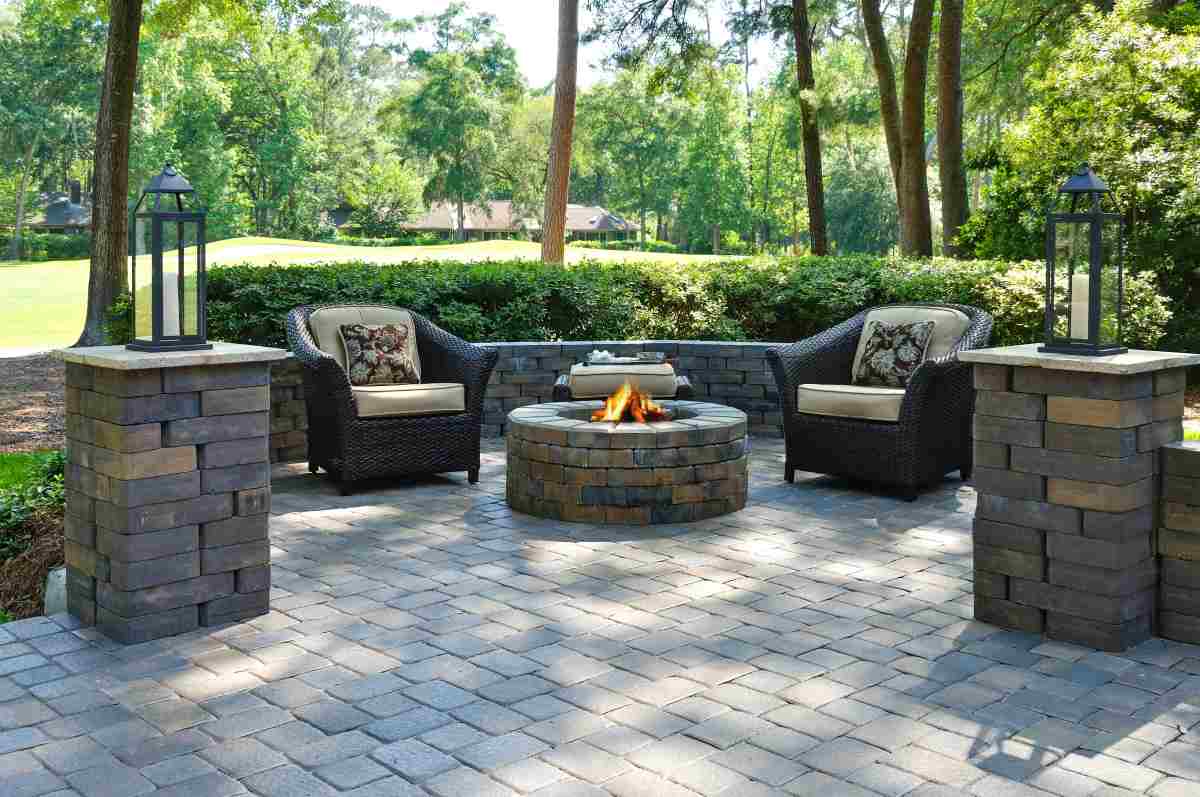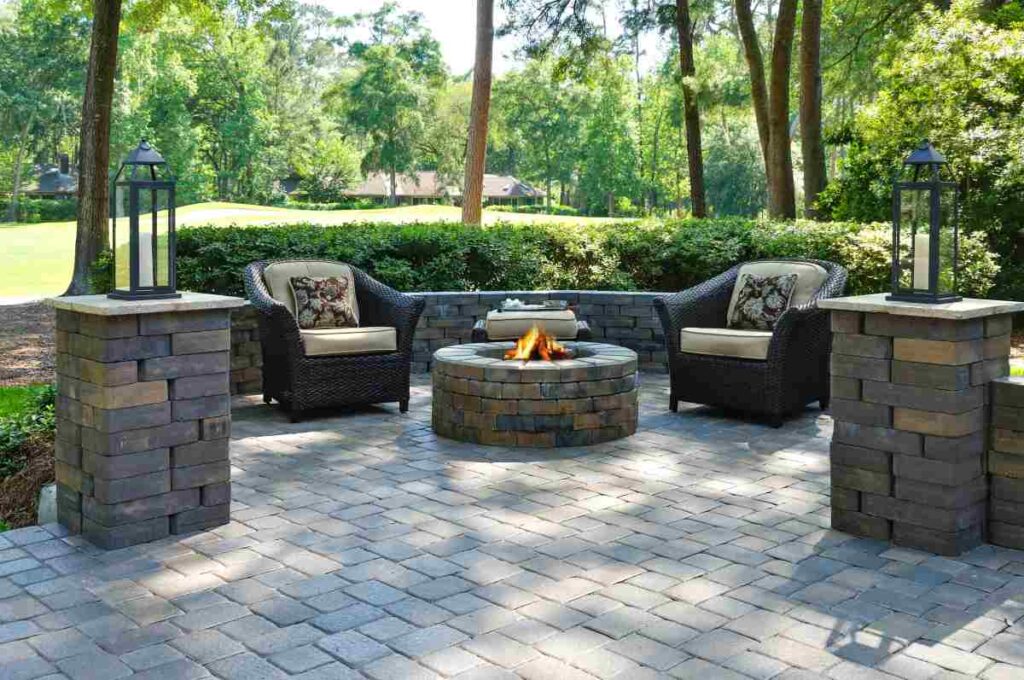 Play around and experiment with different shapes and heights to suit your taste.
Once you have your final design in mind, placing a bead of construction adhesive between each layer will keep your structure from toppling over if someone bumps into it.
7. Oversize Rocks
Rocks come in a variety of sizes, shapes, and colors. By stacking them on top of each other, you can design a truly one-of-a-kind backyard fire pit idea.
---
Other Fire Pit Ideas
8. Try a Fire Pit Combination
For a really unique design, try combining any of the backyard fire pit ideas above. You can place a cast iron pot inside your brick fire pit.
Place any of the recycled items on a concrete paver base for an elevated look. You can also place a tripod over any of the fire pits and hang a cast iron cooking pot from it.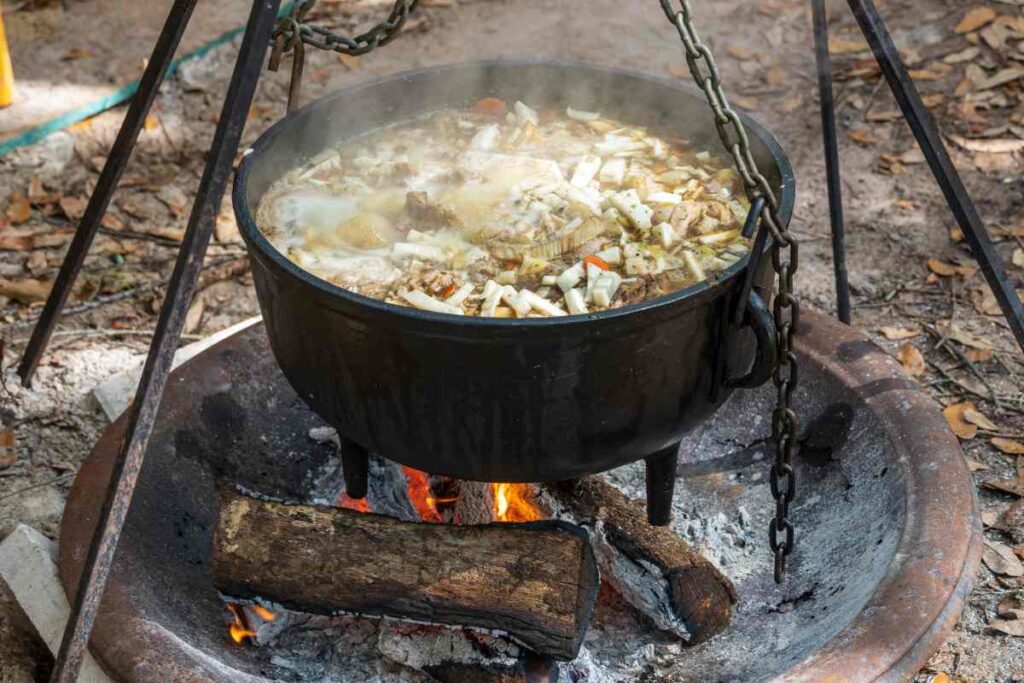 Or, if you're really handy with a torch and welder or know someone who is, stack two tire rims together and cut an opening in the side. You'll have an instant old-fashioned potbelly-type stove for your backyard fire pit.
9. Instant Fire Pit Ideas
Sometimes you just want instant gratification and don't want to build your own fire pit. We get it.
With that in mind, here are some backyard fire pit ideas you can purchase online and have delivered to your home. All you have to do is set them up and enjoy.
The Sunnydaze Crossweave Firepit is easy to assemble. Simply attach the legs and the outer ring and you're ready to go. Sunnydaze also has several styles of fire pit ideas to choose from.
If you don't like the mess of a wood firepit, the Outland Firebowl is a great option to consider. This backyard fire pit runs on propane and can even be used on a wood deck.
The Yaheetech Firepit is a bit larger than the Sunnydaze, square rather than round, and a little harder to assemble. However, you can put a grate on top (it's not included), and it turns into a backyard grill. Or if you're having a party and not using it as a firepit or grill, simply fill it with ice to keep your drinks cold. Now that's multifunctional!
Another option to consider for your backyard fire pit is this Bessemer Rolling Fire Pit. This fire pit has a unique shape, with the wood sitting more at eye level and a cool grate all the way around so you can watch the flames dance. You can also roll it anywhere around your yard.
10. Portable Fire Pit Ideas
What if you're going camping or hiking and want to take your fire with you? Check out these backyard fire pit ideas, no matter where your backyard happens to be that day.
Weighing in at just over 11 pounds, the Ignik Firecan Portable Fire Pit is small, lightweight, and easy to transport. The legs unfold for easy setup, and the lid has a handle for easy carrying.
Live in an apartment or condo and don't exactly have a backyard? No worries. We have a backyard fire pit idea for you. Consider the Colsen Tabletop Fire Pit. This fire pit runs on rubbing alcohol, so there's no mess or cleanup. You can even have your name or a message engraved on it.
---
Fire Pit Details to Consider
Metal Plus Heat Equals Rust
Even fire pits that are rust-resistant are going to rust over time. That's just the nature of the beast. To help keep rust at bay longer, using a high-heat spray paint will help.
Take a tip from your grandparents, and use plain old cooking spray or Crisco and an old rag to coat the metal after use.
Moving your metal fire pit indoors when not in use will help keep it dry. If that's not an option, you can probably purchase a cover for it.
Fire Glass
To dress your backyard fire pit idea up a bit, try adding fire glass. These glass beads come in several shapes and colors and can turn your gas fire pit into a work of art.
These will work well with the propane and alcohol fire pit ideas but don't use them if you're burning wood.
Wood
If you choose a backyard fire pit idea that burns wood, be sure to burn the right wood. The wood needs to be seasoned. Green wood will produce a lot of smoke and not as much heat.
The easiest way to tell if wood is properly seasoned is simply to clap two pieces together. If it sounds hollow, it's good and dry.
Burning a mixture of wood in your backyard fire pit is a good idea. Pine and cedar will be easy to start, burn quicker, smell good, and give you that classic wood-popping sound. On the other hand, oak or other hardwoods will be harder to start but will burn longer and hotter.
If possible, avoid the bundles of wood you purchase at gas stations. Those are mostly slab wood, which means they are mostly bark, which means they will burn really fast.
If you're taking your wood-burning fire pit with you, remember it is illegal to carry firewood across the state, and sometimes even county, lines in some areas. Be sure to check your local firewood rules.
---
For Safety's Sake
Always prepare the area first. Remove any flammable material under and near your fire pit area. You'll also want to make sure your backyard fire pit is placed on level ground.
A layer of sand or gravel under your backyard fire pit, especially those you build yourself, is always a good idea to add stability and help level your fire pit.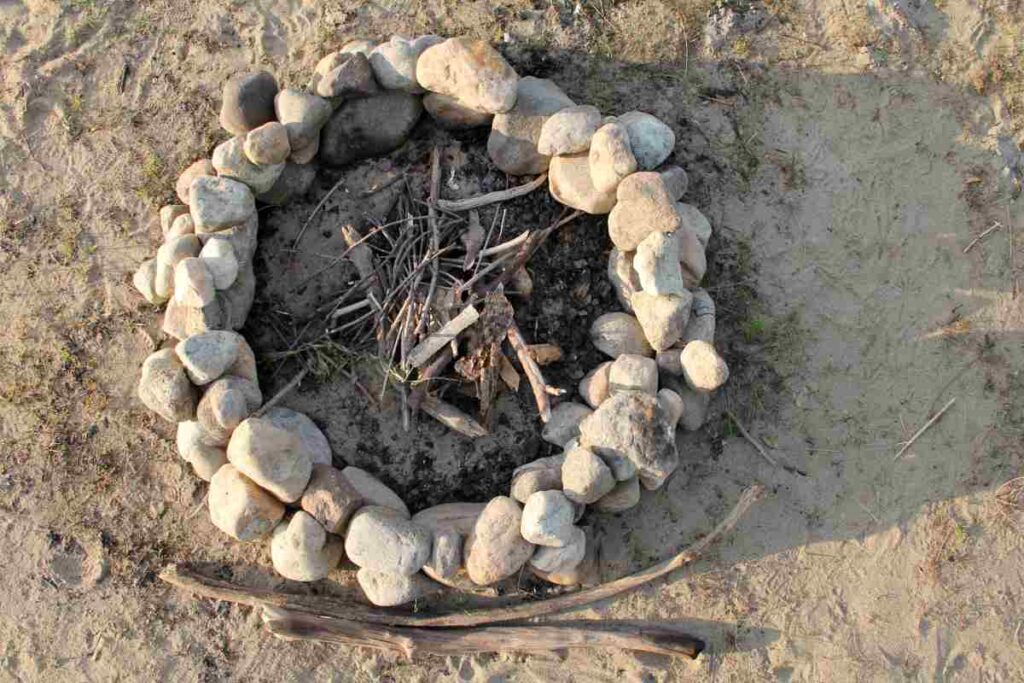 If you're concerned about your fire pit getting too hot for little hands, place a row or two of larger rocks or blocks around the base.
Finally, always make sure to extinguish your fire completely when you're done. Remember, only you can prevent forest fires.
---
Wrapping up Backyard Fire Pit Ideas
Now that you have all these backyard fire pit ideas swirling around in your head, it's time to gather your materials and start building or upcycling, or maybe just order one to be delivered to your door.
Whichever option you choose, after a long grueling week, you can look forward to bundling up and enjoying your next Friday night sitting by your fire pit with friends, enjoying s'mores, watching the flames, and maybe even singing the campfire song.
Need ideas for things to do the rest of the weekend? Check out our featured places to visit in Minnesota.
Looking to upgrade your outdoor spaces at home? Then find inspiration for your Minnesota backyard with our landscaping ideas, outdoor furniture suggestions, gardening recommendations, and more!
About the Author
Latest Posts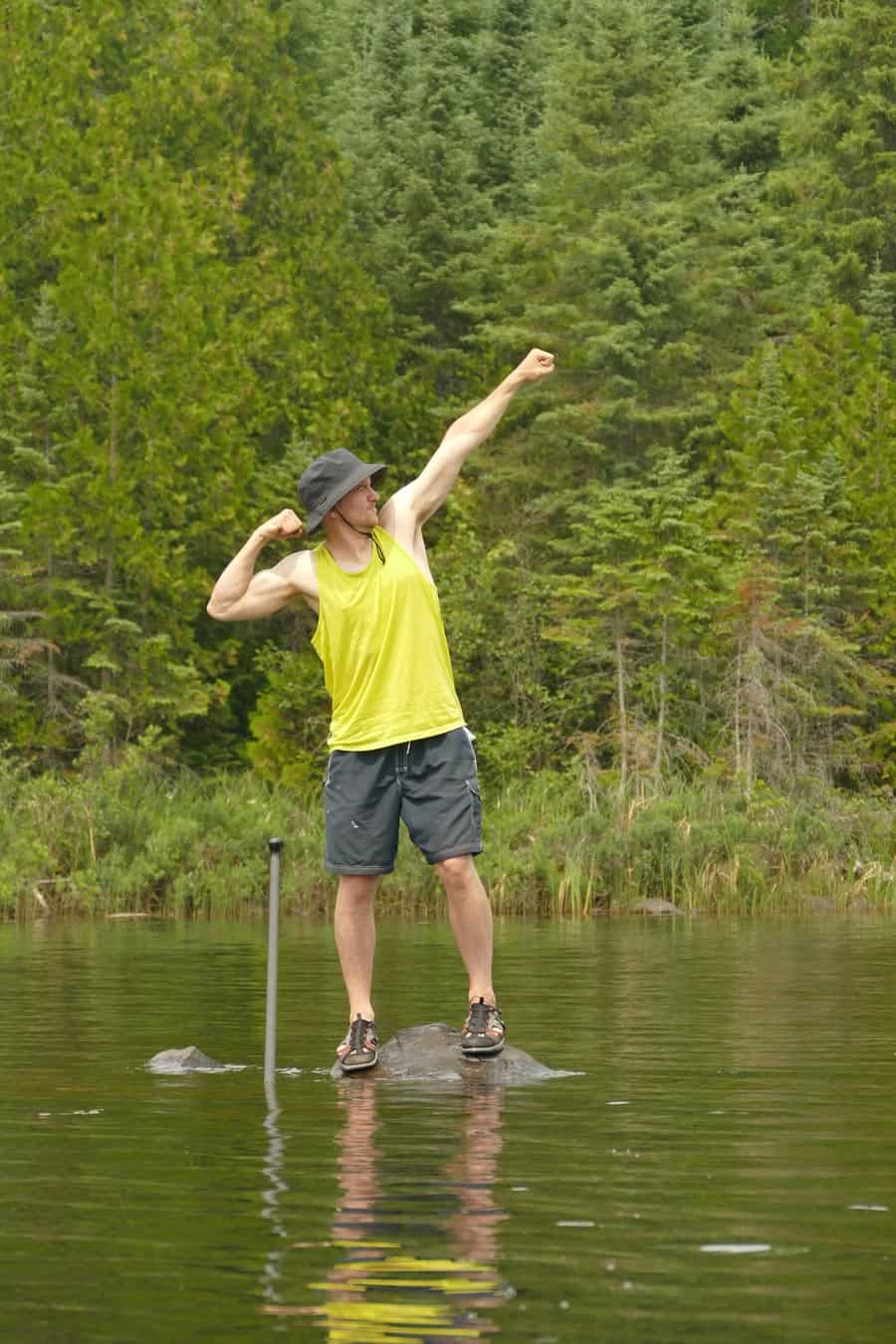 Born in Madelia, MN, to a now 5-generation Minnesota family, Ryan's MN roots go deep.
A painter by day, Ryan founded Life in Minnesota in 2013 with his wife Kelly to chronicle their musings on everything Minnesota. Ryan and Kelly are raising their 7 kiddos in Maple Grove, MN.
When he's not shuttling his kids around to hockey practice, you might find him in the shop working on his leatherwork. Undoubtedly, there will be a family trip to the Boundary Waters Canoe Area every summer, and of course weekends at Grandpa's cabin up north in the summer.