Sunny summer days are meant to be spent splashing in a pool! Or, if not splashing in a pool, at least lounging by one.
Either way, if you've got warmth and sunshine on your mind, you're not going to want to miss this list of 15 backyard pool ideas on a budget to level up your summer fun!
The national average cost to install an inground pool is between $50,000 to $60,000. You heard me right; the average is around $60,000!
Now, if that price tag sounds as hefty to you as it does to me, you're definitely going to want to keep reading this list of backyard pool ideas on a budget! From options less than $50 to options that slash that $60,000 in half, there is something for every budget on this list!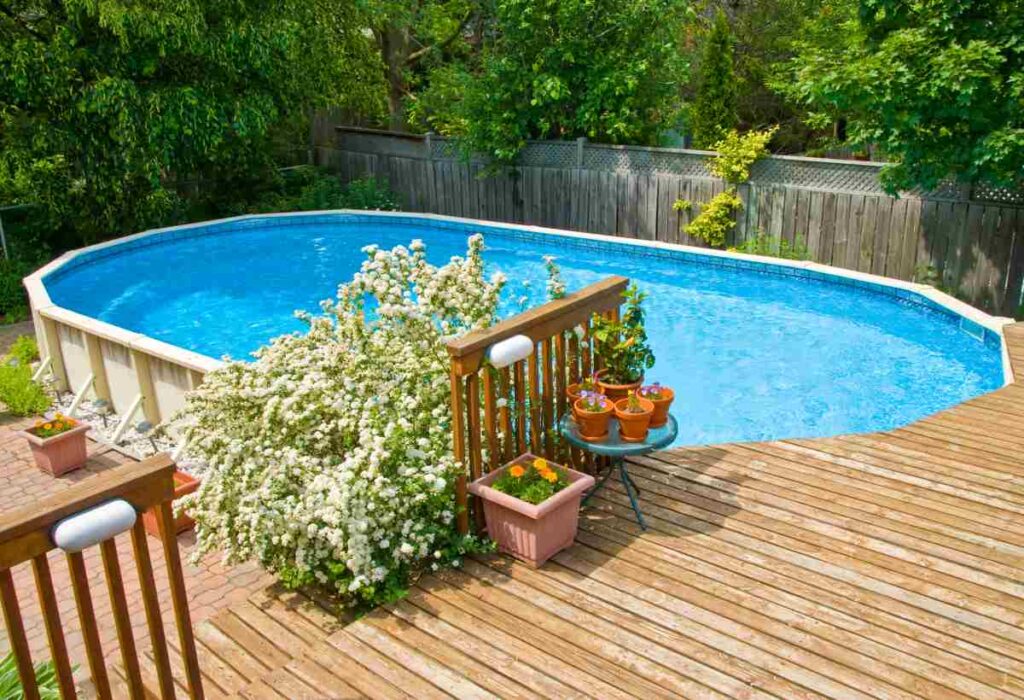 ---
Things to Know Before Getting Your Backyard Pool
What Activities Do You Want Your Backyard Pool For?
The most important question you should ask yourself before diving into a backyard pool project is "what am I going to be using this pool for?"
Are you simply lounging? Great, no need for a deep end.
Do you want to host a weekly cannonball competition for your friends? Space and depth will be your best allies!
Knowing what activities you'll get up to will help you narrow down your decision on which backyard pool idea to pursue.
How Much Space Do You Have for Your Backyard Pool?
Whether you only have a few square feet or an entire yard to dedicate to your backyard pool, deciding how much space you want to use for your summer splash pad is of the utmost importance. The amount of area you're willing to convert to pool space will help you further narrow down your options!
What Is Your Budget?
This list of 15 backyard pool ideas on a budget will guide you through some amazing swim setups that are way more affordable than the average backyard pool. Before diving head first into purchasing though, make sure the pool you choose to go with fits your budget!
And don't forget ongoing maintenance costs. For permanent backyard pool installations, depending on the size and filtration method, you should budget $500 to $3,000 a year for professional upkeep services.
2. Small Inflatable Pools
Small inflatable pools are a necessity for keeping kids and pets cool and entertained in the hot summer months! Splash around with your little ones in this easily inflatable pool that'll cost you less than a dinner out.
7. Deck-style Aboveground Pools
Get the inground pool feel for aboveground pool prices! Surround your hard-sided aboveground pool with a gorgeous wrap-around deck.
Immediately elevating the aboveground pool experience, deck-style pools create the perfect lounging environment. Or, if you're looking to cause a bigger wave, the perfect platform to belly-flop off of!
With an average cost of $5,000 on top of the cost of an aboveground pool, this project will yield a stunning backyard oasis at merely a fifth of the cost of the average inground pool.
8. DIY Aboveground Pools
Consider yourself handy? There are plenty of ways you can make your own DIY aboveground pool with nothing but a waterproof tarp and some materials that you can stack for walls!
A super popular option is an aboveground hay pool. Gather yourself some bales of hay and stack them in the pool shape you desire. Secure a waterproof tarp on top and fill up your pool! Add extra durability by laying another tarp down on the ground first, before stacking the hay.
Don't have hay? Feel free to get creative! Other great alternatives for building your DIY aboveground pool walls are wooden pallets or mounds of gravel.
---
Inground Backyard Pools
9. Semi-inground Pool
Feeling conflicted about whether to choose an inground or aboveground pool?
Semi-inground pools are the perfect solution for you!
Partially dug into the ground and partially exposed, these pools are more affordable than a fully inground pool and are a unique backyard feature that not many people have (so definitely don't forget to show it off to your neighbors).
Semi-inground pools can also be significantly deeper than their aboveground counterparts. Tie this added depth into the fact that the average cost of a semi-inground is only $12,000—a mere fifth of the cost of a full inground—and you might be hard-pressed to find a reason not to get one!
10. Small Inground Pool
Get the inground pool experience without the full price tag by cutting down on size!
Small inground pools (10ft by 16ft or 10ft by 20ft) range in price from about $15,000 to $25,000 depending on the material you choose (vinyl, concrete, or fiberglass) and can generally be up to 7ft deep.
At about half the cost of a full-sized inground pool, a small-sized version can get you everything an inground pool has to offer while taking up a much smaller footprint in your backyard—and a much smaller footprint on your energy bill!
11. Shipping Container Inground Pool
Shipping container pools are a super trendy alternative to the traditional inground pool. Starting at around a third of the price, shipping container pools are sure to wow!
These innovative pools are easy to install, great for small backyards, and can really add to the entire aesthetic of your outdoor space.
12. DIY Inground Pools
For the real DIY enthusiasts out there, or if you're just looking for a fun challenge—and I do mean challenge—DIYing your inground pool might be the budget route you choose!
Handy DIY inground pool kits are available for purchase through various retailers, or, if you're really feeling up to the task, you can manage the whole project from start to finish on your own.
Costs will vary for a DIY project, but you have the advantage of being able to choose everything yourself. Expect some fumbles and roadblocks along the way if it's your first time, but definitely also expect some great memories!
Some backyard pool-building tips for the DIYers out there:
The better and more accurate the rough dig of the pool, the less work you'll have to do later on refining the pool's shape.
Materials will play a significant role in the cost of the project as well as the longevity of the pool, so research your materials well.
Definitely hire someone to do the electrical if you're not qualified. Electricity and water just don't mix!
---
Other Great Backyard Pool Ideas on a Budget
13. Swim Spa Lap Pools
If you're looking to break a sweat by getting those laps in, but you don't have the space for a long pool, a swim spa lap pool may be the best option for both your wallet and your space!
Swim spa lap pools are essentially workout machines, with spa features, that allow you to swim infinite laps in a small space. Just set the current and swim against it to be held in place.
Though this technology may be on the higher end of budget pools ($10,000 to $20,000 for basic models), they are a super efficient way to incorporate swimming workouts into a tight space and are still less than half the price of the average pool!
14. Stock Tank Pools
Yes, you heard me right. Stock tank pools.
The round galvanized steel tanks used to water livestock make incredibly simple and stylish backyard pools!
At only two feet deep, the water warms quickly in the summer and is a party favorite for lounging. For about $500 to $1,500 you can get yourself a lightweight, easy-to-be-installed stock tank pool. Toss a chlorine floaty in it or install a pump and you're good to go!
15. Hot Tubs
We're ending off this list of backyard pool ideas on a budget with the coziest option of them all… a hot tub.
Keep yourself warm all winter with this perfect backyard addition!
Ranging from $3,000 to $16,000, depending on the make and model, hot tubs are more affordable than a pool and can be tucked away on your deck or balcony. Make sure you have a stable base and great cover to keep your hot tub well-insulated in the winter months to reduce heating costs.
---
Time to Take the Dive Into Your New Backyard Pool
Thank you for taking the time to dive into this list of backyard pool ideas on a budget!
Now it's your turn to make the big decision—which of these fabulous aquatic options will it be?
Looking to upgrade your outdoor spaces at home? Then find inspiration for your Minnesota backyard with our landscaping ideas, outdoor furniture suggestions, gardening recommendations, and more!
Looking for some warm weather recommendations? Discover spring and summer in Minnesota for best destinations, travel recommendations, small (and big!) town events, and more!