If you've never experienced fall in Minnesota, you are missing out. With 22 percent of the state covered in forest, you'll get to see some of the most vibrant fall foliage in the Upper Midwest.
Even more exciting is the fact that there are more than 100 apple orchards within the state offering apple picking, corn mazes, hayrides, and other amazing fun-filled fall activities. So grab your keys, and off we go to explore some of the best apple orchards in Minnesota.
Afton Apple Orchard in Hastings is one of the most interesting and action-packed orchards in the state. There is always something going on here, starting in the spring and ending in the late fall when the apples are harvested.
Of course, autumn reigns supreme at Afton. Starting in late August, visitors are invited to pick apples, raspberries, and pumpkins in the 250-acre orchards. The farm also hosts an annual fall festival and many other special events.
After you pick apples, relax at the farm playground, explore the corn maze, or enjoy some fresh homemade treats available in the store.
Pine Tree Apple Orchard in White Bear Lake is one of the best apple orchards in Minnesota for getting sustainably grown local fruit. The farm uses the best growing practices to ensure that giving back to the earth is the name of the game.
Of course, that also means the best local fruit you can find! Summer is strawberry season, but in autumn, it's time for apples. More than 25 varieties are grown at Pine Tree Apple Orchard, including some you may not have tried before.
There are tons of activities going on every autumn, including a corn maze, pumpkin patch, and much more.
Apple Jack's Orchards in Delano offer fresh produce, an extensive apple orchard, and plenty of other family-friendly fall activities.
You can find quite a few apple varieties here. Some are well known, while others are completely one-of-a-kind. Visitors have the chance to pick apples they can't find in most other places, including First Kiss, Chestnut Crab, Red Baron, Regent, and Kinderkrisp.
When you're done picking apples, stop into the farm store to try some homemade goodies like pies, breads, jams, and produce. There's also plenty of family fun including a cow train, corn maze and pit, and an apple cannon!
Whistling Well Farm in Hastings is your one-stop-shop for all things fall-related. While many other farms in Minnesota produce other crops throughout the year, Whistling Well focuses on apples, pumpkins, and mums — which means it is all about fall fun here at one of the best apple orchards in Minnesota.
You can also stop into the country store on the farm, where you'll find delicious goods like jams, jellies, pumpkin butter, maple syrup, and much more. Of course, you'll also find pre-picked apples and pumpkins for sale there as well.
Apple varieties at Whistling Well include Honeycrisp, Snowsweet, SweeTango, Paula Red, First Kiss, Haralson, Zestar, and more.
Located in the small town of Webster, Sweetland Orchard is a classic farm experience. Family-owned and -operated, Sweetland features apple and pear orchards and an on-site cider mill.
The farm grows its apples through sustainable practices. All the apples here were either developed by the researchers at the University of Minnesota or are tried-and-true heirloom varieties that you may not have ever tried before.
The orchard opens for apple season in early September. Visitors can help themselves to apples or purchase pre-picked fruit in the store. If you like, visit the cider mill and enjoy a complimentary tasting of both hard and classic varieties.
Fall Harvest Orchard in Montrose is a great place to experience some family fun. Featuring an apple orchard, a pumpkin patch, and plenty of fun activities, the farm is one of the top attractions in the area and one of the best apple orchards in Minnesota.
With 20 apple cultivars to pick, you will have plenty of time to enjoy the orchard. The harvest starts in late August with early varieties like State Fair and First Kiss and wraps up in mid-October.
After picking apples, bring your kids to feed the farm animals, play in the corn pit, explore a corn maze, and climb on hay bales.
Deer Lake Orchard in Buffalo is a beautiful and action-packed farm that draws visitors back year after year. With the orchard open to all visitors including dogs, this is truly a place for fun for the whole family.
Deer Lake offers several apple varieties, some available in the store and others for U-pick. Take a leisurely wagon ride out to the fields and help yourself to varieties like Zestar and SweeTango.
The orchard has plenty of other activities, including a petting zoo, corn maze, pumpkin patch, and playhouse. There are regular festivals here featuring great local food trucks as well!
Next on our list of best apple orchards in Minnesota is Blossom Hill Orchard and Farm. Located in Preston, this family-owned farm offers 30 varieties of apples as well as fresh pork, homemade baked goods, and much more.
The farm partners with other local producers to sell some of the freshest and most delicious treats in its on-site store. This includes everything from fresh fruit pies to honey, jams, maple syrup, and more.
One of the owners is a professional baker who trained in Italy, so you know this combination of fresh produce and expertise is good! You'll also find locally-made non-food items in the market like soap, pottery, and more.
The University of Minnesota has been responsible for some of the biggest innovations in apple varieties and growing methods. Researchers here produced the enduringly popular Honeycrisp variety.
Now, you can still visit the AppleHouse, located in the university arboretum. Here, you can choose from some of the most delicious and unique apple varieties in the store as well as apple pies, apple cider, apple cider doughnuts, and seasonal gifts and decor.
Though there is no option for U-pick, this is a great place to visit for fresh produce at one of the best apple orchards in Minnesota.
Sekapp Orchard in Rochester has been going strong since 1962. This one-of-a-kind farm produces not only dozens of apple varieties but also pumpkins, sweet corn, local honey, mums, and tons of other produce.
There are 8,000 apple trees at Sekapp Orchard, so you might have a hard time deciding what to pick! The harvest kicks off in late August. Throughout the fall, you can also enjoy activities on the farm like a corn maze, hay bale maze, pumpkin patch, and Halloween activities.
Of course, there is always plenty of pre-picked produce for sale, with seasonal fruits and veggies available from July to November.
Country Blossom Farm in Alexandria offers a wide choice of apple varieties, many of which were developed to suit the Minnesota climate perfectly! Help yourself to cultivars like Haralson, Sweet Sixteen, Cortland, Kinderkrisp, and more.
There are more activities at Country Blossom Farm than almost any other apple orchard you can find! Just a few of them include a corn pit, corn maze, playground, wagon rides, bounce rides, and a kids' farmers' market. There is also a bakery and gift shop selling locally-made goods.
Kids three and under get in free, so this is definitely an attraction you don't want to miss!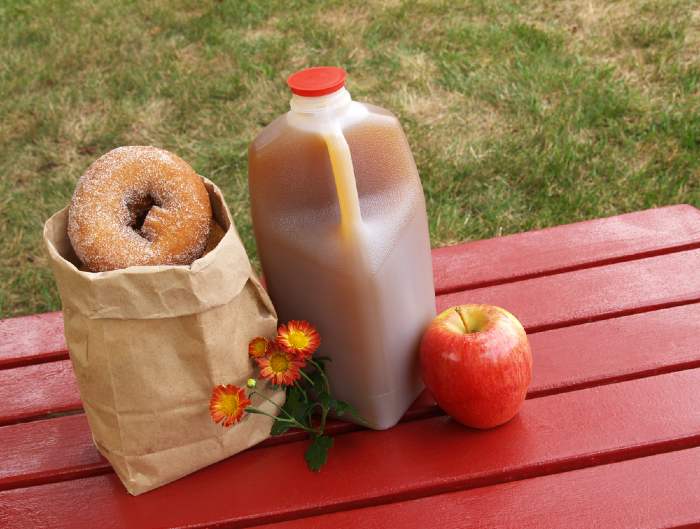 Last but not least on our list of best apple orchards in Minnesota is Nystrom Orchard. This fifth-generation family farm, located in Worthington, offers dozens of apple varieties along with fresh honey, beef, and much more.
Apple season runs from early September to late October here, with varieties both rare and well-known. You can also stop in for fresh apple pies and cider as well as honey made by the bees that pollinate the orchard.
Nystrom also offers regular tasting events where you can sample hard and non-alcoholic apple cider and fruit wine. This gorgeous orchard is a haven of local treats that kids and adults alike will enjoy.
FAQs
Where Can You Try Local Apple Ciders?
There are dozens of apple cideries in Minnesota, but don't assume every apple orchard produces it! If you have your heart set on trying some fresh apple cider, do your research before planning your trip. Some apple orchards also produce hard cider and offer tastings, including Sweetwater Orchard and Aamodt's Apple Farm.
What Is The Apple Picking Schedule In Minnesota?
Apple picking harvest schedules vary widely depending on the variety. Some early cultivars like Gala and Gravenstein are ready to harvest as early as June or July in certain climates, though they may show up in later summer in a cold climate like Minnesota. Apple season can extend all the way to October or November with varieties like Pink Lady.
Conclusion
In Autumn, Minnesota is the place to be. From beautiful fall foliage to apple picking and more, you will fulfill all your harvest needs at some of the best apple orchards in Minnesota. To find out the local apple harvesting schedule, check your local orchard's website before you plan your trip!
If you've visited an amazing apple orchard you feel should be added to our list of the best apple orchards in Minnesota, please let us know. We'd love to hear from you!
Ready for more Minnesota advice, info, and guides? Whether you're a local or a passerby, discover the best of Minnesota that our great state has to offer!