---
Best Backyard Fire Pits: Buying Guide
We can't call this a complete guide to the best backyard fire pits without listing some key considerations. Before deciding on a pit, ponder the following concerns to ensure your purchase is sound.
Propane vs. Wood Burning
When you figure out the best backyard fire pit for your space, you'll have to decide whether you want propane or wood burning. Both have their benefits and downsides depending on your personal wants.
Propane is ideal if you're looking for the easiest way to enjoy a backyard fire with minimal work. All you have to do is install the propane tank, flip a switch, and you instantly have a roaring fire ready to set the mood.
Wood-burning fire pits take a little more work than just flipping a switch, and depending on your skill level, you may need to buy fire starters to get the flames started.
Cost is another factor here. Propane fire pits can get pricy since you'll need to replenish the fuel.
Wood-burning pits might be cheaper if you have plenty of free firewood on your property. If you need to buy firewood or get it delivered, the costs of running the two types of pits might start leveling out.
Lastly, you'll want to factor in the ambiance delivered from each fire pit. You certainly can't beat a wood-burning pit's crackling sound and smoky aroma. Propane can't offer the same sensory experience.
Grill vs. No Grill
Another factor to consider when buying the best backyard fire pit is whether you want to use it for cooking.
Grilling dinner on open flames can be a gratifying experience. Not only does it help you appreciate modern conveniences more, but the fire from a wood-burning pit can enhance the food's flavor.
Grilling over an open fire is not for everyone, however. In addition to maintaining the fire, you have to keep an eye on the food to ensure it doesn't overcook or burn. It also adds an extra step for cleaning up after finishing, which can be time-consuming.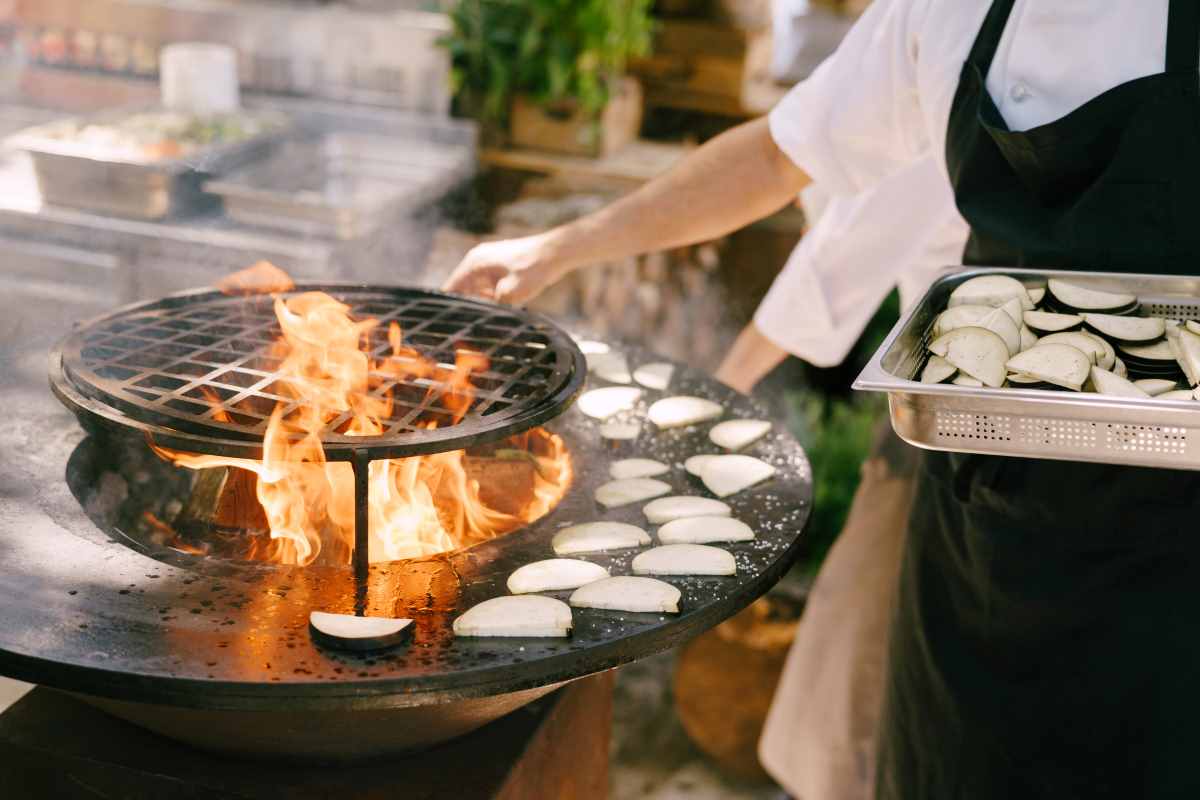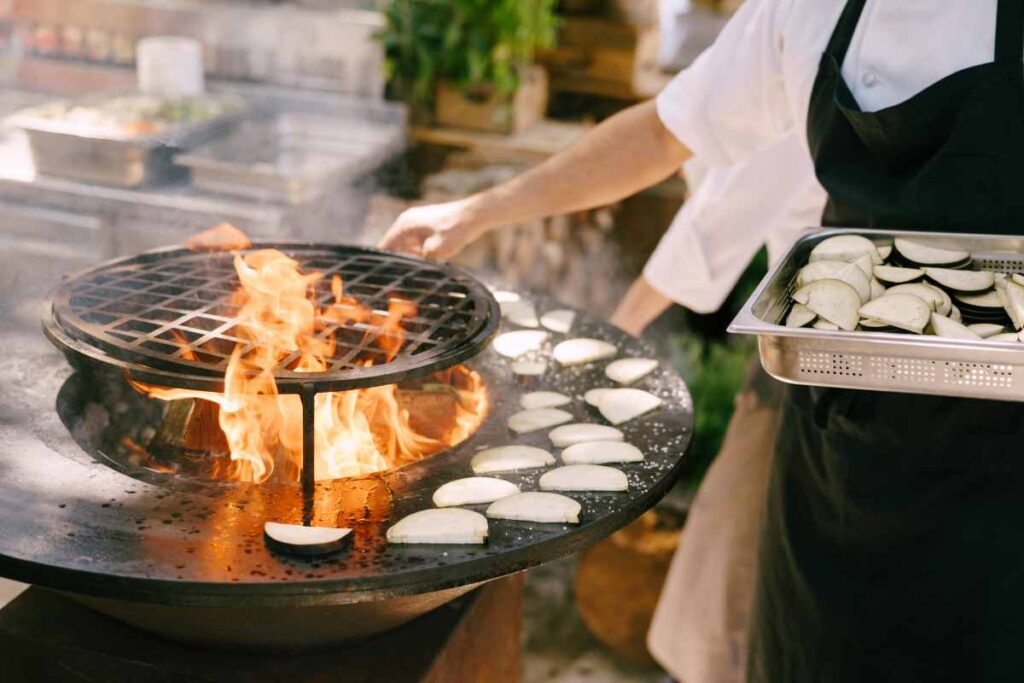 So ponder if you'll want to use your backyard fire pit for cooking. Some of the options we listed don't include a grill, so you may have difficulty finding one that fits that particular model after purchasing.
We recommend buying a fire pit with a removable grill, like the Sunnydaze Northern Galaxy fire pit. This way, you can experiment with outdoor grilling without committing to a model designed for cooking over ambiance.
Material
Material is an essential aspect of choosing the best backyard fire pit.
Most of the listings in this guide are crafted from heavy-duty steel. This material is ideal since it warms up quickly and spreads heat efficiently. A fire pit made from steel ensures longevity and protection against the elements.
---
Best Fire Pit FAQs
If you have some burning questions (no pun intended), we have answers. Here are the most frequently asked questions about the best backyard fire pits.
Do fire pits attract mosquitos?
If you're worried that including a fire pit in your backyard will invite swarms of mosquitoes to disrupt your evening bonfire, we have good news. Installing a fire pit is an effective way to discourage mosquitoes from hanging around your patio.
Mosquitoes don't like smoke, so they'll steer clear of a campfire and let you enjoy the nighttime air in peace.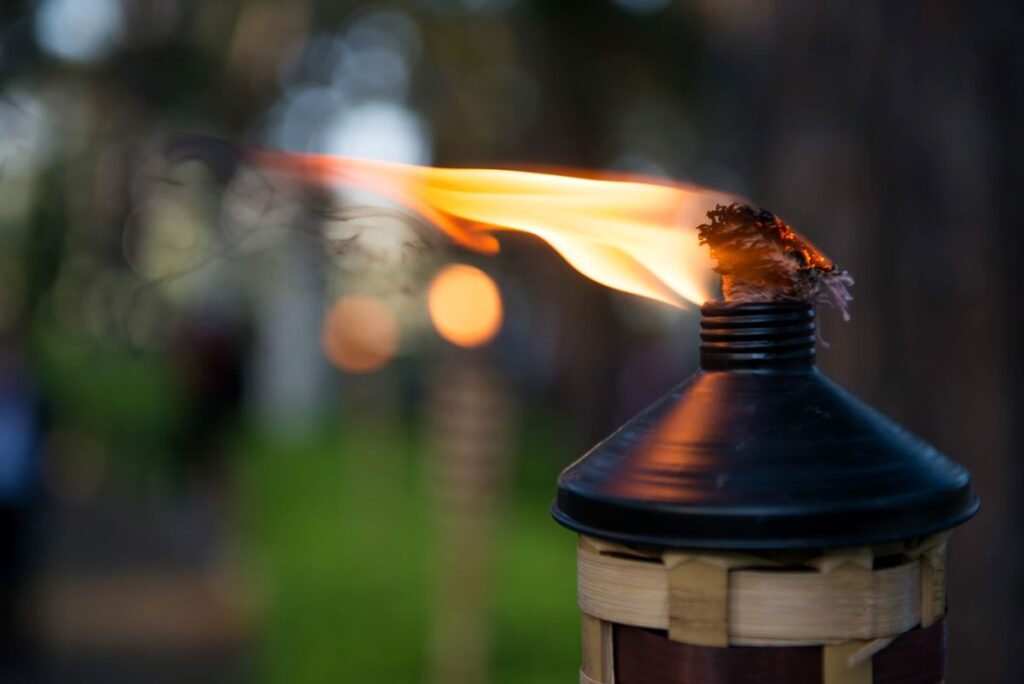 The only caveat to this solution is if you have a propane or smokeless fire pit. Since these pits produce carbon dioxide instead of smoke, they actually counter the effects of wood-burning fire pits because the gas draws in mosquitoes.
If you're thinking of purchasing a propane or smokeless fire pit, we recommend equipping your outdoor space with citronella candles or torches to help dissuade any bugs.
Where should you not put a fire pit?
If you purchase a wood-burning fire pit, you should be aware that there are certain materials you don't want to set on fire.
You may already know that burning plastic isn't a good idea since it releases dangerous toxins and chemical fumes that harm your health and the environment. This same logic also applies to magazines since the gloss on the pages is typically plastic-based.
While newspapers make great firestarters, burning the ink can also release dangerous toxins. The same goes for cardboard boxes.
Avoid burning any wood that has been treated or painted, including pallet wood which is almost always treated with methyl bromide, a hazardous toxin when burned.
Lastly, this might go without saying but never burn any aerosols, fire accelerants, or pressurized cylinders since they can cause explosions.
Can I put my fire pit on grass?
If you purchase a fire pit that's elevated high off the ground, you can technically put it on grass. That being said, we recommend playing it on the safe side and placing your fire pit over a heat-friendly material like a cement pad or hard rocks such as granite, marble, or slate.
Is it safe to use a fire pit under a covered patio?
If you have a covered patio, you may be wondering about the restrictions of adding a fire pit to your setup.
It's unsafe to use a wood-burning fire pit under a covered patio. For one, burning wood produces thick smoke that can quickly build up and deplete oxygen levels in a confined space. You also risk potentially damaging your patio ceiling over time.
The good news is that installing propane fire pits under a covered patio is usually safe as long as there's proper ventilation. Be sure to check the manufacturer's recommendations for more details.
---
Best Backyard Fire Pits: Summed Up
We hope that by reading this guide, you were able to find the best backyard fire pit to suit your personal needs.
Whether you want to stare at the glowing embers, host a backyard cookout, or just listen to the sounds of crackling wood, you can't go wrong with the Sunnydaze Northern Galaxy or really any fire pits in this guide.
Looking to upgrade your outdoor spaces at home? Then find inspiration for your Minnesota backyard with our landscaping ideas, outdoor furniture suggestions, gardening recommendations, and more!
Looking for more autumnal activities? Then visit our Minnesota Fall page to find inspiration for sweater weather fun!