---
Best Backyard Playsets: Buying Guide
Now that you've read all about the best backyard playsets take a look at our buying guide to help determine which option is best for you.
Amount of Activities
One important factor when deciding on the best backyard playset is the number of activities built in. Gone are the days when playsets were reduced to a swing and a slide.
Today you can find affordable backyard sets loaded with activities to provide ample fun in the sun. Even if your backyard is minuscule, you can still find choices that provide more playing options for the young ones.
We have to hand it to the Ninja Warrior Obstacle Course and the Kiriner Swing Set for building multiple activities into the playset. Both of these choices provide endless fuel for the imagination as well as tactile fun.
Assembly Time
Assembly time is very crucial when pondering the best backyard playset to buy. All the choices listed above have varying degrees of assembly time and difficulty, so decide what you're looking for ahead of time.
If you want something that comes together in an hour tops, the YACOOL Swing Set or the Ninja Warrior Obstacle Course might be the best backyard playset for you.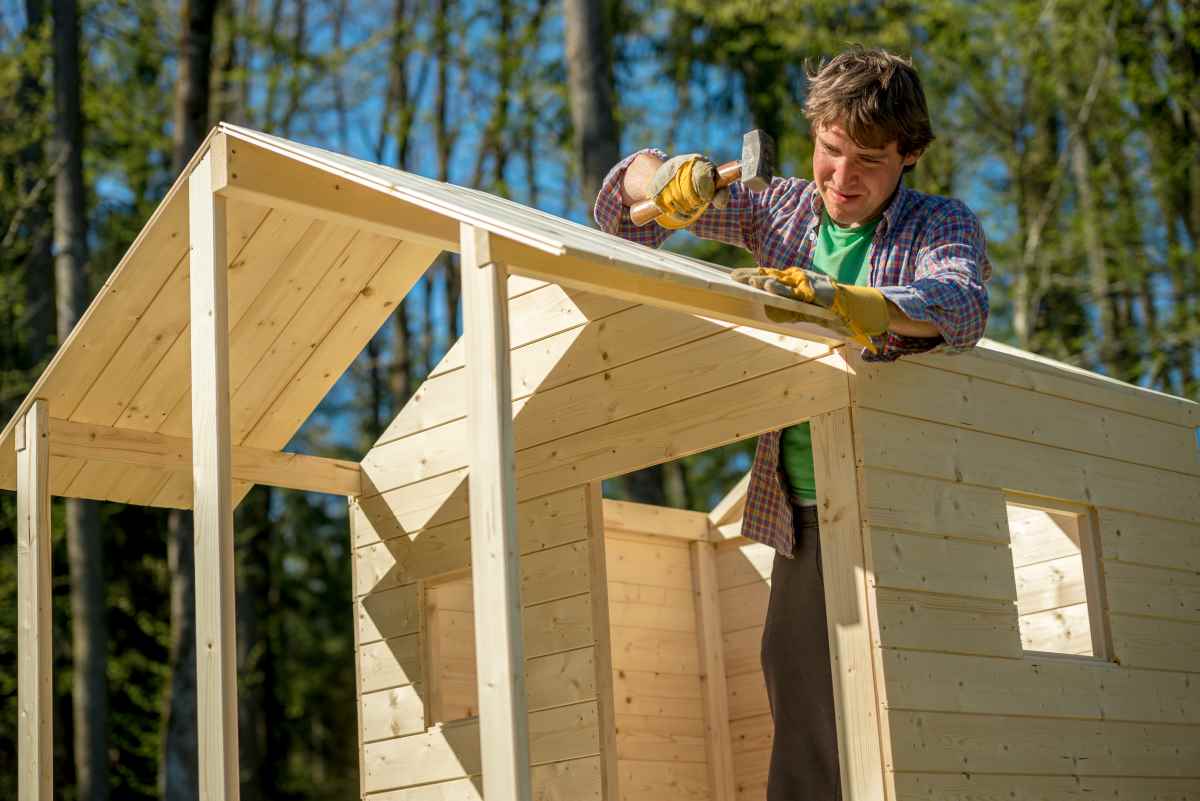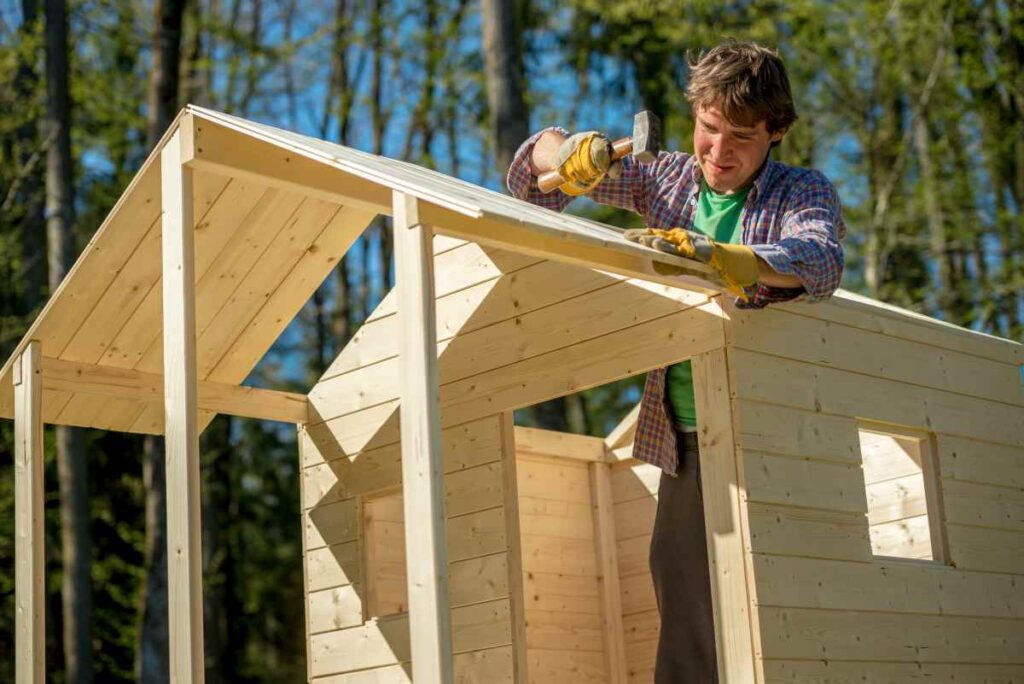 Both choices require minimal handiwork, so you can spend less time on assembly and more time catching up on some R&R while the kids entertain themselves.
If you consider yourself a DIY-er at heart and don't shy away from a challenge, we recommend the Lifetime Adventure Tower Swing Set or the Kiriner Swing Set. These options take more time and effort to set up, but the results might serve you better in the long run.
Age of Child
Before buying the best backyard playset for your outdoor space, check the age recommendations on your potential purchase. All the listings on our guide have different age limits, so acquaint yourself with this info before buying.
While the FITNESS REALITY KIDS stole our top spot on this list of best backyard playsets, the manufacturer only recommends ages between 36 months to 8 years to play on the set.
This option casts a wider net compared to the Backyard Discovery Bay Pointe Swing Set, which is only recommended for children between 3-6 years old.
If you're looking for a backyard playset with the most longevity, we suggest the Lifetime Adventure Tower Swing Set, which is ideal for children ages 3-12. It's a one-time investment that will last through the whole childhood years.
Size of Yard
If you think having a small backyard means you can't install a playset, think again! We listed a few options that are on the smaller side and can fit in any tiny space.
The YACOOL Swing Set is our smallest option and can be placed in snuggest backyard spaces. The only downside is that you're limiting your kids to two swings.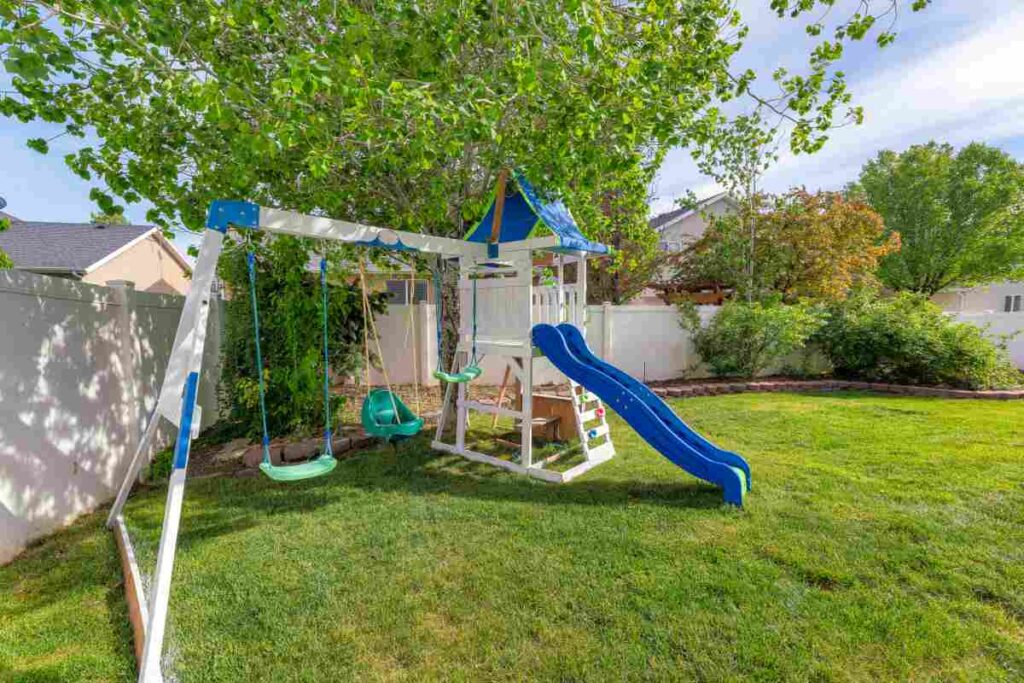 If you have a little more space, we would recommend the Kiriner Swing Set, which takes advantage of every nook and cranny to install more activities. This option gives you more bang for your buck if you can afford the extra space.
Weight Limit
Last but not least, be sure to review the weight limit before buying the best backyard playset for you. Not all playsets are built equally, and purchasing an option with the right weight limit is imperative for the safety of the little ones.
Most listings here offer a 440lb weight limit. Not only does this provide extra peace of mind to parents, but it also ensures that your kids can grow alongside the equipment.
Plus, if you're the type of parent who wants to play in the trenches with the kiddos, a higher weight limit can offer you that opportunity without worrying about structural safety.
Purchasing an option like the FITNESS REALITY KIDS Swing Set constrains you to an 80lb weight limit, meaning your kids will eventually outgrow the equipment.
---
Frequently Asked Questions
Now, let's answer some of the most frequently asked questions about backyard playsets.
Is it cheaper to build your own playset?
If you're considering the financial impact of buying a backyard playset, you wonder if it's cheaper to build one yourself. While you can cut costs by building a homemade playset, it might not serve you well in the long run.
A skilled carpenter or experienced DIY-er can build a long-lasting playset that stands the test of time. If you're testing the waters in construction, you may be met with an onslaught of considerations like structural integrity, safety, weatherproofing, and building codes.
Purchasing a pre-made playset can help you avoid these problems and make your life a little easier.
Do playsets lower property value?
If you build a permanent playset in your backyard with all the frills (think Lifetime Adventure Tower Swing Set), you can increase your home's property value. It depends a lot on the condition of the playset and whether or not the buyer sees value in it.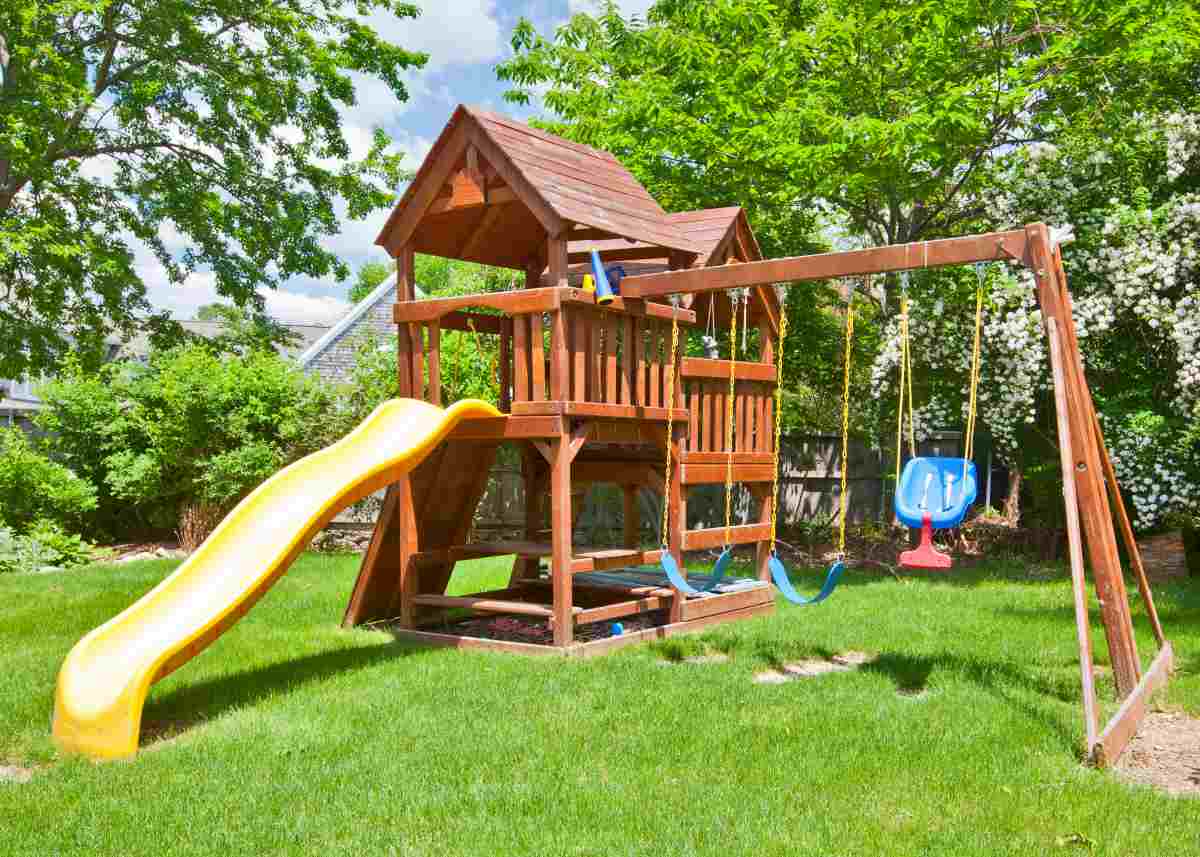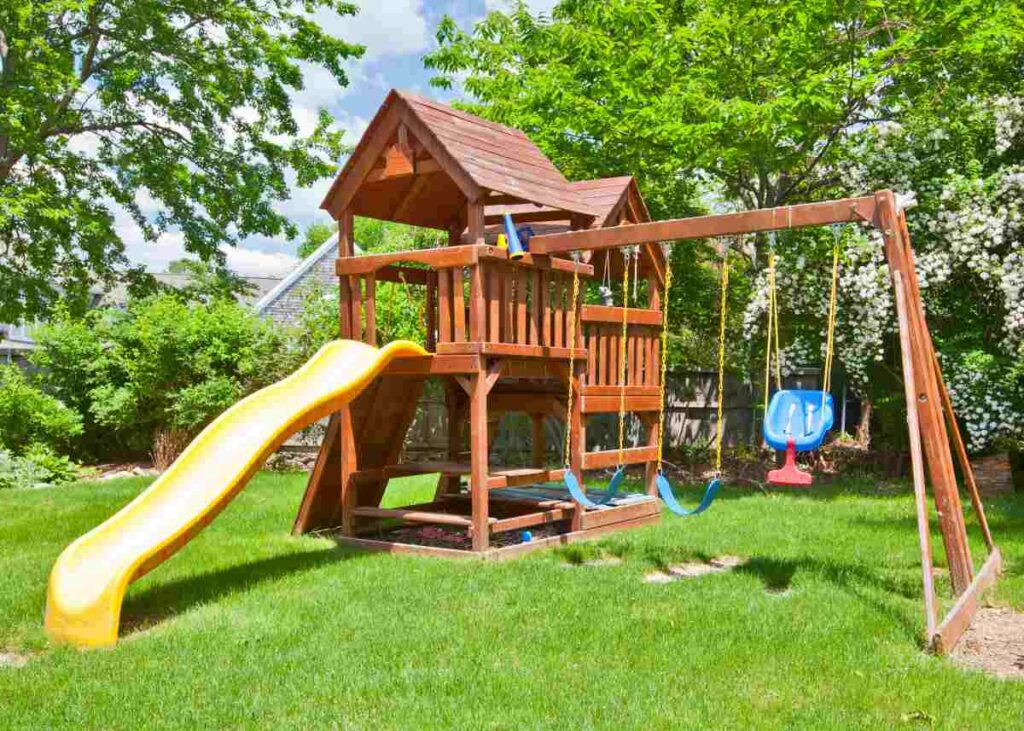 If you have a decrepit playset rusting away in your backyard, consider removing it before listing your home. Buyers may see this eyesore and be deterred.
How do you winterize a playset?
You can easily winterize a backyard playset in a few simple steps.
Start by giving it a good cleaning, then remove plastic accessories. If your backyard playset is wooden, consider applying a non-toxic wood preservative to provide extra protection against the elements.
If your playset is metal, you may want to take it down and store it indoors over the winter, or you're putting it at risk for rust.
---
Wrapping up the Best Backyard Playsets
We hope our best backyard playsets guide helped you find the right kid-approved addition to your outdoor space.
No matter the age of your beloved, the size of your backyard, or your price point, a playset can provide the young ones with healthy outdoor exercise and imaginative growth.
Looking to upgrade your outdoor spaces at home? Then find inspiration for your Minnesota backyard with our landscaping ideas, outdoor furniture suggestions, gardening recommendations, and more!
Looking for some warm weather recommendations? Discover spring and summer in Minnesota for best destinations, travel recommendations, small (and big!) town events, and more!