---
Best Backyard Pools: Buying Guide
Now that you've read about the best backyard pools, take a look at our buying guide to see which one is best for you. There are many different options depending on what you're looking for, so reflect on the following decisions to make the most informed purchase.
Inflatable vs. Metal Frame
One aspect to consider when finding the best backyard pool is choosing an inflatable or metal frame. Both options have advantages and downsides depending on personal preference.
While you can easily store both options during the off-season, inflatable pools definitely make the process much simpler. Rather than taking down an entire metal frame and storing the parts, you can just drain and deflate your pool.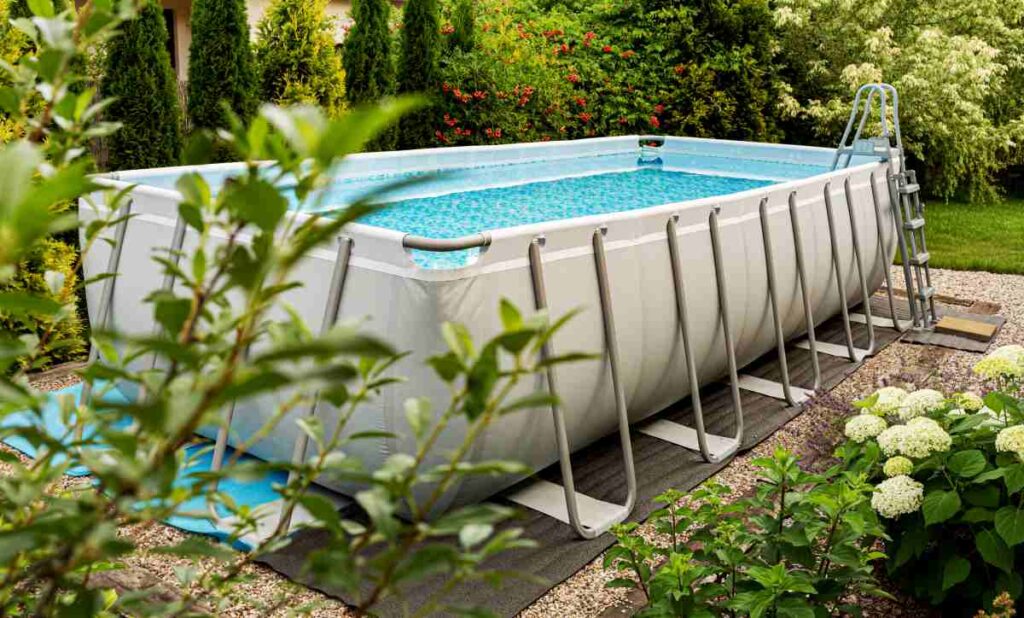 We get it. Above-ground pools aren't always the most aesthetic option for your backyard. If you don't love the idea of having a metal structure distracting from the natural beauty in your outdoor space, you might find that inflatable pools suit your style. This way, you can deflate it and put it away when not in use.
The main downside of inflatable pools is that they aren't as big as their metal-framed counterparts. You'll find that the latter is deeper and can fit more occupants. Metal framed pools tend to be sturdier and will last longer too.
Materials
Keep the materials in mind when deciding on the best backyard pool for your outdoor oasis. It can make or break your purchase.
If buying an inflatable pool, find one made from PVC. This material is optimal because it's strong, waterproof, and difficult to puncture. An inflatable pool crafted from PVC should last a long time.
If you're purchasing a framed above-ground pool, prioritize one that uses a combination of PVC and metal or steel, like the Intex Metal Frame Pool Set or the Bestway Steel Pro Max.
Ease of Assembly
The ease of assembly is another important factor in purchasing the best backyard pool. When the heat is sweltering, the last thing you want to do is spend hours toiling over a box full of pipes and PVC.
The easiest solution would be to buy an inflatable pool. With the help of an electric pump, you can have it ready in no time at all.
That's not to say that metal pools are super difficult to assemble. Most of the listings here are straightforward and don't take excessive time to construct.
---
Backyard Pool FAQs
Now, let's move this best backyard pools guide right along and answer the most frequently asked questions.
Can you leave your pool outside year-round?
You might wonder if you can leave your inflatable or metal-framed pool outside during the winter. For both types of pool, you'll definitely want to take it in before the first frost hits.
While PVC is a strong material, its durability gets compromised when it comes to ice. Even with metal-framed pools, the freezing temps can rupture the pool lining.
If you want to enjoy another summer of splashing around in the sun, you must store your inflatable or metal-framed pool completely.
How far does your pool need to be away from your house?
Before you set up your metal-framed pool, be sure to check out the local regulations. A good rule of thumb is to keep it at least 10 feet away from your house to prevent any electrical problems caused by leaks or splashing.
Some above-ground pools might even require a building permit, so be sure to check with your municipality before assembling.
How long can you keep water in an inflatable pool?
If you're wondering how often to change the water in an inflatable pool, the recommended minimum is every two weeks if you treat the water with chlorine.
If you're not adding chlorine to the water, you should change the water every day. Bacteria can start forming in stagnant water in just 24 hours, so you'll want to stay on top of draining the pool regularly.
What can I put under a metal-framed pool?
If you're wondering which area of your yard is best for the metal framed pool, opt for any area with grass, sand, or soil. Be sure to clear away any debris before constructing your pool to prevent any punctures or damage.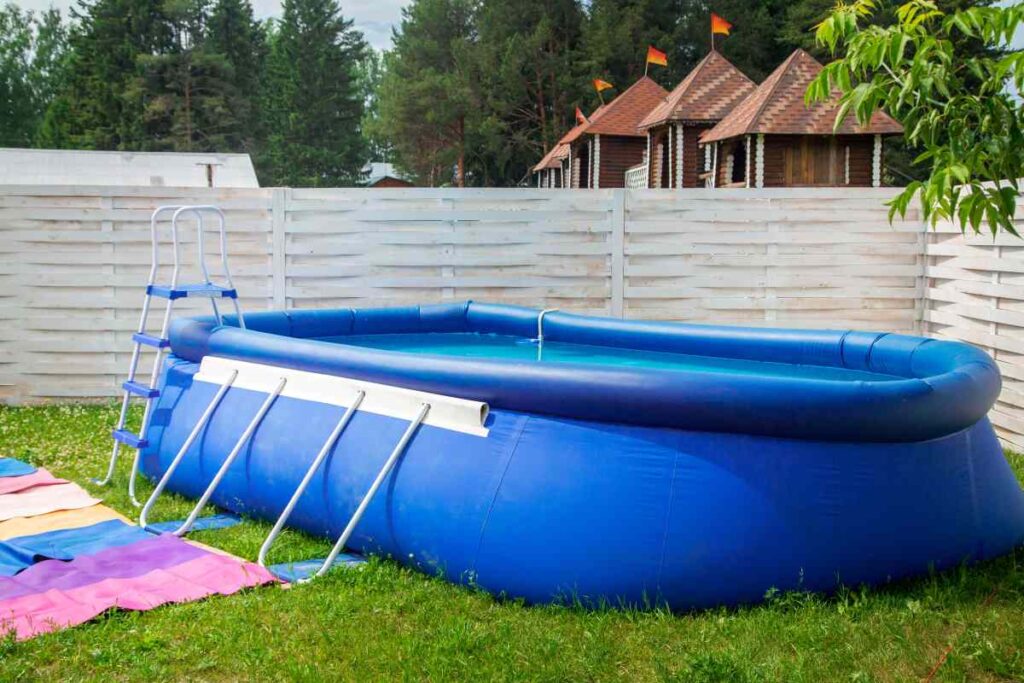 You can place a pool over concrete, but only if there's ample drainage and you place a liner on the bottom for protection.
---
Best Backyard Pools: Summed Up
We hope our guide on the best backyard pools has helped you find a new addition to your backyard oasis.
Whether you're looking for an easy inflatable splashing pad for the kiddos or a full-sized pool to enjoy with friends, you can't beat one of the best backyard pools.
Looking to upgrade your outdoor spaces at home? Then find inspiration for your Minnesota backyard with our landscaping ideas, outdoor furniture suggestions, gardening recommendations, and more!
Looking for some warm weather recommendations? Discover spring and summer in Minnesota for best destinations, travel recommendations, small (and big!) town events, and more!