---
Topics to Review When Buying the Best Backyard Smoker for You
Types of Backyard Smokers
Did you know there are nine different types of backyard smokers? Each one appeals to buyers for different reasons, so before you decide which is the best backyard smoker for your unique needs, you'll need to become familiar with the nine smokers and their pros and cons.
The nine types of smokers are offset, vertical, propane, electric, pellet, charcoal, kamado, kettle, and cold.
Height and Width
The best backyard smokers come in all shapes and sizes.
If you have a large family or an enormous friend group, you'll want a larger one so you can cook more at one time. However, if portability is important to you, you'll probably want to purchase a smaller smoker.
Consider the size of the smoker before purchasing, especially if you're planning on transporting it to your friend's backyard smoke-out every Friday night.
Outer Materials
The best backyard smokers are made out of steel. You'll see alloy and stainless steel in product descriptions, typically. Stainless steel is a type of alloy steel that contains a large amount of chromium for extra shine and corrosion resistance.
Assembly
Most of the best backyard smokers on Amazon come with the option to choose expert assembly. Amazon offers free expert assembly in select areas for some backyard smokers, though others will require an extra fee.
Adding assembly assistance to your order is a great idea for new backyard smoker buyers.
Of course, this doesn't mean you can't assemble the product on your own. It's always a good idea to check the assembly review ratings and reviews to determine if the expert assembly will be worth it in your situation.
Ease of Use
If you're a smoking pro looking to upgrade your current backyard smoker, ease of use may not be a concern for you. However, if you're a newbie looking to try your hand at smoked cooking for the first time, pay attention to house difficult the smoker is to use.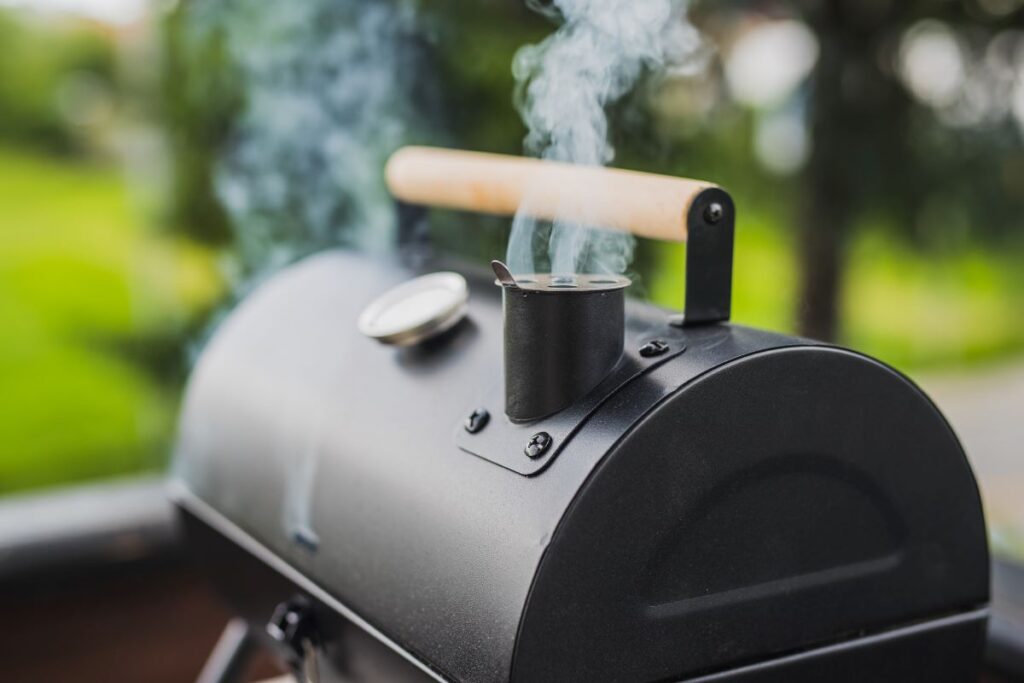 You'll get the most bang for your buck if the product is easy to use because you won't have to worry about adding stress to your day when your smoked pork cravings hit. Just fire up your smoker and start cooking.
Amazon provides "Ease of Use" ratings based on customers' reviews.
Cleaning the Backyard Smoker
A big reason—apart from being difficult to use—consumers report not using their cooking appliances is because the parts are difficult to clean. Pay attention to product descriptions and reviews that mention how the smoker is cleaned to determine if it's a good fit for you.
The best backyard smokers will be easy to clean, so you can use them often!
---
Frequently Asked Questions About Backyard Smokers
Can a smoker replace a grill?
The simplest answer to this question is, it depends. Some smokers are hybrids, so they include both smoker and grill functions. Hybrid smoker grills can replace your current outdoor grill.
However, smokers and grills function differently. The biggest difference is that smokers cook at a lower temperature than grills, allowing the smoky flavor to permeate the food. Therefore, smokers take much longer to complete the cooking process.
If you're a busybody without a lot of extra time to spend cooking regularly and only want your backyard smoker for special occasions, then you're not going to want to let go of your grill just yet.
Bottom line: If you're wanting your smoker to also have grill functions, purchase a hybrid model.
Does outside weather affect backyard smokers?
Weather is always going to be a factor in how your backyard smoker functions.
It's always best to check the weather before smoking, but in the event of unexpected rain or snow while smoking, open the vents to offset unanticipated heat loss.
During cold weather, it's more of a challenge to maintain even the best backyard smoker's temperature, but that doesn't mean your winter barbecue is off the table. It might just take a little longer to pull off.
The warmer months will improve the smoker's ability to control temperature. This will make for a hotter fire. So if you don't already have a built-in thermometer inside your smoker, you will want to add one.
Wind also impacts temperature control for some types of smokers. If the wind is heavy on a given day and is blowing in the direction of the smoker's vents, the fuel will burn faster. The best way to mitigate this issue and prevent increasing temperatures is to close the smoker's vents periodically.
However, if the wind is blowing in the opposite direction, airflow can be inhibited completely causing heat not to flow at all. It's best to try to place your smoker so the wind blows in correlation with the smoker's regular airflow.
Which backyard smoker gives you the best flavor?
It's important to note that everyone's taste buds are different, and opinions vary vastly on this topic. For example, propane (gas) smokers produce more combustion chemicals, so this means the food will have more flavor.
However, more flavor isn't always best because some people like to complain that everything cooked on a gas grill tastes like bacon. If you love bacon, a gas smoker might be the answer to this question for you. If you're not a big bacon lover, then it's not.
If you like to change up your flavors, you'll love a pellet smoker because you can easily rotate the pellets for a different flavor every time. The most popular flavors are hickory, cherry, maple, and apple.
The best way to know for sure what type of backyard smoker is going to work best for your taste buds is to read reviews from buyers who mention flavor, or you can ask your buddy who makes the best-smoked pork you've ever tasted what type of smoker he's using.
What is the most straightforward backyard smoker to use and keep clean?
Beginner backyard smoker buyers tend to gravitate toward electric and pellet. Both are similar to kitchen ovens, so the learning curve isn't steep. Electric smokers, in particular, are best at maintaining lower temperatures which aren't as easy for other types of smokers.
Electric and pellet are the best backyard smokers for beginners because you don't have to deal with charcoal, gas, or vents. This makes for an easier cooking experience and clean-up process.
What is an offset smoker, and should I buy one?
If you love playing with fire, then an offset smoker might be for you.
An offset smoker is the best backyard smoker for cooking a high volume of food at once. They're perfect for preparing smoked meat for a big event like a wedding or graduation.
Offset smokers are designed with a horizontal cooking chamber, coupled with a firebox on the side. Temperature is controlled by maintaining wood or charcoal in the firebox. You also need to adjust the oxygen flow and vents.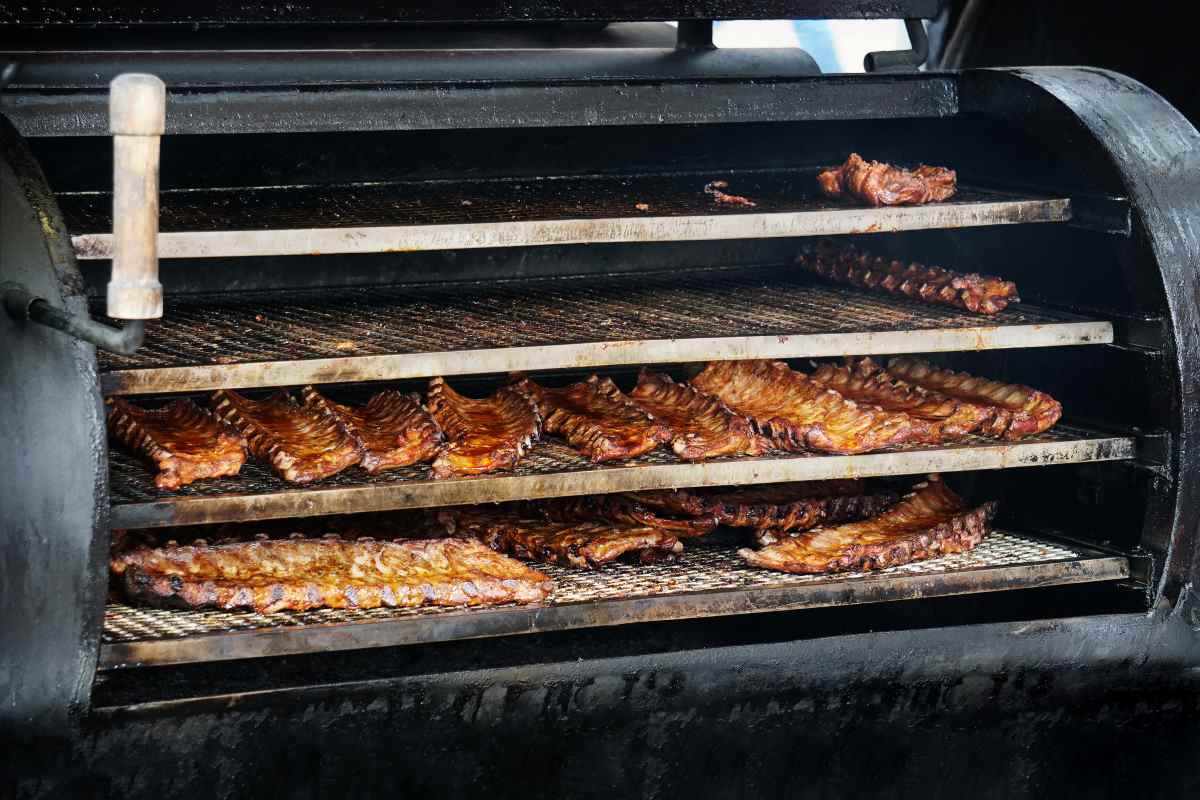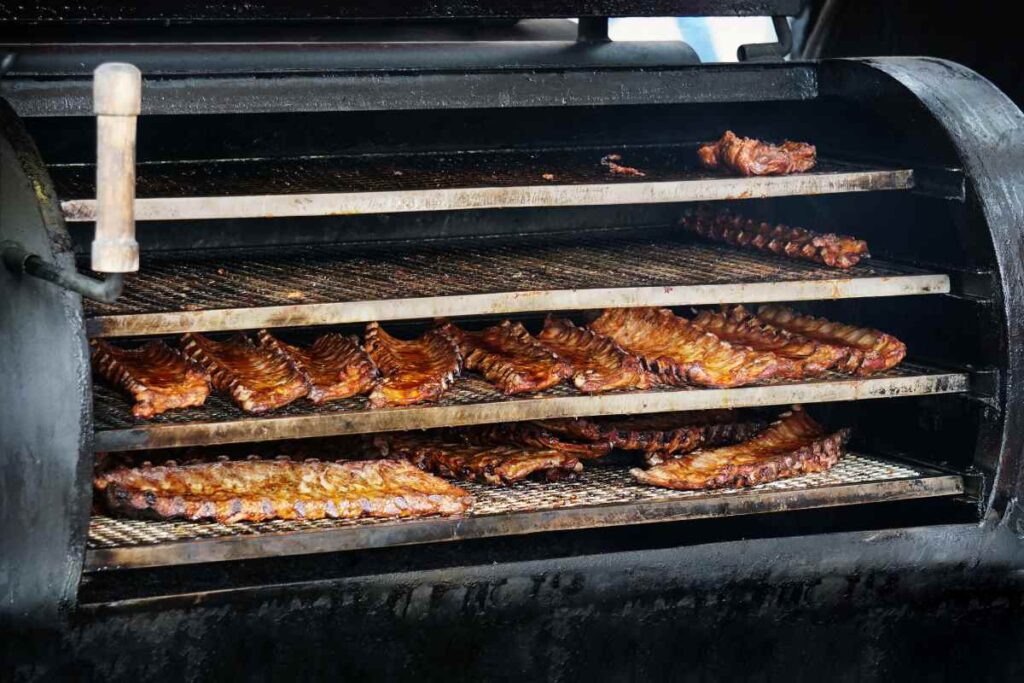 Offset smokers typically aren't going to be a person's first backyard smoker. They look cool, but they can be a little complicated to figure out for a newbie. People tend to get frustrated with them and give up smoking altogether.
So if you're new to smoking, it's best to try out an easier smoker first before leaping to an offset.
But if you've been smoking for a while, and are ready to make the leap to a more old-school-styled barbecue, then go for it!
How long should I expect a backyard smoker to last?
The best quality backyard smokers can last anywhere from five to fifteen years, depending on how well it's cleaned and cared for.
A lower-priced backyard smoker may only last two to four years.
---
Wrapping up the Best Backyard Smokers
Any of these best backyard smokers will be sure to have your guests asking you which smoker you're using at your backyard barbecues.
While you're waiting for your new backyard smoker to arrive, stock up on meat from the best meat markets in Minnesota!
Looking to upgrade your outdoor spaces at home? Then find inspiration for your Minnesota backyard with our landscaping ideas, outdoor furniture suggestions, gardening recommendations, and more!