---
Best Bass Fishing Rod for 2023 Buyer's Guide
As you contemplate which of the many choices on the market might be a best bass fishing rod for you, you'll confront a number of questions. You'll have to choose a rod material and then decide what "action" and "power" will work for you.
Whatever rod you choose will be constructed either of fiberglass or graphite. In building a bass fishing rod, either of these materials will be woven together and assembled into the final rod design. Briefly, the finer the weave in a rod's construction, the more flexible it will be for reeling in bass.
Routinely, graphite rods will be stiffer and more sensitive to bass biting than fiberglass rods. But there is a trade-off. Graphite rods generally will be more brittle, and, thus, more subject to damage, perhaps particularly in the case of a novice bass angler.
Rod components
In addition to the rod itself, you'll want to take a look at its component parts as you consider choosing a best bass fishing rod for yourself. The rod handle, for instance, might be made of wood, including cork or some sort of synthetic foam.
The handle of your rod should be comfortable but should also retain enough rigidity to accurately telegraph to you when a bass is on your line.
Reel seat
The part of your bass fishing rod to which the reel of fishing line is attached is called the reel seat. On a best bass fishing rod, the reel seat will be constructed of some sort of composite material. You'll need to be certain that the rod you choose will be compatible with a fishing reel that meets your needs.
Guides
As you choose the best fishing rod for yourself, take a close look at the guides, the metal rings on the rod through which your fishing line will pass. The best sets of guides will boost your casting distance and also will help you feel activity as bass go for your bait.
Your guides should be framed with stainless steel and should include an inner sleeve of ceramic material to ensure smooth movement of your line along the rod. Rods have a specific number of guides based on their length. A 7-foot rod, for example, should have nine guide rings.
Each guide will be attached to the rod at either one or two points. Single-foot guides are lighter but not as strong as double-foot guides, but they should work just as well on most bass fishing rods.
---
Best Bass Fishing Rod for 2023 Frequently Asked Questions
As you decide on a best bass fishing rod for your needs, here are some points of clarification for you to consider.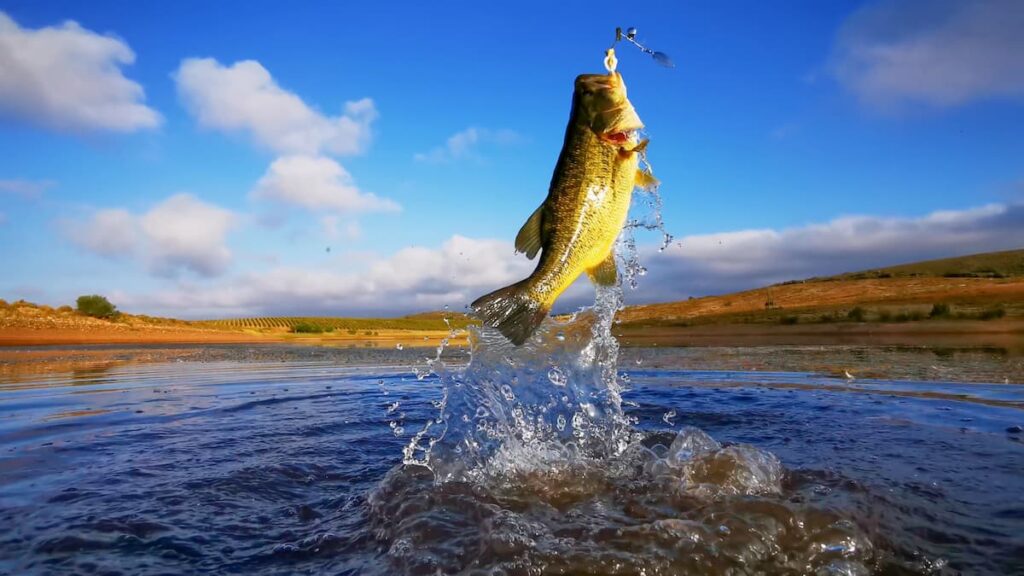 What does 'action' mean for a bass fishing rod?
As you consider purchasing a bass fishing rod, one of the terms you'll come across is "rod action." Briefly, this references the rod's ability to bend and return to its original position while catching and reeling in a bass.
Rods are rated for the following "actions": fast, medium-fast, medium, and slow. Fast-action rods exhibit the least bend and are great when fishing for larger bass. Slow-action rods are the least responsive but great for shallow-water fishing.
In between fast-action and slow-action rods, medium-fast and medium-action rods are good choices if you're going to be fishing in a variety of locations for a variety of different-sized bass.
What does 'power' mean for a bass fishing rod?
When applied to a bass fishing rod, the term "power" is a reference to its resistance to bending when force is applied or, more plainly, when a bass is hooked. You can choose from a range of rod power ratings: ultra-light, light, medium light, medium, medium-heavy, heavy, and extra-heavy.
The preferred choice of most bass anglers will be a medium-heavy rod. However, heavier rods also have a place in bass fishing, particularly if you're fishing for larger bass species or using heavy baits or lures.
Finally, lighter-power rods offer great control over casting and are a good choice if you're fishing in a place where you need to get your bait or lure into a specific spot on the water.
---
Wrapping up a best bass Fishing Rod for 2023
Now that you've learned about some of the best bass fishing rod options, you're ready to choose one that best suits your preferences. As a reminder, our choice for the overall best bass fishing rod is the St. Croix Rods Mojo Bass Glass Casting Rod, based on its great balance of price and fishing fun.
For more on going after bass and other fish in Minnesota, as well as other tips for gear, and suggestions for the best places to fish in the state, check out Life in Minnesota.