Minneapolis has become well known for its amazing burgers. There are so many scrumptious burger choices that the options may become overwhelming. We've done the work for you and have narrowed it down to 9 of the best burgers in Minneapolis. Read on to discover what the Twin Cities have to offer when your burger cravings are on overload!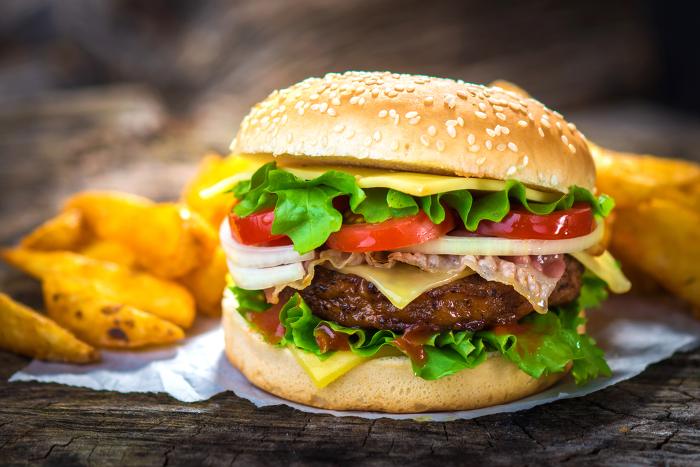 1. Parlour
First on our list of great places offering the best burgers in Minneapolis is Parlour, which is home to the iconic smash burger. It's made up of two beef patties smashed on a griddle and served with ooey-gooey American cheese between them. The patties are made up of a mouthwatering blend of chuck, ribeye, and brisket, formed into thin patties. The more charming and irregular, the better.
The magic happens because those two thin patties provide more beefy surfaces to get sweetly caramelized and charred by the griddle. Things are kept simple with the addition of only some snappy pickle chips and cheese.
Parlour is spelled with a "u" on purpose and not because it's trying to be fancy. They say "Without you (U), there would be no Parlour." They've been growing steadily since opening in 2012 and have expanded to other locations, even a food truck. They also offer a wide variety of delicious cocktails and other mixed drinks at their bar.
2. Revival
While they're known for their fried chicken, Revival makes a mean burger that deserves to be on a list of the best burgers in Minneapolis. Chef Tomas Boemer has a passion to make traditional cooking and great American food desirable. Revival is a Southern-style restaurant and serves a delicious diner-style cheeseburger.
Revival's burger patty is a wonderfully fatty blend of short rib and grass-fed brisket that's ground in-house. It's pressed thin so it can get crispy on a griddle and then topped with melted cheese, bread-and-butter pickles, and topped off with slices of thick-cut, house-cured bacon. One of the most fun treats is that instead of fries, hush puppies are served on the side.
Fun fact about the head chef at Revival, Chef Thomas Boemer: He appeared on a fried chicken episode of Beat Bobby Flay on Food Network in 2017… and he actually beat Bobby Flay!
3. 5-8 Club
Home of the Juicy Lucy (maybe? It's either here or Matt's Bar.), there couldn't be a list of the best burgers in Minneapolis without 5-8 Club. If you're looking for a burger joint with a unique twist, this is your spot.
What makes a Juicy Lucy juicy? It's a stuffed burger patty. Traditionally stuffed with American cheese, 5-8 Club has now taken it a step further. While you can still get something like The Saucy Sally, their take on something like a Big Mac, you can also get The PB & J is stuffed with creamy peanut butter and American cheese and then topped with strawberry jam.
If beef isn't your thing, they also have a Buffalo Chicken Juicy that's made with ground chicken stuffed with pepper-jack cheese.
The 5-8 Club has had a long time to perfect the art of burger making. They've been around since 1928 when they originally opened as a speakeasy during prohibition. They've been highlighted on several Food Network shows and it's a great choice for a burger in Minneapolis.
4. The Blue Door Pub
While not the declared home of the Juicy Lucy, The Blue Door Pub has decided to take their own spin on the Minnesota-born cheese-filled burger and serve what they call the Juicy Blucy. They pride themselves in handmade offerings and have an ever-changing line-up of Blucys, Totchos (nachos made with tater tots), and chicken wings.
If you're looking for a challenge, The Blue Door Pub has got one for you— The Blucy Challenge. How do you play? You simply go to any one of their locations and get a punch card. One Blucy equals one punch in your card. You've got to eat 10 Blucys to finish the challenge. Five of the ten are mandatory and five are up to you to choose. It only counts for Blucys, no other burgers on the menu.
What do you get if you complete the challenge? You get your own Winner shirt. This is a Blue Door Pub shirt that can be bought, only earned. You'll also get your picture taken and posted on their website and social media, entering their cyber hall of fame forever. And last but not least, your next Blucy plus a side of your choice is on the house. Once you complete the challenge, you can get another card and start all over again.
5. Bull's Horn Food and Drink
Owners, Amy and Doug Flicker, bought this charming building originally built in 1935 and purposefully didn't renovate it when opening Bull Horn Food and Drink in 2017. While one of the newest challengers in the Best Burgers in Minneapolis scene, this throwback burger has rightfully earned its place among the best of the best.
Everything in Bull's Horn is intentionally a throwback. There are classic wood-paneled walls, an old-school jukebox, plastic drink pitchers, and even the red and yellow condiment squirt bottles you think of when you think of retro diners. The burgers are no different. Chef Doug focuses on classic flavors done well.
Simplicity is key. The Bull's Horn Burger, the one you'll want to get when you visit, is described as, a "Signature burger, no changes. Lettuce, pickle, special sauce." Sweet, simple, and to the point. Chef Doug is a legend in the Minneapolis fine-dining world, so you're in good hands you can trust. Order it the way it comes and you'll get a burger made of juicy meat, melted cheese, and the toppings on a high-quality bun. This one is hard to beat.
6. Hell's Kitchen
If dining ambiance ranks high on your list of priorities when deciding the best burger in Minneapolis, then Hell's Kitchen will likely end up pretty high on your list. Buried in the lower level of a downtown building, the atmosphere has been described as having a prohibition feel. The service staff is all about the hip, downtown vibe, and the food they serve is, too.
Hell's Kitchen is the place to go if you're not sure whether you want a Juicy Lucy or a smash burger because the good news is that they have both. If the classic Juicy Lucy isn't sounding great, you can try Lucifer's Inferno. It's a delicious beef patty stuff with ghost pepper jack cheese, diced jalapeños, and shallots.
If you're feeling extra adventurous and trusting of the Hell's Kitchen kitchen crew, you can also try the Smash Burger of the Day. Each day, there's a rotating menu of tasty smash burgers for you to choose from.
Hell's Kitchen serves breakfast, lunch, and dinner, so there's something there for everyone.
7. Saint Dinette
Next on our list of places offering the best burgers in Minneapolis is Saint Dinette. While on the menu as simply a cheeseburger, the cheeseburger at Saint Dinette is anything but simple as far as flavors go. Saint Dinette builds beautifully on the smashed and charred burgers famous in Minneapolis with an incredible amount of house-made American cheese. Even when compared to other American cheeses, it's in a league of its own and is thick and oozy in the best way.
While Chef Adan Eaton finds inspiration in classic short-order diners, there's nothing diner-like about his cooking skills. He's created a burger that's a blend of brisket, dry-aged chuck, and sirloin that's been emulsified blend of butter. Then he's created his own cheese concoction to top it with that's an ingenious mix of Gruyère and sharp Cheddar that's formed into bricks before being cooled and sliced.
The owners opened Saint Dinette with a vision of it being a neighborhood spot where truly anyone could come in, sit down, rub elbows with people not like them, and restore their soul while enjoying fresh food and good company. Saint Dinette was born out of their "shared love for the art of life and the pursuit of flavor" and the food they serve shows those passions well.
8. Red Cow
Many of the best burgers in Minneapolis focus on simplicity… Red Cow is the complete opposite. Red Cow takes pride in putting a sophisticated twist on the classics and serves a wide variety of hand-pattied gourmet burgers that absolutely deserve to be on this list.
If you're looking for something more classic, The Ultimate is for you. It's a burger topped with aged cheddar, iceberg lettuce, tomato, and onion, but even The Ultimate has a little something special with the red cow sauce included on top.
If you're looking to branch out, there are plenty of options. The Breakfast is a double cheeseburger with peanut butter, an over-easy egg, and bacon served on sourdough bread instead of a traditional bun. The 60/40 is another wildly unique take on a burger, mixing 60% beef with 40% bacon. Yum!
9. Matt's Bar
Last, but not least on our list of places offering the best burgers in Minneapolis is Matt's Bar. Matt's Bar is one of Minneapolis' most famous burger joints. The other possible original home of the Juicy Lucy, Matt's Bar's story of its origin is pretty fun. The legend is that back in the 1950s, a patron asked for the cheese to go between two patties in his burger. After the first bite, he couldn't help himself and shouted that it was, "one Juicy Lucy." And thus, the name was born.
Many years later, Matt's Bar has dropped the "i" and now serves what some consider the perfect Jucy Lucy. Savory, simple, and to the point, one might think this could be a tourist trap, but it's absolutely the real deal.
Where Will You Go?
Which of the best burgers in Minneapolis is calling your name? There are plenty more to choose from, but these are the top 9 in my opinion. Enjoy!
Still hungry? Then continue exploring Minnesota food and drinks for a complete culinary adventure!
Still looking for more fun adventures? Then checkout all the great things to do in the Twin Cities!