You can explore the picturesque Minnesota countryside with its dazzling blue lakes, breathtaking grasslands, and lush forests while staying in a comfortable cabin. Learning about the best cabins in Minnesota may convince you to plan your next vacation in this beautiful state where you can enjoy its many recreational activities, such as hiking, kayaking, biking, skiing, and ice fishing in the colder weather! Here are 17 of the best cabins in Minnesota from which you can choose!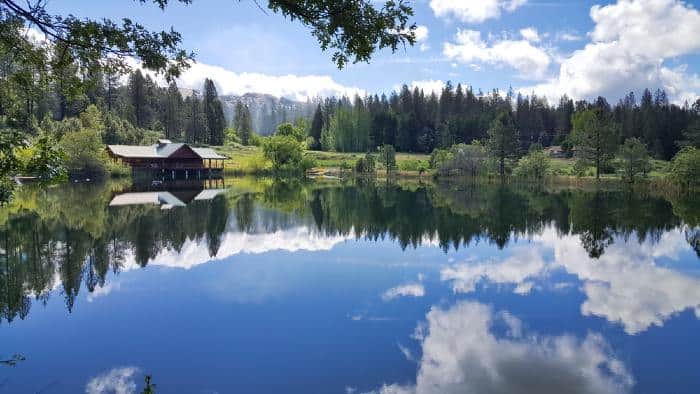 1. Boyd Lodging
Boyd Lodging offers some of the best cabins in Minnesota. Each of its loft cabins overlooks Rush Lake. Boyd Lodging is popular for family vacations and offers activities for everyone. Stay active while making memories with your family playing golf, playing tennis, or hiking one of the nature trails. Kids will love Boyd Lodge for its geo hunts, complimentary canoes, beach volleyball, and special activities for children. During the summer months, there is a free concert in the town square.
2. Northwoods A-Frame and Tiny Cabins
Around the corner from Itasca State Park you can find Northwoods A-Frame and Tiny Cabins, which find the perfect compromise between a nature getaway and all the modern amenities of a traditional vacation. The property consists of a large A-Frame cabin and two tiny cabins, each of which can be rented individually. Born as a North Dakota couple's passion project, these secluded spaces are sure to give you a break from the chaos of normal life, and re-center you in nature.
Book the A-Frame, Tiny Cabin Nord, and/or Tiny Cabin Wald for your next nature getaway!
3. Little Norway Resort
Little Norway Resort is a family-centered resort near Park Rapids, Minnesota, established over 45 years ago. Its cabins are well-maintained and furnished. The resort is a delight for families with an assortment of activities for kids of all ages! There is a safe beach, and guests can use kayaks, paddleboats, canoes, and paddleboards for free.
Children can stay busy in the games room, and toddlers have a playroom to enjoy. Smaller kids will love the large playground with its swings, slides, and climbers. Older kids can stay active by playing volleyball and basketball. Other available activities are pontoon rides for children, hikes, and coffee and doughnuts for parents.
4. Pehrson Lodge
Pehrson Lodge, established in the early 1900s, offers some of the best cabins in Minnesota. You can stay in one of the Northwood cabins with modern amenities, right on the shores of the spectacular Lake Vermilion. There is no better spot for an unforgettable family vacation, couples getaway, or a large group reunion. A highlight is seeing the Aurora Borealis while sitting at a crackling fire or watching the sunset while listening to the evening call of a loon. The lodge has daily activities for children, fishing guides, sailboats, canoes, hydro bikes, waterskis, and windsurfers.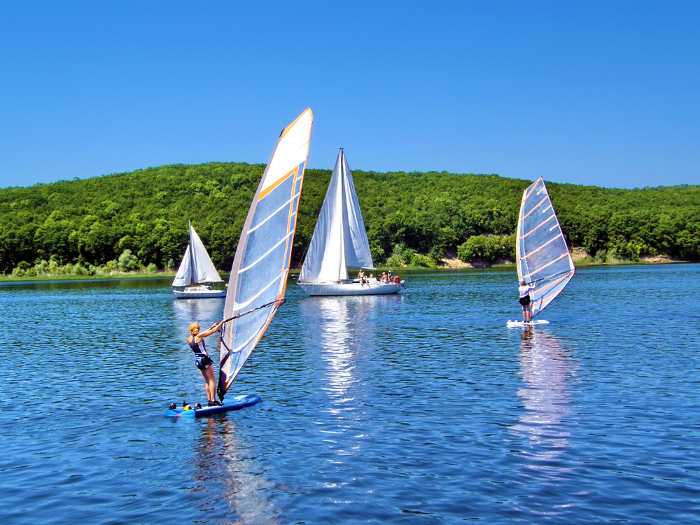 5. The Red Door Resort
The Red Door Resort, established in the 1960s, is a family resort on the northern shore of Lake Mille Lacs in central Minnesota. The resort has several accommodation options, including premium cabins, a fish house, and wheelhouse rentals. The Mille Lacs Lake is a world-famous fishery. There are many recreational activities available, including stand-up paddleboarding, sailing, windsurfing, and canoeing. If you prefer land-based activities, you can choose from hiking, snowmobiling, shuffleboard, tetherball, horseshoes, and basketball.
6. Loon Point Resort
Loon Point Resort is the perfect family vacation destination in Northern Minnesota. You can choose to stay in full log cabins or private lake homes. If you want to spend time in the dazzling lake, choose from the many water toys, ranging from water trampolines, canoes, paddleboats, pontoons, and kayaks. The secluded and private lake provides excellent fishing opportunities. Here you can spend time in nature by feeding the chipmunks, watching the eagles, or viewing the hummingbirds as they feed, right from your cabin!
7. Hoot Owl Resort
Hoot Owl Resort offers some of the best cabins in Minnesota. It has 12 comfortable lakeside cabins from which you can choose. The resort has a unique location between two secluded lakes: the Hoot Owl Lake and the Pickerel Lake (both perfect for fishing!). There is a lodge with activities to keep you and your family busy. Choose from indoor basketball, various board games, a ping-pong table, and a pool table.
During the summer months, there is complimentary adult volleyball, supervised children's activities, and bingo. Other offerings include a sandy beach, swimming raft, shuffleboard, tetherball, and paddleboats. Fall and winter have season-specific activities, ranging from duck and deer hunting to snowmobiling.
8. Big Rock Resort at Leech Lake
Big Rock Resort offers fantastic fishing with opportunities for catching Muskies, Northern Pike, Walleye, Crappies, Sunfish, and Largemouth Bass. You'll be happy to know that the resort will clean your fish for free!
If you want to relax while doing fun activities at a reasonable price, the Big Rock Resort is for you! Here you can swim, sunbathe, relax in the spa or be active while playing tennis, basketball, volleyball, or jumping on the trampolines near Leech Lake. The recreation room features an air hockey table, a pool table, and foosball. The resort takes care of all your needs with onsite facilities such as a bar and library.
9. Arnesen's Rocky Point Resort
You can find one of the best cabins in Minnesota at Arnesen's Rocky Point Resort in Roosevelt, Minnesota. Although the Arnesen family has inhabited Rocky Point since 1897, the resort started in the 1930s when the family's focus moved from fishing to developing the resort. The resort has two beaches to ensure hours of family fun. Other activities include frisbee golf, basketball, shuffleboard, and ice fishing. For an exceptional fishing adventure, book a fishing experience with a licensed guide on a charter boat. There's a variety of dining options on-site to cater to everyone's tastes.
10. Breezy Point Cabins on Lake Superior
Breezy Point, established in the 1930s, was built on an outcropping of Precambrian rock. There are twelve lakeside cabins at Breezy Point. If you love being active in the outdoors, you can choose from a variety of hiking trails along the shoreline of Lake Superior or inland within Minnesota's Northwoods. Breezy Point has a rapidly expanding system of trails for road and mountain bikes. You can try kayaking to see eight feet down in the crystal clear blue water of Lake Superior. In winter, winter shoeing is an alternative to hiking.
11. Bug-Bee Hive Resort
Established in the 1940s, Bug-Bee Hive Resort is a third-generation, all-season resort. You can find it west of Minneapolis on Lake Koronis. Families love going to this resort to enjoy the swimming beach, water trampoline, the "Busy Bee" kids' play town area, and the indoor swimming pool. In summer, the resort offers weekly activities for families. Other fun activities for families include pontoon lake cruises, outdoor movie nights, live entertainment, biking, and biking trails. In the winter, activities to try are ice fishing and ice skating.
12. River Point Resort
Another of the best cabins in Minnesota is available at the River Point Resort, established in 1944 by the Koschak family. They wanted to provide a recreational facility for visitors to enjoy the natural beauty of the Superior National Forest. The resort offers sixteen cabins ranging in size and features.
There are many activities to choose from, including fishing, mountain biking, birdwatching, canoeing, kayaking, and swimming. When you tire of spending your time outdoors, the town of Ely, Minnesota, near the River Point Resort, offers many festivals, events, and attractions. Sights worthy of a visit include the International Wolf Center, the Dorothy Molter Museum, North American Bear Center, and the Soudan Underground Iron Ore Mine.
13. The Cedar Point Resort
Cedar Point Resort started in the 1930s as an American Plan fishing resort. It offers one of the best cabins in Minnesota for families who love the outdoors. Children love the large shaded playground with its pirate ship. Family members who enjoy water activities can swim in the heated swimming pool, use the swimming raft, try the hydro bikes, stand-up paddleboards, fun-bugs, or noodles. Land-based activities include volleyball and various yard games, ranging from bocce ball, ladder golf, badminton, or whiffle ball. Older children enjoy the game room where there is a jukebox and video games.
14. Ten Mile Lake Resort
Ten Mile Lake Resort is one of Minnesota's top fishing and family resorts, with one family owning and managing the resort since 1906. This pet-friendly resort offers 12 beautiful cabins. You can enjoy fishing from the two lakes to catch crappy, bass, walleye, or sunfish. There is a private sandy beach where you can use a variety of non-motorized water toys. You can enjoy meals at the on-site, seasonal restaurant.
15. Cousins Cabins
To experience one of the best cabins in Minnesota, try Cousins Cabins. The cousins share a love for the north woods and lakes and offer two cabins. Here you can fish in a private lake with a private fish cleaning facility. Other activities include canoeing, water trampolining, and kayaking. There is a hard sand swimming beach, picnic tables, and charcoal grills to enjoy an outdoor meal.
16. Sugar Lake Lodge
The Ruttger family established the Sugar Lake Lodge, another of the best cabins in Minnesota, in 1994. The lodge offers many amenities for families to enjoy. Water-lovers can enjoy non-motorized watersports, including canoeing, kayaking, swimming, or sailing on a 14′ Hobie Cat sailboat. Other activities include pickleball or tennis. If you love hiking or biking, the lodge has multiple trails from which you can choose. The lodge has group activities during the summer months, including youth golf clinics, nature walks, or campfire storytelling.
17. Shire in the woods
The Shire in the Woods is east of Mille Lacs Lake in Minnesota in the heart of the Solana State Forest. It is the perfect place to spend time with your friends and family for a vacation, reunion, or wedding. Several cabins in different sizes are available. Spend time outdoors walking one of the hiking trails or navigating the labyrinth on the property. A unique offering of the Shire is their yoga classes. Animal lovers can spend time with the Shire's animals, including horses, chickens, cats, and dogs.
18. Ludlow's Island on Lake Vermilion
Four generations of the Ludlow family have been welcoming guests to Ludlow's Island. Their goal is to preserve the natural beauty of Lake Vermilion for future generations. Ludlow's Island has some of the best cabins in Minnesota. Stay in one of their classic Northwood cabins at the water's edge under a canopy of pine and birch trees. Choose from various activities, such as climbing an iceberg, zip-lining, kayaking, canoeing, and fishing. During the summer, Ludlow's Island has an exciting kids' program with activities ranging from roasting s'mores, t-shirt coloring, sailboat races, and making dreamcatchers or leather bracelets.
A Cabin Perfect for You
The best cabins in Minnesota offer a range of family-friendly activities. Spending time with your family and enjoying water or outdoor activities can help create unforgettable memories. Minnesota has a cabin that is perfect for your family getaway!
If you visit a cabin in Minnesota and feel we need to add it to our list of the best cabins in Minnesota, please let us know.
Still haven't found your perfect getaway? Then keep learning about unique places to stay in Minnesota to book the perfect reservation for your next trip!
Ready for more Minnesota advice, info, and guides? Whether you're a local or a passerby, discover the best of Minnesota that our great state has to offer!