Choosing the right college for pre-med can be daunting, especially when you have several, quality choices available within the state of Minnesota. When selecting a pre-med program, there are a number of factors to consider that make each of the colleges and pre-med programs unique. Choose a college that not only has a great program but one that you can see yourself being successful in.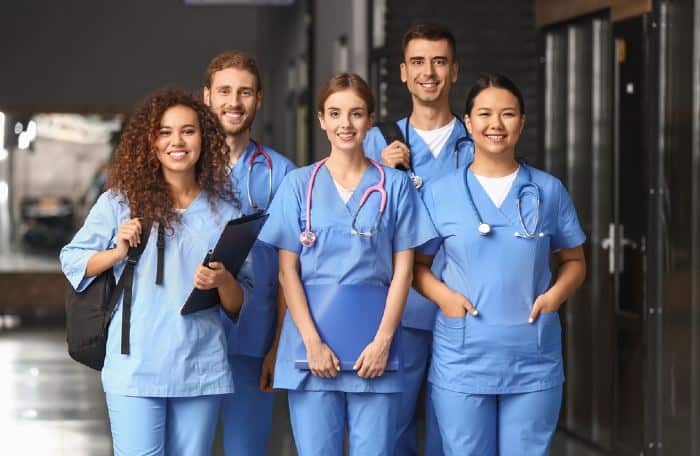 There are options in small towns, large cities, private and public institutions. All of these campuses offer different environments, resources, and programs that cater to students' needs. Decide whether you want general medicine when you apply or you can opt for more selective options so that you get the specialized degree you are seeking. Either way, there is a unique pre-med program available for you at one of the best colleges in Minnesota for pre-med listed below.
First on the list of best colleges in Minnesota for pre-med is Carleton College. Take a chance on your medical career and get a well-rounded undergraduate experience at Carleton College. With students and their career goals at the center of this thriving liberal arts college, those who want to pursue pre-med can choose from several majors.
While working on pre-med academically, students on campus have every opportunity to interact with the local community, a skill that is needed for quality doctors but not always taught in a classroom. Craft your education program to match your career goals, while also building the social and interactive skills across campus for the diverse world beyond campus.
One of the earliest colleges in Minnesota, Macalester College has been a foundation for pre-med for a couple of centuries. While there is a single major tailored to general pre-medicine, you do have a variety of science programs to supplement as a minor, after all, the campus is surrounded by various teaching hospitals that can give first-hand knowledge and insight to your future profession. Your medical career could range from anything between a dentist or general medicine. Beef up your medical career with a degree in neuroscience so that you can specialize as a neurologist later.
3. University of Minnesota – Twin Cities
Are you ready to get your training boots on? Getting into med school after your undergraduate is more than just your major. When you choose the University of Minnesota as your destination for pre-med, you also have a variety of additional resources that are available at your fingertips. Take advantage of various summer internships available and boost your med school resume. With over 52k students on the campus, the University of Minnesota is its own city, and it is one of the best training grounds for diversity and mass interactions for those working in the medical field experience daily.
4. St. Catherine University
Bigger isn't always better, even for pre-med students. At St. Catherine University in St. Paul, women who need an environment designed for their success can take advantage of an unbeatable support system. St. Kate is designed to bring out the skills and confidence that all students enrolled need when moving forward in their next path. Having a total number of students enrolled less than 2000 enables the faculty to have direct interaction with their students throughout the semester and establish bonds throughout their college career.
5. Minnesota State University — Mankato
You can really stretch out on campus when you study pre-med at Minnesota State University in Mankato. With a campus exceeding 300 acres, there is room to study, interact and really find your place in the world of medicine and Minnesota. Pre-med majors can study affordably and comfortably on a campus that strives for each student to not only gain a global appreciation of others but of themselves, also. Having the opportunity to truly find your passion and make the difference you want is exactly what Minnesota State University is about.
Does your medical career symbolize a white coat in a lab or working with patients who need assistance at the psychological level? No matter what type of medical goals you have set, Saint Mary's University of Minnesota is going to help you get there, flying like a cardinal through the undergraduate sky. Take a break from your pre-professional programs when you cheer on these Cardinals at the volleyball game or out on the soccer field. Build your friendships in Winona while you are building your medical career and getting established.
7. St. Cloud State University
You can get the pre-med of your choice at St. Cloud State University and still make it out to cheer on the Huskies on the weekends. When you opt for the pre-professional program, you can get as general as medicine, chiropractic, or even optometry for those who are really trying to see ahead. Take your pick of one of the 250 clubs on campus where you can make those relationships that last a lifetime and boost your medical school application when the time comes. Volunteer your time serving the local community and really putting it all out there when you connect at the community level.
8. Bemidji State University
A campus settled right next to Lake Bemidji, most college students can only dream of experiencing a campus this beautiful. What better way to tackle your pre-med goals than having the beautiful outdoors to give you the break you need so that you can reset your mind.
Smaller classrooms are also ideal with a 20:1 student/faculty ratio available across all disciplines being offered on campus. Break into any pre-professional program that meets your goals or even piques your interest in the medical field. Bemidji State University offers a unique environment that many medical students come to appreciate in their undergraduate education.
9. Metropolitan State University
Just a few blocks over in Saint Paul are Metropolitan State University, a newer university that is growing annually and capturing the attention of pre-med students. Many students who are looking to transfer and get recognition for their work at other universities find that Metropolitan is very easy to work with. If you are a pre-med student who is looking to transfer in some coursework or even an Associate degree for credit, Metropolitan State will work with the state's articulation agreement to assist you with your goals.
10. Bethel University
With the luxury of a St. Paul location, Bethel University is one of the best colleges in Minnesota for pre-med and offers experiences to their students so that trey is not only sitting in a classroom but also gaining the experience they need in order to be prepared for their future. For many pre-med students, sacrificing beliefs is not ideal and Bethel University allows the student body to maintain their Christian beliefs. Being able to believe in and stand for something is essential, even as a doctor.
11. Concordia University — St. Paul
A private university designed to customize the education of the students enrolled, you can get that small-town feeling on campus while being in St. Paul. Take advantage of your campus community when you get involved. As a Christian institution, students are encouraged to be beacons of the community, serving others while developing their craft. Even students in pre-med programs find these opportunities give them a new insight into what they can expect when they head to med school and even practice beyond their graduation. The faculty on this campus want to see your success and have the ability to work individually with their pre-med students, ensuring that they are able to reach their full potential.
12. The College of St. Scholastica
You can choose to study in the format that first your needs when you enroll at the College of St. Scholastica. If you have a dream of pre-med but are a non-traditional student, the College of St. Scholastica is meant for you. With weekends, evenings, and even online courses available, all students are able to achieve their pre-med goals both in and out of the classroom. This is designed specifically so that students who are pursuing a modern career can learn to use and interact with others in their profession.
13. University of Minnesota — Crookston
Take advantage of a campus that has all the resources found in Twin City, but is located in one of the more remote areas of the state. UM – Crookston offers one of the most northern campus locations in the state and has approximately 2000 students on campus at one time. This is significantly different from larger UM campuses in other areas of the state. While many students are into agriculture majors, pre-med and health science majors are able to get their foot in the door, especially if they are local students looking to find education a little closer to home.
14. University of Minnesota – Rochester
On the Eastern border of the state is UM Rochester where Health Professions are front and center. An average-sized campus in the state gives students who are not looking for the overly large campus, but still a hint of city living a chance to get acquainted with society and interacting at the professional level. The research being conducted on this campus requires a culture nearby to blow off some steam and allow students to have a place where they can interact regularly with others.
15. Minnesota State University – Moorhead
At the Moorhead campus of Minnesota State University, your pre-med options are endless, allowing you to choose a specialty in medicine before you even apply to med school. If you know what type of physician you would like to be or if you plan to have a different role in health care, you can start customizing your undergraduate degree as soon as you enroll. Students who are looking to go back to school after being out and being in the workforce also find Minnesota State University Moorhead to be more than accommodating.
Frequently Asked Questions
1. If you are pre med, does it matter where you go to college?
While the specific institution you attend does not necessarily matter when applying to graduate school among four-year universities, you do not want to apply after attending a two-year school. If you have earned an Associate degree from a two-year institution, it is critical that you transfer to a four-year university. If you attend a private college and want to apply to med school, make sure that it is also a four-year university. All schools must be accredited before you can apply. Attending a pre-med program that is not accredited by the Higher Learning Commission or regionally accredited in Minnesota may not get you into Medical School following graduation.
2. What are the most in-demand medical jobs in Minnesota?
In the healthcare industry, there is always a need for nursing staff, but there are other vacancies available that need to be filled. If you want to go to med school to be a Nurse Practitioner or a Physician's Assistant, you can find residencies throughout the state, as vacancies are needed to meet the demand of the healthcare industry.
3. Does the school I attend for pre-med need to be top ranked?
While the top-ranked college or university in Minnesota for the current year may be your top pick, you may not get accepted in the first round and that is okay. The pre-med programs available in 15 of the state's leading colleges and universities mean that you should have a backup plan and be prepared for your second or third pick. Also, many of these colleges have vastly different campus communities, so you need to know what type of environment you will be comfortable in when you apply to your schools for pre-med.
Pre-Med in Minnesota
From small towns to large cities, Minnesota has the perfect location and community for your unique pre-med stucies and experiences. After applying to one or more of the best colleges in Minnesota for pre-med, let us celebrate with you by letting us know which one you got accepted to!
Ready for more Minnesota living advice, info, and guides? Whether you're a local or a passerby, discover the best of Minnesota that our great state has to offer!