---
Best Crappie Fishing Lures Buyer's Guide
One thing you're bound to learn about crappie fishing, if you haven't learned it already, is that crappie are fickle when it comes to striking lures. If you fish for crappie in the same place for two days in a row, you'll find that a lure that attracted them one day will be ignored the next day.
What that means in terms of shopping for the best crappie fishing lures is that versatility is key. So when you're shopping for crappie fishing lures, understand that you're shopping for more than one lure.
That's why our list of recommendations for the best crappie fishing lures includes at least a couple of sets of lures, each offering different colors, different styles, and other characteristics. So when you're shopping for crappie lures, be sure to seriously consider purchasing a set of lures.
Lure Weight
Another consideration when searching for the best crappie fishing lures is weight. Crappie prefer striking at lightweight lures, and you'll find that many of the lures on the market will weigh well under ¼ ounce.
But that doesn't mean you should limit your selection of crappie lures to those lower weights. In some instances, such as when you're fishing on a windy day, or when you want a lure that will sink to the bottom of your fishing spot, you'll need a lure in your tackle box that weighs in at around 1⁄4 ounce.
Other Considerations
Like other game fish, crappie will go for lures that resemble bait fish like minnows. There are a range of minnow-like crappie lures on the market, and whether you're a serious crappie angler, or are just starting, you should have a minnow-style lure in your arsenal.
As a final note, you should understand that crappie are particularly attuned to the patterns displayed by lures. It's entirely possible that a lure in your tackle box with one particular pattern will work great one day, but will be completely ignored the next. Buying the same lure in multiple patterns is a smart move.
---
Best Crappie Fishing Lures Frequently Asked Questions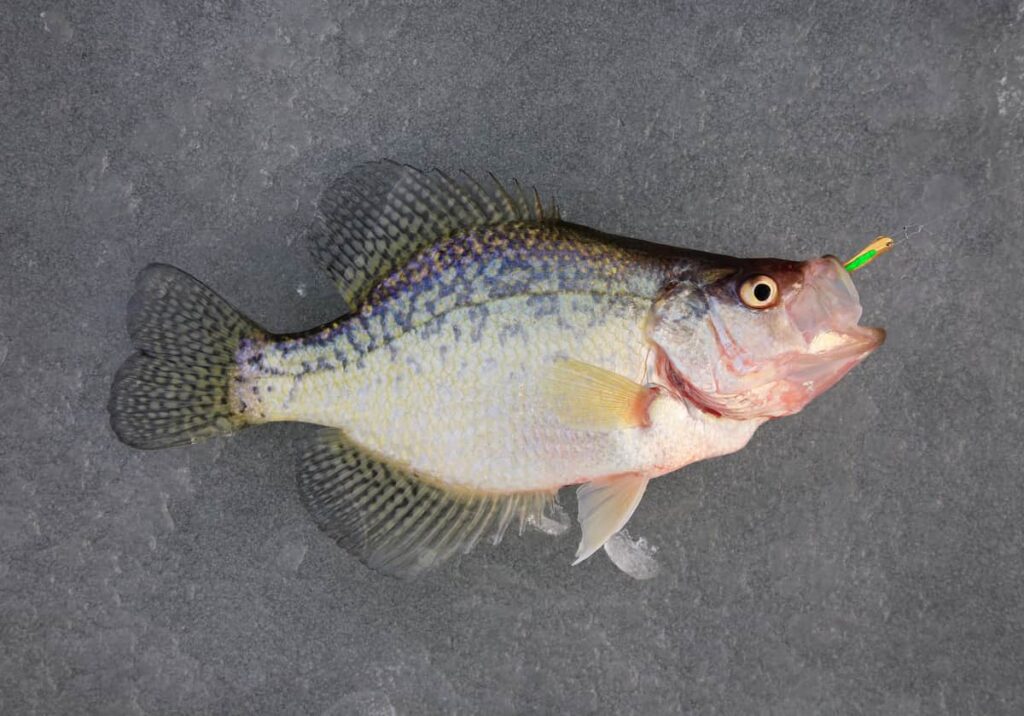 What are some good basic techniques for crappie fishing with lures?
One rule that you should learn about fishing for crappie with lures is that the best crappie fishing lures will work even better if you move them through the water subtly. Whether you're in a boat, or fishing from the shoreline or a dock, constantly jerking your lure isn't a good strategy.
It takes a bit more patience, but your best approach to casting out a lure and reeling it back in is not to jerk it around, but to retrieve it slowly and steadily. If you think about it, that kind of movement likely will most closely mimic crappie's usual prey.
That's not to say you shouldn't occasionally jerk your line to attract crappies' attention. Or, as an alternative, try gently lifting and releasing your line in the water to create a movement for your lure.
Also, you can try simply stopping the retrieval of your line occasionally as you're reeling it back in. Don't create too much of a stuttering movement, as that could create a jerking action that won't get you any bites.
Can Crappie Nibbles™ be used with lures?
If there ever comes a time when even the best crappie fishing lures in your tackle box don't seem to be getting the job done, there is something you can do.
Adding dough baits formulated with ingredients designed to attract crappie, like Berkley PowerBait Crappie Nibbles™ or similar products from other manufacturers, to your lure can increase their effectiveness.
If you don't want to go to the trouble of rigging your hooks with dough bait, you can try simply rubbing a dough bait along your lure to get the same effect.
What are the best colors for crappie lures?
When selecting colors for crappie lures, there are two factors to be considered. Both the clarity of the water and the sunlight conditions where you are fishing should factor into which colors of lures you choose from your tackle box.
In clear water, lures featuring natural tones of green, brown, and black will best mimic crappies' natural prey. In murky water, you'll have better luck with bright colors like neon green and pink, or with any fluorescent-colored lure.
As far as light conditions are concerned, sunny days are like clear water in that crappie likely will be most attracted to lures in natural colors. And just as with murky water, overcast days call for using brightly colored lures.
As a final point, night fishing for crappie calls for using any of the glow-in-the-dark lures available as some of the best crappie fishing lures. If you don't have any glow-in-the-dark lures handy, a white-colored lure will be your best bet for catching crappie.
---
Wrapping up the Best Crappie Fishing Lures
So now that you've learned about the best crappie fishing lures — including our top-choice Bobby Garland Crappie Baits — it's time to head out to your favorite crappie fishing spot and try your luck with one or more of them.
And if you'd like to learn more about fishing in Minnesota, you'll find plenty of information, including the best lakes in the state for crappie fishing, elsewhere at Life in Minnesota.