---
The Best Crappie Fishing Rods Buyer's Guide
Now that you know all about the best crappie fishing rods, check out our buyer's guide to decide which is most suitable for you.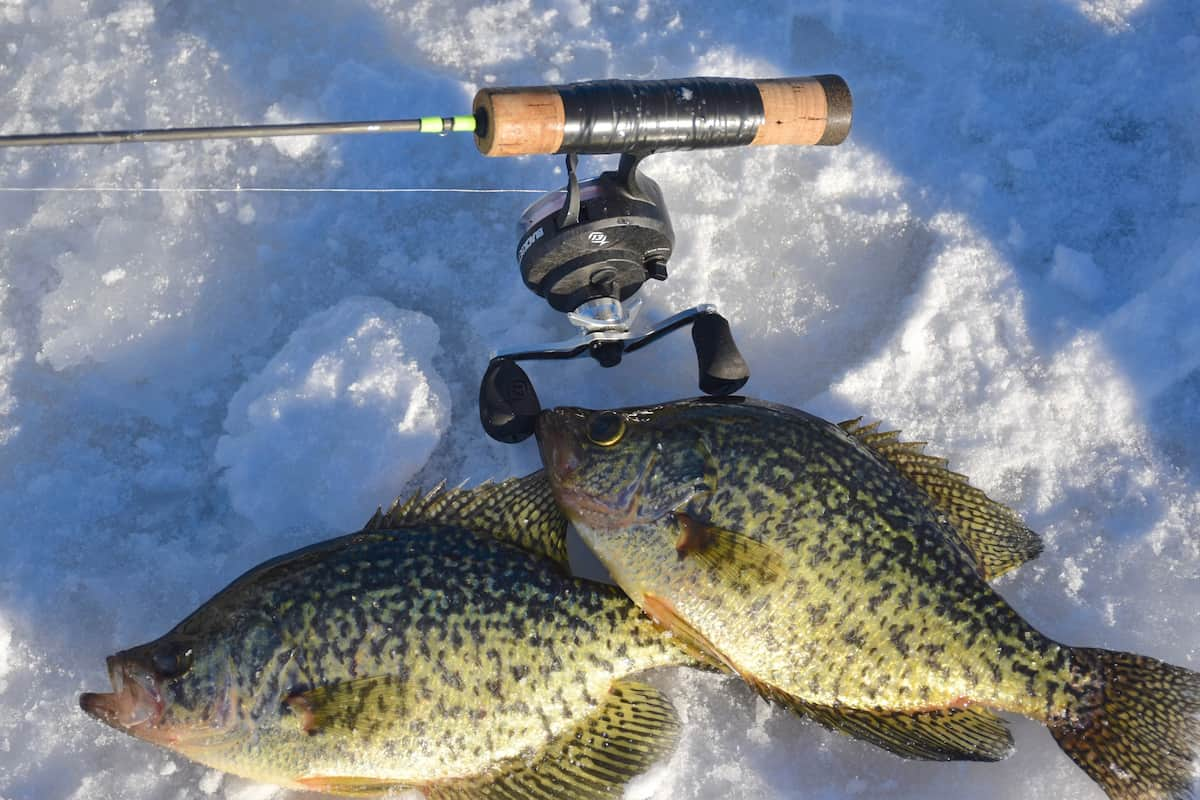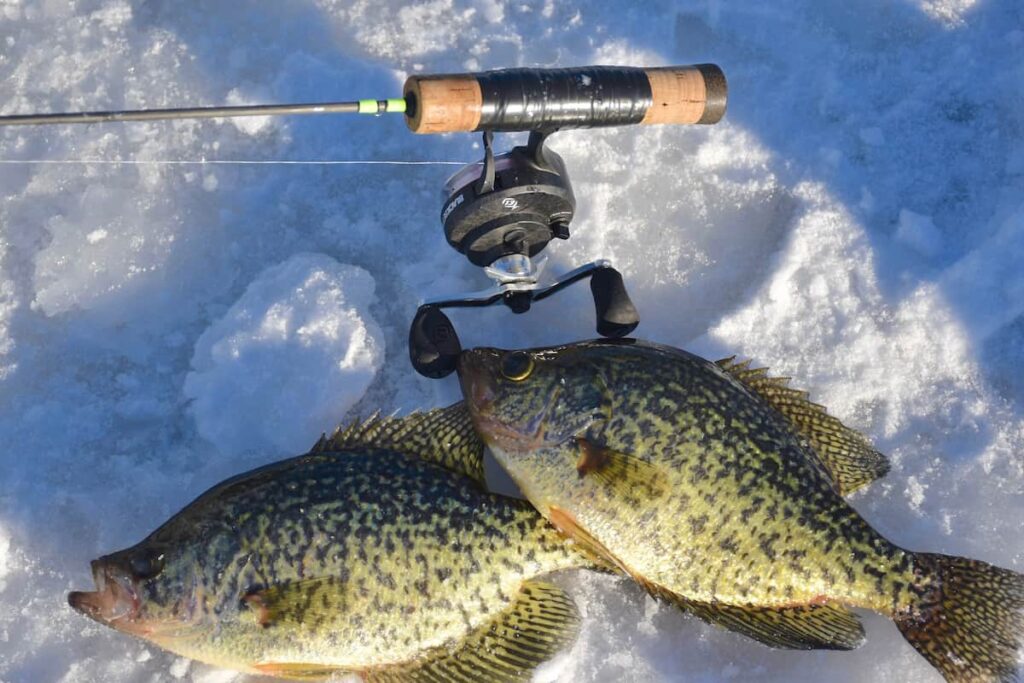 Size
First up, let's debate the best-sized rod for catching crappie.
While you can technically get away with any sized rod for fishing this freshwater creature, the best length is typically between 7 and 10 feet.
This size will give you enough flexibility to cast small crappie lures far into the water while providing enough stiffness to feel the bites.
If you plan on using more advanced fishing techniques like spider rigging with minnow lures or trolling crankbaits, a longer rod in the 9-12 foot range can help increase your catch rate.
Material
Does material matter when it comes to catching crappie? The answer is a definite yes.
When searching for the best crappie fishing rods, look for a pole crafted from fiberglass or graphite. These materials are lightweight and sensitive, making detecting bites and feeling the fish on the line easier.
Despite the lightweight nature of these materials, they are still very resilient and can handle the pull of the most stubborn crappie.
Weight
Crappies are among the smaller swimmers in the lake, with an average weight of around 1-2 lbs. The slighter size means you can get away with using a lightweight rod that can handle a line weight of 4 to 6 pounds at the bare minimum.
Luckily, all the listings on this guide to the best crappie fishing rods can meet this weight.
Flexibility
Choosing a flexible rod can make your crappie fishing experience much easier. They allow for greater sensitivity and control when fishing for this species, which can sometimes be quite finicky.
A flexible rod can also help to absorb the shock of a crappie's sudden movements, which can help to prevent the fish from getting away.
Plus, the bend of the rod helps you create a whipping motion that furthers the distance of your cast. This feature can come in especially handy if you're casting off into deeper waters where crappie tend to congregate in the heat of the summer.
---
Crappie Fishing Rods: Frequently Asked Questions
Now that you know all about the best crappie fishing rods, check out the most frequently asked questions from fellow anglers.
What is the best setup for crappie?
The number one rule when creating your setup for catching crappie is to keep everything lightweight.
You want to start by choosing a light or ultralight rod and spinning reel. Then, you'll need the right line. Choose a lightweight option like the KastKing Monofilament Line offers slight stretch with excellent buoyancy.
Finally, consider your bait. This aspect depends heavily on the season, but you can use any combination of bobbers, jibs, plastics, and live bait, so long as they're lightweight.
What presentations work best for crappie?
When it comes to fishing crappie, you can't go wrong with using live bait, especially in clearer waters. Crappie tend to go for minnows or worms, but jigs can also be effective. Try using a small jig with a soft plastic body in bright colors.
Choosing the right lure will also depend heavily on the time of year. In the spring, crappie tend to go shallow to spawn, so choosing a lightweight jig like the Crappie Magnet is ideal.
In the summer, you might be casting further off into deeper waters where crappie go to escape the heat, so choosing a lightweight, streamlined option like the Bobby Garland Slab Slay'r would be your best bet.
What weight line is best for crappie?
When choosing the best line for fishing crappie, look for a monofilament line with a 2-10lb test. Crappie tend to be on the smaller end of the weight scale, so you can definitely get away with using a lighter line.
Keep in mind that the lighter the line, the easier the cast-off. So if you're hoping to reel in an average-sized crappie, keep your line weight small. But if you want to catch a trophy fish, you may need to up the weight capacity.
---
Best Crappie Fishing Rods: Summed Up
Purchasing the right gear can make or break your angling expedition, and one of these best crappie fishing rods will certainly fit the bill.
Whether you're hoping to invest in a build-your-own option like the ACC Crappie Stix Crossover Rod or choose a ready-to-go kit like the PLUSINNO Fishing Rod, you can't go wrong with these best crappie fishing rods.
For more information on freshwater fishing, check out our Fishing in Minnesota page for helpful angling tips.