Dogs are incredible animals that know how to swim on instinct. However, not all of them take as readily to the water as others and may refuse to get wet at all. Even the best swimming canines struggle to know their limitations, which means they don't understand that as they get tired, they need to return to the safety of the shore.
Regardless of how much your dog enjoys swimming or being in the water, they can all benefit from a life jacket. That's why you should find the best dog life jackets for your canine so that you can have peace of mind and they can enjoy their time on the water in safety.
6 Best Dog Life Jackets
---
Overall Best Dog Life Jacket
Outward Hound Grandby Ripstop Life Jacket
If you're looking for the best dog life jacket that checks all the necessary boxes, the Outward Hound Grandby Ripstop Life Jacket is the one for you. This outstanding life jacket comes in various sizes to accommodate all dogs, from tiny to extra large. It's also made of neoprene material to ensure maximum buoyancy in the water.
One of the things users love the most about this life jacket is the top strap to extricate your dog from the water in case of an emergency. For smaller dogs, there's a single strap in the middle. For larger dogs, however, where more force and strength are necessary, there are dual straps on top of the life jacket.
Overall, the Outward Hound Life Jacket has very little to dislike. It's incredibly affordable regardless of what size you're looking for, and it's packed with foam chips to ensure your dog will stay afloat. It's also very easy to strap onto your dog and even easier to take off.
Pros:
Features three velcro straps for easy adjusting.
Includes a quick-release strap on the bottom of the jacket.
Very affordable
It comes in sizes to accommodate any dog
Available in bright colors so that you never lose track of your pup.
Cons:
It may have limited availability because of how popular it is.
Your dog may struggle with mobility because of how plush the jacket is.
---
Runner Up for Best Dog Life Jacket
Kurgo Surf and Turf
If your dog is an excellent swimmer and they need a little extra protection or buoyancy in the water, the Kurgo Surf and Turf is worth a look. The Kurgo Life Jacket is slightly thinner than the Outward Hound jacket listed above and isn't quite as buoyant.
As such, the Kurgo isn't the best life jacket for dogs that are new to the water or who aren't great swimmers. However, it's ideal for dogs who simply can't get enough of the water. The Kurgo features dual straps on the top of the jacket to pull your pup out of danger and a D-ring built into the jacket that's easy to adjust to the size of your dog.
The bright orange color is a definite plus, ensuring that you can see your dog wherever they are. Although the Kurgo isn't as thick or floaty as the Outward Hound, it has enough buoyancy to keep your dog afloat until you can get to them.
Pros:
Adjustable fit so you can match it to dogs of all shapes and sizes.
Allows for more mobility in water or on land than most other life jackets for dogs.
The bright orange color makes for easy visibility
Cons:
Not as buoyant as other life jackets
Slightly on the pricy side
---
Best Dog Life Jacket on a Budget
Vivaglory Ripstop Dog Life Jacket
For those who want to keep their pup safe on the water but don't want to spend a ton of money, check out the Vivaglory Ripstop Life Jacket. Despite being more affordable, this life jacket doesn't compromise safety or buoyancy in its design. Your pup is guaranteed to stay afloat with this life jacket and look good in the process.
The Vivaglory Ripstop features three strong straps that clip together, making them even safer than the standard velcro material. It also comes in several colors and sizes to accommodate dogs from a size 12 waist to a size 38. The top rescue handle is solid and tailor-made according to the size of the jacket and the dog inside it.
If you're worried about the buckle straps hurting your dog or digging into them, there is thick padding beneath the buckles to ensure their comfort and safety. Finally, getting your dog in and out of this life jacket is straightforward because of its practical design.
Pros:
Very affordable at less than $20
Doesn't compromise safety or comfort for affordability
It comes in a variety of colors and sizes
The rescue handle is strong and easy to grip
Cons:
Not quite as durable as more expensive options
---
Best Dog Life Jacket for Big Dogs
EzyDog Premium Floatation Device
For the slightly chonkier or bigger dogs, here's a life jacket that will fit you comfortably and ensure you stay afloat. The EzyDog Premium Flotation Device will have your big dog feeling like a king or queen as they float lazily on the water. It's packed with flotation materials to guarantee maximum buoyancy.
Despite being nearly twice as packed with flotation materials as many of its counterparts, the EzyDog Premium Flotation Device is surprisingly maneuverable. With this life jacket, your dog won't have to compromise mobility for floatiness. The design also includes a clip-on for a leash, whether they're in or out of the water.
Additionally, the rescue handle is attached to the straps that go around your dog rather than the jacket itself. This means that the strap is more robust and won't snap when pulling on it, regardless of how big your dog is. The EzyDog also comes in bright colors and has a sleek and sharp design.
Pros:
Extra strong rescue handle
Very easy to get your dog in and out of this jacket
Bright colors for easy spotting
More floatation materials than most other life jackets
Cons:
Your dog might have less maneuverability depending on its size.
One of the pricier options on this list because of the extra materials.
---
Best Dog Life Jacket for Small Dogs
Ruffwear Float Coat Dog Life Jacket
For smaller dogs and young pups that can't get enough of the water, the Ruffwear Float Coat dog Life Jacket is ideal for keeping them safe. It's tailor-made for smaller dogs and puppies, but it's also available in larger sizes if you want one for your big dog.
This life jacket is great for smaller dogs because it has the perfect combination of buoyancy and mobility. Small dogs weighing less than 30 pounds don't need a ton of floatation material to keep them afloat. In fact, too much fabric or fluff in a life jacket can impede their ability to move and cause them to flip over.
Small dogs also have shorter legs, so they need a snugger fit on the bottom side of the jacket, which the Ruffwear delivers to perfection. From top to bottom and inside to out, this life jacket is perfect for small dogs. The dual straps that wrap around the bottom of the torso are solid and comfortable.
This jacket also includes a sturdy rescue strap that gets sewn into the vest's fabric for maximum strength. Finally, there's even a D-ring on top of the vest so that you can keep your dog on a leash if they tend to wander off in the water.
Pros:
This life vest is a unique combination of snug, comfortable, and maneuverable.
The D-ring is perfect for wondering pups.
Enough buoyance to keep an incapacitated dog afloat in the water.
Not so jam-packed with floatation materials that your dog won't be able to swim or move.
Cons:
While sizes are available for bigger dogs, the lack of floatation material makes it less than ideal for inexperienced big dog swimmers.
---
Best Dog Life Jacket for the Cuteness Factor
Frisco Shark Dog Life Jacket
While you want your dog to be safe and have fun on the water, you also want them to look good doing it. You can have the best of both worlds with the Frisco Shark Dog Life Jacket. This life jacket combines the safety, quality, and durability typical of Frisco products with the adorability of a shark fin.
Usually, a shark fin in the water is anything but adorable. However, when it's attached to the back of a smiling and happy dog, it's hard not to look at it and grin. Your furry swimmer is sure to be the talk of the beach or lake when you show up with the Frisco Shark Dog Life Jacket.
Despite being off the cuteness charts, Frisco seemed to be making a point that they don't sacrifice cuteness for safety. This life jacket is equipped with double the foam typical of their other products. It also comes with a strong and secure rescue handle to ensure you get a good grip on your dog when necessary.
Finally, while you can purchase this floatation device in gray to resemble the color of a shark, you can also choose a more flamboyant color so that your dog stands out in the water. In addition to its high level of cuteness, it has a level of comfort and durability to match.
Pros:
It comes in various sizes to accommodate wanna-be shark dogs of all sizes.
Undoubtedly one of the cutest and safest life jackets for dogs available.
Double layer of foam protection for added buoyancy.
Secure rescue handle stitched into the vest fabric, plus a D-ring for a leash attachment.
Cons:
Recommended for small to large dogs, but not extra-large ones.
---
Considerations When Choosing the Best Dog Life Jacket
Now that you know some of the top options for the best dog life jacket let's look at how to choose the right one. These considerations are also what we looked at when making these selections.
Durability
The last thing you want is for your dog's life jacket to snap or tear while they're in the water. If you can't count on their life jacket to stay intact, then you can't count on the life jacket at all. For maximum durability, you should look for products from renowned companies like Frisco, Ruffwear, and others.
They tend to use fabric and floatation materials that are more durable than their competitors, which is why they typically produce the best dog life jackets.
Color Options
When referring to color, we're not saying that your dog should be making a fashion statement. Bright colors are necessary for dogs on the open water so that they stand out and you can easily spot them. If your dog starts getting tired and doesn't know what to do, you have to be able to spot them in an instant. Therefore, you should choose bright colors that are easy to see from a distance.
Buoyancy and Mobility
Without buoyancy, a dog life jacket is useless. However, if you pack a life jacket with too much floatiness, your dog won't be able to move or swim. The best dog life jackets on the market will be buoyant without compromising maneuverability. Safety is paramount, and so is finding the perfect balance of float to movement.
D-Ring
D-rings aren't mandatory for a high-quality life jacket, but they're a plus. A D-ring is a small ring on a leash or harness that you attach your leash to when you take your dog for a walk. Having a D-ring on your dog's life jacket means you can keep them close to you if they tend to wander on the open water.
Material
If you're looking for the best dog life jacket for your canine friend, you should consider the material it's made of. Neoprene is one of the best life jacket materials because it's durable, comfortable, lightweight, and keeps your dog warm in the water.
Nylon is another excellent material that keeps your dog safe and comfortable but isn't quite as lightweight or warm as neoprene. As long as you choose one of these two fabrics, however, you are guaranteed to have a good life jacket.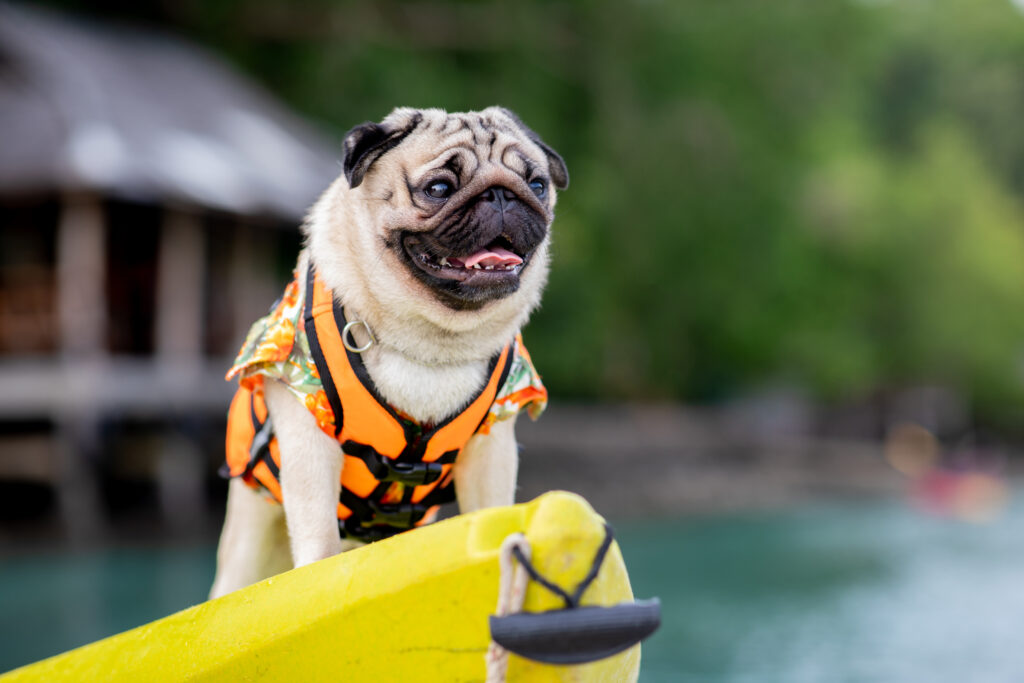 Find the Best Dog Life Jacket for Your Pooch
Choosing the best dog life jacket for your dog isn't something you should do lightly. You should consider your dog's size and weight, as well as all the life jacket factors listed above. Whether your dog enjoys the water or not, choosing the right life jacket is essential to keeping them safe and out of danger. I hope this list will help direct your dog product shopping—in the meantime, check out more info about lake life!
Need some more Minnesota gear? Trust our recommendations to guide your next shopping trip!