In today's world, there's an app for literally everything, and that includes fishing. We're not talking about fishing games (though we're aware there are many.) The apps we're talking about are apps that enhance anglers' fishing experience by telling them where to fish, when to fish, and more.
The apps we're going to share with you are the best for connecting with other fishing enthusiasts and learning how to improve your fishing technique. Every true fishing enthusiast needs at least a few of these on their smartphone or tablet.
Keep reading to learn all about the best fishing apps available to download today!
---
FishBrain
Fishbrain is a robust fishing app that helps anglers find the best spots to cast. Their tagline is All the intel you need to catch more fish, and its powerful navigation, high-resolution depth charts, and AI-powered fishing spot prediction technology will provide its users with all they need to know.
Catch Data
The app gives users access to 14 million catch locations across the globe. Their global data is one of the largest in the world, and they openly share this information with scientific research partners in North America and Europe to better understand where fish are best caught.
This app gives fishing enthusiasts who use it a huge advantage when searching for new waters. Users can also see a leaderboard in each water to find out if any big fish have been caught.
Fish Logbook
Fishbrain allows users to keep track of the fish they've caught, when they caught it, and where they caught it. Users can also log the gear they used to catch it. Logging catches helps anglers spot patterns in their fishing technique, so they can become better.
Locations of Interest
Fishbrain not only provides users with tons of catch data, but it also shares locations of interest for anglers. These spots include ramps to launch boats, bait shops, and even local fishing license vendors.
Fishbrain Pro
With Fishbrain Pro, users can do even more. Fish like a professional with access to the most active months, moon phases, and weather conditions. The pro version of the app allows users to see weather forecasts and patterns in advance, allowing them to pick the best day, time, and spot to fish.
---
Fish Angler
FishAngler is a free fishing app, and it provides many of FishBrain's premium features without a subscription cost. The app features advanced maps that allow users to explore lakes, rivers, and oceans with a huge database of catches, spots, reports, photos, buoys, and more.
Real-Time Forecasting
A feature FishBrain only offers in its pro version, FishAngler provides 7-day marine forecasts that include wind, wave, and water temperatures. These forecasts also include real-time NOAA marine buoy and USGS inland station monitoring with tidal prediction, water flow, and water level forecasts.
Logbook
Fish Angler also provides its users with a logbook that includes 45 catch attributes, allowing users to easily organize and track their fishing days. Users can automatically tag a catch that includes the complete weather and forecast data.
Community
One of the unique features of FishAnglers is its community. Users can connect with anglers locally or around the globe, share their catch stories, create groups, and join conversations. Social news feeds are available to follow, so users can stay in the know of what's happening globally and locally.
---
Fishing Points
Fishing Points is the only fish app available with worldwide access to nautical maps (charts that show very detailed information about water depths, shorelines, tidal predictions, obstructions, and navigational aids).
Save for Later
Fishing Points allows users to save their favorite fishing locations, trotlines, and trolling paths.
Fish Activity Forecast
Discover when fish are most active during the day. This fishing app's activity forecast predicts the best fishing times using solunar theory and tides.
Weather and Charts
Users have access to tides and daily high and low tides for the entire world. They are also able to check wave forecasts, sea temperature, and water currents.
Track current weather conditions and hourly temperature, wind, and pressure forecast. The fishing app also provides detailed information about sun and moon positions, rising and setting, and moon phases.
Users can also measure how far spots are between each other.
Import and Export Files
This fishing app allows users to import kmz or gpx files from GPS devices or other apps. Users can also create a backup of files in this app, so they don't have to worry about losing catches or locations.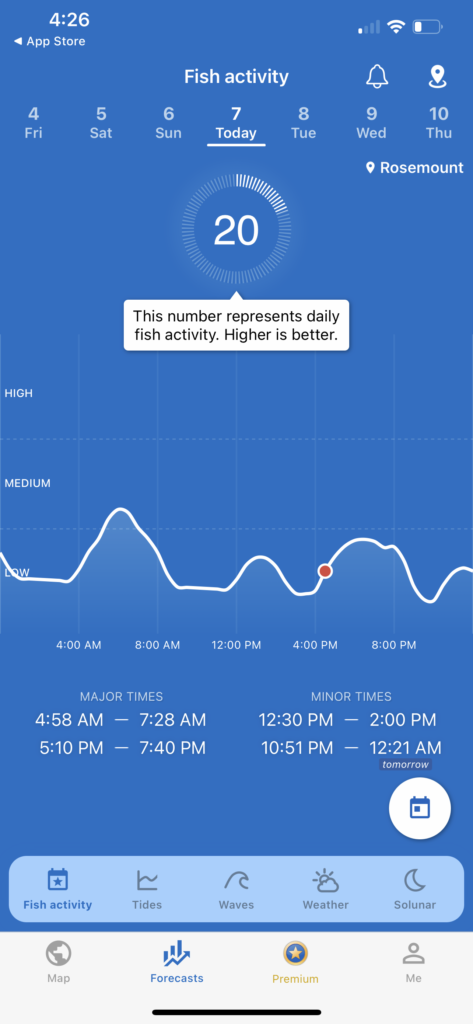 ---
Fishing and Hunting Solunar Time
Fishing and Hunting Solunar Time is a free fishing app focused on solunar theory to help fishing enthusiasts determine as precisely as possible the feeding of all types of fish and wildlife. The solunar theory is the most widely accepted method by anglers for determining peak fish activity.
Solunar Forecast
This fishing app includes a fishing and hunting forecast based on moon and sun positions. It provides detailed information about the sun and moon's rise and set times, as well as moon phases.
Map
Users of this fishing app can search and save places in the map view to quickly access them later.
Weather Forecast
The fishing app provides users with a detailed weather forecast for five days, and a calendar forecast provides users with fishing ratings for the day. Users also have access to an activity bar chart for each day.
---
Fishing Knots
Fishing Knots is a free encyclopedia app that includes different types of knots for various situations, including the following:
Binding two fishing lines
Tying leads
Attaching large and small hooks
Bait, lures, and swivels
Connection fishing lines and the binding cord
Tying boats
Each knot includes detailed descriptions that include the estimated strength reduction for the knot. Fishing line recommendations are provided for each knot.
This fishing app does not require the internet, so it's easy to reference when in an area without data. This is a must-have app for fishing enthusiasts new to tying knots!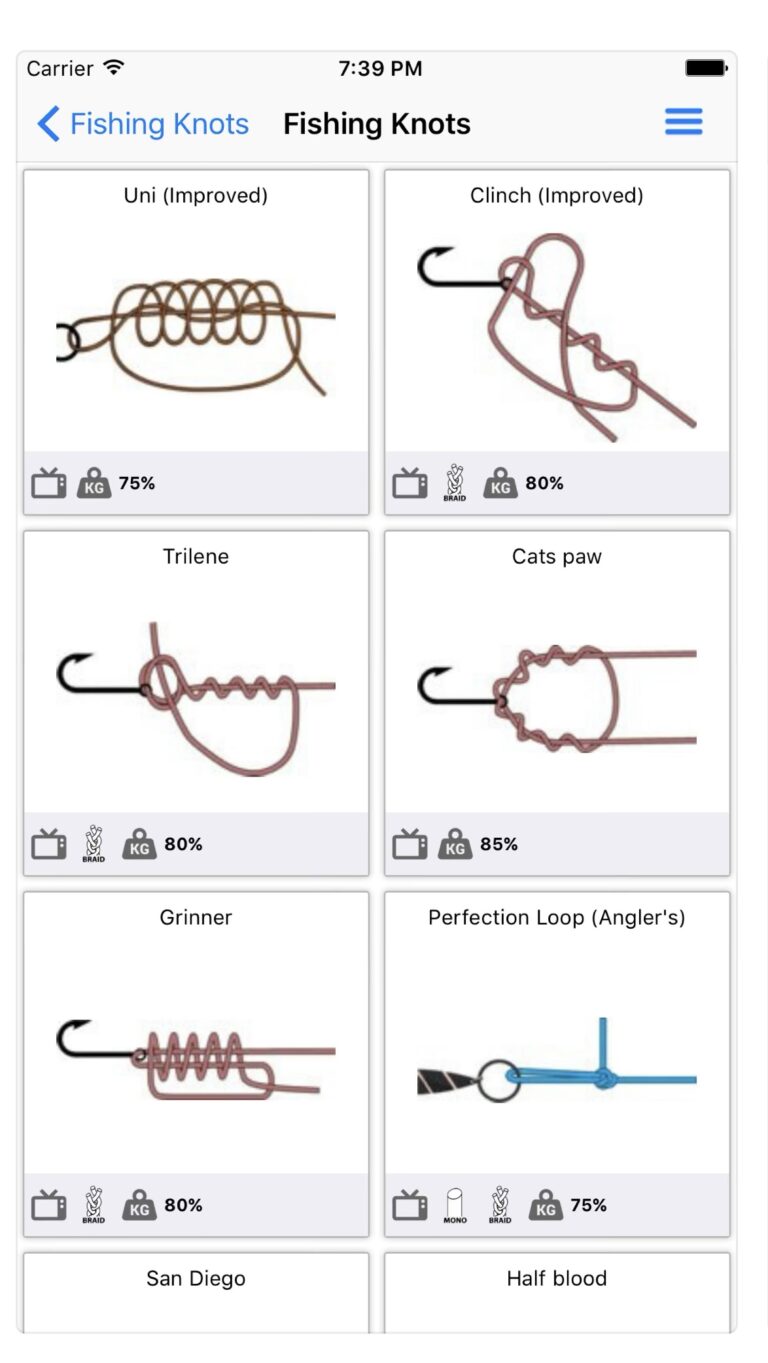 ---
onWater
onWater is a subscription-based fishing app targeted at fly fishers. Their mission is "to provide modern technology to enhance the fly fishing experience for anglers, connect our vast community of industry stakeholders and protect our resources."
Maps and GPS
This fishing app provides directions to boat ramps, access sites, and all the places fishing enthusiasts will want to go. Users can save any location to their Favorites list and have quick access to it. Users can also save private places and record personal locations inaccessible to anyone else.
Measure exact distances between boat ramps, access points, and current locations or other points of interest. Maps are also available in layers, including topo, satellite, light, dark, and street view. Users can also discover public and private land, so they know which areas can and can't be accessed.
Maps can be downloaded and saved for use offline when off the grid.
Photos
Use the My Photos feature to organize fishing-related photos and add descriptions to each one.
Reports
Users of this fishing app can quickly check and compare reports from local fly shops. Contact information is also available for nearby fly shops.
Subscription: Pricing Information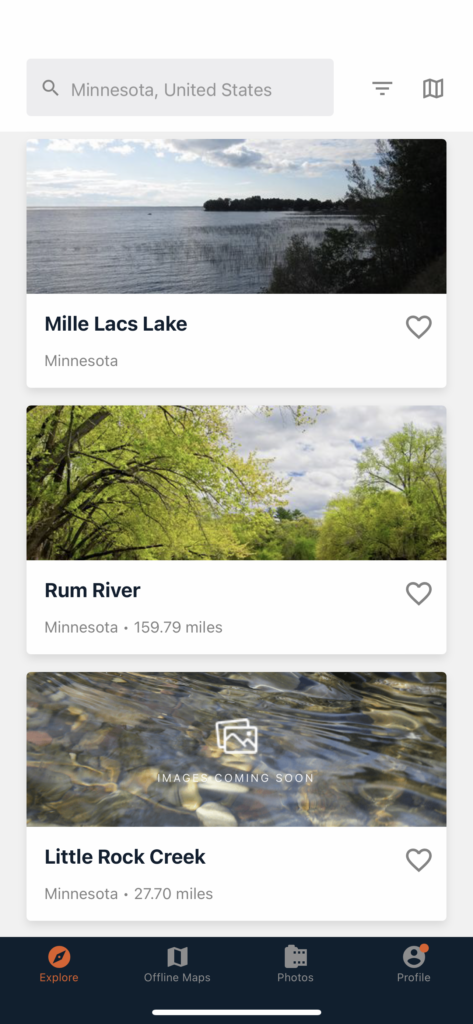 ---
Bass Forecast
Bass Forecast is targeted at, as its name suggests, bass anglers. The app claims it's proven to increase bass catch rates by 68 to 305 percent. The app tracks real-time weather and uses bass industry research and seasonal patterns to provide forecast conditions and tips.
Ratings
This bass fishing app makes it simple to enter a location and view BassForecast ratings for the next 10 days. Users can easily adapt their game plan for any rating, condition, and bass season.
Pro Features
The pro version of Bass Forecast has even more features, which include adapted patterns, cover selectors, notifications, tackle tips, an explanation of ratings, and a 10-day forecast.
Adapted Patterns provides users with Complete Pattern Recommendations, including the recommended baits, lake structures to fish, and presentation tips for the next 10 days. All of these patterns adapt to the changing weather, the BassForecast Rating, and seasonal catch data.
The Cover Selector allows users to select the cover they will be fishing for, and they can see the top 5 Bait Recommendations adjusted for Weed, Rock, or Wood. They can also adjust one season back or one season forward.
Notifications keep app users in the loop, so anglers can get alerts for the EPIC BassForecasted Rated days in the upcoming 10-day forecast. Users of the pro version of this fishing app never have to worry about missing an epic fishing day!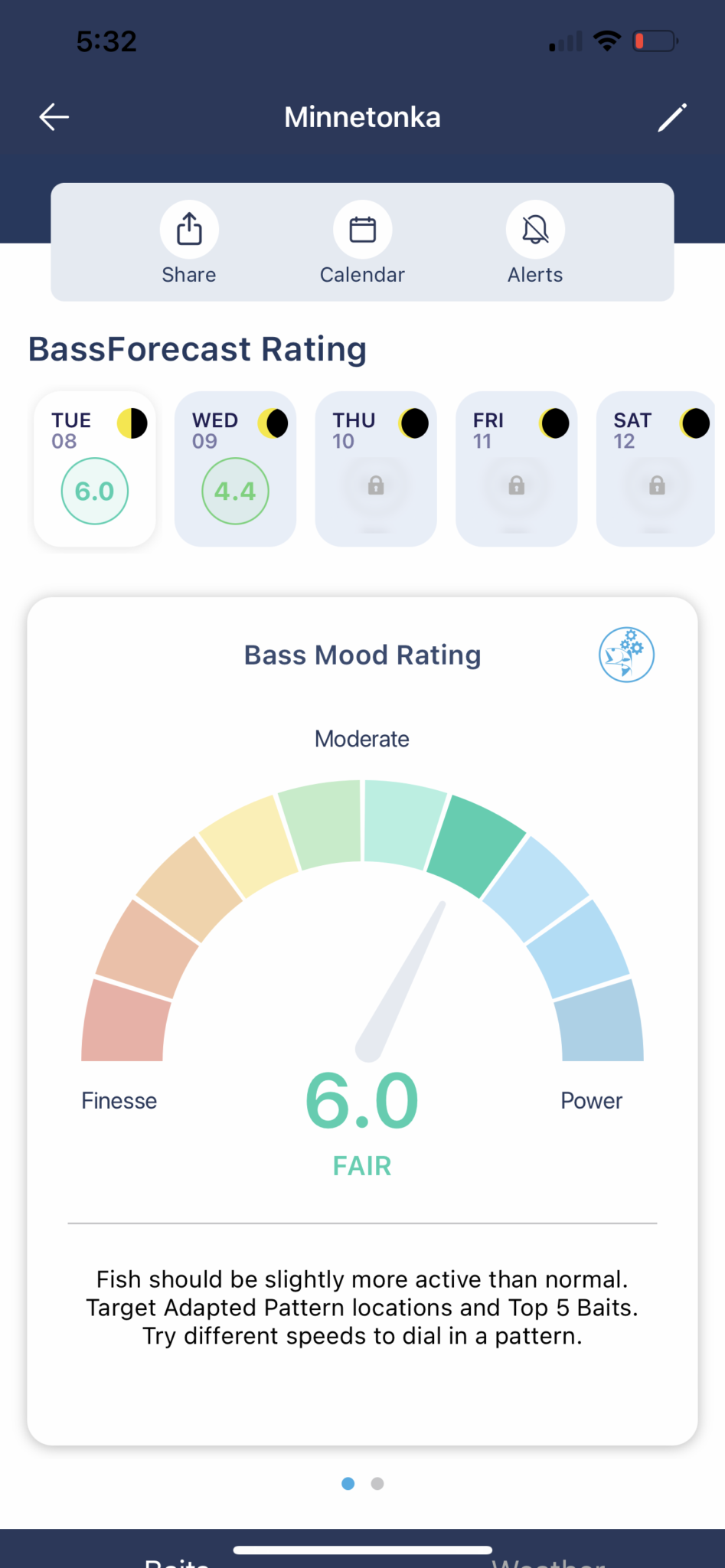 ---
Wrapping up the Best Apps for Fishing Enthusiasts
Downloading some of the best fishing apps can really improve your catch rate. Give some (or all) of these apps a try!
If you're looking for more fishing tips and tricks, check out our Fishing in Minnesota page.