Life in Minnesota offers some serious outdoor fun whether you are on the lake or out on the open roads. Food is also essential to refuel for Minnesota living and that includes the taste of delicious fried chicken. Whether you want it spicy, fileted on a sandwich, or deep-fried pieces of chicken paired with soul food sides, Minnesota has got it all, and here are some of the best fried chicken places in Minnesota.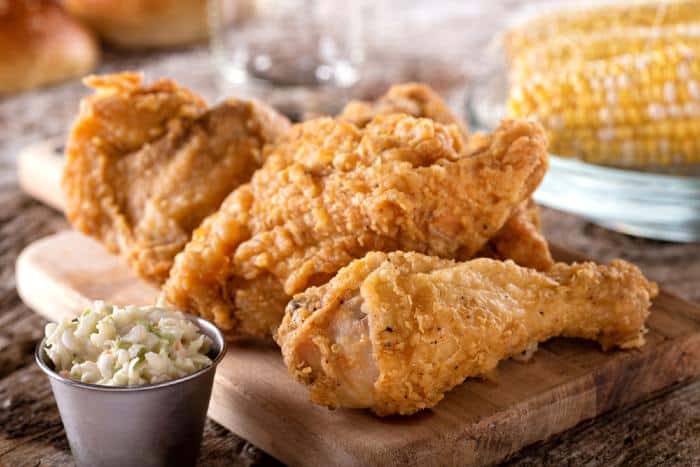 1. Revival
Take a trip to the South when you choose Revival's juicy fried chicken dishes. Opt to have it with waffles or a piece of white bread with some hot sauce for one of their popular dishes. They offer chicken cuts for your preference, whether you want a filet, dark meat, white meat, or a half-bird option.
Of course, their chicken goes best with their delicious sides of biscuits, mac and cheese, and fresh slaw for a walk-up lunch or dinner. No reservations, so start running over to get your fried chicken fix when you are in Minneapolis.
2. Nashville Coop
Another cluckin' favorite in Minneapolis, Nashville Coop, provides its diners with a heated taste of the Nashville chicken, paired deliciously with hot jams for a full flavor. You simply choose your style of chicken, Nashville hot chicken strips, a good ole' butter bun Sammich, or a Texas Toast Sammich.
Add your heat level, ranging anywhere from MN no heat style to a Cluckin Hot, with all intentions to leave you in pain long after you have savored the taste. You can explore your heat levels and build up your tolerance with each visit. Cool off with a cool side of Cole Slaw.
3. Carl's Corner
While it is tucked away in a quiet corner of Minnesota, Carl's Corner has been proclaimed as one of the best fried chicken places in Minnesota locations for several years. They even brag about having good old fashioned fried chicken that isn't dolled up and made into a fancy looking dish.
You will not find them online, but you can easily find the chicken line when passing through. When you are craving that traditional taste of fried chicken with all the seasonings and all the juice, Carl's has a few pieces of chicken ready for you in Essig.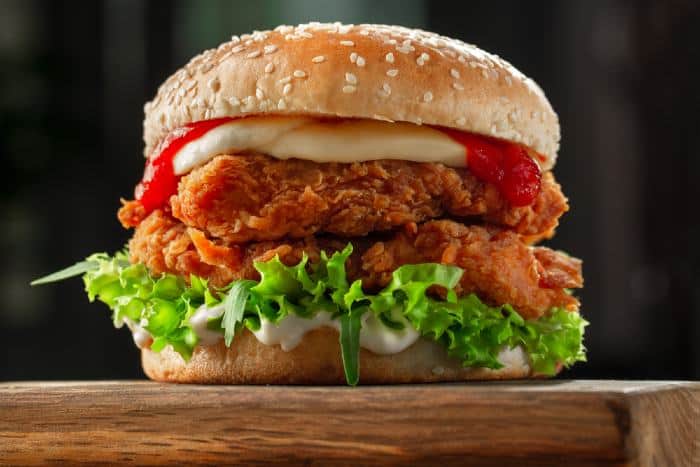 4. Fly Chix
Something about a spicy Tennessee hot chicken keeps residents in Minnesota warm through the winter. The student body at the University of Minnesota can attest when they visit Fly Chix on campus. If you aren't into all the Tennessee spice, there are other options to choose from with little to no heat, but still packed full of flavor. Have your chicken in a sandwich, tenders, or even in a salad bowl if you have dietary preferences.
5. Rooster's BBQ Deli
Next on the list of best fried chicken places in Minnesota is Rooster's BBQ Deli. BBQ chicken isn't the only chicken special in St. Paul. While some come in for the advertised BBQ in the name, Rooster's BBQ Deli has a hidden secret that locals have been holding onto whenever they get a craving for fried chicken. Choose a 4 piece half chicken dinner from their fried chicken delicacy for your own personal party.
Need to feed a crowd? No worries. you can get chicken piece boxes starting at 8 pieces and going as high as 40 pieces for the biggest crowds. Pair it with French fries, mashed potatoes, or baked beans for a real delicacy. These boxes are great for game day.
6. Burnt Chicken Cafe
Fried chicken sandwiches have reached a new level of innovation when you check out the menu at Burnt Chicken Cafe. Does the idea of fried chicken and mango get you excited? Especially with the addition of bourbon glaze? Us too!
Order the popular burnt chicken sandwich, crafted in amazing island flavors to give you that tropical and flavorful taste with freshly battered fried chicken the next time you are in Saint Paul. If you are really feeling froggy, consider the Frogtown Chicken Sandwich that showcases a fried egg, fried garlic, and a sweet garlic ginger soy sauce to make all of your taste buds tingle.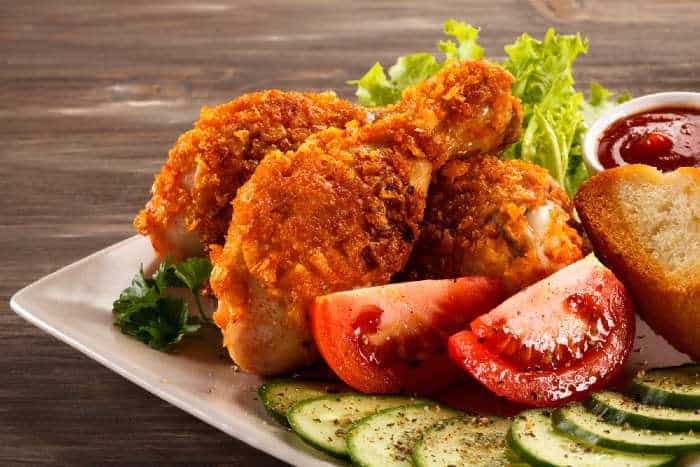 7. Wendy's House of Soul
Sometimes when you want fried chicken, you can taste it down in your soul, and that is exactly what Wendy is giving you when you visit Wendy's House of Soul. Get your Southern fried chicken wings in a chicken and waffle meal, or upgrade to a soul platter. At Wendy's you can have your wings exclusively, just choose your dry or wet rub and opt for either 7, 14, or 21 if you are really in the mood. No fried chicken wings are complete without a healthy size side of greens and mac and cheese to compliment your chicken and have you coming back for more.
8. Herbie Butcher's Fried Chicken
Even Vegans love fried 'chicken.' If you have that craving for chicken, but not 'chicken' Herbie Butcher's Fried Chicken has vegan chicken options that are crispy, delicious, and honestly, taste as good as regular chicken. You can get a bucket of chicken in small to extra large, with a variety of sauce options and tasty sides to pair. If you have a picky family event coming up that has a variety of dietary preferences, Herbie Butcher's Fried Chicken will definitely make the cut for everyone.
9. Mama Sheila's House of Soul
If you are looking for fried chicken and a buffet, then you do not have to look any further than Mama Sheila's House of Soul. While there is a variety of meats and proteins on the menu, the deep-fried chicken wings and jerk chicken will have you coming back to the line for seconds and thirds.
You can balance your fried chicken with light sides like cabbage and greens, or you can really take it down south and pile on the candied yams and black-eyed peas for a taste all across the South. After one of these visits to Mama Sheila's House, your soul will be fed long after you leave and ready for your next return.
10. Soul Bowl
How do you feel about fried chicken in a bowl? At Soul Bowl, you will get a blend of Island Soul when on your next visit. Just build your bowl at the base with your starch preference. Chose the veggies you want, and your choice of fried chicken. There is a vegan option too for those who want a chicken taste while maintaining their dietary needs. Ordering a bowl is as easy as 1,2, 3, eat and come back again. You can build your soul bowl to blend as many flavors as you want.
11. RCK Soul Food
Last but not least on the list of best fried chicken places in Minnesota is RCK Soul Food. If you aren't playing around and you are looking for a soul food dinner plate, RCK Soul food has a seriously delicious combo for you. Choose from dark meat, white meat, 1 piece, two or more to customize your order.
Next, order one or a variety of sides including hush puppies, fried okra, cornbread muffins, and more. If you're craving some Thanksgiving fare, add some cornbread dressing and cranberry sauce.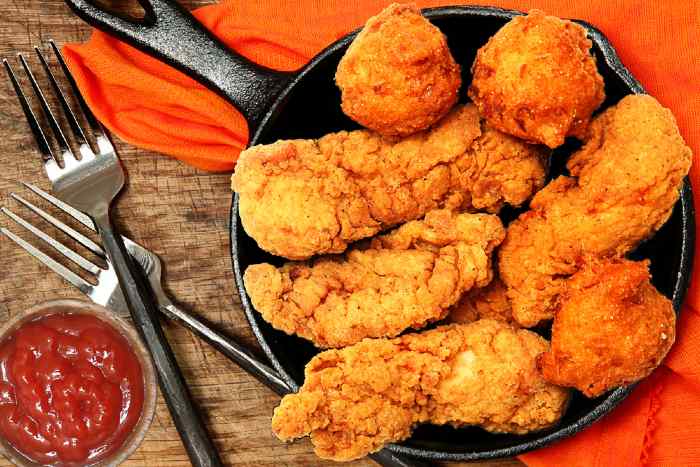 Minnesota has got it all….
Minnesota has got it all from great outdoor adventures to great food including juicy, tender fried chicken. After visiting one or more of the best fried chicken places in Minnesota, let us know which chicken meal you want to cluck about.
Still hungry? Then continue exploring Minnesota food and drinks for a complete culinary adventure!
Ready for more Minnesota advice, info, and guides? Whether you're a local or a passerby, discover the best of Minnesota that our great state has to offer!