October is coming up: you know what that means? Haunted houses are opening up and people are looking to get spooked. Unfortunately, some haunted houses can be less than worth a trip through and a couple bucks on tickets. That's exactly why we're here to help you find the best haunted houses in Minnesota.
Minnesota is full of haunted houses–some good and some bad. To prevent you from wasting your time and money, we've made a list of some of our favorite haunted houses in the state. These ones are truly terrifying and will make your Halloween feel like a true (fun) fright.
Scream Town
Scream Town has been named as one of the best haunted houses in the country. Named in the top 8 by CNN, this terrifying haunt is there truly to get you screaming. This haunted attraction is placed seemingly in the middle of nowhere, adding to the spookiness of it all. Once you arrive, you're met with incredible actors that absolutely love to get a scream (or several) out of you.
Scream Town goes through strict procedures to ensure that you're staying safe while having a fun time. While their workers can sure scare the pants off you, they can't hurt you in any way. They will stay a safe distance from you, but with Scream Town's advanced technology and insane Halloween decorations, you'll be still left trembling.
Henning Haunted House
One of the most affordable (and best) haunted houses in Minnesota, Henning Haunted House is sure to give you some spooks.
The people behind Henning Haunted House put clear effort into their attractions, depicting realistic scenes and terrifying scenarios that you'd never want to be in otherwise. But, even though you'll be scared, you'll also have a ton of fun moving through this comprehensive haunted house.
One of our favorite things about Henning Haunted House is that it is a non-profit attraction. All of the money from the $5 admissions goes straight to charity, so you can feel great donating your money to have a few screams and laughs. Plus, it's a great time to get the know the city of Henning.
Dead End Hayride
Dubbed as the "ultimate horror experience," the Dead End Hayride is easily one of the best haunted houses in Minnesota.
Okay, maybe it's not exactly a "haunted house" by definition, but it's a haunted attraction that will leave you shaking nonetheless. Due to the nature of this attraction, children are not allowed–but that should show you just how terrifying this haunted experience truly is.
At the Dead End Hayride, beware: the monsters and ghouls are free to touch you. However, they will not hurt you or harass you in any way. It's all a part of making the show more realistic and all the more haunting.
As you travel through these haunting woods, you have no idea what's going to be lurking about. Your sense of reality is said to escape you as you struggle to make your way out of the infested woods. It's truly an experience that will leave you trembling for days.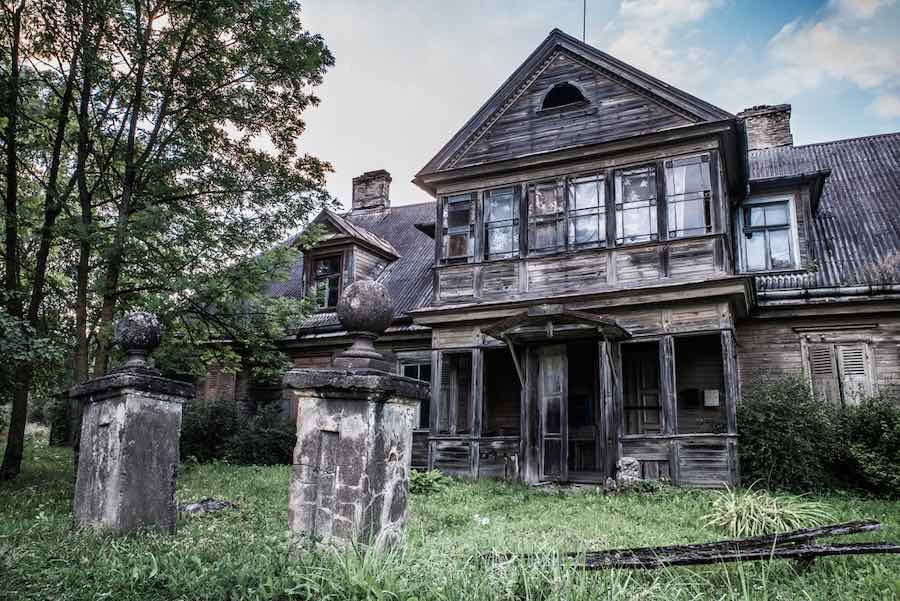 Monster Bash Haunted House
The Monster Bash Haunted House is yet another attraction that is entirely non-profit and used to benefit others.
This one in particular is used to support the arts community in Harmony, Minnesota. Voted as the top overall Halloween attraction in Minnesota for three years in a row, this is a terrifying haunted house that will give you a whole new perspective on these haunted Halloween attractions.
Every year, the Monster Bash Haunted House changes themes to keep customers on their toes. This year, the haunt has unfortunately been cancelled due to COVID, but that only means that they have more time to develop a much more cohesive, bone-chilling haunt that can only be experienced in Harmony.
The Haunting Experience on Highway 61
The Haunting Experience is an all-encompassing Halloween attraction that's located right along Highway 61. Within this haunting experience is one of Minnesota's best haunted houses. Their haunted house is full of elaborate exhibits that go from all directions to get your heart pumping and blood rushing. You'll find yourself wandering aimlessly through a haunted hospital full of the creatures from your nightmares.
If haunted houses aren't your thing, The Haunting Experience on Highway 61 also has a special haunted hayride attraction that's just as terrifying–if not more–than their actual haunted house.
This hayride will take you through some of the spookiest tunnels and twisted trees, bringing you creatures that will scare the life out of you. As the oldest haunted hayride in all of Minnesota, The Haunting Experience on Highway 61 sure knows how to do it right.
The Abandoned Hayride
COVID has brought a lot of change this Halloween season. Originally the Abandoned Hayride, this haunted attraction has transformed itself into the revolutionary Abandoned Drive-Thru.
Instead of walking around and experiencing a haunted house, or even hopping on a hayride and riding through the forest, this attraction will have you stay in your car and still get as scared as possible.
You will drive yourself through an extreme haunted house, seeing creatures, ghouls, and scenes that are only out of a horror movie. Inside your car, you'll feel trapped in the attraction, experiencing the scares as realistically as possible.
You will not be able to find another attraction like this throughout all of Minnesota, so if you're looking to get scared in a whole new way, the Abandoned Drive-Thru is the place to go.
Anoka Haunted House
Located in the middle of the Anoka County Fair, this haunted house is one that's sure to leave goosebumps on your arms. Being in business for over 30 years, the Anoka Haunted House sure knows how to give some genuine scares. It benefits local organizations all over Anoka, giving back each year that it's in operation.
Their tickets are extremely reasonable, and you can even get discounts by bringing non-perishable food donations. Even the actors in the haunted house are local high school students that sure enjoy getting some screams out of you. So, find some food in your cabinet that you think someone else will need more than you, and get your scare on at the Anoka Haunted House.
ValleyScare
During the day, this place seems innocent, fun, and full of only the lightest parts of Halloween. But, at night, this spot turns into one of the scariest spots in Minnesota. ValleyScare is a huge outdoor halloween attraction consisting of haunting mazes, rides, and, of course, haunted houses. Children under the age of 13 are not allowed, so be prepared for some PG-13 scenes.
As you stroll around the park, keep an out for monsters that might be hiding in plain sight. ValleyScare is scary in more than just the mazes and houses, so if you're looking for a super comprehensive haunting experience, this is definitely the best haunt for you and your friends.
The Trail of Terror
The Trail of Terror is the largest Halloween event in all of the midwest. Here, you can navigate between 25 terrifying, bone-chilling rooms, each one more haunting than the next (somehow).
After you've made your way through the maze of mayhem, you'll find yourself lost in the middle of the woods, scrambling to get your bearings and stay away from all that's lurking after you. In the Trail of Terror, there is even a haunted swamp that's waiting for you to wander in.
This impressive Halloween attraction is $18.85 in advance and $23.95 at the gate. In our opinion, these prices are more than worth it for the night of scares you're going to get. From mazes to woods to rooms of the dead, The Trail of Terror has it all.
Nightmare on First Street
In the middle of Fountain, Minnesota, you can find true horror. The Nightmare on First Street attraction is a classic haunted house attraction that's been operating as a non-profit for years. Every year that's open, the haunted house changes themes, rearranges rooms, and makes it a totally new experience–even if you've been there 100 times.
Nightmare on First Street has live actors that jump out and scare you, though they cannot touch or hurt you in any way. So, while you'll be left to your own devices to maneuver through the haunted house, you'll still be scared out of your mind as the actors hide at safe distances.
This isn't a haunted house that's good for kids, so take the older ones and enjoy getting some genuine screams, shakes, and laughs out of everyone in your group.
Hamel Lions Haunted Acres
Voted number one for best haunted houses in Minnesota, Hamel Lions Haunted Acres is one you have to visit if you live in the area. They're so scary, that they even suggest bringing a second pair of underwear. Almost all of their attractions are indoors, so even if the weather isn't the best, you can still get scared out of your mind during this Halloween season.
On top of the haunted house, there are other attractions that are a bit more family friendly. Bonfires and concessions are also available, and those who are 12 and under are allowed, they just must be accompanied by an adult.
This makes Hamel Lions Haunted House one of the best places to take the whole family for some genuine scares and a whole lot of fun during the spookiest season of the whole year.
Finding the Best Haunted House in Minnesota
Finding the best haunted house in Minnesota is only tough because there are so many of them. To make finding the best one easiest, try considering what you're looking for in a haunted house.
Do you want to be able to take the youngsters, or do you want to be so terrified that kids just shouldn't be allowed? There are various haunted houses that are suitable for children if that's the route you want to take, while others are way too scary for those under the age of 13, even 16 in some cases. The older the age requirement, the scarier the haunt is likely to be.
As haunted houses have gotten more extreme, you now have the chance of choosing between actual haunted houses, or other haunted attractions like hayrides, forest tours, or even corn mazes. If you're someone who is a bit tired of your traditional, typical haunted house, try looking for one that offers more than just the house scenario. As we showed, they're incredibly common in Minnesota–and they're just as scary as a haunted house.
Happy Haunting!
No matter what kind of haunted house you choose to go to, you're going to have a whole lot of fun, and experience a whole lot of scares. Be prepared to scream, to shake, and to be totally frightened out of your boots. Every year, these haunted houses only get more terrifying, so don't underestimate the haunted houses that Minnesota has to offer.
This October, have a little bit of extra fun (and extra spooks). Visit a haunted house in Minnesota and see what it's like to get scared out of your mind right in the safety of your home town… or so you think.
For more recommendations on things to do in Minnesota, where it is Halloween time or not, you can check out our blog.
Ready for more Minnesota advice, info, and guides? Whether you're a local or a passerby, discover the best of Minnesota that our great state has to offer!
Looking for more autumnal activities? Then visit our Minnesota Fall page to find inspiration for sweater weather fun!