---
The Hockey Helmet Buyer's Guide
Sizing
The best hockey helmets on the market may be made with adjustable parts, but picking the right size is still extremely important. Nothing will protect you more than a helmet that holds the right parts of your head in the safest way.
Before you can understand how to read the sizing chart, you need to know how to measure your head. Wrap a soft tape measure around the circumference of your head, about half an inch above your eyebrows.
Now, each brand has a different size chart that you'll have to follow for a more accurate fit. But, generally, a small is from 51 to 56 centimeters, a medium is from 55 to 60 centimeters, and a large is from 59 to 63 centimeters.
You'll also want to look into the line you buy within the brand because some are built for specific head shapes. At CCM, their Tacks line is meant for people with narrower heads, and their Fitlite helmets are built for wider ones. Whereas Bauer models are generally all made for round heads.
Overall, when you put the helmet on, you want it to rest flat on your head, half an inch above your eyebrows. And it should be snug enough that it doesn't shift when you move.
Safety Technology
When trying to understand all the different types of safety technology that goes into the best hockey helmets, many confusing names can be involved. But there's really only one thing that technology is trying to prevent: a concussion.
Foam
And the main thing they're using to do that is foam. Each brand has its own engineers that come up with unique designs and ideas. Where specific foams go depends on the type of blow you're likely to receive in each area.
The foam that makes up the inner layering tends to be softer. Some companies, like Warrior, even use a memory foam base. While the outer layer tends to be dense and more technical.
Each company will try to sell you on why their product is the best. But, whether they layer their foam or have it surrounding a water pod, different testing facilities, and researchers have already ensured the product is safe.
You don't need to understand the specific engineering that goes into each helmet. It's much more important for you to understand what the products are trying to protect against.
Types of Impact
Any blow to the head is dangerous. But, there are specific impacts that the best hockey helmets really try to minimize.
The worst is a blunt-force hit. Even if it doesn't cause bleeding, a hard impact to the skull can lead to serious internal damage. Especially a hit to the frontal lobe, which is responsible for a lot of important brain functions.
Brands and product testing groups use repeated hits to the front, sides, top, and back to ensure your safety. But checking the safety measures in that area before purchase is an extra step you should take before buying.
The second is rotational force. Skating builds up a lot of speed very quickly. And researchers are only just realizing that a quick stop, turn, or fall can cause just as much damage as certain hits. So, older products don't have the proper safety measures for that.
Ensuring your product is up to date with safety codes is essential for choosing the best hockey helmet. As with any contact sport, safety is a concern. You can expand your training while maximizing safety with online hockey training – from an NHL pro!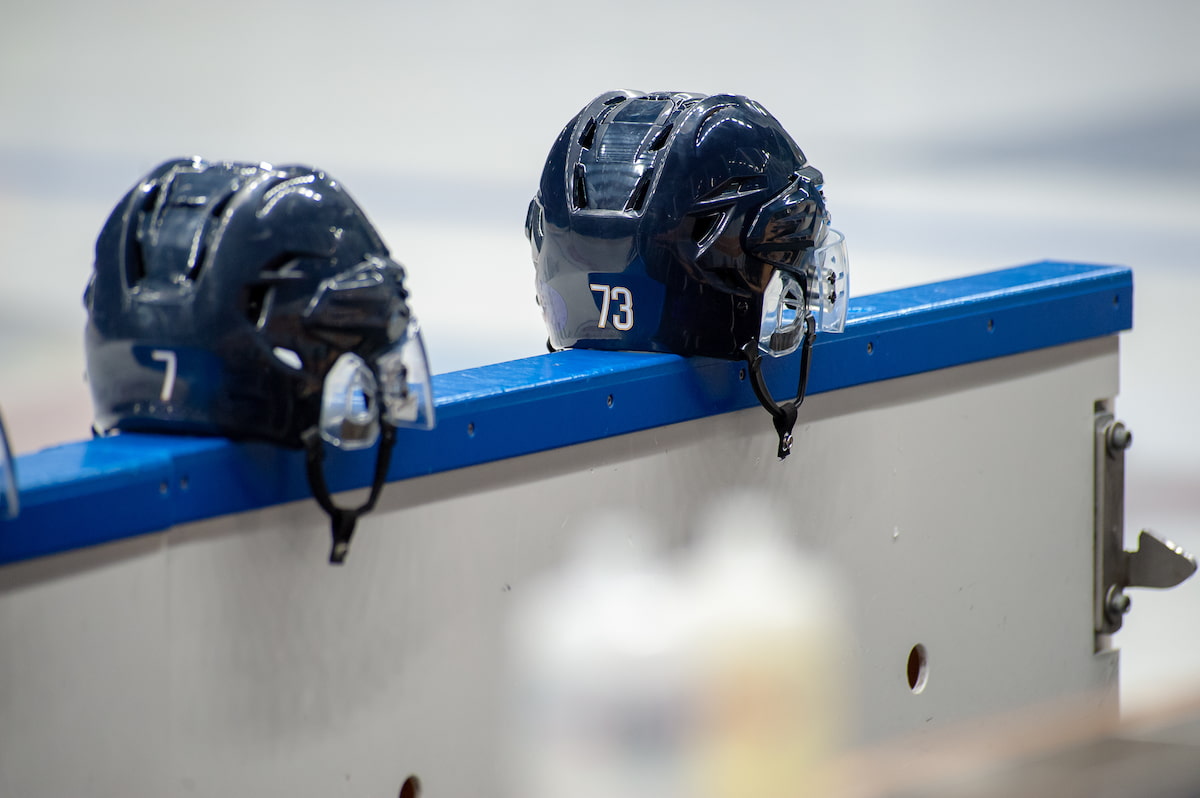 Product Certifications
Before any product can be sold, it must be certified by various boards and committees. For hockey equipment, that includes the HECC and the CSA. All the best hockey helmets are certified by these two groups.
The Hockey Equipment Certification Council is a group that ensures all products uphold a certain safety standard before they can be used on American ice. Each brand must send its products in for testing and third-party vetting. And most stores won't offer a product that hasn't passed these tests.
The Canadian Standards Association is basically the same as the HECC but for Canada. With their own set of testing, the CSA also ensures your gear has what it takes to keep you safe.
These groups fund the research into creating the best hockey helmets for protecting your body and mind from the big hits. A stamp of approval from them means a lot for your safety.
---
Frequently Asked Questions
Do I need a cage?
The debate between "yes cage" or "no cage" has been part of the hockey world for a long time. But the answer has always been yes. You never want to risk a puck directly to the face. And visibility with a cage is actually better.
Can I buy a used helmet to save money?
The best hockey helmets on the market can be expensive, but buying a used helmet is not a good idea. Bacteria from another person's sweat-saturated foam can pose health risks. And your head is way too precious to be protected by worn-down technology.
---
Best Hockey Helmets: Summed Up
Your safety is what's most important, and these five helmets are the best hockey helmets for the job. No matter where you're playing or who you're playing with, we hope this guide gives you everything you need to enjoy your game.
If you're looking for tips on other hockey gear, check out our article on the best synthetic ice!
Still want more hockey content? Then check out our hockey page for training guides, equipment rankings, and fun facts about our favorite sport!