---
Choosing the Right Auger for You
Based on our reviews, you have seen what the ice fishing auger has to offer. There are a lot of choices out there. All of the designs are effective and take advantage of the most modern tech.
There are at least three attributes you should consider when it comes to owning the best ice fishing auger for you. Let's take a look at them and figure out which one of these augers is best for you.
Power Source
Do you want to dig into that frozen lake with gas power, propane, or rechargeable battery power? They all have some benefits, and we mentioned them above. Gas power is undeniable, propane has multi-use potential, and battery power is clean and effective.
Auger Size
Your auger size affects all kinds of things. The weight of the auger and the depth of your ice hole. Auger size has a serious effect on leverage when applying pressure to the handles.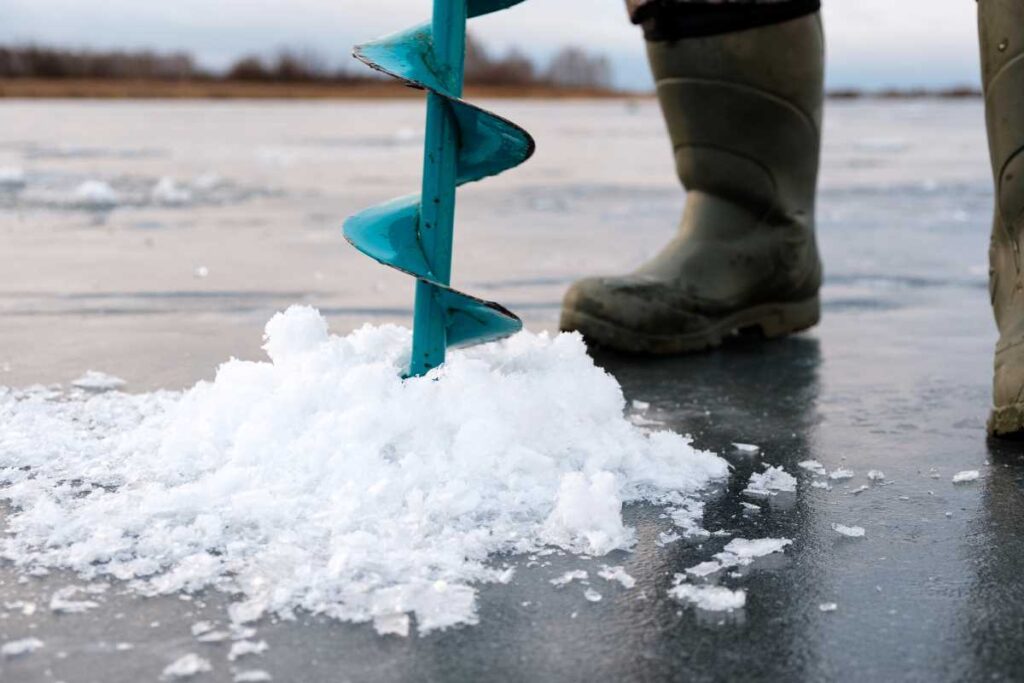 The goal is to easily bore through the ice. Your auger should be able to do that with ease.
Mobility
Finally, you should consider mobility when it comes to your choice of ice auger. How well does your model pack up and travel? Does it carry around safely, and can you get it from your vehicle to the lake without a lot of trouble?
---
How to Find a Place to Cut the Ice with an Auger
Now that you have the ultimate ice fishing auger for you, where do you use it? How do you know where to use that auger? Are you going to just start cutting holes in the ice indiscriminately? I would say that is not the best idea.
There are a number of ways you can find good ice fishing spots to drill with your auger.
1. Use Charts or GPS
You are looking for drop-offs in the water. These areas hold fish in the cold weather. They will be further down the ledges in the winter. Drilling holes over top of these ledges and fishing them is a great place to start.
Be patient on these ledges and take your time at different depths. The fish move slowly in cold water, but the ledges are a sure bet.
2. Use a Flasher's Transducer
An ice fishing flasher's transducer is a great way to search an area for fish. This will require that you cut a single hole in the ice to drop the transducer into. Still, you will at least know that there are fish in the water below you.
The ice fishing flasher is an incredible tool, and along with a quality ice auger, you should consider bringing one along for the ride, too.
3. Roll the Dice
If you are going to spend the money on a new ice auger, then you might as well use it, right? Cut some holes in the ice and drop jigs to see if you get any bites. This can be done at random locations, but if you create some kind of pattern, you will be able to understand where the fish are in the future.
---
Wrapping up the Best Ice Fishing Augers in 2023
All that stands between you and those crappie, walleye, and lake trout is the inches of ice you will be standing on. Though you can use an axe or a chainsaw, the ice fishing auger is a much more effective tool.
Now, you have to decide on the attributes you need in your own ice auger. Are you looking for something with a nice long bit? Do you want a gas-powered auger, or are you ready to try out the new wave of battery-powered technology?
Each one of the ice augers we have reviewed will get the job done. For more about ice fishing in Minnesota, check out our Ice Fishing Gear posts.