Kids love to be active, and getting them in the water is one of the best ways for them to burn off some of their never-ending supply of energy. Going on family trips to lakes, oceans, rivers, and even pools will create lifelong memories that they will treasure forever.
But when you're by the water, you want your kids to be safe. Drowning is the number one cause of death among children. Even if your kids know how to swim, you never know what kind of waves or rapids you'll face on open water. If it's rougher than expected, you could be in trouble. And if you're doing activities like white water rafting or tubing, you want your kids to have protection should they fall off.
It's best to be prepared and ensure that they have a life jacket that fits them. Investing in a proper life jacket for your child is one of the smartest things you can do.
Read on to learn about the best life jackets for kids!
Benefits of Wearing a Life Jacket
Your kids may put up a stink about wearing one. Your spouse or other family members may claim that it's not needed. But it's better to be safe than sorry. Having your kids wear a life jacket has many values.
Keeps them from Drowning
This is the most obvious one. As stated above, drowning is the top cause of death among children. People have a misconception about drowning. They imagine someone screaming and flailing their arms for help. That only happens in TV shows. In real life, it's a quiet act that can be easy to miss until it's too late.
Wearing a life jacket can protect your children in those moments where their swimming skills give out. And it's a must for children who haven't learned yet how to swim.
Keeps Them Warm
You can't control for the temperature of the water. Doing water activities in natural bodies of water come with risks of cold water. For children, their bodies are more sensitive to water temperature. Even though it may be hot outside, the water can still be cold.
Life jackets add an extra layer to them. They fit snugly on their bodies, helping them retain their body heat and protect against cold water temperatures. If there is a situation where your child finds him or herself stuck in the water for a while waiting for rescue, the life jacket is essential to keeping their body temperature regulated. Many life jackets today are designed to ensure that you retain as much of your body temperature as possible while in water.
They Face Kids in the Right Direction
If your child falls overboard, or if some currents pick them up, the life jacket can keep them facing forward. This helps to keep them calm and regain control over their situation, plus avoid anything bad in their path.
Life jackets are manufactured to turn your face up if you fall in the water. This is very helpful if your child goes unconscious and winds up face down in the water.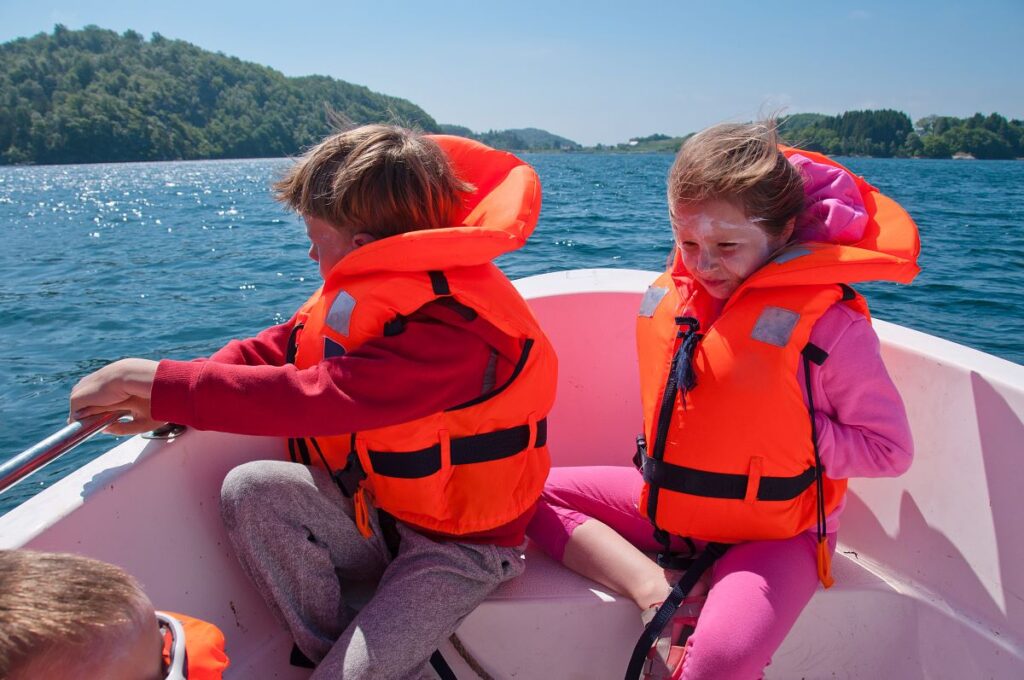 How to Select a Life Jacket
Torso
You want it to fit snugly on their chest and stomach. Secure the straps so there is very little space between the jacket and their body. Make it slightly tighter than normal because in the water, it'll loosen a little when they're swimming. Yet don't pull the straps so tight that they can't breathe or are visibly uncomfortable.
Shoulders and Arms
You want the life jacket to be big enough so that your child can get their arms through, but not so big that it can slip off. Have the arm holes only come down a few inches below their armpit, which should create enough space for them to maneuver, whether they are swimming or rowing an oar.
Length
Life jackets should be long enough that they cover nearly all of your child's back and stomach. If they come above the belly button, then they are likely too small. It will be uncomfortable for your child to wear and has a greater chance of slipping off when they're in the water.
All right! Now that we've gone over why your kids should wear a life jacket and how to fit them for one, let's jump into the best life jackets for kids so you can pick the right one.
7 Best Life Jackets for Kids
---
Best Life Jacket for Kids: Overall
Stohlquist Escape Youth PFD
The Stohlquist Escape Youth is the ideal life jacket for any level swimmer. Kids who love the water but aren't big enough for adult sizes can take advantage of its snug fit. The Stohlquist is incredibly comfortable for kids, yet also full of the safety features parents want to see in a life jacket.
The sides and shoulders of the life jackets are fully adjustable, enabling you to find the perfect fit for your child. The life jacket has a contoured shape that aligns with your child's body type, ensuring that it doesn't slip off. The waist belt has a quick-release buckle in the front that allows for easy entry.
And since kids are prone to losing things (No shade. We love kids, but we all know it's true.), Stohlquist designed special extra-strength pockets around the life jacket.
With its thick oxford shell, it provides ample buoyancy, and the reflective coating makes the life jacket easy to spot in the water, especially in areas with low light. The 50-90 pound range can cover children through early young adults.
Thanks to its durability, fit, and coating, the Stohlquist Escape Youth PFD is the best life jacket for kids, ensuring both they and you enjoy the water.
Pros:
fully adjustable foam panels
sewn-in pockets
reflective coating
Cons:
no sculpted foam
no parent handle in the back
not suitable for children under 50 pounds
---
Best Life Jacket for Kids: Runner Up
Stohlquist Fit Youth PFD
The Stohlquist Fit Youth PFD is a variation on the Escape Youth life jacket, designed specifically for boating and paddling adventures. It's the best choice if your child plans to be on a boat for the majority of the time.
The sculpted foam that makes up the design of the life jacket offers greater mobility for kids. They will have greater flexibility and range of motion for being active versus just floating in the water.
Additionally, the back panel is thinner than most life jackets. They can sit flush against the back of a seat, making them more secure in a boat. It also makes it easier to stay seated, another thing some kids have trouble with (again, no shade).
For kids 50-90 pounds, it's the best choice if you plan on them being active on the water, rather than in the water. But of course, should they fall in the water, its thick paneling provides plenty of buoyancy.
Pros:
designed specifically for boating and paddling
increased mobility
thin back panel for easy sitting
Cons:
no reflective coating
not great for swimming in water
---
Best Life Jacket for Kids: Under 50 pounds
Mustang Survival Rev Child
The Mustang Survival Rev Child fits little ones who are on the cusp of being kids. Thirty-three to fifty-five pounds is the sweet spot range. The bright colors will appeal to kids and make it easy to spot them in the water. Its soft and durable fabric won't irritate your child's sensitive skin.
It comes with an important handle at the back of the life jacket allowing you to easily grab and pull your child to safety (or out of the water if they won't do as they're told.). This is also a life jacket designed for kids who are old enough and don't need neck support.
Its specially segmented foam paneling allows for greater mobility as well as providing breathability so they don't get overheated.
Kids can enjoy being in the water, and you can enjoy peace of mind with the Mustang.
Pros:
fits kids under 50 pounds
easy to spot in the water
parent handle in the back
Cons:
no neck support
no crotch support strap
---
Best Life Jacket for Kids: For Paddling
Stohlquist Child Fit
The Stohlquist Child Fit has many of the same qualities as the other Stohlquist life jackets mentioned here, just adapted for smaller kids.
Its high mobility, sculpted foam lets them splash around and row with ease. The three-buckle system provides great security, and the additional crotch strap keeps them from falling out of their jacket.
One important thing to note is that this life jacket isn't designed for face-up maneuvering. It is meant to be worn by children who know how to swim.
Pros:
tailored foam for smaller body size
3-buckle system provides extra security
Cons:
won't turn kids face-up in water
not to be worn by kids who can't swim
---
Best Life Jacket for Kids: For Value
MTI Youth Livery
The MTI Youth Livery gives you security, durability, and important peace of mind all for just under thirty dollars. It is a great brand at a great price.
It comes with a visible yellow handle that easily sticks out amid swimmers. The handle in the back allows you to easily pull your child to safety. It is best meant for children fifty to ninety pounds with some swimming experience.
The MTI comes with nylon, closed cell foam that gives high mobility to your child, making it easy for them to stay safe whether water skiing, jet skiing, or tubing.
It comes with all the important bells and whistles needed to ensure you and your child have a fun, safe time on the water.
Pros:
great price point
very visible in water
Cons:
no sculpted foam
bulkier fit
---
Best Life Jacket for Kids: On a Budget
Stearns Child Classic Series Vest
For a standard life jacket for kids, look no further than Stearns, which provides ample safety and wearability at an affordable price.
This US Coast Guard-approved life jacket can fit a child snugly and give them the flexibility to play in the water or engage in water activities. It's designed for kids thirty to fifty pounds and has sturdy buckles in the front to snugly fit your child. There's also an undercarriage strap that prevents it from riding up.
Its durable nylon shell is remarkably quick drying, so once your child is done, you can throw it in the back seat and have it dry before you get home.
Pros:
US Coast Guard Approved
undercarriage strap
durable material
Cons:
boxy fit
may be uncomfortable for swimming
can chafe skin
---
Best Life Jacket Kids: +100 pounds
Mustang Survival Rev Young Adult
If you have a child who is on the cusp of a young adult, or one who is bigger for their age group, the Mustang Young Adult has you covered.
It's good for kids 88-110 pounds and can fit a twenty-eight to thirty-two-inch chest. It's one of the most durable life jackets on the market, which sturdy, sculpted foam panels that can handle the most active kids.
The foam panels are shaped to fit the specific body type of older kids better than an adult small life jacket. Going with an adult small could risk gaps in your kid's life jacket, inhibiting the safety features.
Mesh sides provide added support and breathability, and a sturdy zipper will keep your child nice and secure. And even though the child might be bigger, there's still a pull handle in the back to guide them to safety should anything happen.
Pros:
designed for larger kids.
better option vs. adult small
breathable mesh
Cons:
not suitable for kids under 90 pounds
heavy material
---
Anchors Away on the Best Life Jackets for Kids
Life jackets are an absolute necessity when taking your kids on the water. You want to find one that fits them snugly, according to their weight class and general size. The sculpted foam of the Stohlquist ensures a quality fit every time, which makes it easy for them to maneuver in the water. Want more water content? Next, read all about lake life!
Need some more Minnesota gear? Trust our recommendations to guide your next shopping trip!
About the Author
Latest Posts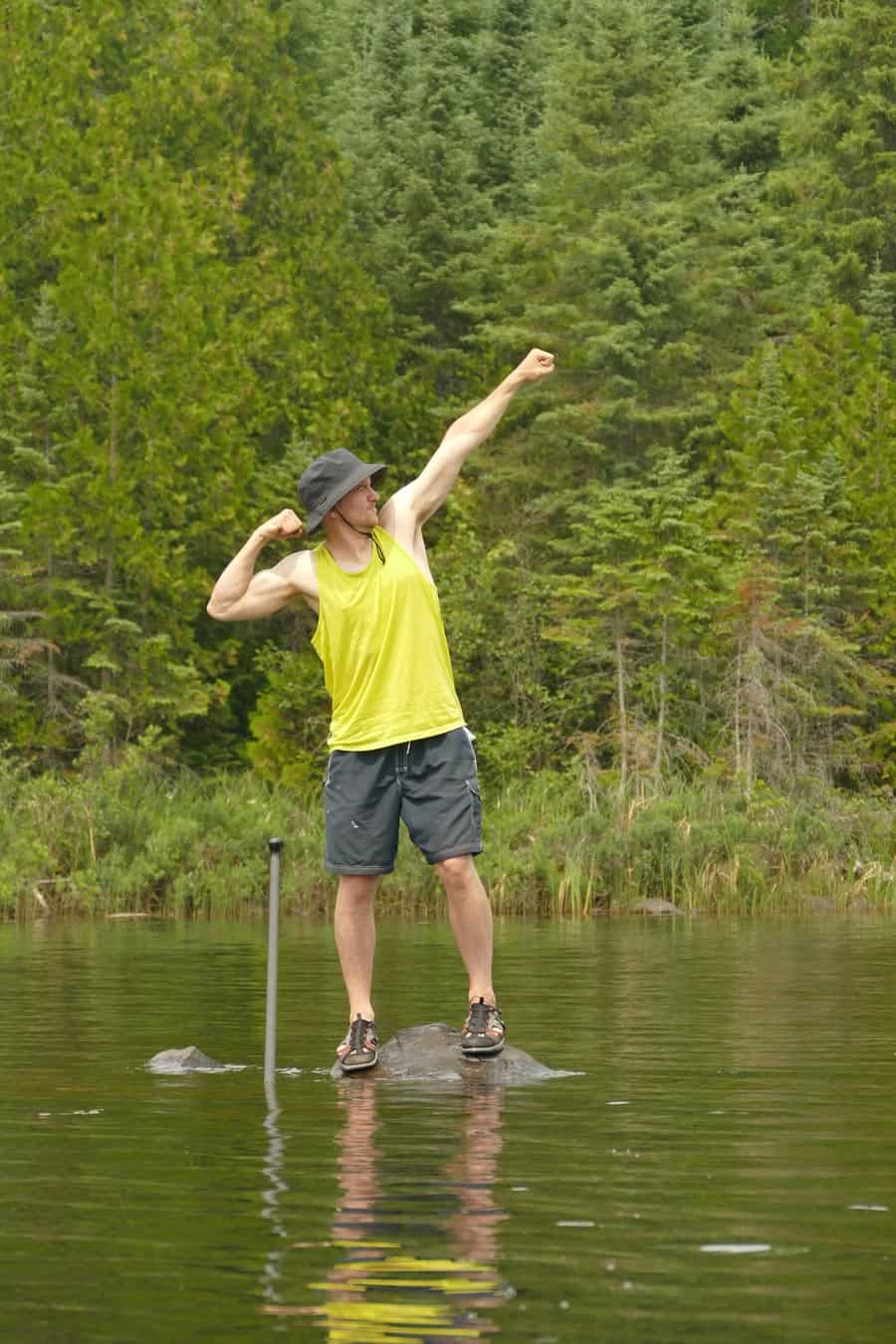 Born in Madelia, MN, to a now 5-generation Minnesota family, Ryan's MN roots go deep.
A painter by day, Ryan founded Life in Minnesota in 2013 with his wife Kelly to chronicle their musings on everything Minnesota. Ryan and Kelly are raising their 7 kiddos in Maple Grove, MN.
When he's not shuttling his kids around to hockey practice, you might find him in the shop working on his leatherwork. Undoubtedly, there will be a family trip to the Boundary Waters Canoe Area every summer, and of course weekends at Grandpa's cabin up north in the summer.