Do you need a good life jacket for spending time on the lake this summer? Even if you're a strong swimmer it's a good idea to use a life jacket, also known as a personal flotation device or PFD, for water activities on the lake. Life jackets don't have to be bulky or uncomfortable. The best life jackets have functional and attractive designs that keep you both comfortable and safe while you're out on the water.
Keep reading to discover the best life jackets for fun on the lake this summer plus some tips on what to look for and how to choose a life jacket that's right for you.
Best Life Jackets
---
Best Life Jacket Overall
Astral EV-Eight PFD
The Astral EV-Eight PFD life jacket offers the perfect balance between functionality, comfort, and price. The high back fits comfortably over boat seats without pushing you forward, while the cut of the vest and open sides give you plenty of movement through your arms and shoulders. Breathable mesh air vents keep you comfortable, even on hot summer days, and the price is competitive. Two zippered pockets keep essentials close by.
Pros:
Comes in three different sizes for a custom fit
Has two zippered pockets
Breathable and comfortable
Good price
Cons:
Not as adjustable as some models
---
Best Life Jacket on a Budget
Stearns Adult Watersport Classic Series Vest
Even if you're on a budget you don't have to compromise on safety. The Stearns watersport classic series vest is one of the best life jackets for good quality at a low price. It isn't fancy, but it will do the job. The vest isn't overly bulky which keeps it comfortable. It only comes in one size but four adjustable chest straps allow you to get a more personalized fit. The vest comes in two different colors to suit your style.
Pros:
Inexpensive
Four adjustable straps for a custom fit
Not too bulky
Cons:
Only comes in one size
Arms rub on the vest when paddling
No pockets
---
Best Inflatable Life Jacket
Mustang Survival M.I.T. 100 Manual Inflatable PFD
The Mustang survival M.I.T. inflatable vest is one of the best life jackets for comfort and simplicity. The streamlined design makes this life jacket incredibly comfortable and easy to wear. For optimal comfort, you can wear the vest deflated and only inflate it when you need to. When you're ready to inflate the vest, simply pull on the yellow tab. When you're done with the life jacket you can easily deflate it and fold it up to store for next time.
Pros:
Comfortable design
Lightweight, easy to wear
Compact and easy to store
Cons:
Inflates manually, so you have to remember to pull on the strap to inflate it when needed.
CO2 cartridge to inflate the vest needs to be replaced after each use
---
Best Life Jacket for Paddling
NRS Ninja PFD
The NRS Ninja PFD has a compact design that gives you great freedom of movement for your arms and shoulders. It's one of the best life jackets for paddle boarding, kayaking, or other activities with a lot of paddling. The shoulder straps are adjustable and tuck into the front of the vest so you won't have straps dangling around. Two more adjustable side straps give you a personalized fit. One large front pocket is big enough for basic essentials like a cell phone or small water bottle.
Pros:
Unrestricted range of motion in shoulders and arms
Comfortable enough to wear for extended periods on the water
Has one large pocket
Cons:
May feel a bit bulky in the front
Low back of the vest won't fit over backrests on some boat seats
---
Best Life Jacket for Women
NRS Siren PFD – Women's
The NRS Siren for women is one of the best life jackets that is designed specifically for women. The life jacket has an athletic cut giving you a good range of motion for a variety of water activities. The life vest is made up of six separate soft foam panels which allow it to mold to your body. Mesh panels keep the life jacket breathable and padded shoulder straps offer extra comfort. The front of the vest has a "shoulder garage" that the shoulder straps tuck into, keeping them out of the way.
Pros:
Very durable
Comfortable and soft
Six separate adjustment points for a custom fit
Comes in multiple sizes
Cons:
Low back of the vest won't fit over backrests on some boat seats
---
Best Life Jacket for Men
Astral E-Ronny PFD Men's
The low-profile design of the Astral E-Ronny PFD life jacket gives you a great range of mobility. It comes in three different sizes to help you find the perfect fit. The adjustable straps make it easy to customize the fit of the life jacket even more and keep it from riding up. A mesh backing keeps you comfortable and two pockets in different sizes give you a place to store essentials like a cell phone and keys. The life jacket works well for many different activities including kayaking, paddle boarding, fishing, etc.
Pros:
Doesn't ride up
Excellent range of motion
Multiple pockets
Good for several different uses
Cons:
A bit bulkier compared to some of the other options
Straps don't have anywhere to tuck in so they hang loose
---
Best Life Jacket for Fishing
Onyx Kayak Fishing Life Jacket
The Onyx kayak fishing life jacket Comes in two different sizes, universal and oversize. Adjustable straps on the shoulder and sides of the vest help you adjust the fit. The life jacket is lightweight and comfortable. with open sides to give you a good range of motion. It's one of the best life jackets for fishing because of the multiple pockets and spaces to store your things. There are plenty of places to stash your fishing essentials, one pocket even folds down into a little shelf.
Pros:
Multiple pockets
Open sides for good mobility
Good value for the money
Cons:
It can be hard to zip
It tends to ride up so it's not as good for paddling
---
Best Life Jackets in a Multi-Pack
Stohlquist Fit Adult Life Vest Pack of 4
If you're looking for a multi-pack of vests to keep on hand for friends and family, the Stohlquist fit adult life vest pack is an excellent option. When you're bringing guests out on a boat it's always a good idea to have some extra life jackets on hand in case your friends don't have their own.
This set of four life jackets is unisex, with a stylish design. The vest is high profile with cutaway arms for good freedom of movement. The soft foam is comfortable and lightweight. Three front chest straps give you an adjustable fit. The set comes with a carrying bag so you can easily store the life jackets out of the way when they're not in use.
Pros:
Includes a storage bag
Easy way to purchase several vests at once
Thin back panel is comfortable on most boat seats
Lightweight design
Cons:
Only comes in one size
Doesn't have pockets
When Do I Need a Life Jacket?
Life jackets aren't just for weak swimmers, they're an important part of water safety for anyone who spends time on the lake or other bodies of water.
Even if you're a strong swimmer, things can happen quickly on the water and you can suddenly find yourself in a dangerous situation. Calm water can turn into rough water without warning, there may be unexpectedly strong currents or objects hidden under the surface like tree trunks and boulders.
It's good to be prepared. You don't want to wait until there's trouble before putting a life jacket on. Having a comfortable, well-fitting life jacket keeps you safe and dramatically reduces the risk of drowning.
What to Consider When Choosing the Best Life Jackets
The best life jackets for kayaking may not be the same as the best life jackets for fishing. Think about what type of activity (or activities) you plan to use the life jacket for and choose a life vest that will comfortably meet your needs for that activity.
Coast Guard Approved
A big factor in choosing a personal flotation device is whether or not it is Coast Guard approved. Not all life jackets on the market are Coast Guard approved so it's important to read the information on the product to make sure before making a purchase. All coast guard approved life jackets will have an approval number on the label.
A Life Jacket that is Coast Guard approved is designed to keep your head above water so you can breathe. Some are designed to turn you onto your back in the event that you end up unconscious in the water.
All of the best life jackets you find on this list are Coast Guard approved to keep you safe.
Fit
Life jackets are usually sized based on chest measurements rather than height or weight. The best life jackets will fit comfortably around your back and chest without riding up.
One size fits all life jackets can work just fine for an average-sized adult but may be less comfortable for larger or smaller people.
For a more personalized fit, choose a style that comes in a range of sizes.
Mobility
The cut of a life vest makes a big difference in how easily you can move your arms and shoulders. Depending on the activity you're planning to do on the water, this could be more or less of an issue. The best life jackets for summer lake fun will be comfortable and easy to move around in.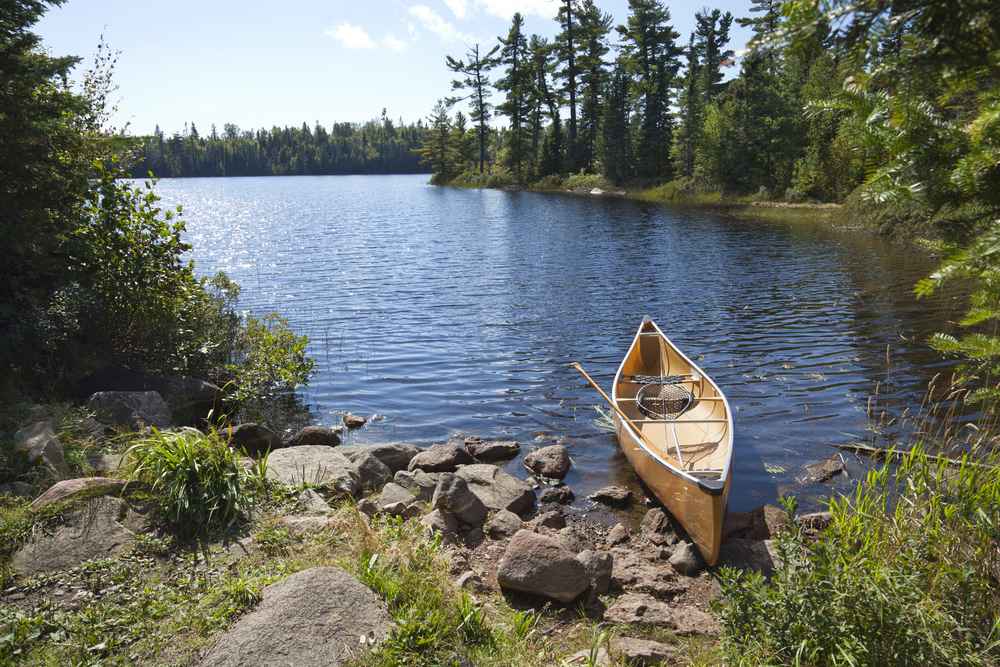 Different Types of Life Jackets
The United States Coast Guard has five categories of approved life jackets numbered I through IV. Lower numbers offer more flotation but are often bulky. Higher numbers offer less flotation but are more comfortable and still offer enough flotation for most people for short periods of time.
The best life jackets for use in calm, inland waters when chances of a quick rescue are high are type II and type III as these are the most comfortable and practical.
Type I
Type I life jackets offer the best floatation. They easily keep swimmers afloat for extended periods in the water. They keep your chin above water and will flip most swimmers over if you end up face down.
Type I life jackets are bulky and not the best life jackets for more casual purposes like boating on a lake. They are used in situations where swimmers are far from shore, the water is rough, or weather conditions are stormy. They are very useful when extended time in the water before rescue is possible.
Type II
Type II life jackets are not intended for a prolonged time in the water, they are generally used closer to shore when chances of a quick rescue are high. A type II life jacket may not keep your head above water without treading water, especially in rough water. They are less bulky and more comfortable than type I, but still tend to be bulky.
Type III
Type III life jackets are smaller and more comfortable. They are intended for inland use when quick rescue is likely. They may not keep you afloat in rough water without treading water. They are the best life jackets for activities like water skiing, canoeing, and fishing when waters are calm and quick rescue is likely.
Type IV
Type IV life jackets are throwable devices like a life preserver ring that can be used in an emergency. They're typically not worn but kept on larger boats for situations when you need to throw someone a flotation device that they can grab onto.
Type V
Life jackets that are approved as type V life are typically for specific uses. They often come in a compact shape, like a fanny pack, and are only approved for the specific use they're designed for.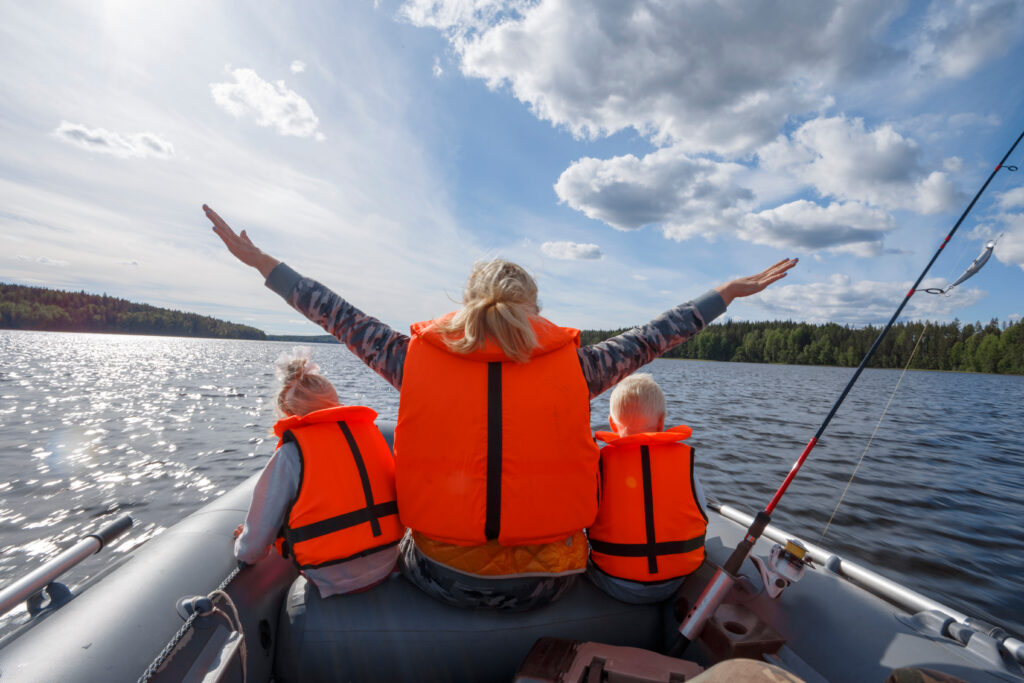 Choosing the Best Life Jackets for Summer Fun
Wearing one of the best life jackets when you're out on the lake helps keep you safe and secure. With so many great styles to choose from, you're sure to find something that is not only effective but comfortable too. I hope this list of the best life jackets helps you navigate all the products out there! Want more lake content? Next, keep reading all about lake life!
Need some more Minnesota gear? Trust our recommendations to guide your next shopping trip!