---
Bass Fishing Lines: Buyer's Guide
Now that you know the best lines for fishing bass, check out our buying guide to discover which option is right for you.
Best Fishing Line Material
The choice of fishing line material is crucial when trying to catch bass. There are several considerations to remember, such as the water conditions, the size of the fish you're targeting, and your own expertise.
A monofilament line is a general, one-size-fits-all option that suits most bass fishing situations. If you're just starting out or seeking out a versatile line, you'll have good luck with purchasing a monofilament option like the RUNCL PowerMono.
However, a braided line will offer more durability and abrasion resistance if you're fishing in heavy cover or trying to reel in a big catch. If that's the case, you're better off trying the KastKing SuperPower or Reaction Tackle bass fishing lines.
Fluorocarbon-coated lines are nearly invisible, so if you're casting off in clear waters, the KastKing FluoroKote or a different fluorocarbon-coated option will help you stay incognito.
Weight
When it comes to catching bass, a line with an 8-12 weight capacity is ideal for most fishing situations. However, if you're casting off in heavy cover, you should bump up the range to 15-20 pounds to prevent break-offs.
If you hope to reel in a big catch or use a large swimbait, try looking for a 30-50lb line. It will give you the necessary strength to haul in a heavy fish with higher sensitivity for more control.
Low vs. High-Visibility
The visibility of a line refers to the amount of attraction it creates underwater, and each type comes with its own pros and cons.
Low-visibility lines (such as the KastKing FluoroKote) are designed to be nearly invisible underwater. This option is ideal for clear water areas and heavily pressured environments where fish are more cautious.
If you're trying to use a finesse fishing technique like drop shotting or wacky rigging, low-visibility options work better since there's no trace of a line.
On the other hand, high-visibility lines (like the RUNCL Braided Fishing Line) are designed to be easily seen in the water by you and the fish. These lines are great for casting off in low-light conditions in heavy cover since the bright color will draw in more fish.
High-visibility lines are also great for fishing topwater baits since you can easily track your line to detect subtle strikes.
Memory
Have you ever swapped out your fishing line and had an endless mess of coils? That's fishing line memory. It refers to the fishing line's tendency to retain the spool's round shape, and while it might not seem like a huge deal, it can make casting off quite tricky.
That's why looking for a fishing line with low memory is important, like the RUNCL Braided, Beyond Braid, or the KastKing options. You'll have a more even cast-off without worrying about your line getting tangled or bunched in the water.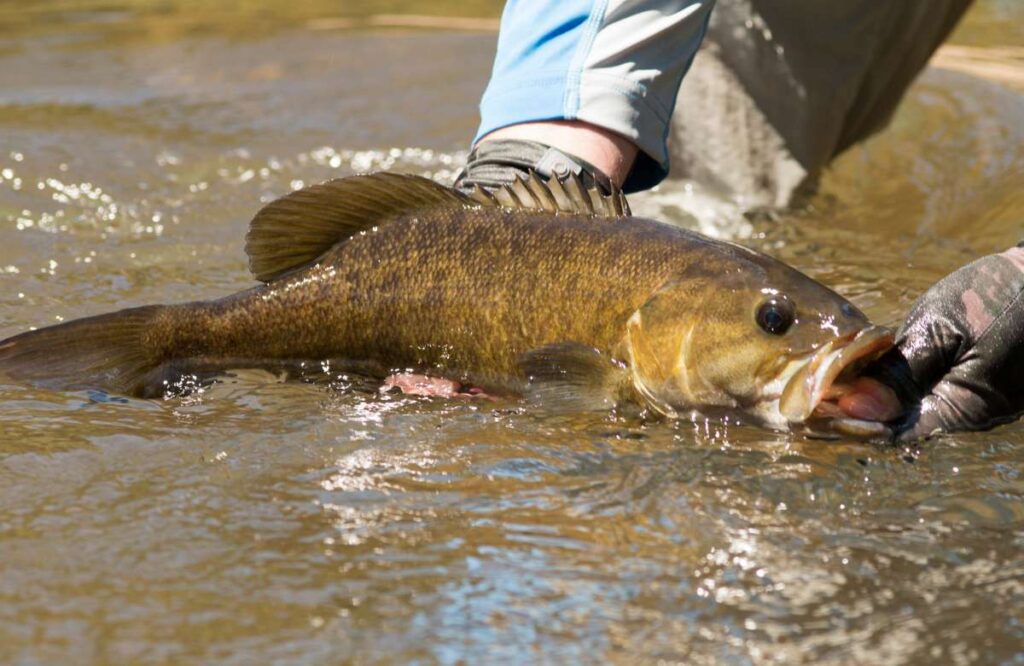 ---
Bass Fishing Lines: Frequently Asked Questions
Before we finish our guide on the best bass fishing lines, let's answer some questions from fellow fishers.
What line do most pro bass fishermen use?
These days, most pro bass fishers will use a braided line for heavier covers and fluorocarbon for clear waters, top-water baits, or finesse techniques. Monofilament lines are starting to take the backburner as braided and fluorocarbon steal the spotlight.
Is a 6lb line enough for bass?
A 6lb fishing line is the standard weight for many mid-sized fish, and you can technically get away with catching bass with this capacity. But you'll have much better luck by using a line with an 8-12 lbs range, like the KastKing Braided Fishing Line.
---
Best Line for Bass Fishing: Summed Up
Whether you're searching for an eye-catching braided line to lead you through heavy waters or a low-visibility fluorocarbon-coated alternative to sneak up on fish, one of these bass fishing lines will help you reel in a big catch.
While you can't go wrong with any of the options on this list, we still stand by the KastKing Braided Fishing Line for superior strength, abrasion resistance, and low memory. Now that you know the best line for bass fishing, check out our Fishing Page for more angling tips.