---
Patio Umbrella Buyer's Guide: How to Choose the Right Umbrella
Choosing the best patio umbrella for your backyard depends on the features you're looking for. Before looking at umbrellas to purchase, you should try to list out what you need in your new patio umbrella. From here, you can start analyzing each of the best patio umbrellas to see which one best fits your needs.
Materials, sizing, shape, easy usability, and tilting options are all things you need to keep in mind. Keep reading to learn why these features are important and how they can benefit you and your backyard.
Materials
The primary thing you need to worry about when it comes to the best patio umbrella is its materials. If you don't get one with high-quality materials, it won't last more than a few months. Finding an umbrella with waterproof and UV-resistant fabric is usually the best way to go.
If your umbrella isn't waterproof, or at least water-repellent, you can expect it to get drenched. This isn't helpful if you're trying to stay dry under your umbrella. You'll just end up soaked too. Having a waterproof material also helps the umbrella dry off faster because the droplets will simply roll off.
UV protection is rather important, as you can damage your skin within just five to ten minutes of sun exposure. Yes, the sun can still cause damage even under an umbrella. Always opt for the highest percentage of UV protection in your umbrella to protect yourself.
The materials of the frame and pole are also important, as some are flimsier than others. Usually, aluminum is best. Aluminum can handle quite a bit of pressure and it typically won't rust or deteriorate. If you're still worried, opting for powder-coated aluminum adds an extra layer of rust resistance.
Size
Generally, people tend to gravitate toward the biggest umbrella they can find. While large umbrellas can provide huge areas of shade coverage, they still might not be the best patio umbrellas. As the size of the umbrella increases, you can expect it to be more top-heavy. And if it's top-heavy, it won't stand up to the wind or even the rain.
Aim for an umbrella that is the size of, or only slightly larger than, the area you want shade.
Shape
Before diving into the world of the best patio umbrellas, think about what you'll be covering with them. Are you covering an outdoor dining table? What shape is the table? If your table is rectangular, go for the rectangle-shaped umbrella. Matching the umbrella and table shapes will ensure full shade coverage for all guests.
Rectangular patio umbrellas are perfect for a symmetrical area of shade and tend to offer more coverage. Circular umbrellas are usually better for smaller areas and circular tables.
Ease of Use
Try not to veer toward patio umbrellas with complicated setups. This will just lead you to aggravation every time you want to use the umbrella. Crank systems are usually the easiest to use because they don't require a lot of force. It also reduces the risk of pinching your fingers because you aren't using a runner and spring-locking system.
Look for umbrellas with velcro straps as well, instead of a manually-tying strap. The best patio umbrellas use velcro, as it's easier and faster to operate when closing your umbrella in a pinch. It also has a strong grip, ensuring your umbrella won't open up and get whisked away in the wind.
Tilt Options
Some patio umbrellas don't offer a tilting mechanism, which can be an issue as the sun moves positions. Look for the best patio umbrella with a tilting hinge so you can adjust your shade coverage.
There are several tilting hinge mechanisms out there, but the push-button seems to be the easiest to use. You'll just need to simply push the button and gently move the top of the umbrella.
Make sure the hinge uses rust-resistant materials as well, otherwise the hinge can stick and make tilting difficult. Ensuring the hinge doesn't get soaking wet is generally a good idea just in case.
---
Patio Umbrella Frequently Asked Questions
Are aluminum or steel-framed umbrellas better?
When you're in the market for the best patio umbrella, aluminum tends to be better. While steel-framed umbrellas are stronger and cheaper than aluminum ones, they are not rust-resistant like aluminum.
You can save money by opting for steel, but don't expect it to last long. In the end, you'll need a replacement much sooner than an aluminum-framed umbrella. So, you'll end up spending the extra cash anyway.
What color umbrella will fade the least?
Typically when it comes to the best patio umbrellas, you should look for the darkest color you can find. If you can, look for a black umbrella because it fades the least compared to other colors. When black isn't available or it doesn't match your yard, go for dark red or dark blue. The closer you get to black, the better.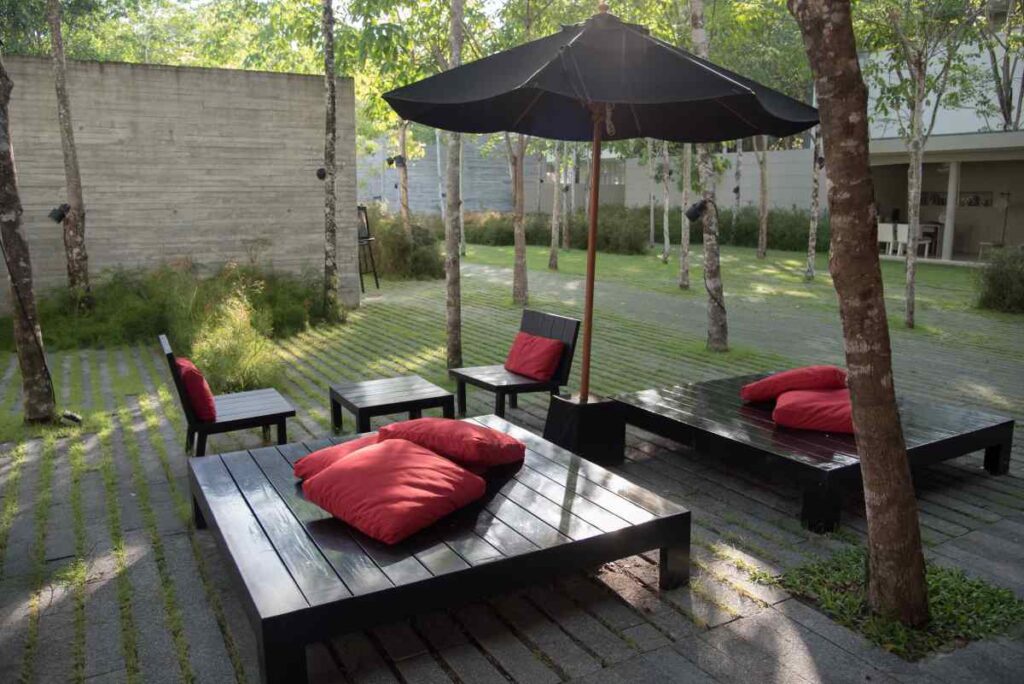 Is a square or a round-shaped umbrella better?
Square and round-shaped umbrellas have their positives and negatives. However, if you're looking for the most shade coverage, a square is typically the best patio umbrella. Square and rectangle patio umbrellas provide symmetrical areas of shade. They cover more space than a circle umbrella of the same size, as circles don't have corners.
Should you close a patio umbrella at night?
While you can leave your umbrella open at night if you want, it's usually best to close it at night. Secure it with its strap as well. Doing this will prevent damage to your umbrella through wind or other inclement weather that can pass through.
Closing it will also prevent the hinges and other mechanical parts of the umbrella from premature rusting and deterioration. Remember that patio umbrellas are for blocking the sun, not braving harsh storms and rain.
What color patio umbrella deflects the sun?
Black is the best patio umbrella color to help deflect the sun. The dark color helps to block the UV rays that the sun expels. It doesn't necessarily deflect sunlight, but it absorbs it. This keeps the UV rays from getting to you and causing skin damage. Pick the darkest color you can find if black isn't available.
---
Wrapping up the Best Patio Umbrellas
As the warm weather begins to roll into Minnesota, start thinking of ways to create shady spots in your yard. Relaxing in the hot sun is a wonderful feeling, but too much of it can cause skin damage without sunscreen. Utilizing patio umbrellas is the best way to give your body a break from the sun's harmful UV rays.
The best patio umbrella to help cool off and protect your skin this summer is the Purple Leaf patio umbrella. Its large size, water resistance, UV resistance, and range of adjustment options are perfect for all yards and shade-seekers.
Looking to upgrade your outdoor spaces at home? Then find inspiration for your Minnesota backyard with our landscaping ideas, outdoor furniture suggestions, gardening recommendations, and more!