Minnesota is known for a lot of things (the lakes, for example), but, often, our pizza gets overlooked. Minnesota's pizza is both genuine and delicious, and our state is full of delicious places for you to get your fill.
Much, much better than your regular Pizza Hut or Dominos, these authentic pizzerias take you right to Italy itself.
To make it easy for you to find the best, we've narrowed down our top ten favorite pizza places in Minnesota. Every one of these restaurants produces delicious pizza with their own signature twists and styles that you just have to try for yourself.
Our Top 10 Pizza Places in Minnesota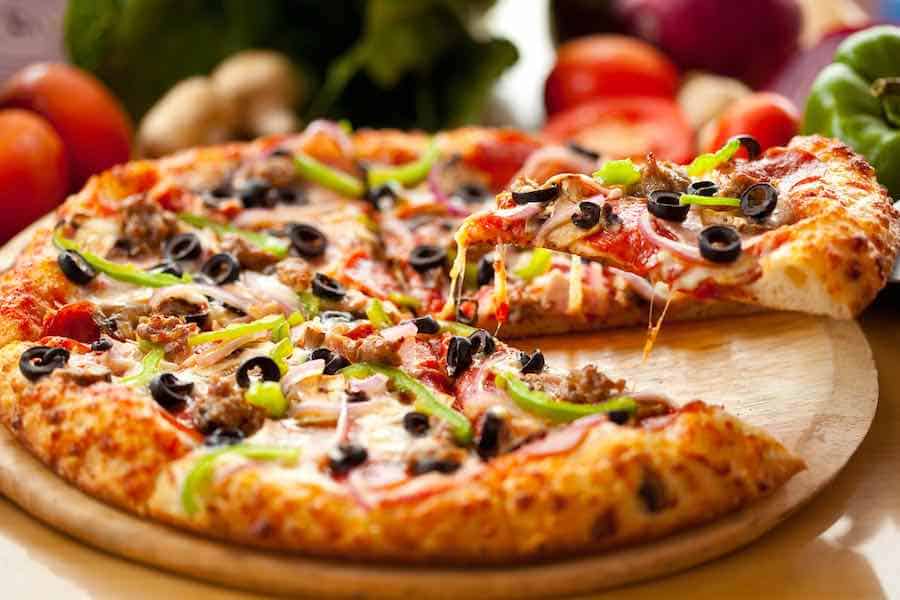 Established back in 2004, Galactic Pizza has become a staple in uptown Minneapolis, purely for its unconventionality.
While most pizza places take you to Italian wonderlands, Galactic Pizza takes you out of this world entirely with their "planet-saving" pizza and employees dressed as superheroes.
They play on both a galactic and eco-friendly theme, boasting the use of environmentally friendly materials and renewable energy. Plus, they have delicious vegetarian and vegan options that won't have you missing the meat whatsoever.
The restaurants partners directly with local businesses to utilize locally sourced ingredients and healthy alternatives.
They also have certain pizzas where parts of the proceeds made off the pizza is donated to charities in the area. Guilt-free, eco-friendly, and out-of-this-world, Galactic Pizza is a must-stop pizza place to go when you visit Minneapolis.
Black Sheep Pizza is a pizza chain found in Minnesota, though our favorite location is in Minneapolis.
This pizza shop was the very first coal-fired restaurant made in the Twin Cities, and it surely became popular since. By making their pizzas this way, Black Sheep gets a beautiful char on the crust and smoky flavor that pairs perfectly with the authentic Italian flavors.
Another thing that makes Black Sheep Pizza unique is how minimalistic they are. Their menu contains just 12 pieces, each one named after its number.
But, with their smaller menu simply comes perfection, as they're able to flawlessly create what they do have. Instead of juggling a huge, complicated menu, they focus just on what they do best.
People in the area love Black Sheep Pizza for their simplicity and straight-forward deliciousness.
Along with their handcrafted pizzas, they also offer a wonderful menu of assorted salad and appetizers, as well as mouth-watering house-made cocktails, rotating craft beer, and a high-class wine selection.
Pizza Lucé is yet another Minnesota pizza chain that even the classiest pizza-lovers absolutely adore. This restaurant has a huge selection of creative, speciality pizzas that will have your mouth watering just reading about it.
They offer pizzas in vegetarian and vegan options, too, making it a great place for people of all types to go and indulge.
Along with incredible pizza, Pizza Lucé also has a wide menu selection of hoagies, salads, pastas, appetizers, and desserts, each meal sounding better than the last.
No matter what you're in the mood for, this Minnesota pizza chain is sure to have it. Plus, with how many locations they have throughout the state, having it delivered to you is probably a likely option, too.
But, whether you sit inside or you have it delivered straight to your house, you'll understand right away why people in Minnesota love this place so much.
If you haven't heard of this pizza joint in Kingfield, that's probably because it's not one! Boludo is actually an empanada shop that does a lot of things right, but one that we love more than the rest: their pizzas. That's right, this Argentinian empanada place makes some incredible pizzas.
Boludo's pizzas are straightforward and made with simple, rustic ingredients for a close-to-home feel.
They offer traditional options like pepperoni and margarita, while also offering more creative, out-of-the-box options like their pear, gorgonzola, pine nuts, and dill pizza called Peras.
Though it sounds a bit unconventional, there's truly nothing traditional about pizza at an empanada shop, so we go with it (and love it anyway).
Chef Facundo Defraia is affectionately known as the "dough whisperer" for his incredible pastry skills with desserts, empanadas, and, of course, pizza.
If you're in Kingfield and are wanting to try something new, Boludo is definitely the place to check out.
Cossetta Pizzeria is one of the oldest pizza joints in St. Paul. They started serving their famous pizza back in 1911 and haven't slowed down since.
Cossetta Pizzeria embraces Italian traditionality to a T, and you can smell the authentic cooking coming from miles down the street when you're in the area, and, trust us, it's something that'll definitely have your mouth watering and ready for some pizza.
At Cossetta's, their pizza dough is handmade each and every day for a fresh, crispy crust that's nothing like out of a box. Their sauce, too, is homemade and world famous, as it's the same recipe that the restaurant's been embracing for over 100 years. A recipe that's over a century old? Now that's one you can trust.
Their menu is full of delicious pizzas, both traditional and signature, as well as pasta, sandwiches, salads, sides, and desserts. With vegetarian options and such a huge menu, there's no shortage of options for every family.
Simply put, Cossetta's Pizzeria is an Italian restaurant that, if you're in St. Paul, you just can't pass up.
The Fitz is a brand-new pizza place that offers wood-fired pizza just as classic as your Italian grandma made it.
This restaurant was founded by Top Chef contestant and Minnesota native Justin Sutherland, so you know it is going to be full of brand-new flavors and creative combinations.
Speaking of creativity, Sutherland decided to name the food off of his menu after neighborhoods, cities, and even different countries throughout the world. This gives his menu a taste of globality, making you feel like you're tasting pizzas from across the globe–even if you're only in Minnesota.
The Fitz offers weekly specials that will draw you in almost every day of the week. With great prices, a modern, hip atmosphere, and a menu concept that you won't find anywhere else in St. Paul (or maybe even Minnesota), this pizza bar must be on your list of go-to restaurants, as it easily serves some of the best pizza in Minnesota.
Just the name of this restaurant is enough to get your interest piqued. Pig Ate My Pizza is a kitchen and brewery that's totally family-friendly and has more than enough space for every member.
This huge restaurant in Robbinsdale offers an incredible pizza selection of full-sized pizza combinations that we promise you've never tried before.
With pizza boasting some traditional Italian flavors and others showcasing totally different flavor profiles, you're sure to find something new to try every time you go.
Pig Ate My Pizza, as the name suggests, only specializes in making signature pizzas. Though their menu is entirely pizza-filled, they sure know how to do it right.
Every one of their pizzas is handcrafted and made with quality ingredients to ensure a great pizza experience that you won't find anywhere else.
Though the pizzas come with various interesting toppings, Pig Ate My Pizza gives you the chance to add practically anything else you want to them, too.
Recently, they've even opened up a microbrewery, so they have delicious craft beer options for you to try alongside your savory pizzas.
Started from humble beginnings and still centered around the cozy, homy feel, Mama's Pizza is a classic pizza joint in St. Paul that you have to visit.
Established back in 1964, Mama's Pizza is a very casual restaurant that embraces traditionality and simplicity. Even from the look of the menu, you can tell that this place knows authentic Italian cuisine.
Mama's Pizza focuses on high-quality, handcrafted pizzas, as well as full on Italian dinners that will make you feel like you're right at home.
Along with this, they also offer classic American dinners and other sandwich dishes, too, so you have a few delicious options to choose from. But, as we mentioned, simplicity is the name of the game with Mama's.
If you're in St. Paul and you're looking for a low-key, casual place to enjoy some classic slices of pizza, Mama's Pizza is the place to go. (Oh, and did we mention you get free soft-serve for dessert?)
If you've heard of the Red Wagon Pizza Company, you probably have Guy Fieri to thank. On his Food Network show, Diners, Drive-Ins, and Drives, he visited this popular pizza company and, well, let's just say that he loved the place as much as we do.
Thanks to their appearance on TV, this pizza place is thriving even more than they were in the past, so expect to see some hustle and bustle if you go to visit. But, this busy, up-beat atmosphere is all a part of the Red Wagon experience and makes it what it is today.
Their menu is full of delectable pizza options, appetizers, salads, pastas, and desserts–your typical Italian menu. However, Red Wagon's food is far from typical, showcasing flavors combinations that are some of the most unique (and yummy) in the state.
If you're looking to experience a bit more than just your regular Italian restaurant, Red Wagon Pizza Co. is definitely the place to go. (And, if you're not in Minnesota, don't worry: Red Wagon offers nationwide shipping, too!)
Let's be honest, there's nothing better than a classic pizza joint. Sometimes, you don't want to have to worry about complicated menu items, booming music, or strange twists, and you just want a straight-up Italian meal. Well, that's where Carbone's Pizza comes in.
Carbone's first location was established back in the 50s and it has grown into a super-popular chain of locations scattered throughout Minnesota.
Each one of their locations stays true to the classic Italian feel and family-friendly atmosphere that we love. Simple, uncomplicated, and delicious, Carbone's is the perfect pizza place to go to where you can just enjoy the beauty of a good slice of pizza.
Get a Slice of the Best Pizza in Minnesota
Whether you're looking for the most traditional pizza or are wanting something different, Minnesota offers options you won't find anywhere else.
No matter what kind of flavors you're craving from your Italian food, there's a pizza place in Minnesota that will satisfy your cravings and so much more.
Is your mouth watering yet? Good. Now, indulge in some of the best pizza in Minnesota and see what else our state has to offer that might surprise you.