Minnesota is known for a lot of things (the many lakes, for example), but, often, our pizza gets overlooked. Minnesota's pizza is both genuine and delicious, and our state is full of delicious places for you to get your fill.
If there's one dish that most people like, it's definitely pizza in one of its many, many forms. The combinations of bases and toppings make this one of the most versatile and customizable dishes available. Choosing the best pizza in Minnesota isn't as easy as it sounds. Not only are there several terrific pizzerias around the state, but it's also hard to screw up a pizza, meaning the sheer number of good pizzerias complicates any best-of list. But some pizzerias show up consistently on best-of and must-try lists.
Before, we had narrowed our list down to just 10 pizza places, but there are just so many amazing places, we had to expand that number. So, here is our new and improved list of the 16 best pizza places in Minnesota.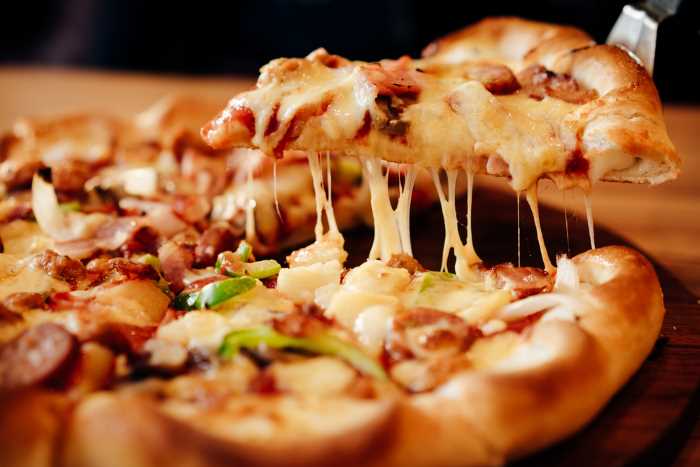 If the name alone doesn't earn them a spot on our list of the best pizza places in Minnesota, their pies certainly will. This pizzeria and brewery is located in Robbinsdale, just northwest of Minneapolis. Pig Ate My Pizza is a kitchen and brewery that's totally family-friendly. This spacious restaurant offers an incredible menu sure to please every pizza lover in your family. Every one of their pizzas is handcrafted and made with quality ingredients to ensure a great pizza experience that you won't find anywhere else.
Pig Ate My Pizza serves consistently sized pizzas (10-11 inches) in 11 restaurant-created combinations, with an additional 18 toppings available if you prefer to customize your own pie. Choose from the traditional red sauce and cheese to more elaborate options that include brioche crusts, lemon-pepper honey, and fennel pollen. And yes, they have pineapple – along with pickled ramps, roasted mushrooms, and vegan sausage. But don't worry if you were just hoping for a more traditional pizza – add your favorite toppings to a basic cheese base and enjoy.
PAMP, as it's called, is one of those places that consistently shows up on just about every best-of list. Be aware that PAMP is part of the Travail Collective and charges an 18 percent health and wellness surcharge that goes toward living wages and benefits.
Established in 2004, Galactic Pizza has become a staple in uptown Minneapolis, purely for its unconventionality. While most pizza places take you to Italian wonderlands, Galactic Pizza takes you out of this world entirely with their "planet-saving" pizza and employees dressed as superheroes. These superheroes use responsibly sourced and sustainable ingredients. They play on both a galactic and eco-friendly theme, boasting the use of environmentally friendly materials and renewable energy.
You can build your own pizza with a choice of 11 different sauces, eight different cheeses including vegan cheese, eight meats, five meat substitutes, regular or gluten-free crusts, and 27 different vegetable toppings, which include three different types of olives and three different types of mushrooms. Many of the toppings are organic.
They also have certain pizzas where part of the proceeds made from the pizza sales is donated to charities in the area. Guilt-free, eco-friendly, and out-of-this-world – it's easy to see why Galactic Pizza is one of the best pizza places in Minnesota.
The Minneapolis-St. Paul metro is so big that it isn't surprising to find yet another place serving the best pizza in Minnesota located here. With Black Sheep Pizza, you get your choice of three locations: one in St. Paul, and two in Minneapolis in the North Loop and Eat Street areas.
Black Sheep is known for its coal-fired ovens that result in a tasty blistered crust, and the pizzeria's menu is both amazingly simple and yet creative. You have your choice of 12- or 16-inch pizzas with 12 numbered specialty pizzas, one named specialty that's premade in the morning, and a make-your-own option.
You can also get calzones, grilled meat and shrimp, desserts, and a range of sides and appetizers that are vegetable-heavy if you want to balance out the pizza toppings. Oh, and you get 30 options for toppings. The pizzeria also offers mocktails and sodas along with beer. With all this variety, there is no questioning its spot on our list of top 16 pizza places in Minnesota.
Southwest Minneapolis is blessed to have Pizzeria Lola, known for its delicious range of flavors. Wood-fired ovens create crispy, thin crusts that are then topped so carefully that some reviews have likened to works of art, making it one of the best pizza places in Minnesota.
Choose from traditional red sauce and cheese to combinations such as the Korean BBQ pizza with beef short ribs, or the Lady Zaza, with kimchi and Korean sausage on red sauce. Variations on Hawaiian ("Hawaii Pie-O") and other themed pizzas abound; try the Boise, with potato, or the Forager, with three different types of mushrooms. A total of 16 specialty pizzas await you, with several salads and appetizers available. Desserts, wine, beer, cocktails, and sodas round out the menu.
Head northwest on I-94, and about three-quarters of the way to Fargo you'll pass through Fergus Falls. Be sure to make a stop at the Union Pizza and Brewing Co., where you'll find, as the website puts it so succinctly, pizza and beer.
The pizzeria is open only in the afternoons and evenings, Tuesday through Saturday, so time your trip well. Three salads, four sides, and daily dessert specials play sidekick to 14 specialty pizzas and a build-your-own option.
You have 29 toppings and regular and gluten-free crusts to choose from. Healthy choices are marked with an apple graphic on the menu. Specialty options include a German Hawaiian pizza (Canadian bacon, pineapple, and sauerkraut), Thai (with toppings like peanut sauce and duck sauce along with mozzarella and chicken), and a veggie-heavy Veggie Supreme. So, if you're ever up that way, stop and check out Union Pizza and find out why its earned a place on our list of best pizza places in Minnesota.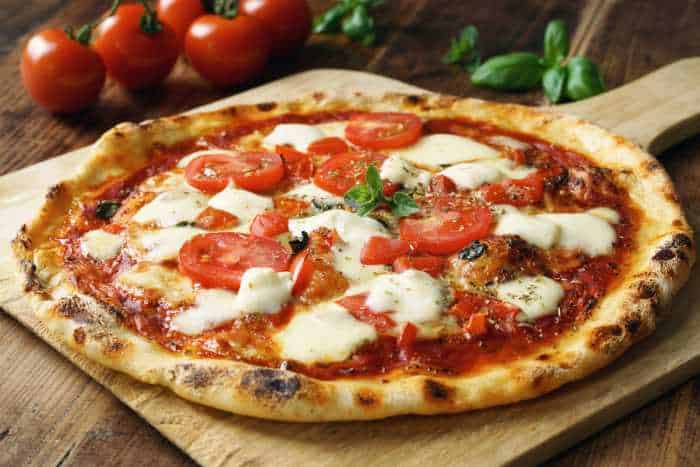 If you prefer to head southeast of the Minneapolis metro area, stop in Rochester to visitPasquale's. You'll quickly see why it has made out list of the best pizza places in Minnesota. Pasquale's offers dine-in, carryout, hot delivery, and even frozen pizzas for pickup.
Pasquale's is known for New York-style crusts served in a rectangle shape, and you can choose from regular or gluten-free crusts. The dough is made fresh every day, and you can buy your pizza by the slice or whole pie. They offer 22 specialty pies and four stuffed pies, along with a crust-less keto option, calzones and stromboli. Salads, drinks, and ice cream are also on offer.
If you head back into the Minneapolis area, be sure to visit the creatively named Wrecktangle. You'll find Detroit-style pizza here in all its rectangular glory. Start with a choice of two salads and two types of bread sticks, and move on to 10 "house" pizzas and six "classic" specialty pizzas, including a plain cheese option that you can use to build your own combo.
Customize your pizza with meats, cheeses, vegetables, fruits, and several sauces before finishing up with a soda and dessert. Each whole pizza is 8 inches by 10 inches. Be sure to check for specials, such as $2 off whole pizzas on specific days. There's no doubt that Wrecktangle is one of the best pizza places in Minnesota.
Do you just want a large slice of thin-crust pizza that overhangs the edge of the plate? Head to Edina, where Hello Pizza has this and much more.
Nine pizza combinations await you, including several separate toppings that you can use to create your own. Also choose from a selection of sodas, salads, and garlic knots to complete your meal.
And while it's not unusual for pizzerias to offer gear, like T-shirts, Hello Pizza has a shirt for sale whose profits go – 100 percent – to the Coalition of Asian American Leaders. Hello Pizza calls itself a no-tip operation; note that takeaway orders have an 18 percent surcharge for living wages and benefits, but this is not a tip per state law.
Pizza Lucé is another pizza chain that even the classiest of pizza-lovers absolutely adore. The pizzeria offers a huge selection of creative, specialty pizzas that are sure to please everyone in your family. With nine locations, you can try Pizza Luce no matter where you are in the Minneapolis metro and Duluth.
In addition to the large number of locations, Pizza Luce is known for its very diverse menu. Yes, they have pizza, but they also have salads, hoagies, and various Italian dishes ready for you to try. Meatballs, pretzels (it is the Upper Midwest), stuffed shells, summer watermelon salads – you're not going to lack options if you don't feel like eating pizza.
But that's not why you're reading this list; you want to know about those pies, and Pizza Luce has them. 14 specialties are available, from the more basic veggie pizzas to potato pizzas and more. They offer pizzas in vegetarian and vegan options, too, making it a great place for people of all types to go and indulge. You can find everything from simple combinations to elaborately topped concoctions.
But, whether you sit inside or you have it delivered straight to your house, you'll understand right away why Pizza Luce is one of the best pizza places in Minnesota.
Want to really try something different? If so, then head over to Boludo's. If you haven't heard of this pizza joint, that's probably because it's not one! But we need you to trust us on this one. Go pick up a pizza from an Argentinian empanada shop.
Boludo, with two locations in Minneapolis, offers pizzas, and good ones at that. Six specialty pizzas, served in a diamond-shaped crust, await you among the empanadas, salads, and pastries.
Boludo's pizzas are straightforward and made with simple, rustic ingredients for a close-to-home feel. They offer traditional options like pepperoni and margarita, while also offering more creative, out-of-the-box options like their pear, gorgonzola, pine nuts, and dill pizza called Peras.
Though it sounds a bit unconventional, there's truly nothing traditional about pizza at an empanada shop, so we go with it (and love it anyway). Chef Facundo Defraia is affectionately known as the "dough whisperer" for his incredible pastry skills with desserts, empanadas, and, of course, pizza.
If you happen to travel by one of their two locations, and wanting to try something new, Boludo is definitely the place to check out. Once you do, you'll understand why this empanada shop made our list of best pizza places in Minnesota.
Zorbaz is a chain of 11 restaurants in central and northern Minnesota, in lake country. It serves both pizza and Mexican food, and it's known for its creative Thanksgiving take on pizza; in October and November, they offer a pizza topped with turkey, cranberry sauce, and stuffing.
Outside of Thanksgiving, it's known as the place to be when you're at one of the many lakes in the region. Build your own pizza with 22 topping options, available in four sizes from personal to a 16-inch large, or choose one of 16 specialty pizzas.
Cauliflower crusts are available, but note that while the kitchen offers gluten-free crusts, the restaurant says the environment is not gluten-free (so be warned if you're extremely sensitive to gluten). Oh, and be aware that they like to use the letter Z. There are no S's on the menu.
Many best-of lists have Surly Brewing Co. in Minneapolis listed as an option as one of the best pizza places in Minnesota, but what you really want isSurly Pizza Upstairs.
The brewing company's pizzeria kitchen, which, as you guessed, is literally upstairs, has some of the best pizza you will find. Surly specializes in New Haven-style pizza, known as apizza (no, that's not a typo). This style of apizza has a very thin crust and is mostly tomato in its more basic form; you generally have to request cheese.
At Surly, you don't have to request cheese as it's included with each of its 10 pizzas, and you can customize one with extra toppings. Each pizza is named after an element of pop culture where pizza played a notable role, such as the Spicoli (from Fast Times at Ridgemont High) and the Walter White (from Breaking Bad). You'll find we agree with the others, Surly deserves a spot on our best pizza places in Minnesota list too.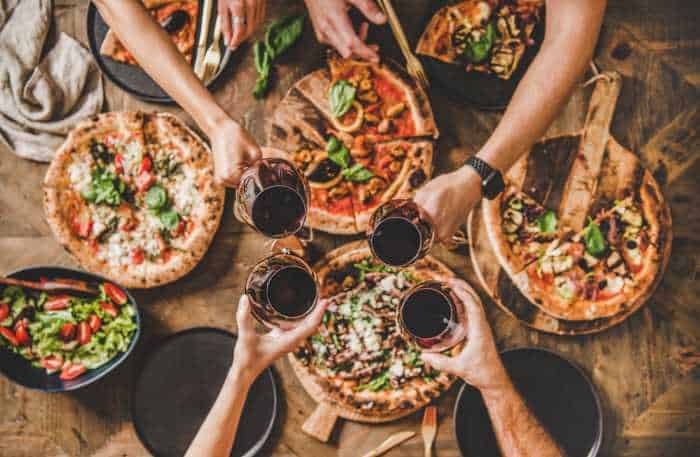 Let's be honest, there's nothing better than a classic pizza joint and that is why Carbone's makes our list of the best pizza places in Minnesota. Sometimes you don't want to have to worry about complicated menu items, booming music, or strange twists, and you just want a straight-up Italian meal. Well, that's where Carbone's comes in.
Carbone's first location was established in the 50s and has grown into an immensely popular chain of locations scattered throughout Minnesota.
Each one of their locations stays true to the classic Italian feel and family-friendly atmosphere that we love. Simple, uncomplicated, and delicious, Carbone's is the perfect pizza place to go to where you can just enjoy the beauty of a good slice of pizza.
If you've heard of the Red Wagon Pizza Company, you have Guy Fieri to thank. On his Food Network show, Diners, Drive-Ins, and Dives, he visited this popular pizza company and, well, let's just say that he loved the place as much as we do.
Thanks to their appearance on TV, this pizza place is thriving even more than they were in the past, so expect to see some hustle and bustle if you go to visit. But, this busy, up-beat atmosphere is all a part of the Red Wagon experience and makes it what it is today.
Their menu is full of delectable pizza options, appetizers, salads, pastas, and desserts–your typical Italian menu. However, Red Wagon's food is far from typical, showcasing flavors combinations that are some of the most unique (and yummy) in the state.
If you're looking to experience a bit more than just your regular Italian restaurant, Red Wagon Pizza Co. is definitely the place to go. (And, if you're not in Minnesota, don't worry: Red Wagon offers nationwide shipping, too!) You'll see why we agree with Guy, that Red Wagon is one of the best pizza places in Minnesota.
In business since 1964, this St. Paul gem of a pizzeria has everything quintessentially needed for a traditional pizza parlor. With humble beginnings, and still centered on the cozy, homey feel, Mama's is a very casual restaurant that embraces traditionalism and simplicity. Even from the look of the menu, you can tell that this place knows authentic Italian cuisine.
Mama's Pizza focuses on high-quality, handcrafted pizzas, as well as full on Italian dinners that will make you feel like you're right at home. They also offer classic American dinners and other sandwich dishes, too, so you have a few delicious options to choose from. But, we think you'll agree that their pizza is where it's at.
If you're in St. Paul and you're looking for a low-key, casual place to enjoy a classic slice, Mama's Pizza is the place to go. (Oh, and did we mention you get free soft-serve for dessert?)
Cossetta Pizzaria is one of the oldest pizza places in St. Paul. In business since 1911, this pizzeria embraces Italian traditionalism to a T, and you can smell the authentic cooking coming from miles down the street when you're in the area. And trust us when we say, it's something that will have your mouth watering and ready for some pizza.
Their dough is handmade each day for a fresh, crispy crust. Their sauce is homemade and world famous, as it's the same recipe that the restaurant's been embracing for over 100 years.
Their menu is full of delicious pizzas, both traditional and signature, as well as pasta, sandwiches, salads, sides, and desserts. With vegetarian options and such a huge menu, there's no shortage of options for every family.
Simply put, Cossetta's Pizzeria is an Italian restaurant that, if you're in St. Paul, you just can't pass up. With over 100 years of experience, is it any wonder why Cossetta rounds out our list of the best pizza places in Minnesota? We didn't think so either.
Conclusion
What do you think of our list of the 16 best pizza places in Minnesota? Has it made you as hungry as its made us?
Are you craving a meat-filled pizza piled high with extra cheese? Traditional pepperoni? A fusion of cuisines on a pizza crust? No matter what, you can find a good pizzeria that makes it when you're in Minnesota.
If you've visited one of the amazing Minnesota pizzarias, tell us what your favorite pie is in the comments below.
Still hungry? Then continue exploring Minnesota food and drinks for a complete culinary adventure!
Ready for more Minnesota advice, info, and guides? Whether you're a local or a passerby, discover the best of Minnesota that our great state has to offer!