With four distinct seasons, gorgeous natural scenery, and wonderful cities, Minnesota has some seriously amazing wedding venues. If love is in the air and you want to get married in the Land of 10,000 Lakes, you can take your pick from intimate indoor wedding venues, large open-air spaces, and everything in between. Let's take a closer look at the 16 best places to get married in Minnesota.
Best Places to Get Married in Minnesota: Indoor Venues
1. International Market Square
International Market Square is one of the top wedding venues in downtown Minneapolis. The 5-story atrium is an architectural masterpiece and provides a fabulous backdrop for a stunning wedding ceremony. The building was made in 1905 and has been a popular Twin Cities wedding and event center ever since, known for its trendy designs and convenient location overlooking the city in all its glory.
This historic building can host up to 4,000 guests, way more than enough for even the largest family weddings. If you want a small, intimate wedding inside a landmark building with a light-filled glass roof, that's possible too. IMS wedding and event staff help you make the most of this space so it suits your wedding size and the exact spot where you want to exchange vows.
2. The Hutton House
For a luxurious, elegant wedding in the Twin Cities, you can't go wrong with the Hutton House. Located on Medicine Lake, just a few minutes west of downtown, Hutton House gives you a great mix of sophisticated comfort and gorgeous scenery. Expect soaring ceilings and abundant natural light for a breathtaking ceremony and memorable private wedding reception.
Hutton House has 12,500 square feet of pristine indoor event space, with tables and chairs to seat up to 300 guests. If you want an indoor reception with the option for an outdoor gathering on a nice spring or summer day, then this urban oasis is an excellent choice. The dedicated dressing room and covered outdoor space make this a comfortable and contemporary spot for your meaningful day at one of the best places to get married in Minnesota.
3. Loring Social
Loring Social is a lovely wedding venue in the heart of downtown Minneapolis. Situated on historic Hennepin Avenue, this beautiful wedding spot looks like a stylish SoHo loft, offering a gorgeous backdrop for ceremonies and receptions. The Waverly Room offers a warm welcome full of elegance with gleaming marble surfaces.
There's a perfect mix of sparkle with 16 chandeliers suspended from the vaulted ceilings, exposed brick walls, and a ten-foot white marble bar. Once the ceremony is over and you're ready for dinner, drinks, and dancing, the glass garage door opens to a European-style back alley so guests can come in and out, taking in the city skyline and romantic vibes. Loring Social accommodates up to 200 guests throughout its sophisticated spaces.
4. The NP Event Space
The NP Event Space is part of the Northern Pacific Center in Brainerd's historic railroad district. As a lovely 47 acre estate, it's one of the best places to get married in north-central Minnesota. Northern Pacific has a rich history dating back to 1871, and this venue is a great mix of rustic charm and contemporary luxury.
Within Northern Pacific, there are three main spots where you could get married. Blacksmith Main is the most popular and voted the best wedding venue in central Minnesota. The historic blacksmith shop seats up to 525 guests, while the light-filled Luminary offers classic charm in the beautiful clocktower with 4,000 square feet of modern event space for up to 300 people at a ceremony. Exchange is the newest ceremony spot with room for 500 guests and renovated space featuring chandeliers and white brick walls.
5. Como Park Zoo & Conservatory
Not only is Como Park Zoo a popular destination for family fun, but it's also a great place to get married. The Marjorie McNeely Conservatory features breathtaking gardens and memorable views for year-round weddings in the tropical ambiance. Lush greenery and ample natural light make these gorgeous gardens the perfect backdrop for a Minnesota wedding.
One of the main reasons so many couples love getting married at the zoo is the mix of indoor and outdoor spaces to celebrate. There are some truly wonderful spots to exchange vows at the zoo, from Ordway Gardens to the North Garden or Lily Pond. The Polar Bear Lodge, Enchanted Garden, and Berglund Wright Room are also available for meaningful marriage celebrations, whether you want a springtime affair or a wonderful winter wedding.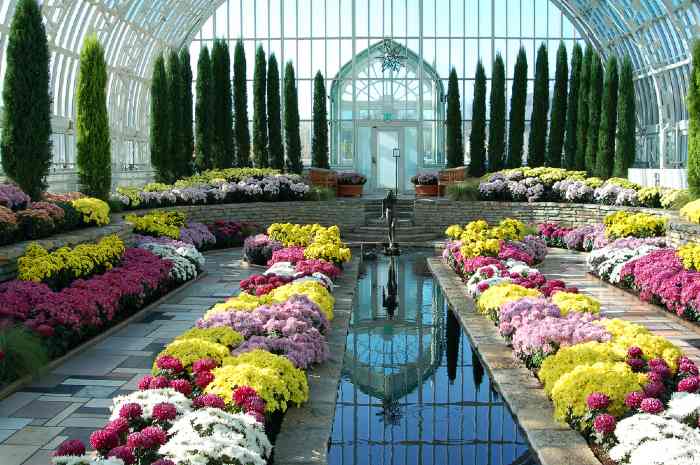 6. Greysolon by Black Woods
Picturesque Duluth is the perfect place to get married on Lake Superior and one of eth best places to get married in Minnesota. Out of all the venues in this northern Minnesota port city, Greysolon by Black Woods is tough to beat. The breathtaking ballroom sets the scene with a romantic ambiance including hand-painted ceilings and stunning chandeliers.
This venue is rich in history too, having been built as the Hotel Duluth in 1925 to much critical acclaim. Black Woods recently restored Greysolon Ballroom to showcase all its elegance in exquisite details. There's seating for up to 420 guests and a comfortable getting-ready suite for the bridal party. Floor-to-ceiling windows in these private spaces offer the best natural light for amazing photos before the ceremony.
7. J.Powers at the Hilton
J.Powers at the Hilton overlooks downtown Rochester, offering beautiful views in an elegant event space that's perfect for a romantic summer or winter wedding. From sparkling chandeliers to 19-foot ceilings, the ambiance is grand and gorgeous for weddings with up to 800 guests depending on the ballroom.
Dr. John Noseworthy Hall is the largest of the available event spaces with a 7,000 square feet ballroom that can be perfectly customized to suit your event. Happy couples, family, and friends can take in the sunset from the hotel heights and enjoy dedicated wedding event staff to bring the whole day together. There's so much attention to detail, from the wooden dance floor to the outdoor terrace for intimate celebrations.
8. Mill City Museum
Mill City Museum is a must-see place to get married in Minneapolis with over 140 years of cherished history on the Mississippi River. This is a one-of-a-kind, truly perfect wedding venue with a mix of rustic brick and cool industrial space. It's a true architectural gem with soaring ceilings and beautiful stonework to inspire a wonderful wedding day.
If you want to get married at a National Historic Landmark, this museum at the Washburn A Mill Complex is a great option. The museum opened in 2003 and has hosted many memorable weddings since, with trusted company D'Amico Catering handling all aspects of Mill City wedding planning and rentals.
Best Places to Get Married in Minnesota: Outdoor Venues
9. Winehaven Winery
Not only is this one of the best wineries in Minnesota, but Winehaven Winery is also a fabulous spot to exchange vows overlooking a lush vineyard and lake. Located in Chisago City about 45 minutes north of the Twin Cities, the vineyard covers 15 acres and has been making delicious wines since 1995. It has a reputation for superb service and ample parking, with the ideal backdrop for the wedding day you've always dreamed of.
Whether you love wine or just want a marvelous backdrop for a very special day, Winehaven is an excellent choice. The family-owned winery has panoramic lake views, rows of oak wine barrels, and hillside vines to complement the outdoor wedding of your dreams. There are a few spots to host the ceremony, including the most popular Deer Garden Hilltop, the more secluded Grapewinds Vineyard, and inside the Vintner's Hall in case of bad weather. The Juliet balcony and Tuscan elegance offer a remarkable, romantic feeling for fabulous weddings, with the option of horse-drawn carriage rides through the vineyard too.
10. Rolling Ridge Wedding & Event Center
Barn weddings are undeniably popular, and Rolling Ridge Wedding & Event Center is the ideal outdoor wedding venue with rustic charm in a beautiful spot. Located in St. Joseph, just under an hour north of Minneapolis off I-94 near St. Cloud, Rolling Ridge is an enchanting place for a barn, vineyard, or backyard garden wedding.
Hotels and restaurants are located within five minutes of Rolling Ridge, so you can enjoy a wedding with nature while still being close to accommodations. The property is known for its Lone Tree, a 200-year old oak tree surrounded by ponds, fountains, waterfalls, and patio space for the outdoor ceremony of your dreams. It's all about simple elegance, especially in the historic barn, which dates back to the 1890s with vintage crystal chandeliers and hand-scraped hardwood floors.
11. Rush Creek Golf Club
Rush Creek Golf Club is one of the top golf course wedding venues in the Twin Cities and one of the best places to get married in Minnesota. You can get married outside overlooking the green, with the stunning brick lodge in the background. It's located in Maple Grove, so you can have ample space and privacy at a fresh-air wedding without leaving the cities. The golf course offers a country club-style feel with room for 300 wedding guests so you can celebrate with everyone you love. Ample parking and superb staff make a difference to the wedding experience as well.
Couples love taking pictures on the course while guests can enjoy both indoor and outdoor gathering spaces. There's even a Juliet balcony for bouquet tosses and photos, plus a beautiful terrace for sunset cocktails. Inside there are two stone fireplaces, vaulted ceilings, and panoramic windows looking out to the course. While spring and summer weddings are popular at Rush Creek, winter wedding celebrations on the course are wildly romantic, too.
12. Nicollet Island Pavilion
Getting married out on the water is entirely possible even in the middle of Minneapolis. Located on Power Street on the Mississippi Riverbank, Nicollet Island Pavilion offers amazing views of the city and Stone Arch Bridge, so you can get married in style, surrounded by fresh air and sunshine.
Mintahoe Catering & Events has wedding planners to handle all the event planning and catering for Nicollet Island weddings. After snapping happy pictures outside, the beautifully restored pavilion with tall industrial ceilings and exposed brick walls serves as a fabulous reception space.
13. Sovereign Estate Winery
Sovereign Estate Winery is another beautiful option for outdoor winery weddings in Minnesota. Located in Waconia about 40 minutes southwest of Minneapolis, this European-style winery overlooks the north shore of Lake Waconia for breathtaking wedding views.
After saying "I do," you can enjoy five courses of mouthwatering food and wine at a venue with plenty of pastoral charm and a wonderful lake backdrop. Marquette Pavilion is especially nice as a luxurious spot with 360° panoramic views of the waterfront vineyards. Polished concrete floors, crystal chandeliers, and the raised stage complete the beautiful settings and make Sovereign Estate Winery a popular wedding venue.
14. The Gardens of Castle Rock
The Gardens of Castle Rock in Northfield offer a stunning outdoor setting for a wedding day like no other. This event venue is just under an hour's drive south of Minneapolis, with comfortable accommodation and entertainment close by. Couples at Castle Rock love the towering green trees, landscaped lawns, and perennial gardens that provide natural, romantic harmony, here at one of the best places to get married in Minnesota.
Getting married at these gardens gives you four different ceremony location options, including the Grand Promenade with its formal white pergola, 12? paver center walkway, and lush greenery surrounds. You may also opt for an intimate ceremony in the woods with a magical boho arch or the Lath House with a rustic wood structure covered in grapevines and tucked back in the rolling hills. There's also the luxurious lawn where you can customize your perfect wedding setup.
15. Dellwood Barn
Dellwood Barn is a delightful barn wedding venue in St. Paul and one of the best places to get married in Minnesoata. It operated as a family dairy farm for five generations and was renovated in the early 2000s to bring a beautiful wedding venue with old-world charm and contemporary amenities to life. The ceremony hilltop view is cherished by many happy couples, especially with the striking red barn in the background. The barn itself is 4,700 square feet, surrounded by 48 acres of rolling farmland for dreamy outdoor wedding photos.
If you're planning on a spring or summer wedding and want to spend most of the reception outside too, Dellwood Barn offers the best of both worlds. Swing the barn doors open for dinner and dancing, with lawn games and campfires outside for a truly memorable evening of family entertainment. The venue helps with rentals and catering to ensure the big day goes off without a hitch.
16. Leopold's Mississippi Gardens
Finally, Leopold's Mississippi Gardens also make the list of the best places to get married in Minnesota. These gorgeous gardens give you a grand place to get married on the water with a ballroom reception just 15 minutes north of downtown Minneapolis near Brooklyn Park. It's part of the National Park Service area, covering nearly five acres of gorgeous green land.
There is an 11,000 square foot building with a massive deck offering panoramic views of the water and the surrounding bluffs. This is a truly serene spot with impressive privacy and amenities for breathtaking weddings that highlight some of Minnesota's best natural beauty. You can take your pick of ceremonies on the deck or on the river, with a beautiful river and bridal/groom suites. Mintahoe Catering & Events is also on-site to bring your dream wedding day together.
Wrapping Up the Best Places to Get Married in Minnesota
We hope this list of the best places to get married in Minnesota inspired your wedding planning, whether you want to be by the water, at a country club, or overlooking the city. Did you see your dream wedding venue on this list? Leave a comment and tell us which one you like the best for a very special wedding day!
Ready for more Minnesota living advice, info, and guides? Whether you're a local or a passerby, discover the best of Minnesota that our great state has to offer!