Wisconsin Dells is a popular city known for its array of fun-filled amusement centers and thrilling water parks. The combination of these attractions, along with its natural scenery that lines the bends of the Wisconsin River make this a perfect destination for your next family vacation.
When it comes to planning a vacation, finding a place to stay can be the biggest challenge. With so many options, it may be overwhelming trying to choose the ideal spot that suits your needs and preferences.
Listed below are our top seven picks for the best resort in Wisconsin Dells to help make this process a bit easier.
---
Best Resorts With a Waterpark
While there are a vast array of top-rated waterparks throughout the city, sometimes it's nice to have one in the comfort of your backyard. If you're a waterpark lover, but not a fan of commutes or over-populated attractions, here are some of the best resorts in Wisconsin Dells that may be exactly what you need.
1. Grand Marquis Waterpark Hotel and Suites
For those traveling with young kids, make sure you take a look at the Grand Marquis Waterpark Hotel and Suites. The waterparks at this hotel are equipped with attractions such as a blue dolphin lagoon, four kid-sized slides, shallow wading pools, twin whirlpools, triple slides, and so much more.
This reasonably priced resort is safe and clean and offers amenities such as soundproof hotel rooms, free wifi, housekeeping, and air conditioning.
This hotel truly offers something for every type of travel. You can choose between suite-style rooms, bridal suites, or family rooms based on your needs.
The vast number of positive reviews for the Grand Marquis Waterpark hotel and Suites prove that this hotel is a great choice for travelers. Some of the highlights detail the uncrowded nature of the onsite waterparks, free coffee in the lobby, reasonable pricing, and well-kept rooms.
Additionally, if you're looking to spend some time outside of the hotel, don't fret. There are 35 restaurants and 13 attractions (escape rooms, wilderness explorations, etc.) all within less than a mile of this resort, which makes traveling with young children even easier.
All in all, this family-friendly resort has so much to see and do. When planning your trip to Wisconsin Dells, definitely don't skip over the grand Marquis Waterpark Hotel and Suites.
---
2. Atlantis Family Waterpark Hotel
Located in the heart of Wisconsin Dells, Atlantis Family Waterpark Hotel offers more than just your average stay. Not only is this hotel placed within walking distance from Noah's Ark Waterpark, but a stay at this resort also gives you free tickets to this attraction through Labor day weekend, and free Knuckleheads Adventure Park tickets with every stay.
If you prefer to stay at your hotel during your vacation, this resort is also perfect for just that. Atlantis Family Waterpark Hotel has both indoor and outdoor waterparks on-site that are family-friendly and a great choice when traveling with children under 12 years old.
In addition to the waterparks, this resort also has a recreation room equipped with arcade games, an indoor whirlpool, and poolside activities like basketball and waterslide games that can be enjoyed by all ages.
The rooms at this hotel come with free high-speed internet, a private balcony with seating, whirlpool bathtubs, housekeeping, and a personal coffee maker. You can choose from family rooms, suites, or even the newly added kids' suites.
The kids' suites include two queen-sized beds and a bunk bed, which can accommodate most sized families.
The numerous five-star TripAdvisor reviews of this resort emphasize the friendly staff members, comfortable rooms, and prime location. The Atlantis Family Waterpark Hotel truly has something for everyone, making this an easy addition to our list of Best Resorts in Wisconsin Dells.
---
Best Budget-Friendly Resorts in Wisconsin Dells
Sometimes the only thing stopping us from planning the perfect getaway is the out-of-budget hotels and resorts. If this sounds like you, fear not, there are plenty of budget-friendly resorts that are worthy of making our list of the best resorts in Wisconsin Dells.
3. Natura Treescape Resort
Natura Treescape Resort, formally named American Resort and Treehouse, is a great budget-friendly resort located in the center of the Wisconsin Dells area.
Placed within walking distance from some of Wisconsin Dell's best attractions, staying within budget does not mean you have to sacrifice your experience. Natura Treescape Resort has been newly renovated and features clean hotel rooms, an indoor hot tub, a pool, and a sauna.
A unique fact about this resort is that it features the only Natural Lagoon in Wisconsin Dells! This lagoon combines the luxury of an onsite swimming pool with the natural wonders of a chemical-free (but naturally filtered) lagoon to generate a relaxing outdoor space.
Natura Treescape Resort is one of the best resorts in Wisconsin Dells because of its range of unique lodging options. You can choose between staying in a treehouse, cabin, tiny home, vacation home, and more.
This resort has amenities that include a game room, barbeque facilities, air conditioning, free WiFi, free parking, and even a sauna.
For a clean and affordable stay with the features of a luxury resort, Natura Treescape Resort is a great pick, no matter your budget.
---
4. Ambers Inn & Suites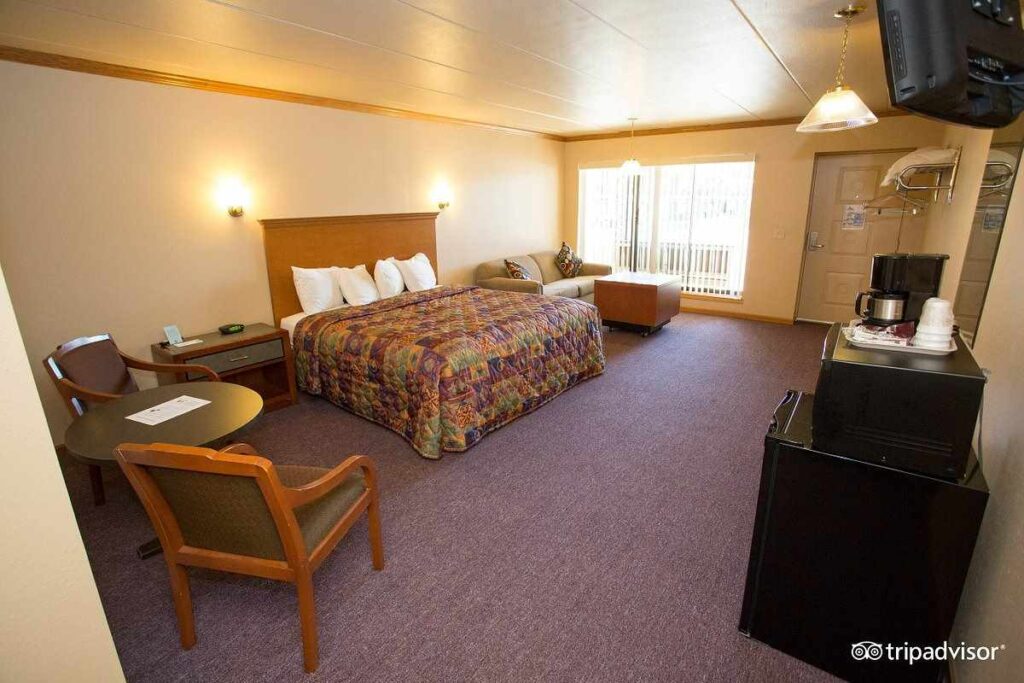 With a five-star rating on TripAdvisor and a relatively inexpensive nightly rate, Ambers Inn & Suites is not to be overlooked. This resort offers clean and comfortable rooms and friendly customer service to make your stay feel luxurious and enjoyable.
All guests who stay at this resort receive a pass to Noah's Ark Waterpark, which is one of Wisconsin Dell's greatest attractions.
On-site you'll find a heated outdoor pool, a hot tub that can fit up to 10 people, a sundeck perfect for tanning, and a Gazebo/playground equipped for grilling, picnicking, and playing. Ambers Inn & Suites also has a retro arcade that can be enjoyed by guests of all ages.
There is also a fire pit, basketball court, ping pong tables, volleyball nets, swings, and so much more. This resort truly has it all that ensures you're never bored, even when staying on-site.
Although it is not directly in the center of all of Wisconsin Dells's attractions, there are trains and buses that make transportation into the area quick, safe, and easy.
The reviews of this resort highlight the comfortable beds, spacious rooms, and consistently friendly staff. Its location is within walking distance from the downtown strip, which is great for exploring restaurants and bar hopping without the need for a car.
When searching for the best resorts in Wisconsin Dells, Ambers Inn & Suites is an obvious addition to this list.
---
5. Aloha Beach Resort & Suites
For those who love a charming environment and close proximity to the town's restaurants and attractions, Aloha Beach Resort & Suites is one of the best resorts in Wisconsin Dells for those on a budget. Keep reading and learn why this resort may just be the right fit for you.
The amenities of this resort include a pool, sauna, and game room. If you're traveling with family, Aloha Beach Resort & Suites also offers kids' outdoor play equipment and kids' activities to keep your little ones entertained and having fun.
This resort is also in close proximity to many of Wisconsin Dells' popular landmarks. For example, Big Chief Go-Karts is less than a mile from the resort, and the Bavarian Village is only about 1.5 miles away. Guests can also enjoy the flavors of many popular restaurants located nearby.
Within walking distance of the resort (and ideal for adventurers or explorers) is Wisconsin Deer Park. Perfect for families or solo travelers, this attraction allows you to enjoy the presence of and feed over 100 deer and other wildlife.
Popular reviews of Aloha Beach Resort & Suites emphasize the friendliness of the staff and top-notch customer service experiences. Guests also appreciate the availability of both an indoor and outdoor pool that allows for swimming no matter the weather.
---
Best Resorts in Wisconsin Dells With a Spa
A vacation means something different for everyone. Some like to adventure, and others like to experience some well-deserved rest and relaxation.
Luckily, there are a few of the best resorts in Wisconsin Dells with on-site spas so you can experience what you need and create your perfect getaway.
6. Delton Grand Resort & Spa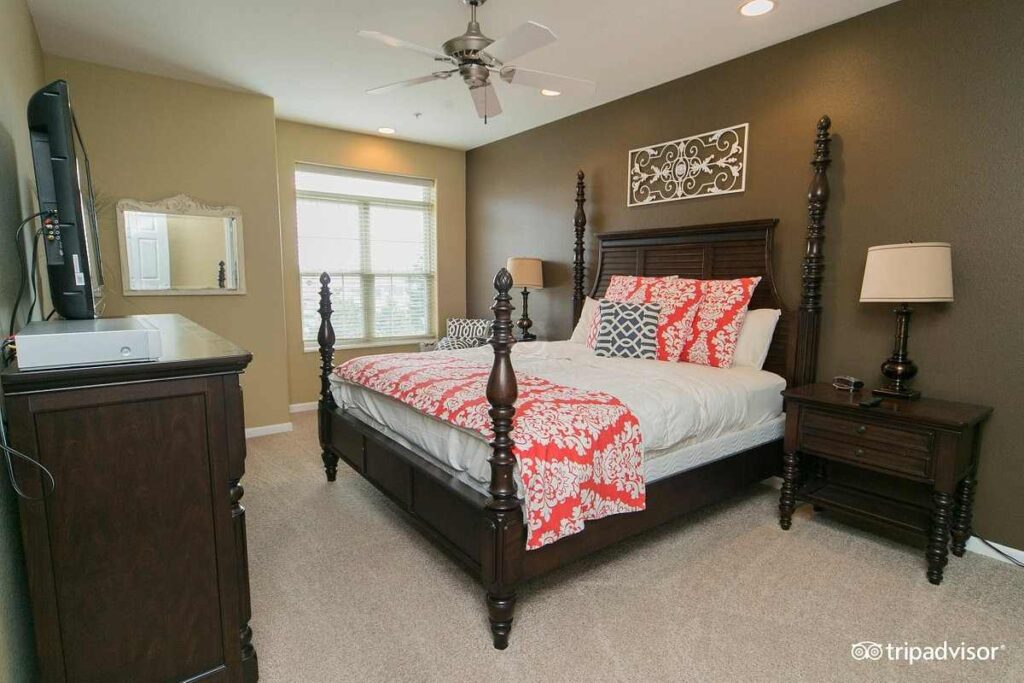 For a luxurious trip to Wisconsin Dells, Delton Grand Resort & Spa has all you need to completely relax and unwind.
This is a condominium-style resort located on the shores of Lake Delton. It offers one- to four-bedroom condos that are each professionally decorated and furnished to ensure maximum comfort during your stay.
Lakefront and courtyard villas are also available. These are spacious accommodations with private decks, underground parking, full-chef kitchens, and even walk-in body massage showers and tile baths. The lakefront villas also have tremendous views of Lake Delton which contribute to the overall relaxation of your stay.
Amenities of Delton Grand Resort and Spa include outdoor heated pools, beaches, piers, boat slips, outdoor grills, and more.
In the lakefront building, you'll have access to a full-menu spa that is professionally managed and unkempt in pristine conditions.
If you're into experiencing the adventures of Wisconsin Dells, along with your spa trip, this resort also offers free passes to Noah's Ark Waterpark as well as Stay and Ski discounts. This resort is just a few blocks from all of the attractions Wisconsin Dells has to experience, and truly offers something for everyone to enjoy.
With all of these amenities and so much to do, it's clear why Delton Grand Resort & Spa is a top choice on the list of Best Resorts in Wisconsin Dells.
---
7. Kalahari Resorts & Conventions
For the family who likes to vacation a bit differently than one another, Kalahari Resorts & Conventions may just be your match made in heaven.
If you're traveling with kids, they'll love the unforgettable onsite waterpark that's ranked as Wisconsin's Largest Indoor Waterpark. This waterpark can be enjoyed in both summer and freezing winter months, and is a great escape from the sub-zero temperatures.
Let your children play on the hair-raising waterslides or float down the lazy river while Mom and Dad enjoy an afternoon of pampering at a world-class spa.
Or maybe, keep an eye on the kids enjoying a day at the pool while sipping on a delicious cocktail at the swim up or poolside bar.
Kalahari Resorts & Conventions also has a breakfast buffet, top-rated restaurants, a bowling alley, a game room, fitness center. This resort truly offers everything you need for a perfect travel experience, no matter your vacation style or preferences.
If you decide you also want to explore outside of this hotel, it's in a prime location for doing so. There are 31 restaurants and 10 attraction sites all located within three-quarters of a mile from this hotel, making some easily walkable.
The rooms available include suites, family rooms, and nonsmoking rooms. They each come with a private balcony, kitchenette, microwave, and flat-screen TV. They're well kept and the management focuses on keeping not only the rooms clean but the entire resort, as well.
For an all-encompassing stay, we believe that Kalahari Resorts & Conventions earns an obvious spot in the Best Resorts in Wisconsin Dells.
---
Time to Choose the Best Resort in Wisconsin Dells for You!
Wisconsin Dells is a lively city with much to see and do. With an abundance of waterparks, sights, restaurants, and great stays, it's an ideal travel destination for parents and families with kids of any age.
Now that you know more about our top seven picks for the Best Resorts in Wisconsin, and all they have to offer, it's time to begin planning your next family trip!
For more tips and information, take a look at our Life in Minnesota web page for all you need to know!
About the Author
Latest Posts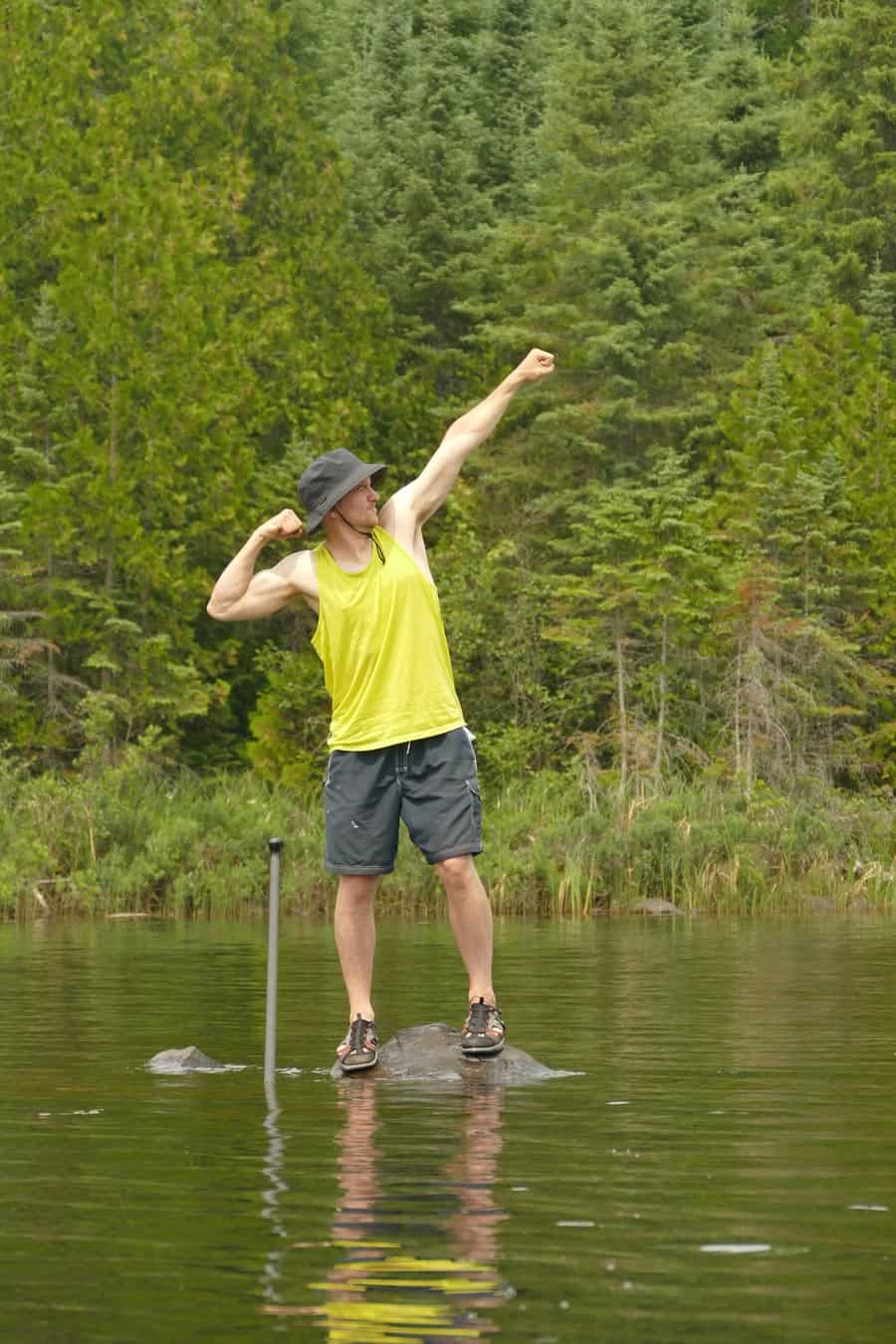 Born in Madelia, MN, to a now 5-generation Minnesota family, Ryan's MN roots go deep.
A painter by day, Ryan founded Life in Minnesota in 2013 with his wife Kelly to chronicle their musings on everything Minnesota. Ryan and Kelly are raising their 7 kiddos in Maple Grove, MN.
When he's not shuttling his kids around to hockey practice, you might find him in the shop working on his leatherwork. Undoubtedly, there will be a family trip to the Boundary Waters Canoe Area every summer, and of course weekends at Grandpa's cabin up north in the summer.