Winter in Minnesota isn't for the weak of heart.
It's not just the cold temperatures and heavy snowfall that are brutal – it's also the fact that winter lasts for so long.
A quality snow blower will help make your next Minnesota winter a little easier.
Sure, there's no denying that a snow blower is an expensive investment, but it's more than worth it for the ability to quickly and efficiently clear your driveway and sidewalk of snow.
Today, I'm going to show you exactly how to buy the best snow blower for Minnesota winter.
Index
What is a Snow Blower?
A snow blower is a device specifically designed to remove snow.
Also referred to as a snow thrower, these machines remove snow far more rapidly and efficiently than anyone shoveling snow by hand.
They remove the snow by "picking it up" and "throwing it" to another location (typically to one side) to clear an area.
The most common residential use of a snow blower is to clear driveways and sidewalks of snow. Larger commercial machines are sometimes used on roadways.
Although not everyone living in a snowy climate needs a snow blower, they're nothing short of a godsend for those facing Minnesota winter weather.
Do You Need a Snow Blower?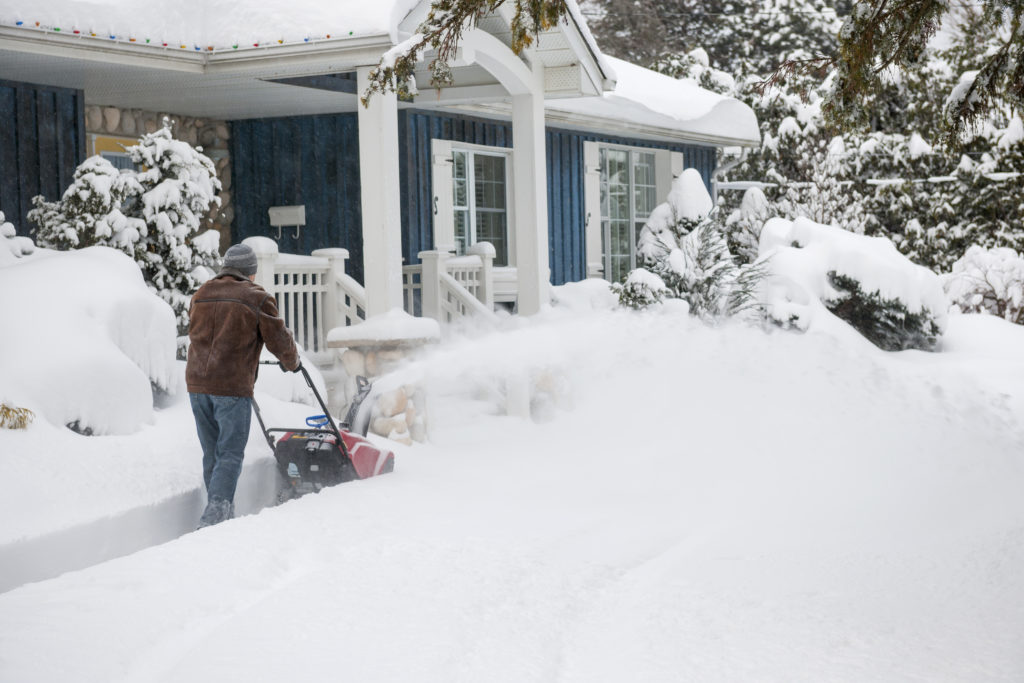 Like I mentioned above, not everyone actually needs a snow blower, but they're certainly helpful for those living in an area with high snowfall, like Minnesota.
The main exception is those with a minimal area to keep clear of snow.
For example, if you live in an apartment or a home without a driveway, a snow shovel will likely get the job done just fine.
Even those with a driveway don't always need a snow blower.
Sometimes it's actually quicker and easier to just shovel snow out of your driveway rather than taking the snow blower out of the garage, setting it up, completing the job, and putting it back in the garage.
Sometimes, it's also easier to work a snow shovel around parked cars. To efficiently move snow with a snow blower, it's best to first move your car to clear a path.
All of this isn't to say that a snow blower isn't incredibly beneficial – because they have a ton of benefits.
For instance, a snow blower is a much better choice for those that need to clear large areas of snow, such as a long driveway.
These machines are also a good choice for those with health issues (that make it difficult to shovel snow) or those that just prefer a snow removal method that isn't backbreaking.
Consider the following factors to decide if a snow blower is right for you:
1. Size of Area
The larger your driveway, or similar area you keep clear of snow, the better a snow blower will suit you.
2. Amount of Snow
Snow blowers are best for those that live in areas where each storm dumps a lot of snow (hint, hint…Minnesota). If it only snows an inch or two at a time where you live, you probably don't need one.
3. Frequency of Snow
A freak snowstorm once in a blue moon doesn't usually necessitate a snow blower. Regular snow storms, on the other hand, make the benefits of a snow blower that much more obvious.
Snow Blower Benefits
The benefits of a snow blower are numerous, especially somewhere as snowy as Minnesota.
An understanding of these benefits might convince you to buy one of these machines, even if you're a longtime proponent of shoveling snow.
Here are the top snow blower benefits:
1. Effortless
Shoveling snow is backbreaking work. A snow blower makes removing large amounts of snow so much easier. Models with a self-propelled feature are even more effortless to use.
2. Time-Saving
No one wants to spend hours on end clearing out their driveway with a shovel. A snow blower can get the job done in a fraction of the time. Despite the set-up time required, they save a lot of time on most driveways.
3. Long-Lasting
Buy a quality snow blower and you can expect to have it for life. Consumer Reports states that those living in a high snow state will break even within 5 years. Be sure to follow basic snow blower maintenance to lengthen the life of your machine.
Snow Blower Buyer's Guide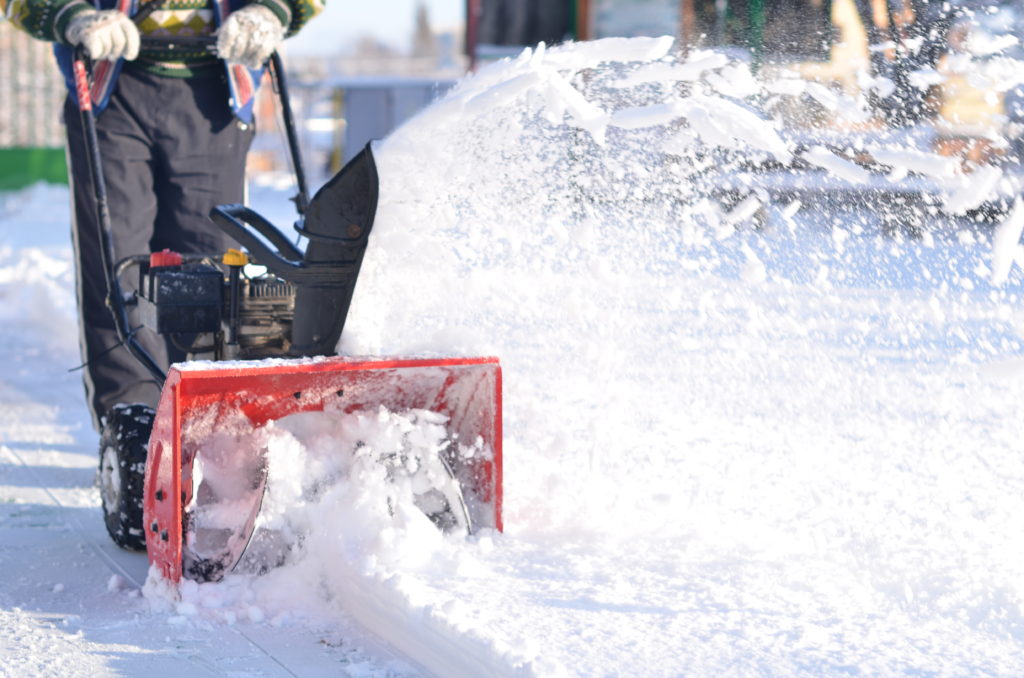 There are dozens upon dozens of different snow blowers available on the market.
Instead of buying the first one you come across, it's important to do your research and select the model that best meets your needs and preferences.
Here are the three main types and the most important features to look for in your snow blower for Minnesota winters.
Types of Snow Blowers
There are three main types of snow blowers available for residential use.
These are single-stage, double-stage, and triple-stage. Each has its own set of pros and cons.
Here are the basics of each type of snow blower:
1. Single-Stage Snow Blower
A single-stage snow blower is the lightest type.
Their light weight also makes them the easiest to handle. The catch is that most don't have engine-driven wheels. In other words, you have to push this type of snow blower through the snow yourself.
For single-stage models, you have three main sub-types to choose from: corded electric, cordless electric, and gas-powered.
These models are best for 8 inches or less of snowfall at a time.
2. Double-Stage Snow Blower
Double-stage snow blowers are what most people think of when they think of a snow blower.
These powerful models have engine-driven wheels to propel them through deep snow – all you have to do is steer the way. Another notable feature is the auger which collects the snow and the fan that blows it out of the way.
All double-stage snow blowers are gas-powered.
These models are best for 8 inches or more of snowfall at a time. The exact depth you can go through depends on the height of the model (some clear up to 24 inches at once).
3. Triple-Stage Snow Blower
A triple-stage snow blower is the most powerful and most efficient of all.
They utilize the same two stages as a double-stage model (the auger to pick up the snow and the fan to blow it), but include an additional accelerator to speed up the process even more.
All triple-stage snow blowers are gas-powered.
The best of these models work 10 times faster than a double-stage model, even in deep, heavy snow.
Important Features
Spend a few minutes looking at snow blowers, online or in a store, and you'll quickly realize there are dozens of different possible features.
The snow blower features that matter most include:
1. Multiple Speeds
Most two-stage and three-stage models have a speed control. Multiple forward speeds not only enable you to complete the job faster when conditions allow, but also prevent clogging in heavy snow.
2. Single-Hand Operation
Many snow blowers require two hands to operate. Single-hand models, however, place both the speed and auger controls on the same handlebar. This frees up your other hand to control the chute.
3. Clearing Width and Intake Height
Clearing width is the width of snow the snow blower passes over at one time. Intake height is how many inches of snow the machine can clear at once. Both factors determine how quickly the machine does its job.
4. Electric Start
No one wants to be stuck in the snow pulling a manual recoil-starter. The best models have an electric start to make the process easier. Most rely on a plug-in electric start but also have a manual start for when you're away from a plug-in.
5. Power Steering
Power steering makes maneuvering your snow blower much easier. Free turning is another useful feature that enables sharper turning.
6. Track/Tread Compatibility
Some snow blower models have tracks or treads instead of tires. Others give you the ability to switch the tires for tracks or treads as desired.
7. Chute Control
Snow blower models with a joystick or remote chute control give you the ability to change the direction of the chute at a moment's notice.
Best Snow Blower Reviews
You now have a thorough understanding of what to look for in a snow blower for Minnesota winters.
To take even more guesswork out of the picture for you, we've reviewed the top snow blowers, specifically for grueling Minnesota winters.
Here are 5 of the best snow blowers currently available:
1. Best Overall: Toro SnowMaster 724 QXE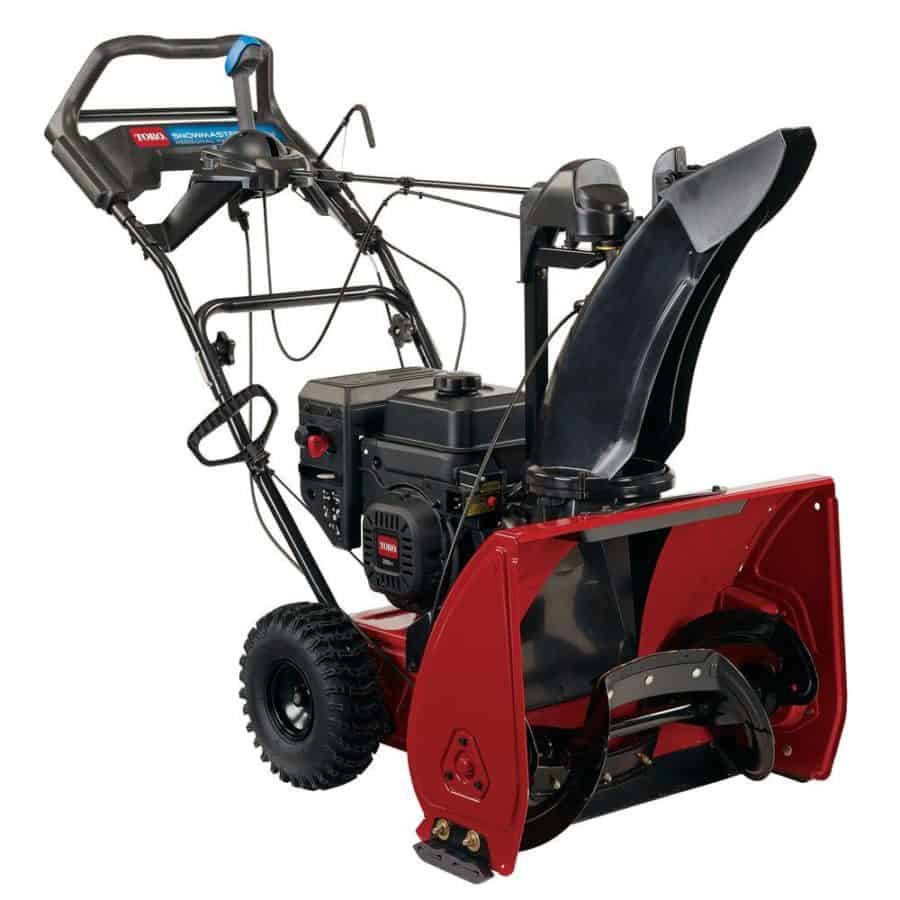 You'll be hard-pressed to find a better snow blower for Minnesota winter than the Toro SnowMaster 724 QXE.
This gas-powered double-stage machine works extremely quickly, breaking through heavy snow without missing a beat. It throws that snow up to almost 30 feet so the snow pile never gets in your way as you work.
A major highlight is the "Personal Pace" drive system. It matches the speed of the engine-driven wheels to the speed you're walking.
Other notable features include an electric start, a joystick chute control, and incredibly smooth handling.
2. Best Runner Up: Troy-Bilt Storm 2625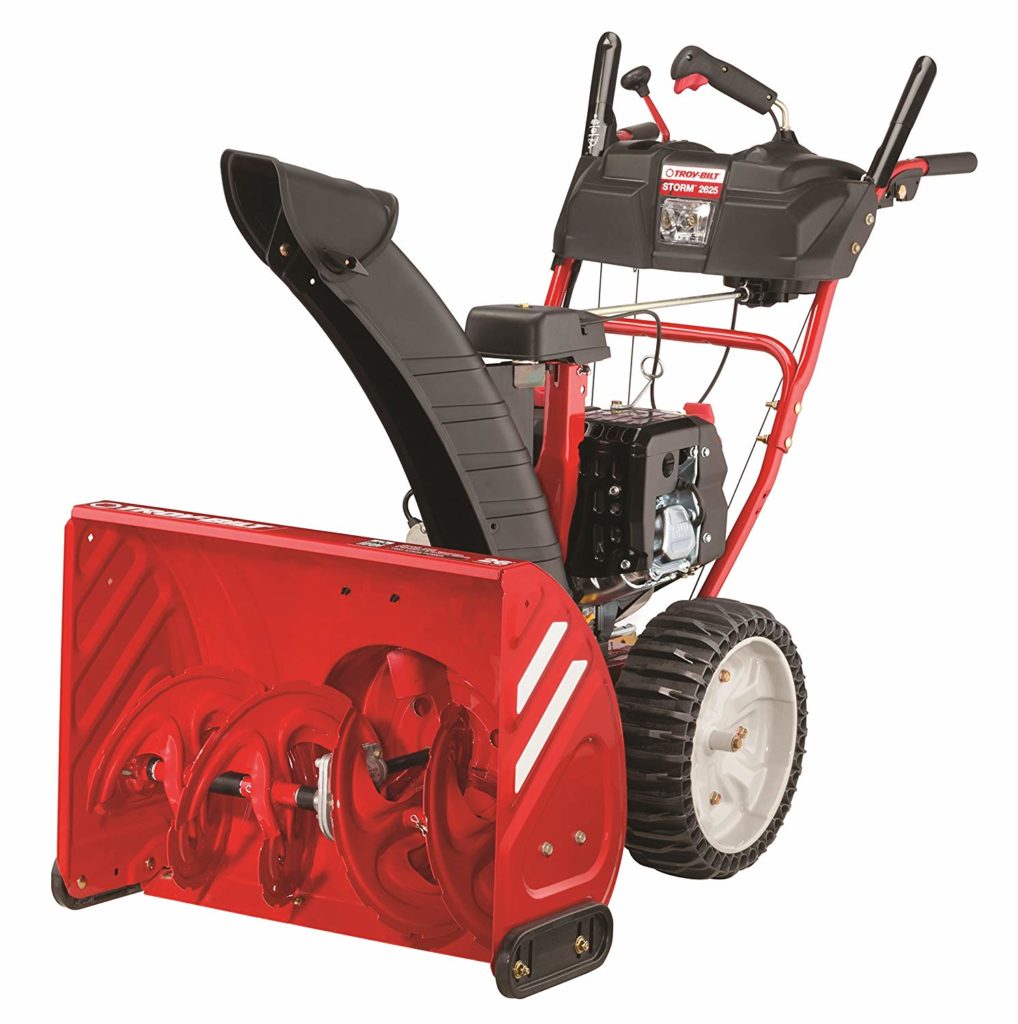 The Troy-Bilt 2625 is another gas-powered two-stage snow blower capable of handling anything a Minnesota winter can throw at it.
The machine is incredibly burly and rugged. It covers almost 2 feet of snow width in a single pass and can work through snow 21 inches deep.
But what we like most about this model is the adjustable chute. It has more than 200 degrees of adjustability so the snow will go wherever you want it to blow.
Although the Toro SnowMaster is best for the average homeowner, the Troy-Bilt 2625 is arguably a better choice for those with a large, uneven yard they need to keep clear.
3. Best for Deep Snow: Troy-Bilt Storm 3090 XP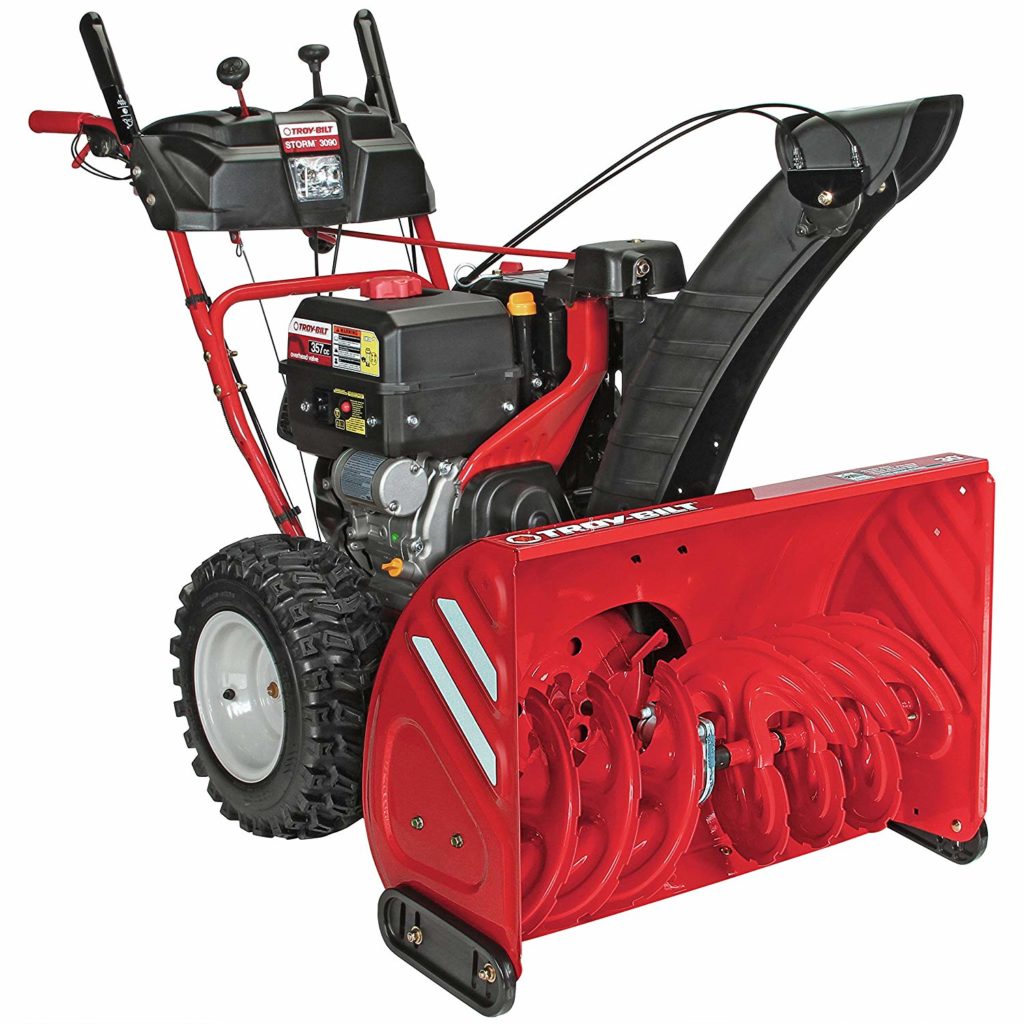 Another top-quality snow blower from Troy-Bilt, the Troy-Bilt Storm 3090 XP excels in very deep snow.
The gas-powered two-stage machine is designed for use in snow 15 inches or deeper, but it handles well over that with ease. In fact, it clears up to 21 inches of snowfall with a single pass.
The powerful engine-drive wheels make this machine a great choice for those with very long driveways as it can clear 100 feet or more of snow without hesitation.
Other highlights include the one-hand steerable system, heated hand grips, in-dash headlight, and superior durability.
4. Best for Hills: Husqvarna ST224P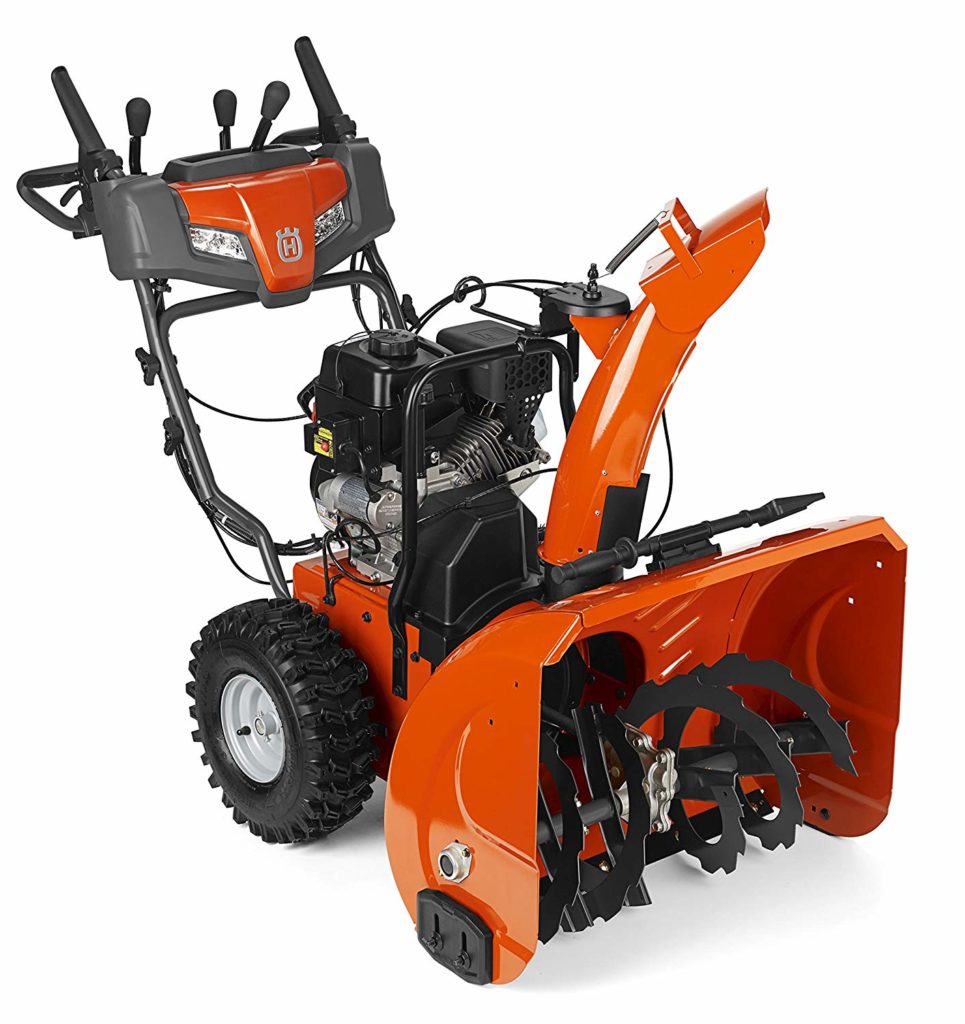 Many snow blowers, even some of the most expensive models, just don't cut it when it comes to clearing snow from uneven terrain.
The Husqvarna ST224P has you covered here. It's built from the ground up for uneven, gravely, and rocky terrain, including steep hills and inclines.
It's a rugged gas-powered two-stage model built with durability in mind. You can give this thing a beating year after year and it will stand up to the abuse.
This snow blower is capable of clearing over 23 inches of snow in one pass. It features a powerful auger to break hard-packed snow, 6 self-propelled speeds (plus reverse), and burly 15-inch tires.
5. Best on a Budget: WEN 5662 Snow Blaster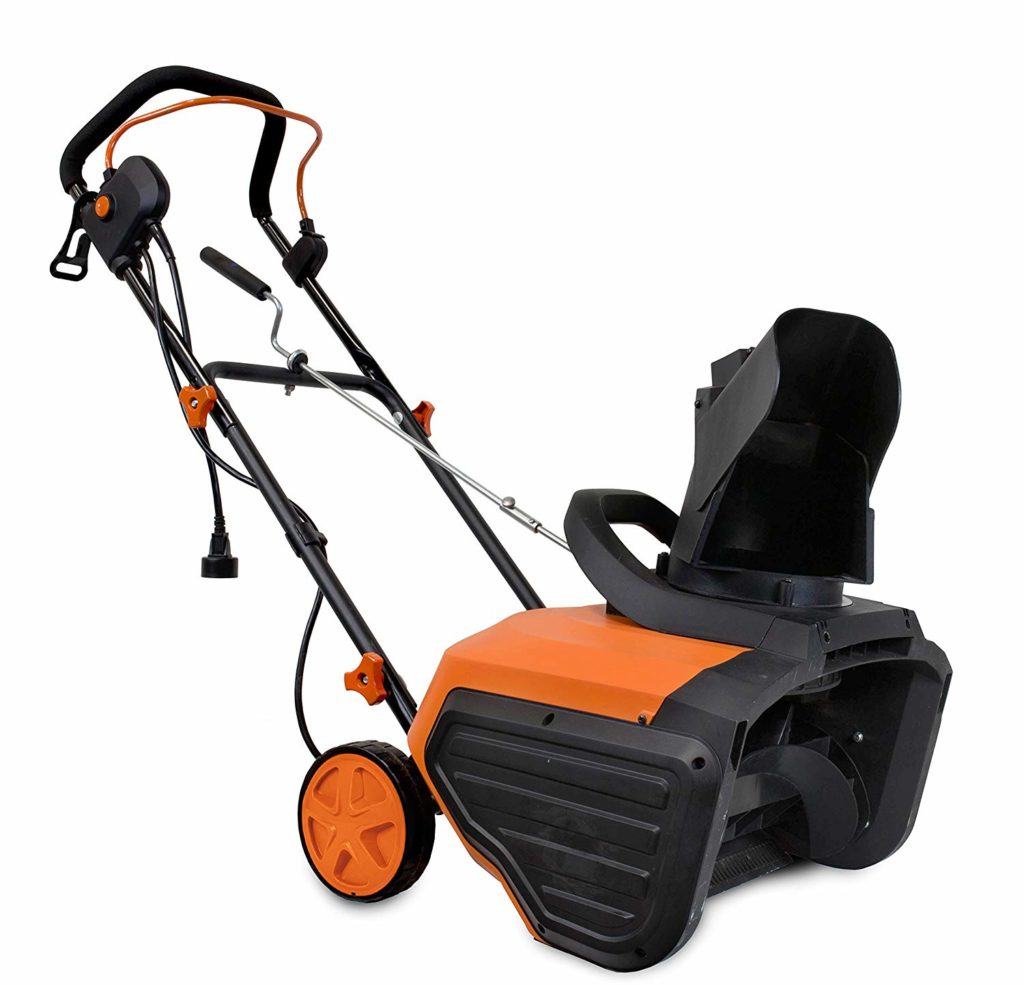 Not everyone needs or wants a top-of-the-line snow blower capable of plowing through multiple feet of snow.
For those that want something simpler and more affordable, there is the budget-friendly WEN 5662 Snow Blaster.
This electric-powered, single-stage model is lightweight and easy to push. It's capable of easily clearing snow up to 8 inches deep (although it will clear more with several passes).
Despite the electric engine, this snow blower is capable of throwing snow up to 20 feet or more. Other notable features are the 6-inch never-flat wheels, quick-adjust chute, and durable construction.
How to Use a Snow Blower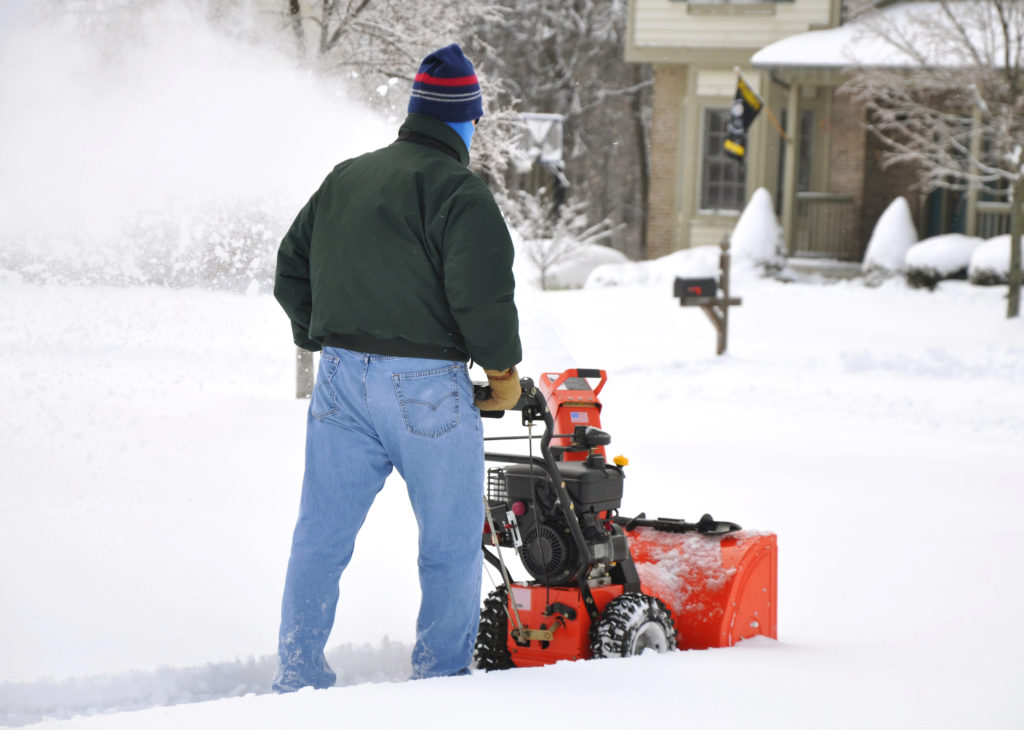 Learning how to use a snow blower is pretty straightforward.
But rather than wing it on your first time using the machine, get an understanding of the basics first to make the experience much quicker and more efficient.
Here's exactly how to use a snow blower:
1. Test the Wind
Avoid blowing snow directly into the wind. If possible, run the blower so the snow blows with the wind. Otherwise, the snow will blow right back to where you're removing it.
2. Determine Snow Pile
Take time to decide where you'd like the snow to pile up. This will help you decide upon a pattern so you're not tossing snow into your path. Remember to throw the snow as far away from your driveway as possible to prevent it from blowing back.
3. Select a Pattern
Start with a run down the middle of your driveway. From here, the best snow blower pattern is to work in a "circle" with passes up and down the length of the driveway. Start from the center line and work towards the edges of the driveway.
4. Slow and Steady
It's tempting to rush a project like home snow removal. But it's always best to work slowly and steadily with your snow blower. Not only can moving too quickly clog the machine, but it's also much more dangerous.
5. Keep Up with the Snowfall
It's much easier to clear a little snow with your snow blower than a lot of snow. For example, 6 inches of snow is much easier to remove than 12 inches of snow – even with a snow blower. It's also much easier to remove fresh snow than hardpack snow.
6. Careful with Gravel
Remember that it's dangerous to use many snow blowers on snow covering a gravel surface. The machine can easily pick up the pieces of gravel and throw them at high speeds over a long distance. If you plan to use your snow blower on gravel, be careful to select a model made for such a use with the help of our buyer's guide below.
Best Snow Blower Accessories
Most snow blowers will get the job done on their own in stock form.
However, there are numerous accessories that can make the job even easier. Some of these accessories make way for even more winter uses.
Here are the best snow blower accessories:
1. Tracks/Treads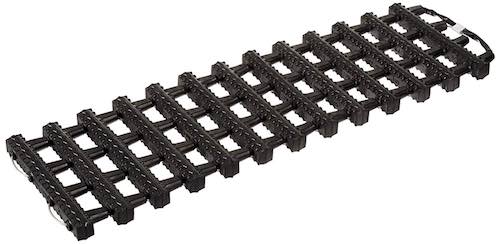 The best snow blowers work well with tires or tracks/treads. However, sometimes the winter weather conditions warrant treads. They often work better on hilly terrain as well as ice.
If your snow blower model doesn't come with an option for tracks, you can use a non-slip traction accessory like Mr. Emergency Rubber Snow and Mud Tracks to accomplish much the same goal.
2. Attachments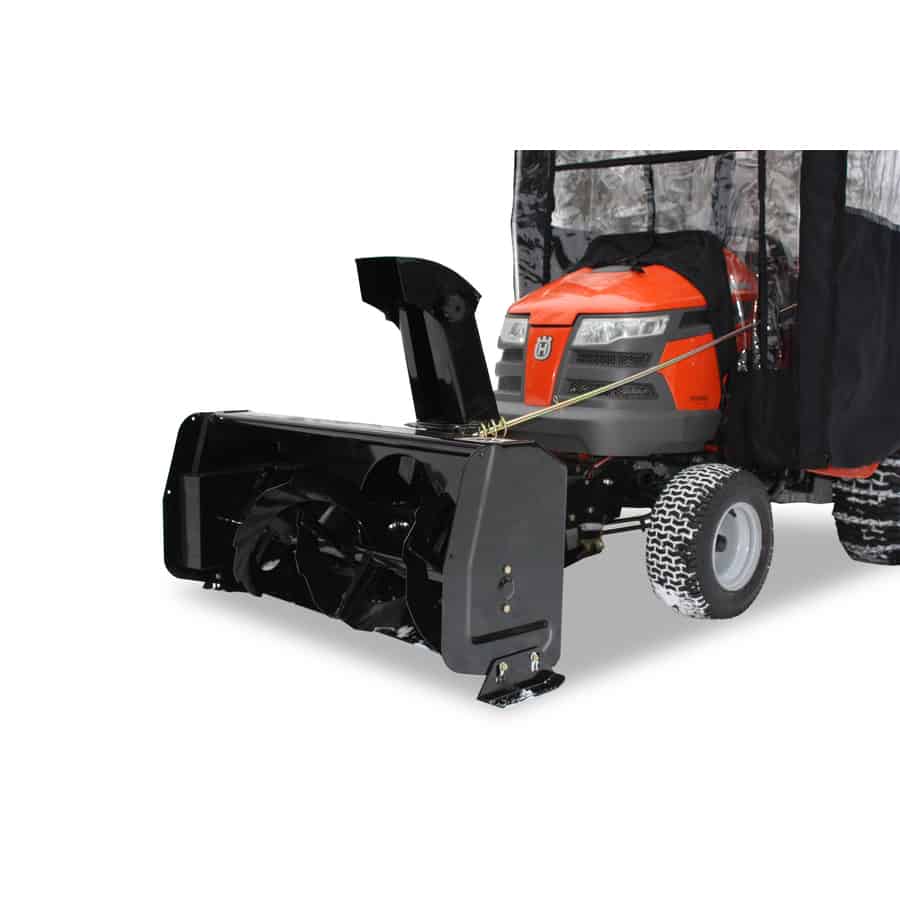 Want to take snow blowing to a whole new level? Then consider a snow blower attachment for your lawnmower.
The MTD Snow Blower, for example, attaches to the front of your riding lawn mower or similar tractor for a one-two residential snow removal punch that's difficult to beat.
3. Snow Cab
Protect yourself from the elements with a snow cab. Attach this accessory to your snow blower to create a shelter so you can work in rain or snow with ease.
Make sure that you select a snow cab that works with your model of snow blower. The Arnold Deluxe Universal Snow Thrower Cab works with most popular models.
Final Thoughts
If you live in Minnesota, you already know just how much snow even "mild" winters bring.
So, why not be prepared? Although many people do well with a simple snow shovel, there's no denying that a snow blower makes clearing snow quicker, easier, and far more efficient.
Our buyer's guide to the best snow blowers for winter in Minnesota will help you pick out the best snow blower for your specific needs and preferences.
Please let me know if you have any questions at all below!
And be sure to check out our other Minnesota winter posts like MN Winter and Another Snow Day in MN.