---
Best Trout Fishing Pole Buyer's Guide
Along with our choices for the best trout fishing pole, this post also is designed to provide you with guidelines for buying the best trout fishing pole for your needs. So now, let's take a look at how you can personally assess a pole.
Read on to learn more about the four major factors to consider in evaluating a trout fishing pole.
1. Material
As you've already discovered from this post, there are a variety of materials used to make trout fishing rods. Now, we'll take a more detailed look at the different materials that can be used in a trout fishing rod.
Fiberglass
Fiberglass rods have been around for nearly 100 years as the first replacement for what had been the standard bamboo pole. While they have been supplanted in recent years by more exotic materials, fiberglass rods are still a great choice for the beginning angler.
Fiberglass rods can withstand the tugging and other harsh movements made by beginning anglers when they mistakenly cast into the underwater brush and other obstructions. Plus, their slower action allows for easier correction of mistakes made while reeling in a catch.
Graphite
For the past half-century or so, graphite rods have brought lightweight, faster action and more power to trout fishing. Their added durability allows for rods constructed of graphite to be longer than fiberglass rods, meaning more line control for the angler.
Carbon fiber
Carbon fiber rods are somewhat similar to graphite rods. But while graphite rods are made from a powdered form of crystalline carbon, carbon fiber rods are constructed of individual strands of carbon filament. Those strands are then woven together and embedded in resin to form the fishing pole.
Broadly speaking, a carbon fiber trout fishing rod will provide more power and control than a graphite rod. At the same time, a carbon fiber rod can be expected to be more sensitive than a graphite rod.
Hybrid
If you're considering a hybrid trout fishing rod, you'll certainly have to do some homework. Constructed of a mix of fiberglass and graphite, often combined with other materials, hybrid rods bring a variety of characteristics to the trout fishing pole.
As you consider a hybrid as a best trout fishing pole, be sure you fully understand the power and action of the rod you're investigating.
2. Power
As you consider the purchase of a trout fishing pole, one of the words you'll come across is "power." In terms of fishing rods, power is simply a reference to the amount of pressure needed to bend a particular rod. You should be able to find the power of any rod you're considering either on the rod itself or as part of the rod's literature packet.
In all, there are seven power ratings for fishing roads, ranging from ultra-light to extra-heavy. The higher the power rating, the less the rod can be expected to bend.
As you consider a best trout fishing pole for yourself, an ultra-light action rod will be your best choice because of its sensitivity to trout going after your live bait or lure. Plus, it's just plain fun to reel in a fish with an ultra-light pole.
3. Action
A fishing pole's "action" is somewhat similar to its power. "Action" describes where a pole bends when pressure is applied to the rod tip, such as when reeling in a trout. There are four action ratings for fishing rods: extra-fast, fast, moderate, and slow.
If you're using an ultra-light power rod, it should also have a moderate action rating to be considered a best trout fishing pole. For one thing, a moderate action rod will allow for farther casts, particularly with smaller lures.
4. Length
For many anglers, the length of the fishing rod they choose is almost an afterthought. However, rod length is as important a factor as power and action in making a good choice for a best trout fishing pole.
For most trout anglers, a rod measuring between 6 and 8 feet is a good choice. If you'll be doing most of your fishing from a boat, the lower end of that range is a good bet. But if you'll be trolling from your boat, a rod measuring between 9 feet and 11 feet is the optimal choice as a best trout fishing pole.
As a final note, if you're going to be fly fishing, your rod should measure somewhere between 7 feet and 9 feet.
---
Best Trout Fishing Pole Frequently Asked Questions
As you consider our assessment of the best trout fishing pole for a variety of circumstances, it's likely that you'll have additional questions. In anticipation of that, here are answers to a few questions that may have occurred to you while reading through this post on selecting a best trout fishing pole.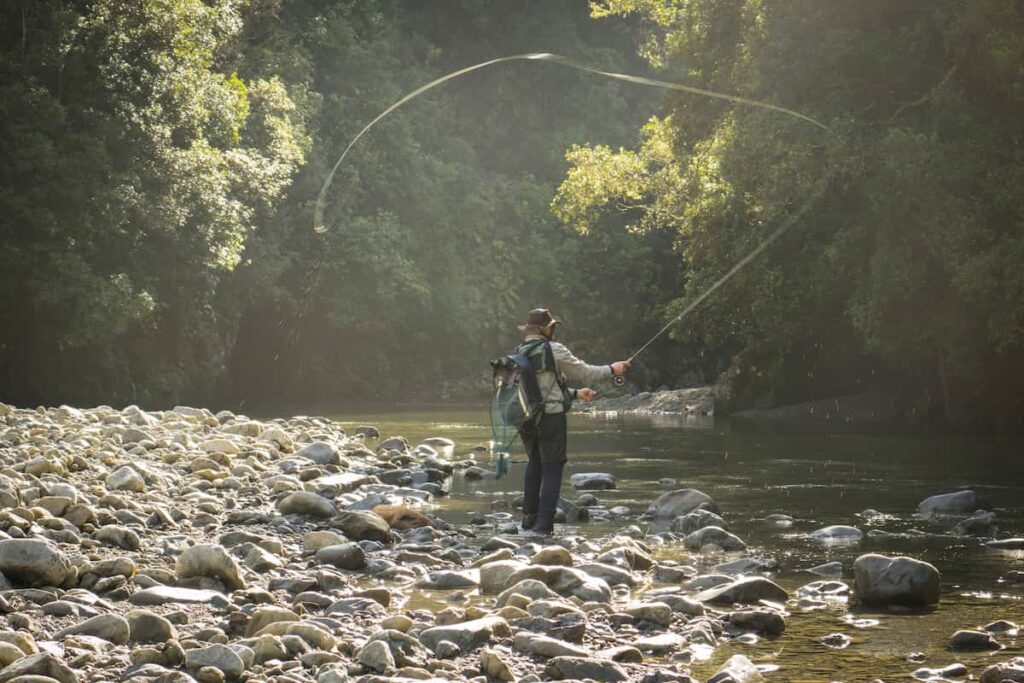 What are some tips for matching a reel with a trout fishing rod?
Fishing reels come in four size ranges, each expressed within a specific numerical range. Small reels are sized from 1,000 to 3,500, with average reels at 4,000 to 5,500. Large reels are 6,000 to 9,500, and extra large reels start at 10,000.
You should pair your best trout fishing pole selection with a small reel, ideally rated at 2,000 or 2,500. At that size, you'll be ready to cast your best trout fishing pole in a variety of situations, including fishing from a kayak.
Can trout fishing rods be used to go after other species of fish?
You can certainly use a trout fishing rod to go after other species of fish. But you'll need to understand that many other species won't behave like trout, so you'll need to adjust your angling technique.
Consider, for instance, fishing for walleye with a trout rod. Walleye are typically larger than trout, so if you hook one with a trout rod, you'll need to be patient reeling it in. Otherwise, you'll risk snapping your line.
And, of course, no matter what type of rod you're using, you'll need to have bait or lures that will attract species other than trout. For instance, while trout like live bait, you'll likely have better luck with bass with crankbaits and other artificial lures.
Is it difficult to learn fly fishing for trout?
There's hardly an angler anywhere who hasn't been captivated by the sight of a fly-fishing angler. Standing in a sun-splashed stream, fishing line swinging in back-and-forth arcs, the fly fishing angler is a perfect picture of man in nature.
But as you might guess, fly fishing, even with a best trout fishing pole, is a skill to be mastered. As a result, becoming proficient can be difficult. If you decide to pursue fly fishing as part of your repertoire, be prepared, at a minimum, to spend hours practicing your casting technique.
And then there's learning to tie the knots you'll need for the various sections of your fishing line. You'll also need to learn which flies to use in a variety of seasons and situations.
Finally, if you decide to assemble your own flies, there will be another learning curve for you to negotiate.
But all of these skills can be mastered by a motivated angler. And the best thing is that if you need help, there are instructors available to get you started along the road to becoming an accomplished fly angler.
As a final tip, if your community has a club devoted to fly fishing, stop by its next meeting. You're certain to find a group of knowledgeable men and women eager to share their hard-won expertise with you. And if you're really lucky, you might learn where you might be able to hook a trout or two.
---
Wrapping up the Best Trout Fishing Pole for 2023
Now that you've been introduced to options for the best trout fishing pole for 2023, it's time to choose one that fits your angling preferences. As a reminder, our choice for the best overall trout fishing pole is the Okuma Celilo Graphite.
Our choice, once again, is based on the rod's sensitivity, casting characteristics, and reasonable price. All of those things make the Okuna Celilo Graphite a great choice as a best trout fishing pole for novice anglers and experienced trout anglers.
For much more on fishing, check out the many posts on fishing in Minnesota elsewhere at Life in Minnesota.