---
Best Underwater Fishing Camera Buyer's Guide
Now that you've seen our recommendations for the best underwater fishing cameras, it's time to look at factors to consider when contemplating your own purchase. Read on to find out what to think about with regard to your choices among the best underwater fishing cameras.
Cabled Cameras
If you're looking for real-time video, you'll need an underwater fishing camera that is directly connected via electronic cable to a monitor aboard your boat. This way, you'll get the functionality of an electronic fish finder with actual video rather than simple graphics showing fish, vegetation, and bottom contours.
Cabled underwater fishing cameras are limited, however, to the length of their cable. Routinely, the maximum length of cable is about 50 feet. That may be enough for some bodies of water, but won't help to locate fish in deeper waters.
For fishing in deeper water, cables to improve even the best underwater fishing cameras are available in lengths from 60 feet to 120 feet.
Fishing Line Cameras
A second type of underwater fishing camera comprises a camera that can be attached to your fishing line. Once underwater, this type of camera can't provide a live video feed. However, it can record while in the water. Once retrieved, that recording can be viewed through an associated digital video app.
While users of this kind of underwater fishing camera will sacrifice real-time data, they get information within a short time of retrieving the camera. As a result, fishing line cameras deserve due consideration among the best underwater fishing cameras.
Viewing Angle
As you're considering which of the best underwater fishing cameras will be best for you, pay attention to the camera's advertised viewing angle. Ideally, your underwater fishing camera should have a viewing angle of 90 degrees.
At that angle, both the image size and the area shown by the camera are optimized. At a wider viewing angle, the actual position of the fish in relation to the camera would be distorted. At a narrower viewing angle, it would become necessary to constantly manipulate the camera for an adequate picture.
Image Clarity
Obviously, a major factor in any decision regarding the purchase of any of the best underwater fishing cameras will be image clarity. One way to ensure that an underwater fishing camera will provide crisp images is to verify that its resolution matches the resolution of the monitor.
Pairing a high-resolution camera with a low-resolution monitor will result in a low-resolution image, even if you're using one of the best underwater fishing cameras.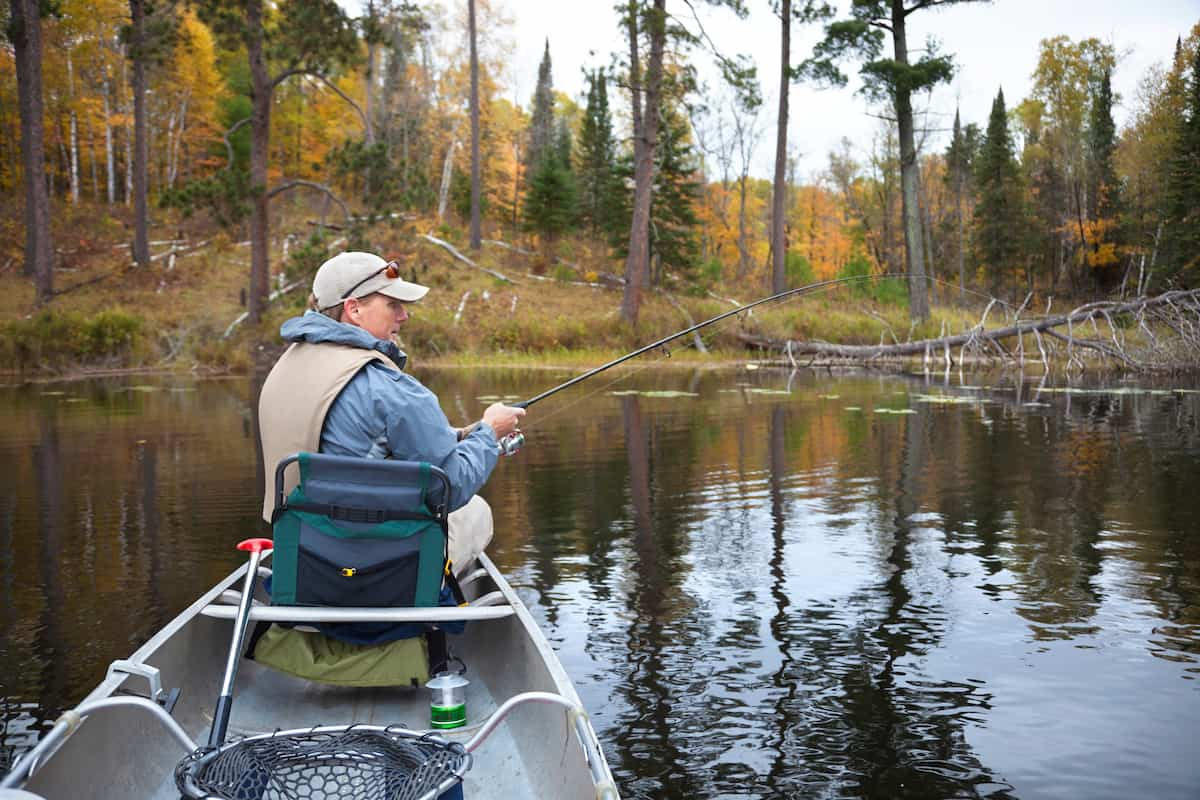 ---
Best Underwater Fishing Cameras Frequently Asked Questions
After reviewing our recommendations regarding the best underwater fishing cameras, it's likely that you have some additional questions. Read on for answers to a handful of frequently asked questions about underwater fishing cameras.
What is the minimum usable screen size for a fishing camera display?
Underwater fishing cameras that come with monitors will routinely offer monitor screen sizes between 4 inches and 9 inches, measured diagonally. While it stands to reason that a wider screen will provide greater detail, that isn't the only factor in seeing what's on the monitor.
On a kayak or a johnboat with little room, you need a monitor that can be easily tilted and/or swiveled into a good viewing position. If you have to sacrifice some monitor size to get that feature, it's a reasonable tradeoff.
Also, regardless of the size of your monitor, you should install a screen protector to protect it from water and other potential damage. Be sure your screen protector has an anti-glare feature to maintain the visibility of your monitor's images.
How can an underwater fishing camera be kept steady underwater?
One of the drawbacks of an underwater fishing camera can be that it will swing around unpredictably once it is submerged. Many of the best underwater fishing cameras will have rudders that can help keep them oriented in one direction, but that still may not be enough control.
One trick for rigging your underwater fishing camera for steadiness is to attach some sort of weight to it with some fishing line. Some underwater fishing cameras will come with this option, but if yours doesn't, a heavy bolt or nut could work well for this purpose.
For further stability, you can try to embed the weight into the bottom of your fishing spot. To do that, move the attachment cable or your fishing line gently up and down until the weight settles onto the bottom.
Is it sportsmanlike to use an underwater fishing camera?
As you're thinking about acquiring an underwater fishing camera, it may occur to you to consider the ethical ramifications of using it. After all, it does give you an advantage in finding out where fish are located and likely to be biting.
As with most ethical questions, the answer to whether it is sportsmanlike to use an underwater fishing camera will be a matter of personal conviction. But if you're not certain where you stand, why not simply use your camera as a tool for developing general knowledge about your chosen fishing spots?
Once you've developed that store of knowledge without taking immediate advantage of it, you can do your actual fishing without the help of a camera.
But wherever you fall on the ethical spectrum, an underwater fishing camera is undeniably a worthwhile addition to your angling gear.
---
Wrapping up the Best Underwater Fishing Cameras: Our Top 5 Picks
Choosing among the best underwater fishing cameras can be a tricky proposition. But now, equipped with our recommendations and guidance, you're ready to make a great choice for yourself. As a reminder, our best overall underwater fishing camera choice is the Eyoyo Underwater Fishing Camera.
Life in Minnesota offers plenty of other help to improve your fishing experience, from the state's top fishing resorts to its ice fishing opportunities. Enjoy your time on the water and good luck!