Whether you're into hiking, fishing, exploring lakes and rivers, or anything else, it's essential to have a good pair of water shoes in your arsenal. There's a lot you can do with a good pair of water shoes, and they open up a whole new world of fun and exploration.
While choosing water shoes from a good brand is essential, you'll soon find that some of the best water shoes for men come from smaller companies. Ultimately, quality and durability are the keys to a good pair of water shoes, and this article will outline some of the best on the market.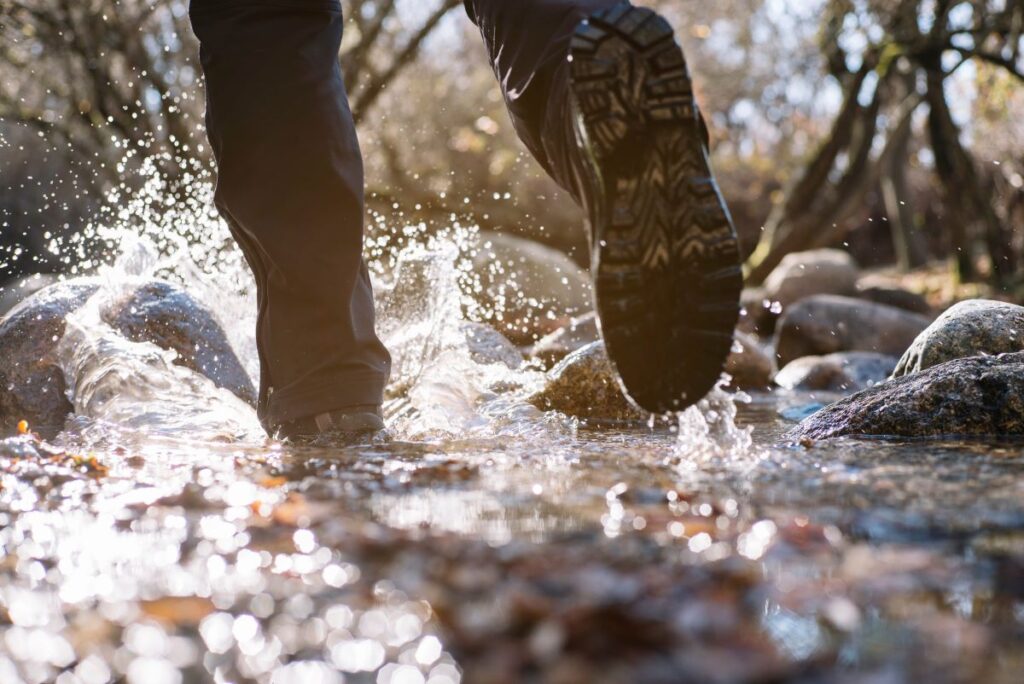 7 Best Water Shoes for Men
---
Overall Best Water Shoes for Men
Astral TR1Junction
This decision was tough since there are so many good water shoes, but the top spot for best water shoes for men has to go to the Astral TR1 Junctions. In terms of comfort, warmth, and versatility, you'll have difficulty finding a better option than these bad boys.
On the surface, they look like a regular pair of shoes. However, upon further inspection, you'll see the small drainage holes on the bottom and sides of the shoe. You'll also notice that the top of the shoe consists of a meshy fabric that's perfect for not absorbing moisture.
This shoe is the type of shoe that you can wear for much more than just water activities. They're solid, comfortable, and have excellent support for walking, hiking, and water sports. The soles are grippy but not overly so, and the shoes are conditioned with a special anti-odor treatment to keep them smelling fresh, even after a day on the lake.
Pros:
Extremely comfortable, you can wear it as an all-purpose shoe.
Excellent drainage despite hiding it well.
Top-notch support whether you're wearing them barefoot or with socks
Keep your feet reasonably warm if you're in and out of the water
Cons:
While non-slip, they could use a little more grippiness for slippery rocks and such.
They aren't the most durable water shoes
---
Runner Up for Best Water Shoes for Men
Keen Drift Creek H2 Sandals
The great thing about picking the best water shoes for men is that it gives you an excuse to splurge on a pair of sandals. The Drift Creek H2 from Keen aren't just the best pair of water shoe sandals. They're also our runner-up for the best water shoes for men.
Even though they're sandals, you can wear these suckers for tons of stuff aside from water activities. They're comfortable and supportive enough to wear for short hikes, paddleboarding, kayaking, biking, long walks, and so much more. If you feel like getting a little crazy, you can even wear socks and sandals for a night out on the town.
These sandals feature a 10-point support system to ensure a snug but comfortable fit. They consist of thermoplastic rubber for the bottoms and quick-drying EVA webbing on top. They're one of the fastest-drying water shoes or sandals on the market, and the bungee-style enclosure locks the sandal to your shoe, so you don't have to worry about losing them.
Pros:
Because they're sandals, they're slightly lighter than most other water shoes.
Feature a sporty design that's low-profile but striking
Includes anti-odor treatment to keep your feet smelling fresh
Great all-purpose and multi-use sandals
Cons:
Since they're a sandal, not everyone will appreciate or want them.
---
Runner-Up for Best Water Shoes for Men Looking for Sandals
Chaco Odyssey Sandals
If you need a pair of water shoes but want the style and look of sandals, then go with the Chaco Odyssey Sandals. Chaco is arguably the top brand for hiking, outdoor, and water sandals. As such, it only seems fitting that they should take one of the top spots on our list of the best water shoes for men who want sandals.
The Chaco Odyssey is great for life in the water and one of the best hiking water shoes available. They have a buckle tightening system and a mesh top to ensure excellent drainage and a snug fit. Thanks to their innovative design, these Chaco's look almost as much like shoes as they do sandals, and you can use them for the same activities.
Chaco uses a dense, grippy, and comfortable EVA midsole to maximize comfort and grip. You can rest assured that you won't feel lumps or rocks beneath your feet while hiking or walking through the water. The polyester webbing for the top of the sandal makes for quick drainage.
Pros:
One of the best combos of comfort, quick drainage, grip, and versatility.
Available in a variety of colors and sizes
Made of organic and vegan-friendly materials
It has a snug fit and a quick dry
Cons:
A little tricky to put on and take off because of the buckle and strap system
---
Best Water Shoes for Men on a Budget
NRS Kicker Remix
Each of the top picks for best water shoes for men that we've looked at is over $100. If you want a quality pair of shoes but don't want to spend so much, consider the NRS Kicker Remixes. While these shoes aren't quite as comfortable or durable as those that cost $100 plus, they're very affordable, reasonably comfortable, and well-priced.
They're made of a combination of neoprene on top and rubber on the bottom, with nearly all the weight resting in the sole. Despite their affordable price of $30 to $40, they have more traction and sensitivity than many other shoes on this list. The high sensitivity is because of a relatively thin sole, which can be seen as a pro or con depending on your preferences.
The main areas where this shoe lacks are its level of comfort and versatility. Where many of the other shoes on this list can get used for a wide variety of activities, the NRS Kickers are strictly water shoes. They're great for swimming and wading in the water and are loved by snorkelers but lack the comfort and versatility for land use.
Pros:
One of the more affordable quality water shoes available.
Excellent grip and traction
Great for swimming and snorkeling
Comfortable for water use
Cons:
Not comfortable for walking
You'll feel everything you step on
Lack versatility
---
Best Water Shoes for Men for Running
Salomon Amphibian Bold 2 Water Shoes
If you like to mix things up with runs on the beach, along the lakeshore, or through shallow rivers, the Salomon Amphibian Bold 2 is for you. Salomon is a brand gaining popularity at a staggering pace, thanks to a combination of quality shoes and top-notch design. Not only will you stay safe and comfortable in a pair of Salomon's, but you'll also look good in the process.
The Amphibian Bold 2's are one of the premier land and water shoes on the market. They're lightweight at less than a pound and drain and dry extremely quickly. One of the best parts about this pair of Salomon's is that your feet won't slip around inside the shoe, even when wet.
They feature a rubber sole for grip and stability, along with a mesh textile for the top to ensure drainage and quick drying. Thanks to their single-pull shoelaces, they're also effortless to get in and out of. If you're planning a mud run, a Tough Mudder, or another type of event that combines time in the water with running, the Crossamphibians are perfect.
Pros:
Feature a snug fit, so your feet don't slip and slide
Easy to get in and out of
Excellent grip for safety and stability
Very stylish and comfortable
Lightweight and versatile
Cons:
Not the best shoes for solely running or the water, but suitable for a combo of the two
---
Best Water Shoes for Men for Style
Astral Loyak
If you want a pair of the best water shoes for men that look sleek and stylish, the Astral Loyaks are worth a check. While taking the top spot on our list for best water shoes with their TR1 Junctions, Astral also makes water shoes for the fashionable man. Don't let this stylish pair of kicks fool you, though. They do more than just look good.
The Astral Loyaks are one of the most comfortable and sensitive water shoes available. They have a thin but solid rubber sole and a breathable, quick-drying top made of stitched Cordura. The small and subtle drainage holes on the side assist with quick drainage and drying time.
In addition to comfort and style, these shoes are surprisingly grippy and are suitable for paddleboarding, kayaking, swimming, or a night out on the town. The only concern with the Astral Loyaks is that they aren't the most durable water shoe on the market.
Pros:
Excellent drainage and incredibly stylish
Great grip and comfort
A good multi-use shoe in the water or on land
Flexible sole
Cons:
Not overly durable or heavy-duty
---
Best Water Shoes for Men for Paddling
NRS Paddle Wetshoe
For those of you who are avid paddleboarders and need a pair of water shoes designed explicitly for that purpose, look no further than the NRS Paddle Wetshoe. These paddle shoes feature lightweight and water-resistant neoprene on the outside and warm, water-resistant fleece on the inside.
The fleece means that your feet will stay warm as long as the neoprene holds up and keeps water out. Like I said before, however, these are single-purpose shoes in that they're only for paddleboarding, kayaking, or water use. Trying to walk on land with them for anything other than a short distance will result in uncomfortable, sore feet.
Pros:
Very lightweight and comfortable on the water
Keep your feet nice and warm
Excellent traction
Cons:
Not very good drainage
Very uncomfortable on land
---
Factors to Consider When Choosing the Best Water Shoes for Men
If you're thinking about purchasing a pair of water shoes outside of the option on this list, here are the things you need to consider.
Traction
Traction is crucial when it comes to the best water shoes for men. Without traction, a water shoe is just a shoe with holes in it. Water shoes are meant to get wet but still have grippy soles and traction despite moisture. Traction is also necessary to ensure your safety while going back and forth between water and land.
Drainage
If water shoes don't have good drainage, they'll be extremely uncomfortable and may even cause athlete's foot and other foot infections. They should have drainage on the bottom or sides and be very quick to dry. Avoid materials that retain moisture and go for ones like neoprene and mesh.
Comfort
If your water shoes aren't comfortable, the odds are that you aren't going to wear them very often. You're supposed to enjoy your time in the water and on land, and water shoes that hurt your feet will only make you miserable. Make sure to try several pairs on until you find the ones that fit your feet perfectly and are comfortable for walking and swimming.
Intended Use
You should also consider what you plan to use your water shoes for before buying them. Particular shoes will perform better than others if you're into hiking or lengthy walks. At the same time, there are water shoes designed more for swimming, paddle boarding, or sports on the water. It's essential to have an intended use in mind when selecting a pair of the best water shoes for men.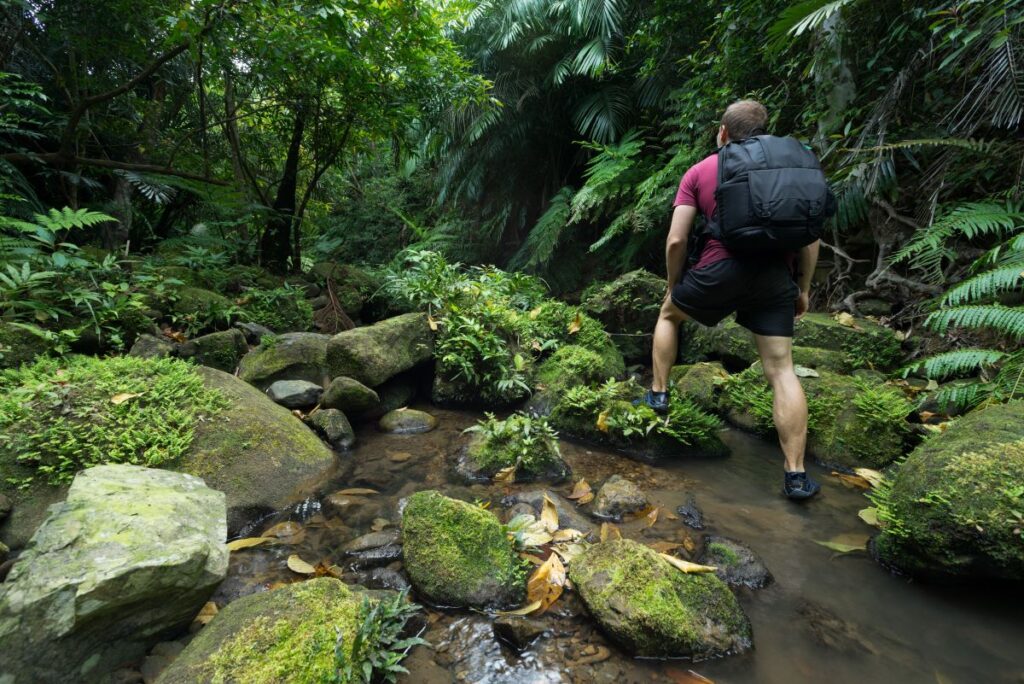 Protection
Some water shoes will have a thicker sole and more stability than others. If you plan to do a lot of hiking or run, you should prioritize a thick sole for protection. You don't want to feel every rock, bump, and stick under your feet when you're hiking, and certain shoes perform better in this area than others.
Go Find The Best Water Shoes for Men!
As you can see, choosing the best water shoes for men is sometimes easier said than done. There are many quality brands out there to decide between and many factors to consider when making your choice. However, by adhering to one of the options on this list and using our buying guide, you can be sure to purchase the perfect pair of water shoes for yourself.
Need some more Minnesota gear? Trust our recommendations to guide your next shopping trip!