It's no secret that kids love water. There is something like magic that happens and the crankiest toddler will start beaming with joy when they feel a splash of cool water.
Unfortunately, toddlers' feet don't always love everything that goes along with water. Whether it be hot pavement at a splash pad, scratchy sand at the beach, or a rough pool floor, delicate toddler feet sometimes need a little extra TLC to be able to fully enjoy the water.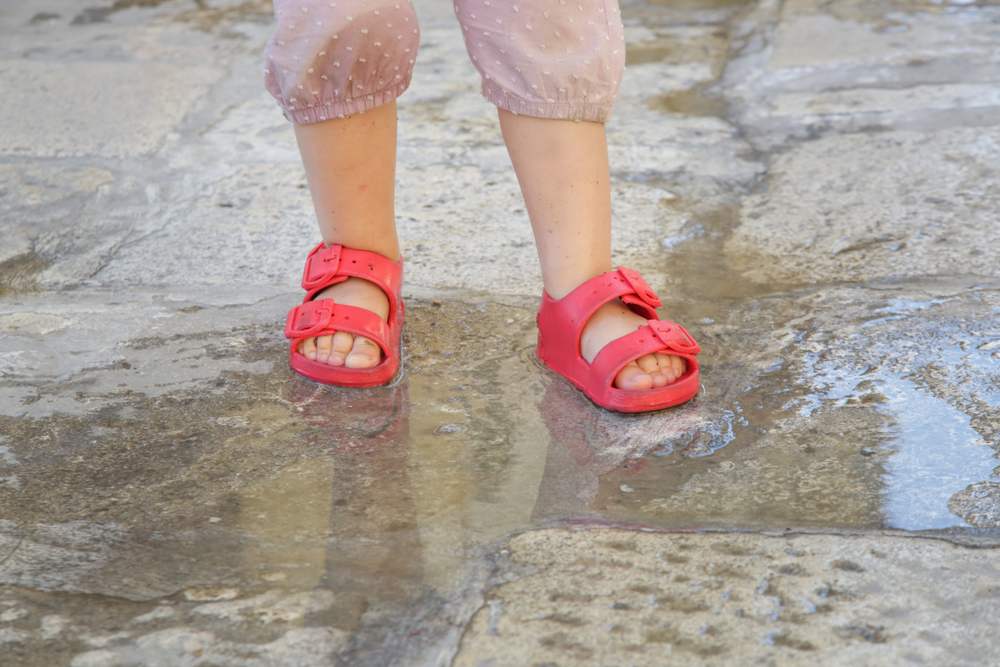 Thankfully, there are a ton of water shoes out there that will help make playing in water better for the whole family. If the toddler isn't happy, nobody in the family is happy!
Read on to discover the best water shoes for toddlers!
Different Kinds of Water Shoes for Toddlers
Not all water shoes for toddlers are created the same. There are several varieties, each being better suited for different activities.
Water Shoe
While it's the most commonly used phrase, not every water shoe is actually a water shoe. Water shoes can look like regular shoes, but they're made to drain water out and dry quickly. There are usually a lot of rubber and mesh pieces involved because those materials help water shoes transition easily between land and water.
Water shoes are best when the person wearing them is going to be moving between land and water often. They're great for hiking or even playing at the splash pad.
Water Sock
A water sock is going to be a tighter fitting, sock-like shoe made out of neoprene. Most will come with a thin, solid sole on them.
These are great for swimming because they don't add a lot of weight to the foot, but will protect delicate skin from rough pool floors. They're also great for playing at the beach because there aren't any gaps where sand can easily get in and possibly irritate the skin.
Water Sandal
A water sandal is a sandal specifically designed to be worn in water. They're made out of fabric that dries quickly or a harder material that doesn't absorb water at all. Water sandals are great to wear for something like playing in a creek, where you need a grippier bottom than a water sock may give you.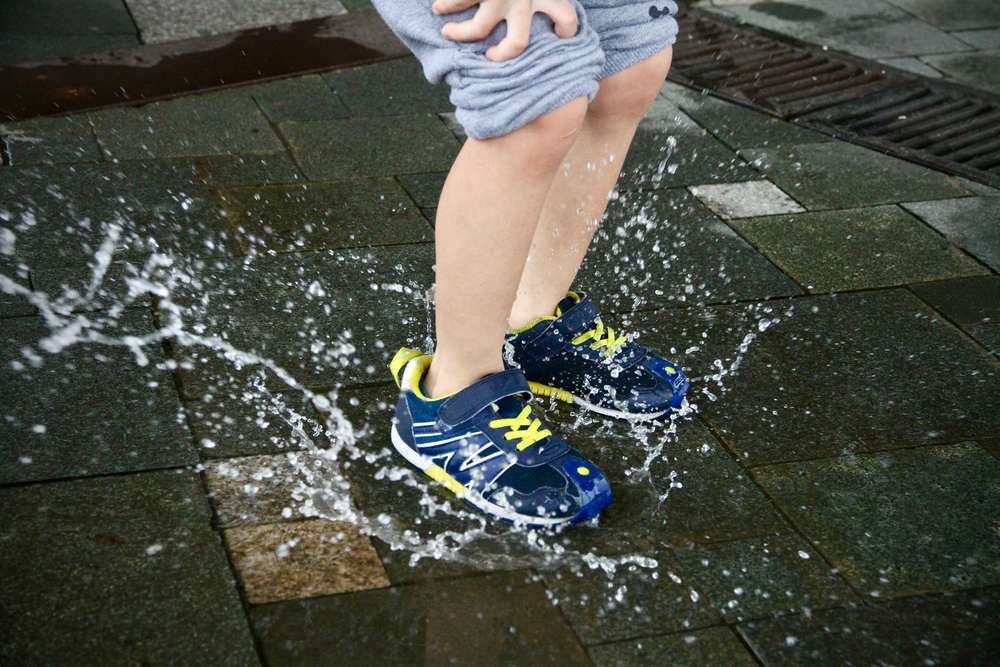 What to Look for in a Water Shoe for Toddlers
Not all water shoes are created equal. Here are some things to look for to find the best water shoes for toddlers.
Breathability
The more breathable a shoe is, the happier everyone is. Shoes that don't have a high level of breathability will result in sweaty, stinky toddler feet at the end of the day.
The extra moisture trapped in shoes also often leads to blisters or spaces being rubbed raw. The best water shoes for toddlers will be made of a breathable fabric to ensure the water drains from the shoe and the skin inside will dry quickly.
Comfort
Comfort is absolutely key when it comes to kids' shoes in general, especially the best water shoes for toddlers.
Think about it—do you want to walk around with shoes that are constantly rubbing, poking, or irritating your feet?
Of course not! Neither do your toddlers. Comfortable water shoes will make it easier for everyone to enjoy whatever water fun you've got planned.
Stays on Foot
And every parent reading this said… AMEN. Shoes that stay on their feet are like precious jewels in the toddler years. Hard to find, but invaluable once you do.
The best water shoes for toddlers are going to be the shoes that stay on your toddlers' feet. There are many ways to make this happen. Some shoes come with velcro closures, others with elastic you can tighten.
Grippy Sole
When your child is just learning how to walk, sometimes they need all the help they can get, especially when walking on potentially slippery surfaces like they will be when using water shoes. It's important to find a shoe with a grippy sole.
---
Best Water Shoes for Toddlers Overall — Crocs
Crocs Unisex-Child Kids' Classic Clog
Since its start in 2001, Crocs have sold over 300 million pairs of shoes. They know what they're doing and they do it well. These are the best water shoes for toddlers overall.
Crocs are a great option for water shoes for toddlers because they check all the right boxes. They're made of a proprietary material called Croslite, which isn't exactly rubber but it doesn't have any plastic in it, either. It makes for a soft, grippy, sturdy shoe that can be worn for any water activity.
The strap across the back is also key because it helps with a toddler's growing sense of independence. How many of you have fought your toddler to help them get a shoe on because they were so sure they could do it themselves, even if they couldn't?
With Crocs, they'll actually be able to do it on their own. Quickly! No more fighting or sitting there for five minutes while they try and try to get their shoes on themselves.
Crocs are also very customizable thanks to Jibbitz. Not only do the holes in the front of Crocs make them breathable, but they are also perfect for adding in your toddler's favorite Jibbitz, which are essentially charms for Crocs. Be aware, that they could be a choking hazard for especially curious toddlers who figure out how to take them out.
Pros:
Sturdy, supportive, and comfortable
Easily personalized
Cons:
Sizing can be inconsistent
---
Best Water Shoes for Toddlers on a Budget — Bigib
Bigib Toddler Kids Swim Water Shoes
The best water shoes for toddlers don't have to break the budget! These water socks from Bigib come in at under $12 and have incredible reviews.
These shoes are incredibly flexible, being able to bend completely in half, and have an elastic edge around the opening, making it easy to get onto even the chubbiest of toddler feet. The elastic will also help it stay secure on little feet.
The sole of the sock is thin, making it easy for new walkers to toddle confidently, but it's got a lot of texture to it, which will help it grip to possibly slippery surfaces.
The sizes range from a toddler size 3, all the way to a big kid size 3. There are twelve different patterns to choose from, so you're sure to find the best water shoe for toddlers on a budget that your kid will love!
Pros:
Price— $12 or less!
Elastic keeps them on tiny feet
Cons:
May wear out quickly with heavy use
---
Best Water Shoes for Toddlers Going on Adventures — Keen
KEEN Unisex-Child Seacamp Ii CNX Sandal
If you're looking for the best water shoe for toddlers that will hold up to a lot of adventures, Keen is going to be the brand for you.
The soles of Keens actually extend up onto the foot, making them great for absorbing shock with each of their little steps. The big, thick sole goes up and over the front toes, too, keeping them protected if they stub their toe or kick against anything sharp on their adventure.
Keens have a velcro closure, which allows them to get as tight as they need to be to stay on little feet. The fabric on the upper part of the shoe is machine washable, meaning that your toddler could tromp through mud for hours and after a cycle through your washing machine, they'll be good as new.
Keens are worth the investment because most kids grow out of them before the shoes themselves wear out!
Pros:
Thick sole to support and protect tiny toes
Machine washable
Cons:
Velcro may wear out with extra use from curious toddlers
---
Best Water Shoes for Toddlers at the Beach — STQ
STQ Boys Girls Water Shoes Quick-Dry Slip-on
When looking for the best water shoes for toddlers going to the beach, it's important that there's a thick enough sole to protect tiny feet from the hot sand, but there also needs to be enough space for sand to get out so it doesn't get stuck between the shoe and skin, causing irritation. These STQ water sandals are a great option!
These sandals are technically closed-toed, but it's to keep tiny toes safe. There's plenty of space along the side of the sandals for sand to get out.
The upper shoe is made from a stretchy, quick-drying material, keeping toddlers comfortable all day long. There's also a cushion inside the shoe that's got little holes in it to get water away from the soles of the feet quickly, hopefully preventing stinky feet.
Pros:
Breathable sole inside shoe
Adjustable velcro closure
Cons:
Tends to run small and narrow
---
Best Water Shoes for Toddlers to Wear All Day — Native
Native Shoes, Jefferson Child, Kids Lightweight Sneaker
If you're looking for a shoe that can go from the splash pad straight to a restaurant, Native shoes are going to be the best water shoes for toddlers to wear all day.
Natives are super light-weight, breathable, and look cute with almost any outfit. They come in seemingly endless color options, so there will be something that works for you.
There's no elastic or velcro closure that could wear out over time, yet Natives somehow seem to fit like gloves. They naturally repel stinky odor and are very easy to clean with some warm water, drops of dish soap, and a little elbow grease.
Pros:
Able to be worn all day, from playing in the water to dancing at a party
High quality, will be able to wear until grown out of
Cons:
Can be challenging for toddlers to put on themselves
---
Best Water Shoes for Toddlers Swimming in a Pool — JIASUQI
JIASUQI Kids Boys and Girls Summer Athletic Water Shoes
JIASUQI water socks are the best water shoes for toddlers who act like fish inside pools. They're made of an ultra-thin material that will feel just like a sock on your toddler's feet, not weighing them down.
They have a rubber sole on the bottom that will protect their feet and give just the right amount of support for toddling around a zero-entry pool.
These water socks are so flexible, that they can be rolled up into little balls, making them easy to toss in your pool bag without taking up much room.
Pros:
Ultra-thin and lightweight
Will stay on a foot as well as a sock
Cons:
Not made to wear out and about, they'll wear out quickly
---
Best Water Shoes for Toddlers for Water Parks CIOR
CIOR Toddler Kids Water Shoes Breathable Mesh
If you're looking for the best water shoes for toddlers spending the day in a water park, these water sneakers by CIOR are a fantastic option.
These water shoes have a unique mesh fabric on top that's wonderfully ventilated, keeping little feet dry and comfortable. The fabric goes from one side of the foot, all the way over, and down to the other side of the foot. Even the insole inside is made of a breathable fabric.
The rubber sole is designed to fight against skidding on slick surfaces.
Pros:
Dry quickly and thoroughly
Full coverage will keep feet from getting sunburned when outside all-day
Cons:
Insoles may pop out and have to be put back in
---
Best Water Shoes for Toddlers with Tiny Feet — FEETCITY
FEETCITY Baby Boys Girls Water Sport Shoes
FEETCITY make water shoes that could fit a newborn, which makes them the best water shoes for toddlers with tiny feet. Whether your child has just started walking early or is on the small side of the growth curve, these shoes will fit them.
They're made with a rubber bottom and very breathable top that's simply covered by mesh. They drain and dry incredibly fast and will keep your child's tiny feet comfortable and dry.
The sole is grippy and anti-slip, making it a safe choice for even the newest walker. There's a velcro closure, which means you can make sure it's tight enough to stay on.
These are an all-around great option for kids on the tiny side.
Pros:
Sizes start at 0-6 months and go up from there in six-month increments
Very breathable and quick-drying
Cons:
Won't work for older toddlers
---
Wrapping Up the Best Water Shoes for Toddlers
Whether you're looking for a sturdy shoe to keep feet safe from sharp rocks in the creek or a shoe that will feel invisible in the pool, there's a shoe for everyone. There's no one-size-fits-all when it comes to the best water shoes for toddlers, but there is certainly a shoe that will work for the water fun you're planning!
Check out our articles on MN Lake Life, if you're looking for a variety of family adventures guarantied to provide a splashing good time!
Need some more Minnesota gear? Trust our recommendations to guide your next shopping trip!