Whether you're a seasoned veteran in the great outdoors or just learning to enjoy them, you've got to have a great pair of water shoes. Quality water shoes allow you to enjoy life in the water while also being comfortable on land. Essentially, they give you a chance to enjoy the best of both worlds!
If you're in the market for the best water shoes for women, we'll explore some of the top options in the lines that follow.
If you're looking for water shoes that you can wear on a long hike or go for a jog, we'll have a pair for you. However, if you simply want the most comfortable or versatile pair of water shoes available, we'll have those as well.
---
Overall Best Water Shoes for Women
Chaco Torrent Water Pro
If you're looking for the overall best water shoes for women and are willing to spend the money for it, the Chaco Torrent Water Pro are the shoes for you. Chaco is a brand well-known for its rugged, durable, and comfortable sandals, but this pair of shoes live up to the Chaco name. They're available in a variety of colors so that you can walk the water in style.
The main reason we picked the Chaco Torrents as the overall best water shoes for women is that they're as close to an all-in-one water shoe that you can get. They offer excellent traction when walking on slippery rocks or paddleboarding, drain relatively quickly, are comfortable enough to wear for a short to medium hike, and are stylish enough to wear into town.
The shoe's upper part consists of knitted polyester that's lightweight and comfortable, and the sole of the shoe is made of Chaco's classic rubber and LUVSEAT EVR. While the polyester mesh is quick-drying, there are additional holes at the front of the shoe to aid in this task.
As a bonus, these shoes are surprisingly easy to get in and out of and are designed to ensure a snug and comfortable fit.
Pros
Include anti-microbial spray to reduce foul foot odor on the shoe
Extremely versatile for multiple uses
Very comfortable
Reasonably durable
On sale for 25% off right now at REI
Cons
While they have good traction, it could be better
Over time, the mesh tends to separate from the outsole of the shoe
---
Runner Up for Best Water Shoes for Women
Keen Newport H2
The Keen Newport H2s are arguably just as good if not better than the Chaco Torrent Pros. The main reason we gave the edge to the Chaco's is because they're slightly more affordable than the H2s. However, if you have $130 sitting around and want some of the best water shoes for women, the Keen Newport H2s are the way to go.
These shoes are considered sandals because of their top mesh design, but they have a closed toe for added protection. They're also comfortable and durable enough to wear for lengthy walks or hiking trips, making them seem more like shoes than sandals. These bad boys are also available in various colors and sizes, so you're sure to have an option you like.
The Keen Newports feature a top polyester webbing to ensure a comfortable fit and quick drying. There are ten points of contact between your foot and the sandals, which means you're guaranteed a snug fit, but one that isn't too tight.
Unlike most sandals with a ten-point fit, the Newport H2s are easy to get in and out of. They include a cinch-tying system that you can tighten and loosen with one hand if necessary.
Pros
Extremely durable and comfortable from heel to toe
Quick-drying and draining so that you're not walking around with soggy feet
Includes an odor neutralizer to keep your stinky feet in check
Closed-toe for added protection
Very versatile as you can wear them for hiking, swimming, kayaking, paddleboarding, or boating
Cons
They're slightly pricy at over $130
---
Best Budget Water Shoes for Women
EVERNOVEL Water Shoes
For a solid and reliable pair of water shoes that won't break the bank, check out the EVERNOVEL Water Shoes on Amazon. This pair of water shoes are comfortable, grippy, and durable and cost less than $20! They're the perfect pair of shoes if you're new to water activities and don't want to spend a ton of money while you're finding out if you enjoy the water or not.
These water shoes are designed in a sock's shape, look, and fit rather than a shoe or sandal. They're like gloves for your feet, but they offer the grip, support, and comfort you need to enjoy your time in the water or on a beach. Despite how thin they are, the EVERNOVELs have built-in shock absorbers to keep your feet safe and comfortable.
They also offer excellent drainage and quick drying to prevent itchiness and soggy feet. While these shoes are perfect for time in the water or soft surfaces like a sandy beach, they aren't supportive or sturdy enough for most land activities. However, they'll do the job for paddleboarding, swimming, snorkeling, and similar activities.
Pros
Extremely affordable at less than $20
Very small and malleable for packing purposes
Excellent grip
A nice, snug fit for paddleboarding or kayaking
Come in a variety of colors and sizes
Cons
Not overly durable
Lack the support necessary to be land shoes
---
Best Non-Slip Water Shoes for Women
Columbia Women's Drainmaker IV
The Columbia Women's Drainmaker IVs are meant for activities where you'll go back and forth between wet and dry surfaces. Their soles are designed explicitly to offer maximum traction so that you can stay safe wherever you are and whatever you're walking on.
These shoes look more like actual shoes than water shoes or sandals. They resemble many of the running and hiking shoes that Columbia produces and have the same level of comfort and quality.
They're especially good for active living such as water aerobics, runs on the seashore, hikes through riverbeds, and similar athletic activities, because of their design and the level of cushioning comfort they have.
Although the design plays a role in the traction these shoes have, Columbia also uses their Omni-Grip technology to take things to the next level. The non-slip grip these shoes have isn't just on the outside. It's also on the inside. You can rest assured that no matter how wet your feet get, they won't slip inside your shoe, which is uncomfortable and dangerous.
Finally, these shoes are available in various colors and sizes for personalization. They include the style and design of a running or athletic shoe but the non-slip grip, drainage, and breathability of a water shoe.
Pros
Extremely comfortable and supportive
Look and feel more like a running shoe than a water shoe
Very breathable and non-slip
Excellent traction for walking or standing on wet surfaces
Cons
Don't drain as fast as more traditional water shoes
---
Best Hiking Water Shoes for Women
Keen SOLR Sandal
If hiking is just as important to you as water sports and you only want to invest in one pair, look no further than the Keen SOLR Sandal. If you haven't noticed yet, Keen is a top brand that makes some of the best water shoes for women and men. They have a wide selection of products that range from hiking to biking to water activities.
The SOLR sandals they make are very similar in design and price to the Newport H2s we looked at above. New and experienced outdoor enthusiasts love them for the amount of support, grip, and comfort they offer.
The SOLRs is a closed-toe sandal, which means no stubbed toes, but they're also extremely fast-drying and lightweight. This combination makes them perfect for going back and forth between the water and land.
One of the biggest things you must worry about with a hiking/water shoe is moisture retention. However, because of the mesh material these sandals use and their quick-dry lining, you won't have to worry about soggy feet. Despite having a bungee lace tie system, these sandals are relatively easy to get in and out of when necessary.
Pros
Quick-drying materials and technology
Very lightweight
Excellent traction
Enhanced comfort and stability
Closed-toe design which means toe protection
Cons
Slightly pricy at over $130
---
Most Stylish Water Shoes for Women
Sea Star Beachwear Slingback
Most of the best water shoes for women we've looked at are rugged, versatile, and meant for active things. However, if you're more worried about a quality water shoe that looks good than something you can go hiking in, you should consider the Sea Star Slingbacks.
The Sea Star Slingbacks are the perfect combination of beachwear and sandals for hitting the town. They're comfortable enough for long walks but don't have the stability or durability for extensive hikes or water sports. However, putting these sandals on will make you feel like you're on vacation no matter where you are.
They feature a comfortable but strong slingback heel to ensure a snug fit, and the bulk of the shoe consists of fabric that's soft and quick to dry if it gets wet. Don't let the stylish look of these sandals fool you. They also feel great on your feet and are surprisingly durable and lightweight.
Pros
Sleek and stylish
Absolutely ooze vacation vibes
Lightweight and comfortable
Quick-drying if they get wet
Cons
They aren't as versatile or durable as most of the other water shoes on this list.
Slightly pricy for what they are.
---
How to Choose the Best Water Shoes for Women
Traction
By definition, water shoes are shoes that you plan on wearing while you're in the water. Whether that's during a kayak trip, paddleboarding, walking on the beach, or fishing in a rocky river, you will be on wet surfaces.
As such, your water shoes must have good traction. The last thing you want is to be slipping and sliding all over the place and end up on your backside.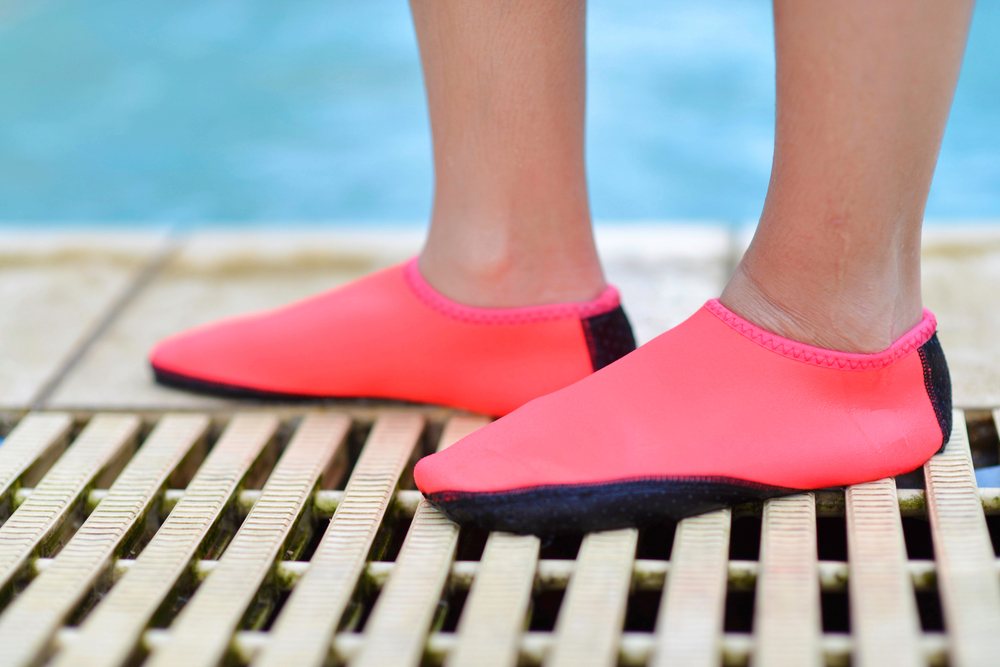 Drainage and Breathability
The best water shoes for women should also have excellent drainage and breathability. These qualities often come down to the materials used for the shoe and the number of drainage holes or ports they have.
If your water shoes aren't breathable and don't drain well, you'll be walking around with wet, clammy feet all day. Not only is this uncomfortable, but it can also lead to Athlete's foot and other foot diseases.
Durability and Comfort
At the end of the day, if a shoe isn't comfortable, you're not going to enjoy wearing it. The last thing you want is to feel like you're torturing yourself every time you strap on your water shoes.
Comfort, like drainage and breathability, comes down to the materials and design of the shoes. Brands like Keen, Chaco, Merrell, Teva, and many others don't skimp on materials and are constantly coming up with innovative designs to increase comfort.
You also don't want to be replacing your water shoes every year, which means choosing a durable pair is important. However, if you're buying a pair of budget water shoes, durability isn't as important as many of the other factors on this list.
Protection
A water shoe that offers support and protection for your feet is a good bonus. The sport or activity you're planning on doing with your water shoes is probably already dangerous enough on its own.
The last thing you need to do is make things worse by wearing a pair of water shoes that don't support and protect your feet. These features often cost extra, but it's well worth it to ensure your health and safety.
Wrapping Up the Best Water Shoes for Women
As you can see, a lot goes into choosing the best water shoes for women. Not only do you have to think about the qualities listed above, but you also have to make sure to buy a pair that matches your needs. However, as long as you use our buying guide and choose based on your intended use, you're sure to buy an excellent pair of water shoes.
If you're looking for great ways to try out your new water shoes, check out our article on 31 Fun Lake Activities to Try This Summer.
Need some more Minnesota gear? Trust our recommendations to guide your next shopping trip!
About the Author
Latest Posts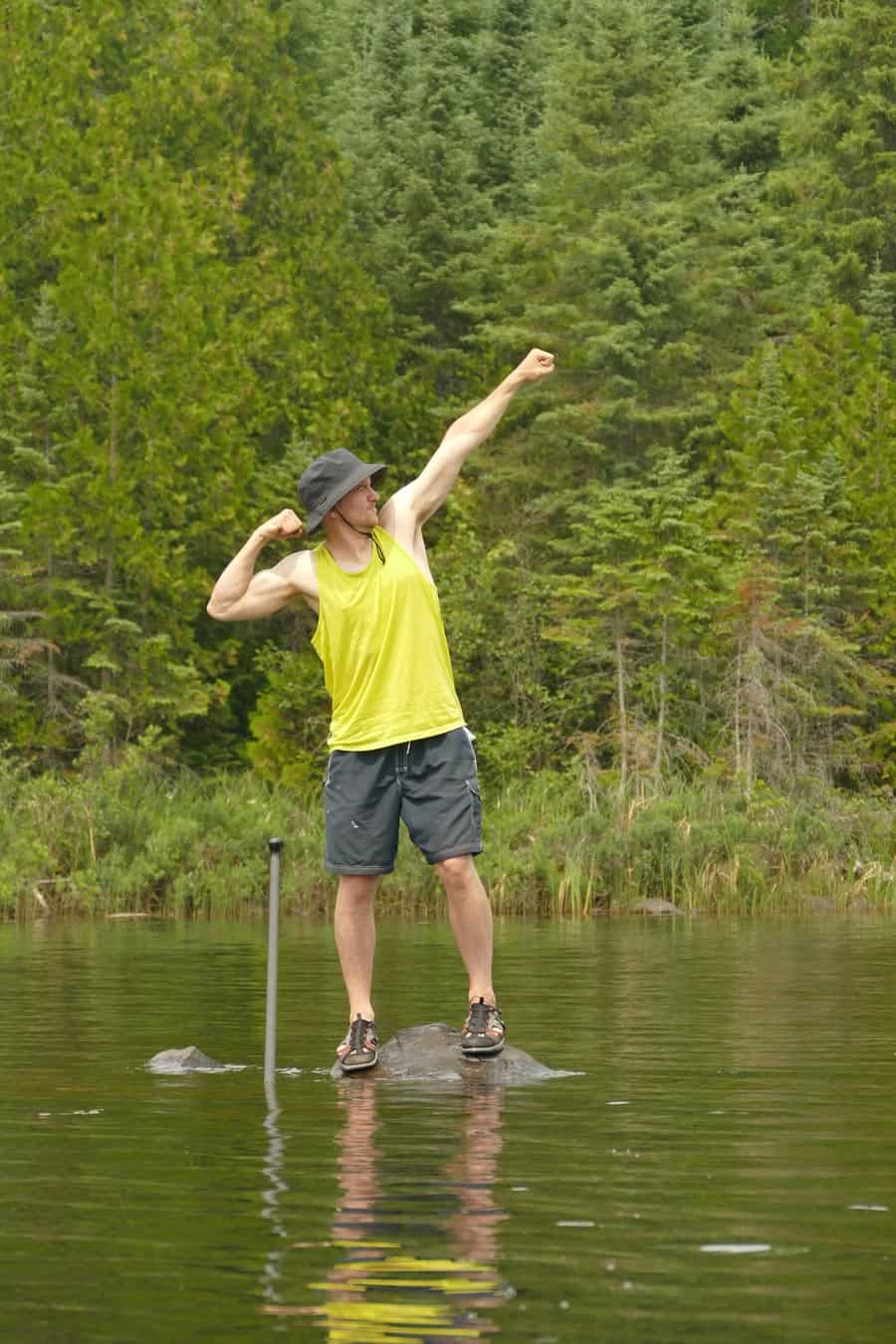 Born in Madelia, MN, to a now 5-generation Minnesota family, Ryan's MN roots go deep.
A painter by day, Ryan founded Life in Minnesota in 2013 with his wife Kelly to chronicle their musings on everything Minnesota. Ryan and Kelly are raising their 7 kiddos in Maple Grove, MN.
When he's not shuttling his kids around to hockey practice, you might find him in the shop working on his leatherwork. Undoubtedly, there will be a family trip to the Boundary Waters Canoe Area every summer, and of course weekends at Grandpa's cabin up north in the summer.