Are you traveling to Wisconsin sometime soon? The Badger State has plenty of fun opportunities for all ages to enjoy, including an array of waterparks. In fact, many people consider Wisconsin Dells the waterpark capital of the world!
The best waterpark in Wisconsin Dells features huge waterslides, vast pools, splash pads, relaxing lazy rivers, and playgrounds. Some even have restaurants, shopping, food stands, and more! There is truly something for everyone. So, get packing and head over to the midwest to enjoy the best waterparks in Wisconsin Dells!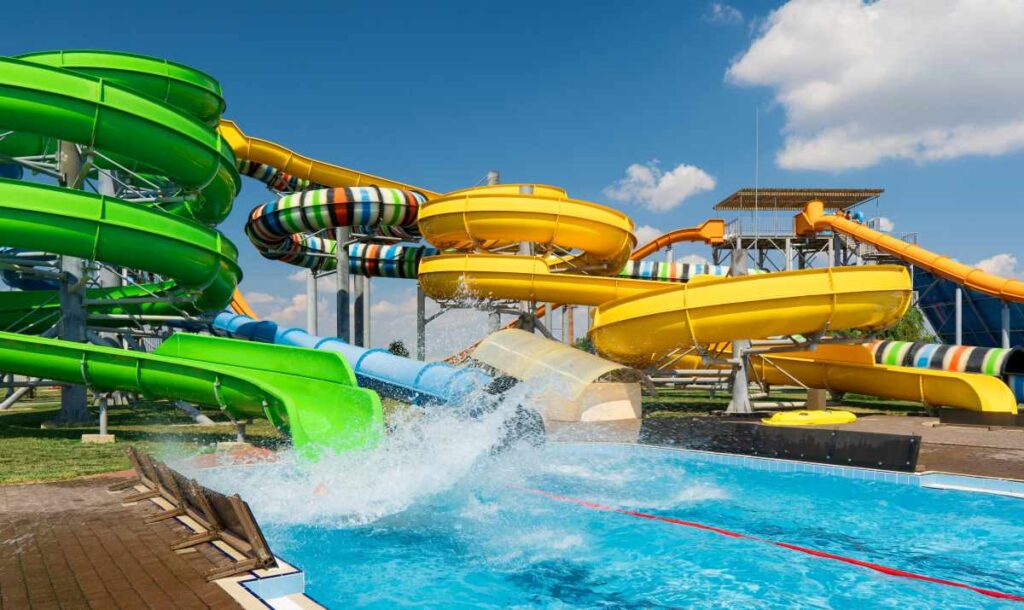 ---
1. Kalahari Resorts & Conventions – Wisconsin Dells


The Kalahari Resort is home to the largest indoor waterpark in Wisconsin! Within it, you'll find 26 water-related attractions, ranging from tranquil relaxation to extreme thrills. More fun awaits in the outdoor waterpark too with an array of waterslides, pools, and rivers. It's also one of the best waterparks in Wisconsin Dells to enjoy some non-waterpark rides, as it has a theme park!
Take the small children over to Tiko's Watering Hole for a fun water playground equipped with a kid's lazy river. Or maybe check out the outdoor Splashdown Safari where they can enjoy a huge water fort equipped with waterslides. They can also enjoy flumes, lazy rivers, and waterslides with an accompanying adult.
If you're feeling a little adventurous, try out the Master Blaster water coaster. It's 570 feet long and will definitely give you the adrenaline rush you're looking for! The Flowrider is another fun option where you can try out your surfing coordination skills on an artificial 5-foot wave. It's one of the best waterparks in Wisconsin Dells to surf safely. No ocean needed!
And if you need a relaxing break from the fun, take a swim over to the Mud Hut swim-up bar. Or check out the indoor and outdoor water spa. You'll be able to enjoy delicious and refreshing adult beverages without having to leave the water!
The whirlpool spas are also a great choice for some therapeutic relaxation, which you'll find throughout both waterparks. Help relax your muscles and joints so you can get right back into the fun!
---
2. Mt. Olympus Water & Theme Parks Resort – Outdoor Waterpark
Mt. Olympus' outdoor waterpark has some of the best themed attractions around! Enjoy a Roman-themed waterpark featuring rivers, tidal pools, waterslides, and massive playgrounds. There are nine primary attractions at this outdoor waterpark, with seven of them being kid-friendly! It's one of the best waterparks in Wisconsin Dells for children.
Enjoy a raft ride with the family and swish through the flumes of Triton's Fury or Triton's Rage. Or take a trip down the world's fastest lazy river! If you're looking for a more thrilling adventure, Medusa's Slidewheel is definitely for you. It's the first rotating waterslide of its kind in the United States, creating a type of waterslide Ferris wheel!
The Lost City of Atlantis is perfect for kids, as it features a huge water fort. Kids can enjoy seven waterslides, a giant soaking water dump bucket, and plenty of fun playground features. But it isn't just for kids. If this sounds exciting to you, adults can enjoy this area as well!
The Great Pool of Delphi is a fun area for all ages, as there aren't any age restrictions! It's one of the best waterparks in Wisconsin Dells for babies all the way to adults! There's a massive 27,000-square-foot swimming pool, which is perfect for floating around and relaxing. You can also find beach areas, a splash pad for kids, a towering waterfall, cabana rentals, and much more!
---
3. Chula Vista Resort Waterparks
The Chula Vista Resort has an indoor and outdoor waterpark that you can buy tickets for. So, take your pick, depending on the weather!
Chula Vista's indoor waterpark is one of the best waterparks in Wisconsin Dells, consisting of 80,000 square feet. It has seven primary parts, which will suit people of all ages!
If you have little kids, take them over to the kid play area or the Mayan Temple. They'll have a blast in the large wading pool along with water dumping buckets, small geysers, and slides. Make sure to show them the little water guns too, as they'll probably get a kick out of that!
For older kids and adults, check out the tropical river where you can float around and relax. Or, if you need something more invigorating, try racing in the rapids or riding down the water coaster!
If you need a little more to keep you busy, the outdoor waterpark has nine elements to check out. Enjoy soaking up the sun by the pool with a rentable private cabana or relax on the sandy beach area.
For the adventure-seekers, there is an array of extreme waterslides and a sports pool to get some energy out. Little kids can enjoy the six-inch deep kiddie river, splash pads, and plenty of toys. One of the play areas is right by the cabanas, so you can watch them play while you relax!
Don't forget to check out the mini golf course located right within the waterpark! It's the perfect way to end the day. It truly is one of the best waterparks in Wisconsin Dells for water and dry fun.
---
4. Noah's Ark Waterpark
Noah's Ark Waterpark is one of the most well-known and largest waterparks in the country! The park features 70 acres of family fun ranging from two relaxing lazy rivers to a water roller coaster. Whether you're looking for an invigorating thrill or just some much-needed relaxation time, this waterpark has it. You can even rent a private cabana for the day!
Try to take a trip down all 51 waterslides to help cool off in the summer Wisconsin heat. Or pretend you're at the beach by swimming around and bracing the artificial waves in the park's two wave pools!
Ensure you take breaks to enjoy some delicious meals, snacks, and ice-cold treats. You'll find a variety of food vendors, including dine-in restaurants, food trucks, food courts, and candy shops. You'll need to stay hydrated and full, especially in the summer heat!
Be sure to stop by the Dole cart to get a deliciously sweet vanilla, pineapple, or orange frozen whip! Adults can also enjoy some refreshingly cold beers or tropical drinks at the Blue Moon Bar or Big Kahuna Bar.
And don't forget to stop at one of the three gift shops on your way out! You'll find plushies, souvenirs, and treats to remember your fun-filled visit to one of the best waterparks in Wisconsin Dells!
Nearby Overnight Accommodations:
---
5. Wild Waterdome Waterpark – Wilderness Resort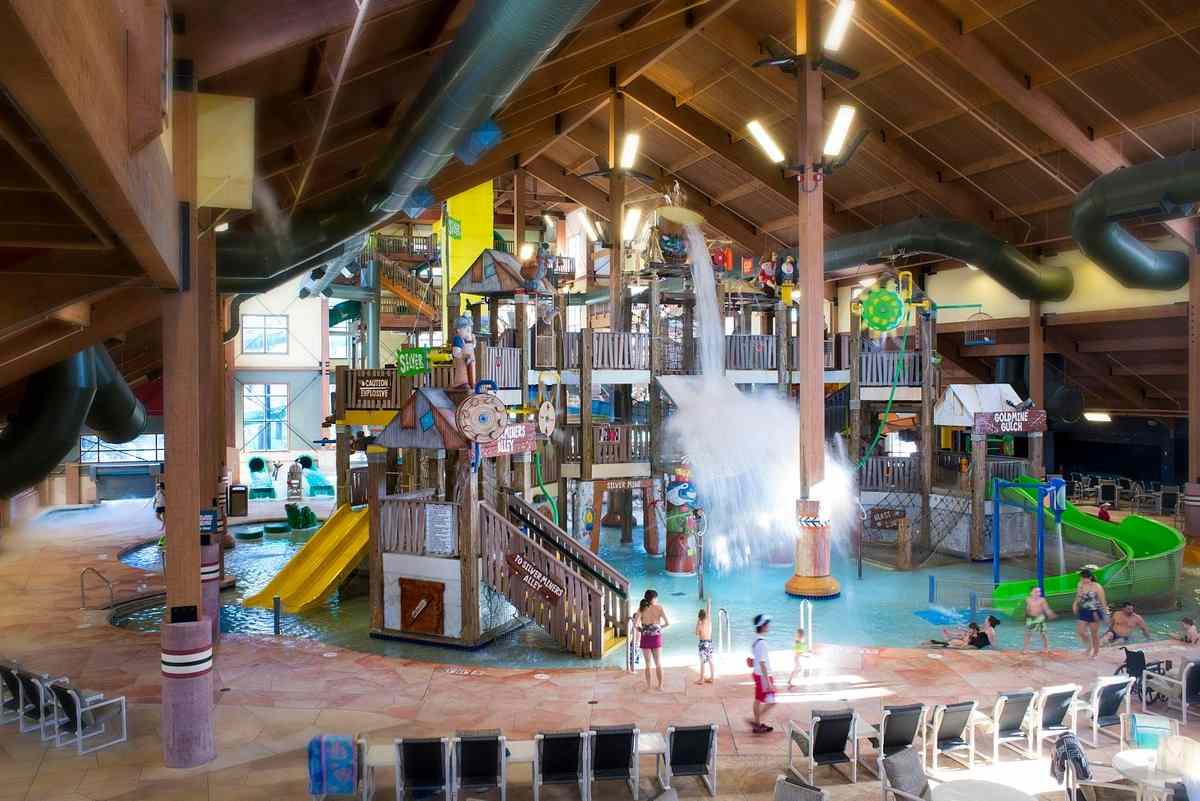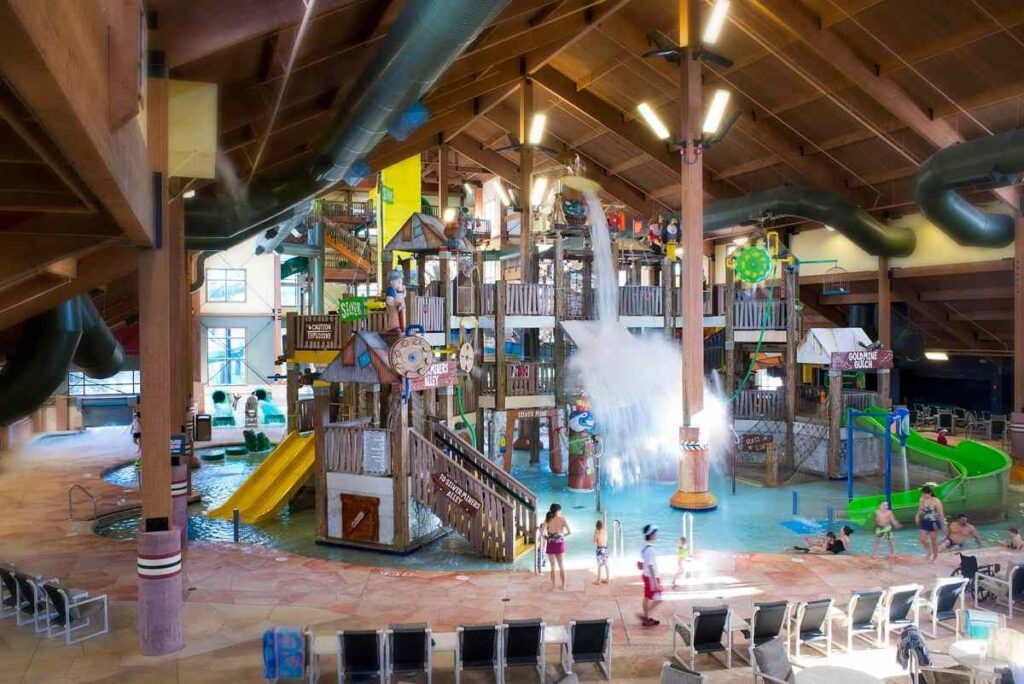 The Wild Waterdome is an indoor waterpark attached to the New Frontier part of the Wilderness Resort. It features a massive window roof, allowing you to look up and enjoy the beautiful sky while you have fun. So, make sure you have sunscreen. It's one of the best waterparks in Wisconsin Dells for tanning year-round!
Its 70,000 square feet of water fun has no age restrictions, allowing kids of all ages to have a blast. Whether you're one year old or 80 years old, there's something for you to do! The lack of age restrictions makes it one of the best waterparks in Wisconsin Dells for families.
Within this mind-blowing waterpark, you'll find the largest wave pool in the United States. Enjoy the ocean-like feel while floating around in a tube. There are also some great raft rides if you need a little more adrenaline-pumping fun.
Little ones can enjoy their time in the zero-depth water play area! It features fountains, water jets, and plenty of fun slides. It's the perfect place for toddlers to play as it's a worry-free environment for parents.
If relaxing is more your thing, there are areas for that as well! Check out the rentable cabanas, where you can nap and relax all day by the pool if you want to. Just make sure to rent the cabana before your trip to ensure you get one! They're rather popular.
To aid in your relaxation, adults can also enjoy a swim-up bar in the adults-only pool. Sip on a margarita, beer, or anything else your heart desires without leaving the water! It's one of the best waterparks in Wisconsin Dells for cocktails and water fun. And if you get hungry, there are four eateries located right inside the waterpark!
---
What to Bring to the Waterpark
When visiting the best waterparks in Wisconsin Dells, you need to think about what you'll need to pack with you. Think about skincare in the sun, the chlorine in the water, and keeping your things dry. Here are a few things to keep in mind when packing for the best waterparks in Wisconsin Dells.
Towels
Whether you go to the beach or a waterpark, you'll always need towels. Some of the waterparks on this list provide towels or sell towels. But, packing your own is always a good idea in case there aren't any available. Opt for some quick-drying and absorbent towels, so you don't have to keep using a sopping wet towel.
Sunscreen
If you'll be in an outdoor waterpark, you should always wear water-resistant sunscreen. Without sunscreen, you can expect a nasty sunburn. Skin cancer is also possible down the road. This is one of the most common cancers, as one out of every five Americans will get it.
Goggles
When visiting the best waterparks in Wisconsin Dells, you can expect to smell a lot of chlorine from the water. While chlorine is great at disinfecting the water, it can be harsh on the eyes. This is especially true if you open your eyes underwater. To help with this, a nice pair of swim goggles might be a good investment.
Waterproof Phone Pouch
Keeping your electronics safe at the best waterparks in Wisconsin Dells should be another top priority. Opt for a waterproof phone pouch, to keep your phone protected from splashes and drops in water. Water damage is hard to fix, often leading to a new phone purchase.
---
Frequently Asked Questions
Which waterpark is most popular in Wisconsin Dells?
Noah's Ark is by far the most popular of the best waterparks in Wisconsin Dells. It has the most to offer with attractions, food, and shopping.
Where is the largest indoor waterpark in Wisconsin Dells?
The Kalahari Resort has the largest indoor waterpark in the state of Wisconsin. It has over 100,000 square feet of water fun.
Which Wisconsin Dells waterpark has the largest waterslide?
The Point of No Return in Noah's Ark Waterpark is Wisconsin's tallest waterslide at 100 feet tall. And the Black Anaconda in Noah's Ark is one of the longest, spanning over ½ mile long.
---
Wrapping Up the Best Waterpark in Wisconsin Dells
No trip to Wisconsin is complete without a visit to one of the best waterparks in Wisconsin Dells! Whether you want relaxation on a lazy river with some cocktails or adrenaline-pumping fun, these waterparks have it all!
Are you looking for more waterpark options? Check out these 11 Best Indoor Waterparks in Minnesota!
About the Author
Latest Posts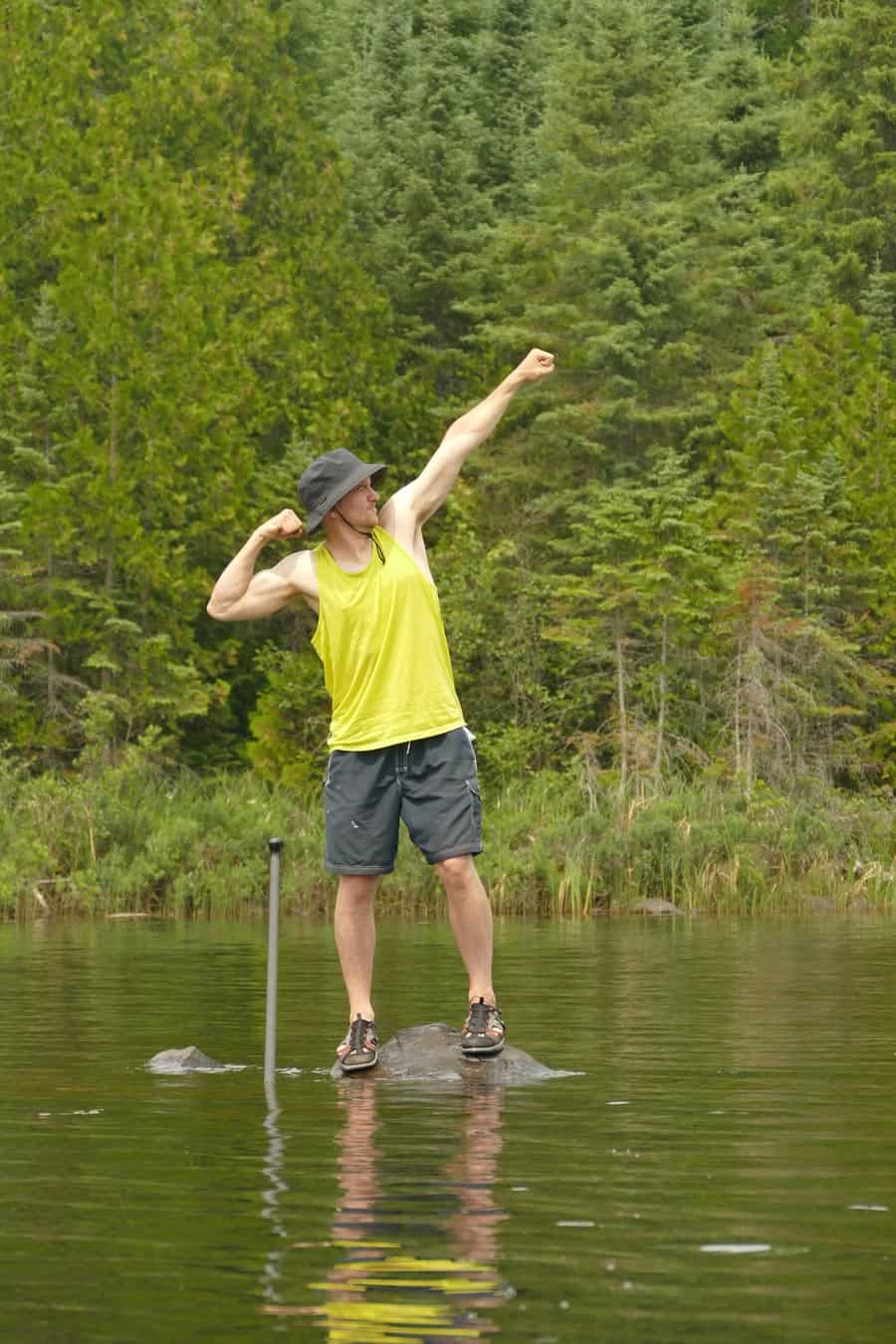 Born in Madelia, MN, to a now 5-generation Minnesota family, Ryan's MN roots go deep.
A painter by day, Ryan founded Life in Minnesota in 2013 with his wife Kelly to chronicle their musings on everything Minnesota. Ryan and Kelly are raising their 7 kiddos in Maple Grove, MN.
When he's not shuttling his kids around to hockey practice, you might find him in the shop working on his leatherwork. Undoubtedly, there will be a family trip to the Boundary Waters Canoe Area every summer, and of course weekends at Grandpa's cabin up north in the summer.