Breezy Point, Minnesota is a beautiful city bursting with fun vacation cabins just waiting for you to rent! The area sits around Pelican Lake, giving you lakeside options to enjoy some water sports and swimming. Or you can choose a quiet oasis located in a woodsy area. Breezy Point cabins have everything you're looking for and more!
Whether you want a rustic cabin getaway or something a little more modern, there is something for everyone's taste! Use this list of Breezy Point cabins to start planning your next getaway!
---
Best Breezy Point Cabins With Lakeside Views
1. Luxe Breezy Point Escape With Dock and Fire Pit
This three-bedroom, two-bathroom Breezy Point cabin combines elements from rustic and modern designs to create a cozy feel. It's the perfect atmosphere for board games, which the host provides, and cozying up by the fireplace!
If the weather is warm, enjoy a fun-filled day on the private dock over Pelican Lake! Sunbathe or show off your diving skills as you jump into the refreshing lake. End your day by the fire pit listening to the relaxing noises of the lake.
Features:
Cost: $$
Balcony
Towels provided
---
2. Pelican Lake House
This Pelican Lake house has two family suites, hosting up to 16 guests in total! It's the perfect Breezy Point cabin for large families or friend groups who like their personal space.
Enjoy your time outdoors with a private dock over the vast Pelican Lake. Ice skate or ski in the winter, and swim or enjoy water sports in the summer! The host even allows you to use their four kayaks to make your vacation the best it can be.
If you like the lake views but would rather stay indoors, this cabin comes equipped with a game room! Enjoy a game of pool, ping pong, or table football after your long day of Minnesota adventures.
Features:
Cost: $$$
Heated garage game room
It sits within a ski resort
---
3. Architect-Designed Waterfront Cabin Suite
When you're looking for a quaint little cabin getaway, this architect-designed Breezy Point cabin is the place for you!
Beautiful wildlife-protected forests surround this cabin, along with stunning views of Shaffer Lake. So, grab your binoculars and view local birds, animals, and other wildlife until your heart's content!
Take a trip to Breezy Point Resort to do some skiing. And if it's warm out, you can sunbathe on the deck or take a five-minute drive to the beach! So, pack your sunscreen!
This cabin is specifically for relaxation and enjoying what nature has to offer.
Features:
Cost: $$$
Large sun deck
Panoramic lake views
---
Best Breezy Point Cabins With Hot Tubs / Saunas
4. Lake Ossawinnamakee Cabin
This fully-remodeled Lake Ossawinnamakee cabin sits right on the lake's shoreline, leaving you only steps away from the water. It accommodates eight people in the house and an additional two in the small on-site beach house.
Enjoy your morning coffee and a beautiful sunrise on a large deck overlooking the lake and private dock. Go fishing, boating, swimming, or relaxing by the quiet lake with your dog. Yes, this cabin is pet-friendly! Then end your day with a sauna session and a seat by the fire with some gooey s'mores.
Features:
Cost: $$$
Pet-friendly
It has a small beach house with a bed and sauna
---
5. Very Rare Whitefish Chain Cabin
If you're looking for luxury, this Breezy Point cabin comes from the family of Frank Lloyd Wright (influential architect, 1867-1959)!
During your trip, you can find a pet-friendly space filled with stunning wooden accents, bright daylight, and Native American artifacts.
Take the cobblestone path down to one of two docks for swimming, fishing, and canoeing. The host provides canoes, and you can find water sports and hunting opportunities nearby as well!
Make your trip a real vacation and enjoy thorough relaxation in the sauna and hot tub throughout your stay. The host even offers cooks, yoga instructors, and more for additional rates!
Features:
Cost: $$$$
Pet-friendly
Two docks
---
6. Luxury Lakefront Cabin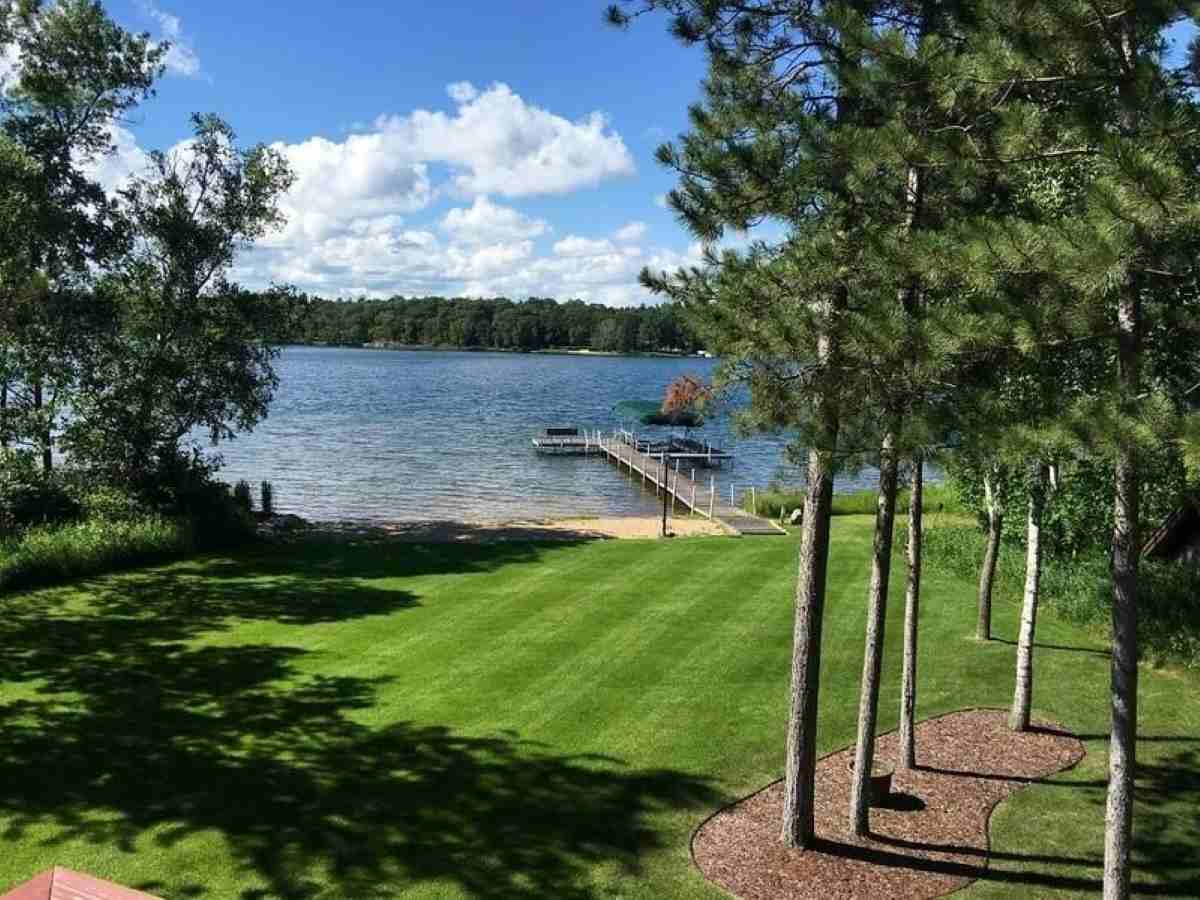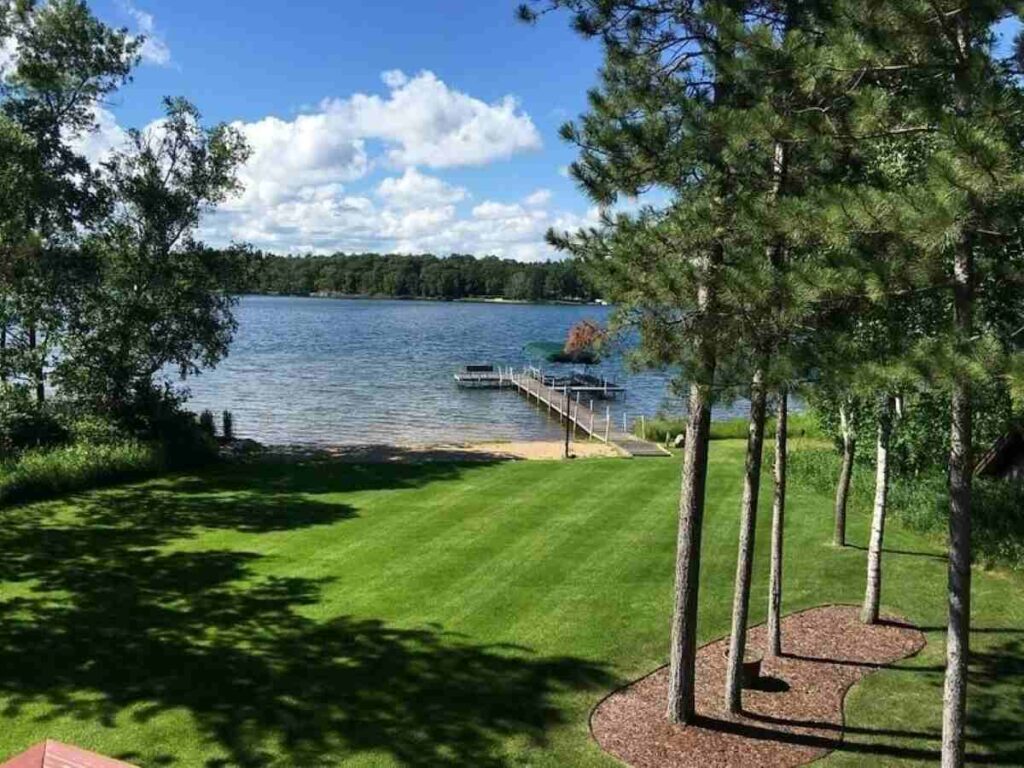 This four-bedroom, three-bathroom luxury lakefront cabin has a beautiful modern look to it with a large open floor plan. Manicured lawns, towering trees, and the Ossawinnamakee Lake surround the cabin, offering stunning views from every window. It's the perfect Breezy Point cabin for outside fun with plenty of open space, seating, a dock, and a beach!
Enjoy the lake from afar on the back deck. Or try water sports, swimming, and fishing, and even rent the host's pontoon for some boating fun!
Don't forget to take a dip in the hot tub!
Features:
Cost: $$$$
Boat available
Located in a ski resort
---
Best Breezy Point Fishing Cabins
7. Upscale North Woods Cabin
Lakeside Breezy Point cabins like this upscale North Woods cabin are perfect for all your fishing endeavors. Little Pelican Lake is just a 27-foot walk from the cabin. This is where you'll find a dock that offers some of the best bass fishing around!
Even if you aren't into fishing, you can enjoy plenty of other water-related activities. Try jet skiing, swimming in the shallow water, and taking a boat ride. Or just relax on the little sandy beach to catch some rays. The fire pit makes the perfect ending to a fun-filled day and offers gorgeous sunset views over the calm lake.
Features:
Cost: $$$
Boat available
Has a private beach
---
8. Waterfront Getaway for Kayaking, Canoeing, Boating, and Relaxing
This waterfront getaway is one of the best Breezy Point cabins for anything water-related! It's a cozy and homey-feeling three-bedroom cabin that sits on the edge of Pelican Lake. Enjoy private dock fishing, canoeing, boating, kayaking, and much more in the summertime! Or try out cross-country skiing or ice fishing in the winter.
The stone fireplace is perfect for gathering around after a long day to have great conversations and relaxation time!
Features:
Cost: $$$
Private dock
Fire pit
---
9. Lakefront Home – Snowmobiling and Fishing
This lakefront Breezy Point cabin sits in the perfect area to enjoy mesmerizing sunsets each day of your stay. The home features two bedrooms, one bathroom, and a great four-season room that doubles as another bedroom!
Enjoy the vast grassy yard, a private dock, and plenty of sporting opportunities. Be sure to bring your fishing pole, as there is an abundant fish population.
Depending on the season, you can try your hand at wakeboarding, snowmobiling, skiing, snowshoeing, and much more! Brainerd International Raceway, beaches, and shops are also nearby. You will always be busy at this Breezy Point cabin!
Features:
Cost: $$
Private dock
Four-season porch
---
Best Log Cabins in Breezy Point
10. Rustic, Cozy Vacation Cabin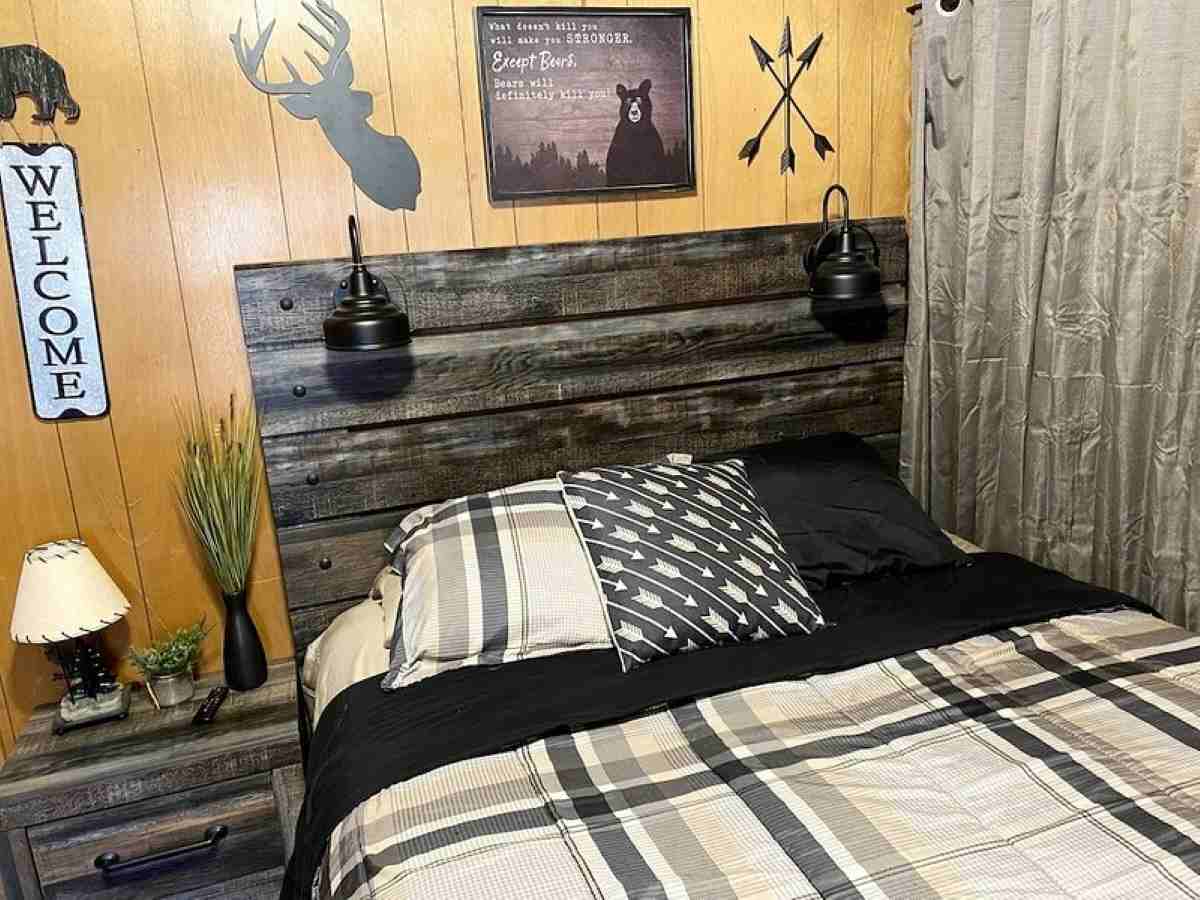 A rustic, cozy cabin is an excellent place to stay to put your worries at ease and relax your body. This three-bedroom log cabin sits inside Breezy Point Resort, where you can use all the offered amenities.
If you aren't interested in the amenities, that's okay too! Simply chill out at the cabin. Enjoy its large backyard that comes equipped with a fire pit, firewood, and a wide selection of fun yard games. The marina is also a short drive away if you're looking for water sports or a boat ride.
Features:
Cost: $$$
Propane fire pit
Fully-stocked kitchen
---
11. Peaceful Breezy Point Cabin
This peaceful Breezy Point cabin has all the likings of a log cabin look with some modern touches. It's a lovely two-bedroom relaxation retreat for pet-loving families and friends!
Pelican Lake is about a mile away, and Breezy Point Resort is even closer. With this, golfing, swimming, fishing, and much more are just a short drive away! Or you can enjoy some winding down time by the fire pit. Whether you're looking for entertainment or quiet time, you can have it all!
Features:
Cost: $$$
Pet-friendly
Wood-burning fireplace
---
12. Boulder Rock Bungalow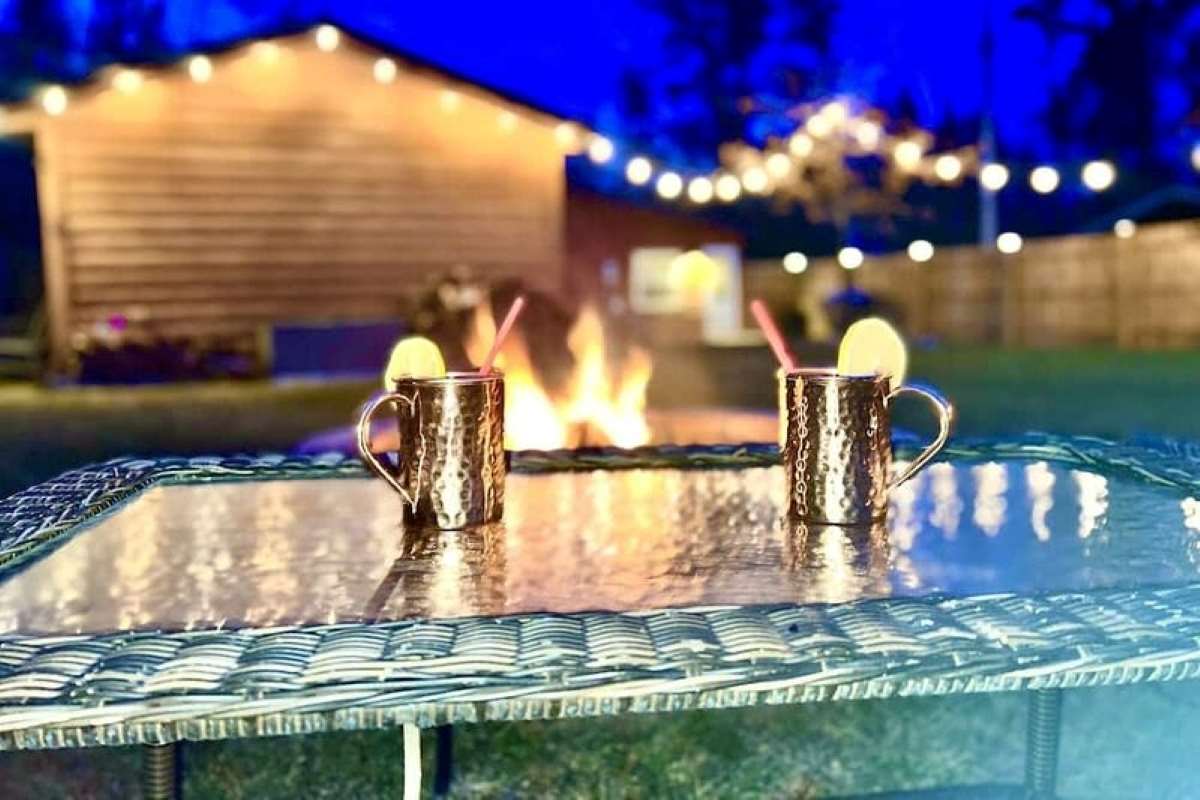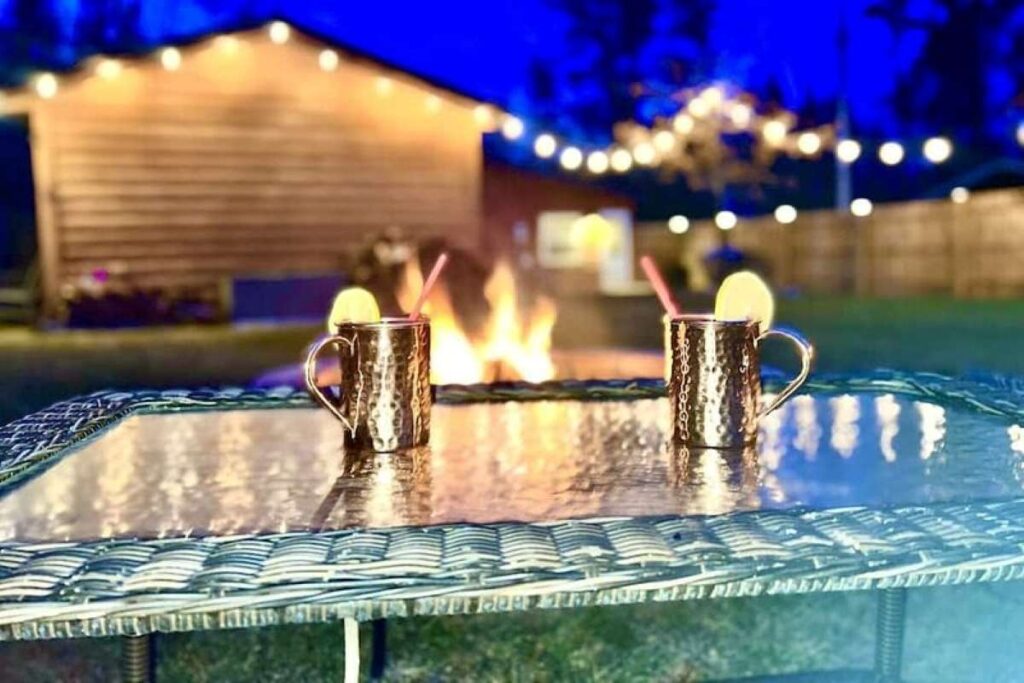 The Boulder Rock bungalow is a pet-friendly log cabin with quite a bit of space to use. The inside has a homey, yet modern feel, with ample outdoor space. Happily enjoy the stone patio and grassy yard, and stay warm by the large fire pit when the sun sets.
If you need more excitement, the beach, resort, and other entertainment are just a walk away! Are you visiting in the winter? There are some snowmobiling paths just across the street!
Features:
Cost: $$$
Pet-friendly
Large fire pit
---
Heading to Duluth Too? Here Are the Best Log Cabins in Duluth
13. Secluded Duluth Lakefront Log Cabin
If you feel like taking a trip to Duluth, this secluded lakefront log cabin is everything you need and more. It can sleep up to 15 people and is dog-friendly, so don't leave your furry friend behind!
This Briar Lake lodge offers plenty of fun activities, including fishing, kayaking, four-wheeling, skiing, and more. The host even provides kayaks and canoes at the dock to get you started. Don't forget to check out the large fire pit for a relaxing end to the day!
Features:
Cost: $$$
Pet-friendly
Access to kayaks, canoes, and paddle boats
---
14. Skyhaven House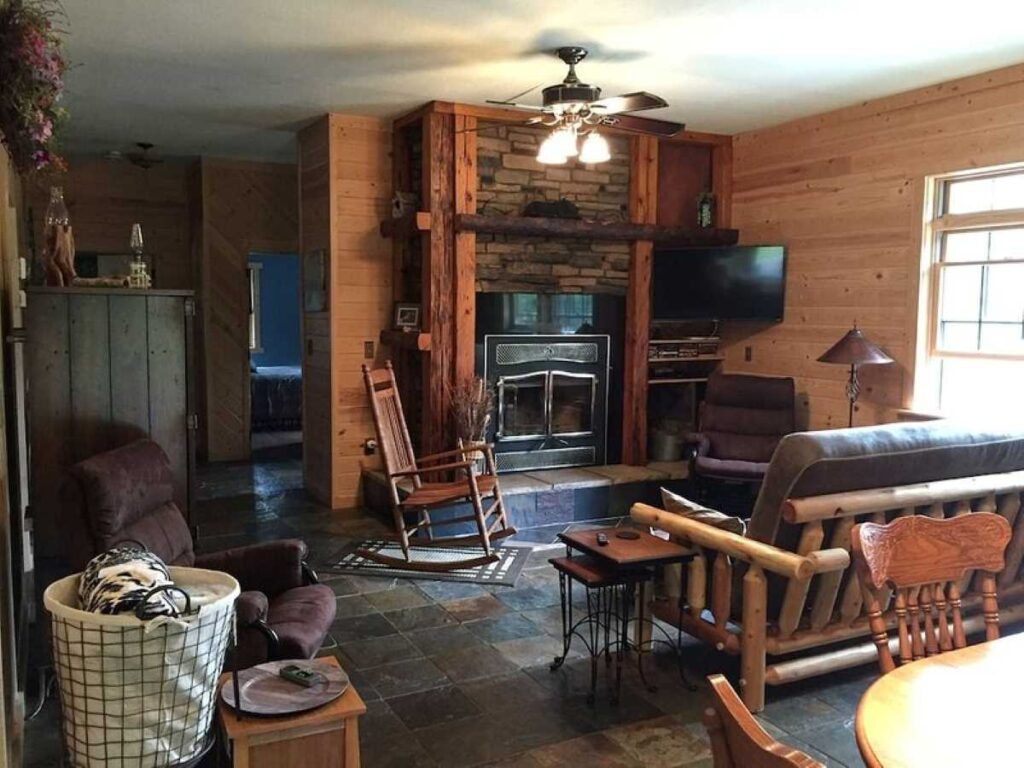 The Skyhaven House is another great pet-friendly option when visiting Duluth. This beautiful log cabin sits on 20 acres of sprawling forest, offering you a secluded oasis. Take advantage of the long walking trails that surround the home for an immersive nature experience. Or take a seat by the fire pit and grill up your favorite meal on the charcoal grill.
This is truly the best nature retreat for full mind and body relaxation.
Features:
Cost: $$
Pet-friendly
Walking trails
---
Wrapping Up the Best Breezy Point Cabins
Whether you're looking for a fun-filled vacation or a relaxing retreat, these Breezy Point cabins should be on your list! They offer fun water and snow sports with just the right amount of cozy comfort to unwind from stress.
Are you looking for more Minnesota cabin options? Check out 21 Amazing Cabins for Rent In Minnesota!
About the Author
Latest Posts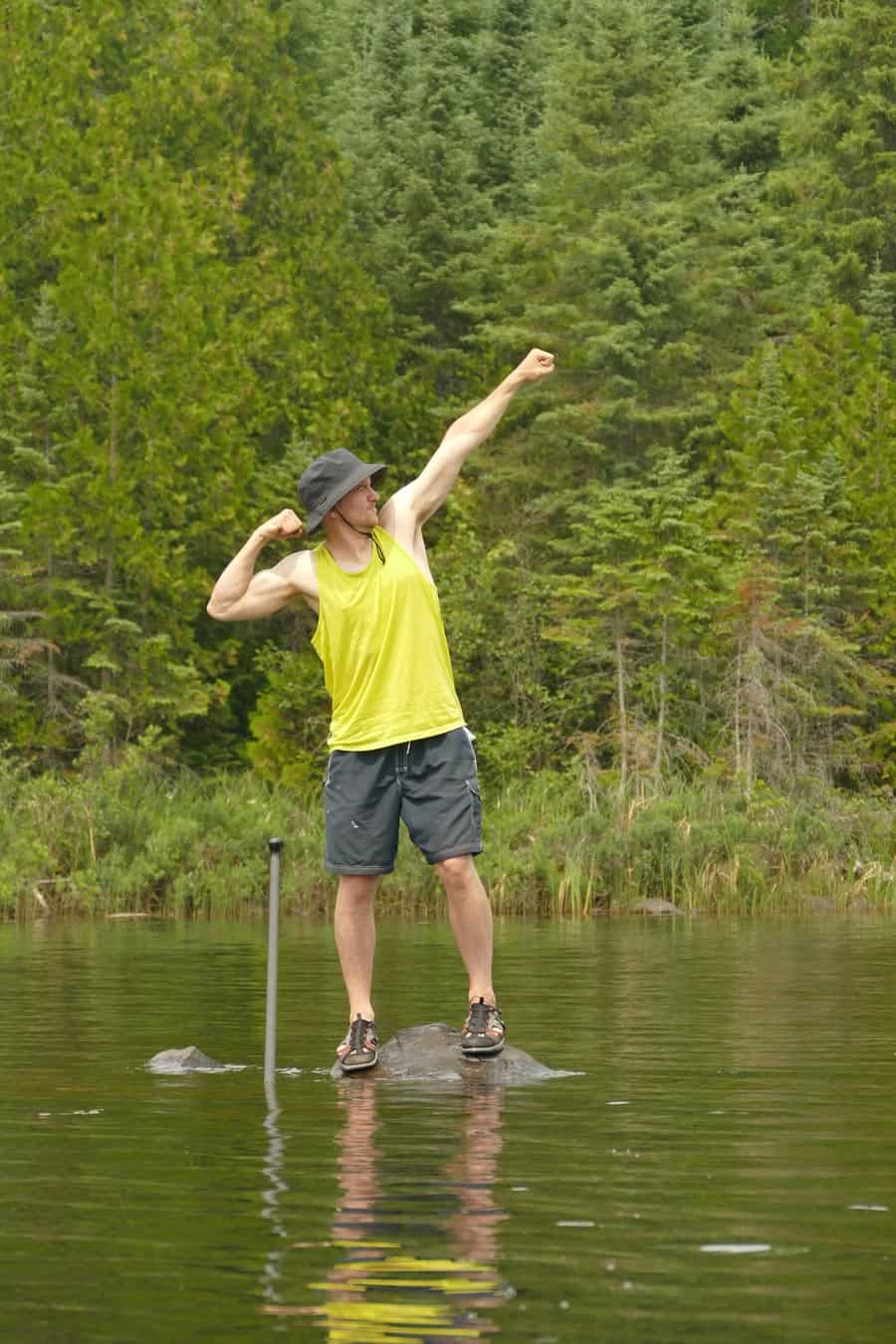 Born in Madelia, MN, to a now 5-generation Minnesota family, Ryan's MN roots go deep.
A painter by day, Ryan founded Life in Minnesota in 2013 with his wife Kelly to chronicle their musings on everything Minnesota. Ryan and Kelly are raising their 7 kiddos in Maple Grove, MN.
When he's not shuttling his kids around to hockey practice, you might find him in the shop working on his leatherwork. Undoubtedly, there will be a family trip to the Boundary Waters Canoe Area every summer, and of course weekends at Grandpa's cabin up north in the summer.