Whether your dream cabin is a small cottage nestled by the lake or a log cabin among the pines on a snowy winter's morning, you may need some ideas about interior decor.
This article will discuss some cabin decor ideas for your home away from home.
The best part of these ideas is that they can be incorporated into any cabin feel, whether modern and fresh or rustically vintage. Let's dive into some of the coziest cabin decor ideas for your retreat.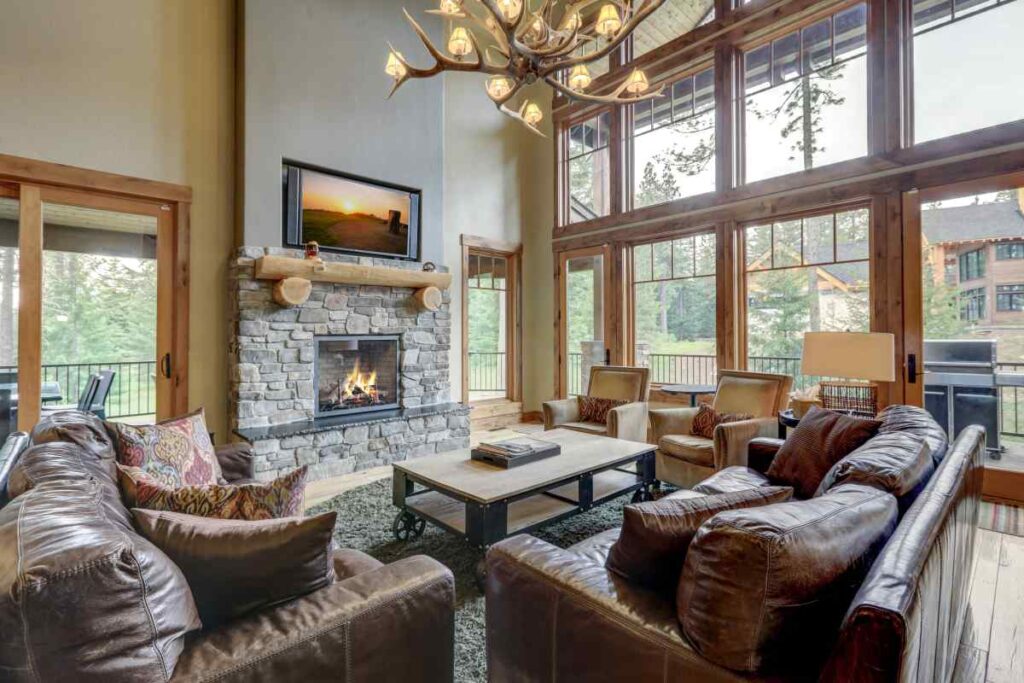 ---
Comfortable Seating
Goat Leather Butterfly Armchair
No matter the location, cabin decor always benefits from bringing the outdoor elements indoors. This goat leather armchair does precisely that, all while adding a super fun design aspect to any room.
Oversized Leather Down Filled Loveseat
This cognac leather loveseat is perfect for smaller spaces without hindering the need for fantastic comfort. The warm brown tones will have you sensing the outdoors while cuddled indoors.
Fleece Upholstered Armchair
Nothing says cozy quite like this fleece armchair. Perfect for snowy cabin vibes, this chair brings not only a comfy place to relax and a softness, especially for a log cabin. After hitting the slopes, I could imagine sitting here with a hot tea and a good book.
Seating Pro Tips and Tricks:
Hides and leathers in neutral colors set a beautiful tone and style direction.
---
Fluffy Pillows
Fluffy, cozy pillows are just one item that makes a space much more inviting, no matter what style you choose for your cabin.
Another excellent way to bring in the outdoors is using different textures and patterns.
Cabin Sweet Cabin Pillow
Bring in that rustic charm with these sweet cabin throw pillows. The natural textures are perfect for that chic farmhouse feel.
The Mountains are Calling Pillow
These stunning black pillows are super trendy without sacrificing any of that cozy cabin comfort.
Perfect for the mountain cabin, the simple designs bring the mountain feel indoors without going over the top.
Fluffy Fleece Throw Pillows
Who wouldn't want to cuddle up with these fuzzy soft fleece pillows?
The faux fur makes these more cozy, bringing even more natural elements to the space. Great for style and function.
Throw Pillows Pro Tips and Tricks:
You don't need to sacrifice style when it comes to cabin decor. No matter what style, choose functional pillows and cushions that can be used for a lovely midday nap.
---
Soft Throws
Natural Wool Throw Blanket
Natural wool has a softness, unlike any other kind of material. Perfect to cozy up with, yet the organic feel brings a sense of nature to your cabin decor.
This wool blanket is the perfect neutral color and is begging to go side by side with your favorite throw pillows.
Chunky Knitted Throw Blanket
Texture, texture, texture. This is precisely what you need to elevate your cabin decor.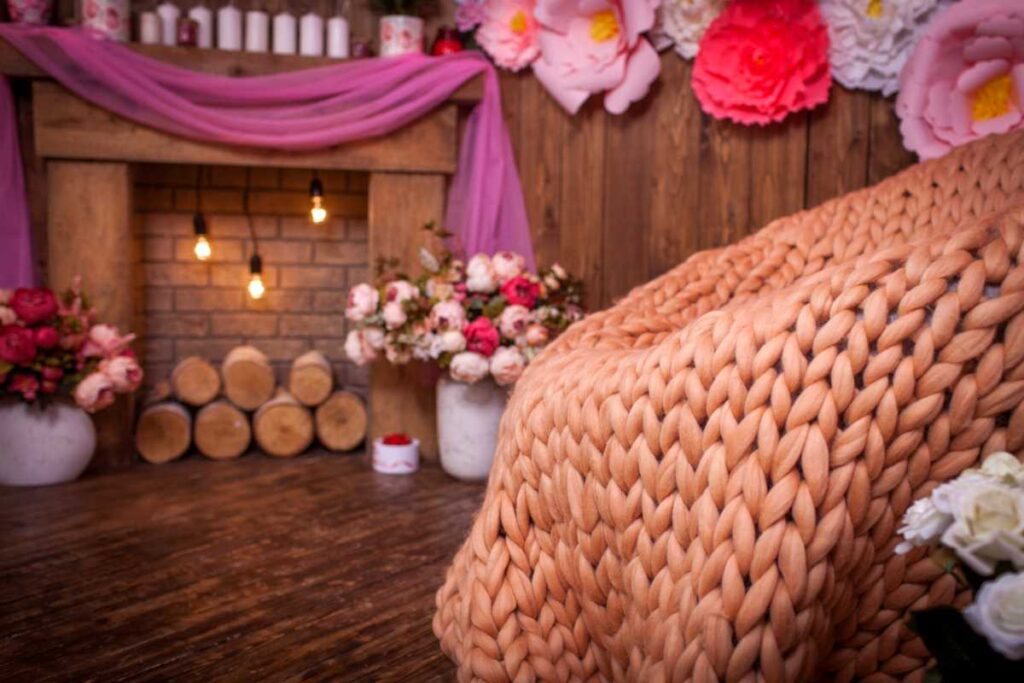 The outdoors and nature are all about different textures mixing, and this chunky knit blanket is sure to do just that.
Throw Blanket Pro Tips and Tricks:
Layering blankets and pillows with different textured materials will aid in a cozy, rustic cabin feel.
---
Inviting Wall Art
Wall art, big or small, can completely transform a living space. Choose interesting pieces that inspire a natural feel, using raw materials or elements of nature.
Deer Antler Macrame
Create a boho and modern cabin feel with this stunning antler macrame. Handmade and beautiful, you cannot go wrong when adding this to the list of must-have cabin decor.
Deer antlers are one item that tends to go hand in hand with a rustic cabin feel. So why not add this modern take on a classic décor piece?
Deer Canvas Print
Adding a statement print like this deer canvas print will draw your eye and tie your cabin decor together, bringing in the beauty of nature with a stylistic spin.
Using a canvas print with grey tones is a perfect opportunity for adding other pops of color. This print is sure to match no matter what the rest of your decor may be.
Antler Art Prints
You can't mess with the classics. These antler prints are beautiful and minimalist, perfect for that cozy cabin nestled in the woods.
The best part about these prints is you can pick what frames would match your decor already. Keep your eyes on natural wood frames or white and black to keep with the minimal theme.
Wood Mountain Floating Shelves
Smaller cabins may be crying out for extra storage, and with these floating shelves, you're in for style and function.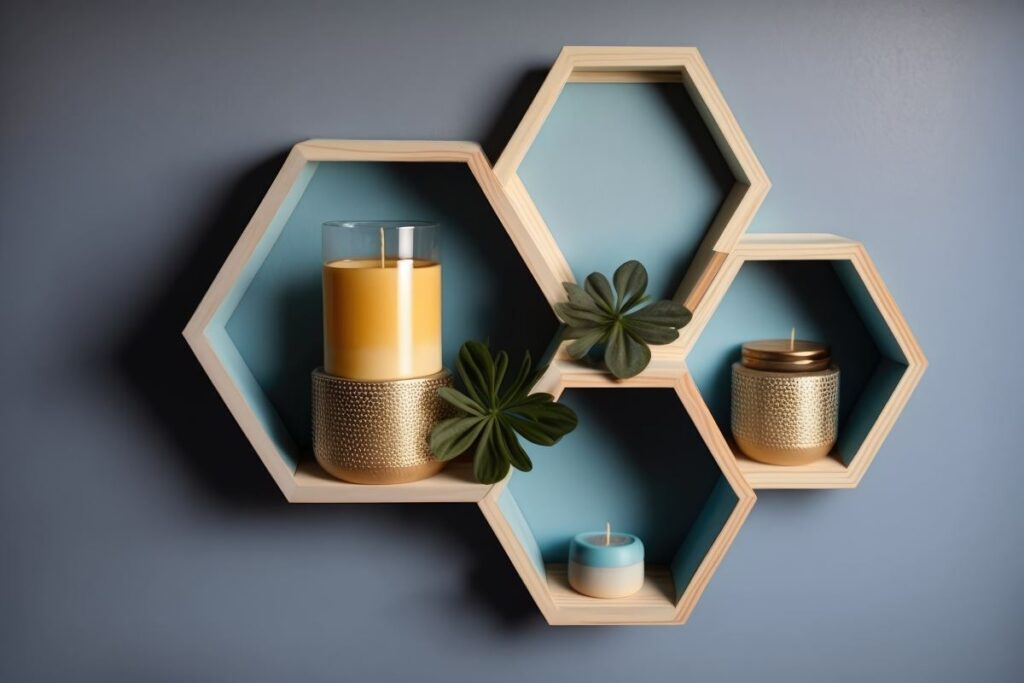 The natural wood makes these shelves feel so cozy and perfect for that tiny cabin in the mountains.
Wall Art Pro Tips and Tricks:
To keep your wall art fresh and fun, pick classic pieces like deer antlers with a fresh twist to modernize it.
Gallery walls mixed with either modern or vintage pieces with family photos skewed in give your cabin decor a personalized touch that's simply unique to you.
---
Soft Bedding
The bedroom is the perfect place to add beautiful texture to your cabin decor. Picking organic materials can keep more of a rustic feel, whereas fleece lined will keep that cozy vibe on a high level.
Knit-Look Wool Duvet Cover
Something about this wool duvet is the small cabin next to the ski lodge vibes, and we love it. Keep warm in this stunning duvet while adding texture and color to your cabin bedroom.
Faux Fur Comforter Set
Get ready to snuggle up with this faux fur comforter set. Adding the faux fur brings in fantastic texture and would look warm and cozy in any style, cabin rustic or modern.
Bedding Pro Tips:
When it comes to the bedroom, opt for organic feeling textiles and add tons of color, patterns, and texture with pillows and bedding.
---
Cozy Clutter
Clutter refers to tabletop decor, vintage finds, personalized items, and anything that makes your space yours.
Whiskey Barrel Stave Candle Holder
This candle holder is the perfect table centerpiece or mantle candle holder for some rustic charm.
Flickering candlelight takes a space from dull to warm and inviting, creating the perfect cabin ambiance.
Mini Wooden Bear Figurines
These mini wooden bear figurines are the perfect classic rustic cabin decor. These are perfect for tabletop decor or anywhere needing some sprucing up.
Personalized Log Cabin Coasters
Add some personalized coasters for the endless amounts of hot cocoa or a nice glass of wine after enjoying the peace of nature around you. Personalized touches keep your cabin feeling as homey and cozy as possible.
---
Finding Your Style
Rustic Charm
When thinking of your typical cabin decor, you probably are thinking of the rustic decor style we see in some of our favorite films, and there's a reason why this is the go-to cabin decor.
Cozy muted and colorful prints, Adirondack rugs, and natural wood furniture make this cabin decor comfortable and relaxed.
When shooting for this decor style, stick with the classic and keep bringing the outdoors in. Natural wood furniture, hides, leathers, and green nature-toned colors will bring this decor style to life. To make it more modern, add farmhouse elements, greenery, wooden signs, and burlap to take this style to the next level.
Modern Cozy
Modern cozy is all about mixing soft textures, warm grey or neutral-toned colors with modern furniture pieces, and fleece-lined everything.
Gallery walls, faux sheep skin, black accents, and patterned rugs are sure to bring your space that modern yet cozy feel.
Pick cool neutral tones of colors with emerald green and black pops for your decor. Fluffy pillows, soft blankets, and candles will bring home the cozy factor.
Vintage and Thrifty
Looking for a fun, more personalized cabin decor theme? You can go in the direction of vintage and thrifty.
Browse through vintage resale shops, hit the garage sales, and search the marketplace for sweet finds for your new cabin digs.
Camp-style blankets, iron bed frames, and simple furniture are just some items that can bring in that vintage feel.
When thrifting, look for old skis, clocks, vintage lamps, and old-school art pieces that showcase your personality. This is, after all, your cabin and your new favorite vacation getaway, so why not make it yours?
DIY Decor
DIY decor is a great way to save hard-earned cash and bring a real sense of accomplishment and truly make a space your own.
For larger furniture pieces, head over to some local garage sales. Nowadays, you can find many tutorials on refinishing wood furniture, reupholstering couches and chairs, sewing your own quilts, knitting blankets, and anything and everything in between.
DIY Decor is excellent for rented cabin spaces when you need a few things to spruce up the area for the time you'll be using it.
Just like thrifting, you can find many pieces to update, personalize, and create the cabin of your dreams in no time.
---
Follow These Cabin Decor Ideas for the Best Cozy Getaway
Whatever your cabin's location, it's an excellent opportunity to celebrate nature and bring natural aspects into your living space. This automatically creates a calm and cozy space for you to unwind.
Whatever style direction you want to take when it comes to your cabin decor, following these tips and ideas makes the process much more straightforward and fun.
When you're done decorating your interior, check out the Best Patio Furniture of the Year for some outdoor inspiration!