Offering some of the best fishing spots in the country, Minnesota consistently ranks as one of the best states for scoring your next catch. And, since it is bisected by the Mississippi River, Minneapolis itself is home to incredible fishing lakes and conveniently located piers, making it an idyllic destination.
If you are planning on fishing in Minneapolis anytime soon, read on to learn some helpful tips as well as our top location recommendations.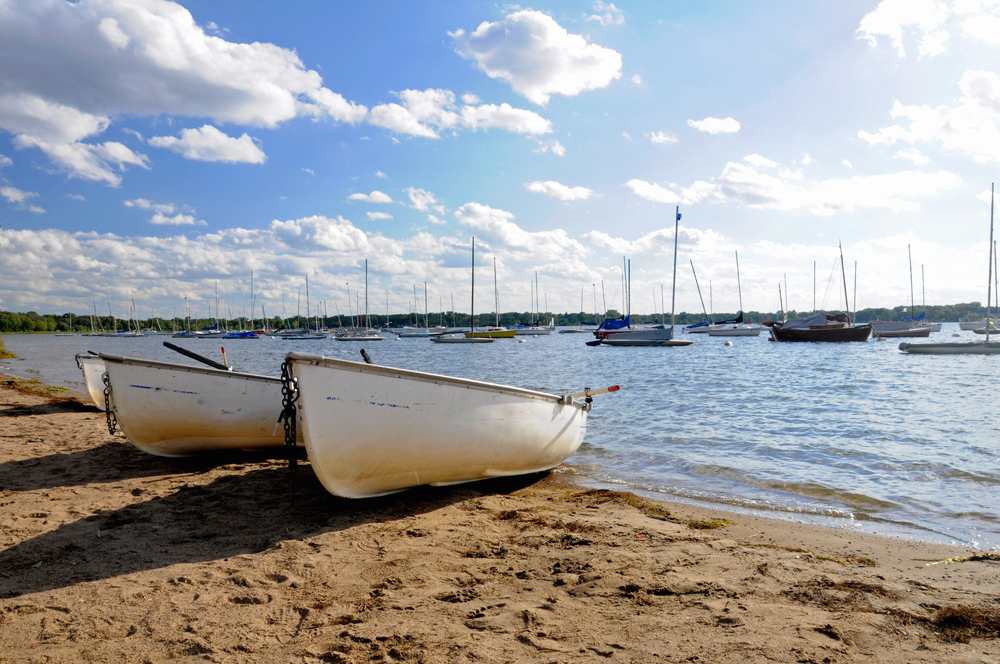 Reasons to Go Fishing in Minneapolis
So, why go fishing in Minneapolis in the first place? For starters, there are over twenty-two lakes in the city alone, not to mention the numerous lakes situated on the outskirts. The Twin Cities also offers several accessible piers that make it easy for anyone to enjoy their favorite pastime.
Minneapolis is also a great place to book a guided fishing charter. Some of the most knowledgeable fishing guides in the country work out of Minneapolis.
Other reasons to go fishing in Minneapolis include:
Numerous native fish species, including walleye, catfish, bass, crappie, salmon, and lake sturgeon.
Opportunities to ice fish in the winter months.
Annual fishing contests and tournaments.
With so many great reasons to go fishing in Minneapolis, what are you waiting for? Let's start planning your trip!
Where to Go Fishing in Minneapolis
Now that you're convinced to go fishing in Minneapolis, you can start planning your itinerary. This guide will cover some of our favorite spots for reeling in your next big catch.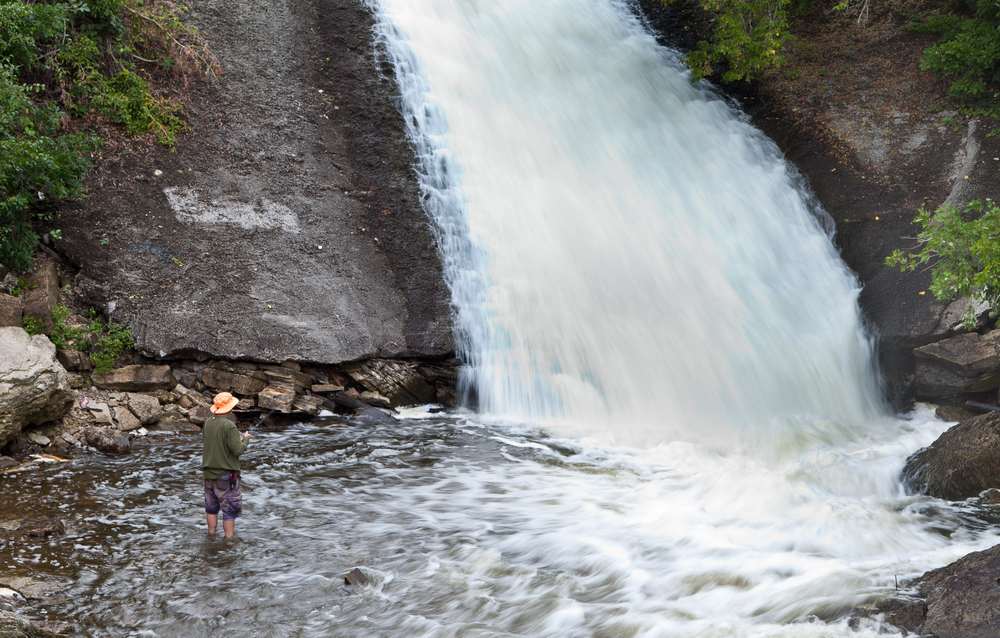 1. Lake Minnetonka
Hands down one of the most popular places to go fishing in Minneapolis is Lake Minnetonka. The ninth-largest lake in Minnesota, Lake Minnetonka features more than twenty bays and is home to bluegill, black crappie, hybrid sunfish, northern pike, smallmouth bass, yellow perch, and more.
There is even an urban legend about Lake Minnetonka. According to locals, a sturgeon measuring longer than ten feet lurks beneath the surface. He is fondly known as Lou, and he's been evading anglers since his legend developed in the 1980s.
Whether or not the legendary Lou exists, Lake Minnetonka is the perfect place to fish. The lake hosts several fishing competitions throughout the year, including the Minnetonka Crappie Contest and the Minnetonka Classic Bass Tournament.
Even if you are not a competitive angler, you don't want to miss the chance to go fishing in Minneapolis's most iconic lake.
2. Tony Schmidt Regional Park
Offering access to Lake Johanna, Tony Schmidt Regional Park is a convenient spot for a variety of outdoor activities. The park boasts a fishing pier, boat launch, picnic tables, playgrounds, and a swimming beach.
Lake Johanna is a great place for fishing in Minneapolis because the fish are abundant, so even novice anglers can catch numerous fish in a single visit. Fish species in Lake Johanna include largemouth bass, hybrid muskie, bluegill, yellow perch, crappie, and walleye.
3. Lake Harriet Park
Another great place to go fishing in Minneapolis is Lake Harriet Park. This picturesque locale boasts a variety of lakeside amenities and activities, including summer concerts and movies. The park's fishing pier provides convenient access to the lake's many fish species, including golden shiner, green sunfish, black crappie, muskellunge, pumpkinseed, white sucker, and more.
There are some guidelines for the consumption of fish from Lake Harriet due to mercury contamination, so this is one spot best reserved for recreational fishing only.
4. Rice Creek Chain of Lakes Park Reserve
Brimming with upland oak forests, wetlands, and an abundance of wildlife, Rice Creek Chain of Lakes Park Reserve is a beautiful spot for fishing in Minneapolis. An unfrequented recreational gem, Rice Creek Chain of Lakes is an idyllic location for anglers wanting to get away from it all and savor the peace and quiet the nature preserve offers.
Cast off from the fishing pier on Centerville Lake and enjoy lunch at one of the park's picnic pavilions. Even better, if you want to make a weekend of it, reserve one of the campsites!
5. Vadnais-Snails Lakes Regional Park
One of the notable things about Vadnais-Snails Lakes Regional Park is its more than five miles of walking trails, which provide plenty of spots for some of the best shoreline fishing in Minneapolis. Just remember to be mindful of areas with posted no-fishing signs.
Fishing in Minneapolis Without a Fishing License
Want to go fishing in Minneapolis but don't have a license? No worries! Most Minnesota state parks allow you to fish on-site without a fishing license.
6. Fort Snelling State Park
Named for the historic fort situated nearby, Fort Snelling State Park isn't just a great place for fishing in Minneapolis it is also one of the state's top ten tourist attractions.
Located next to the Minnesota Valley National Wildlife Refuge, Fort Snelling State Park is home to plentiful wildlife and fish species. Minnesota residents don't need a license to fish in the park, but non-residents will need to purchase a fishing license.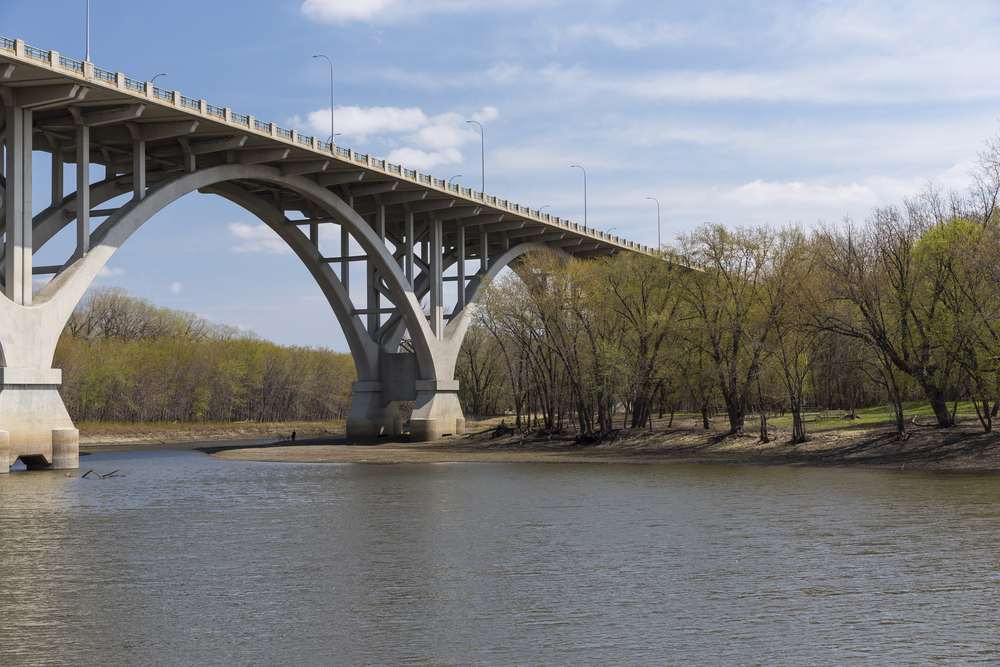 7. Afton State Park
A popular site for boating and fishing in Minneapolis, Afton State Park offers a swimming beach, hiking trails, a picnic area, and a visitor center. There is even a boat dock situated near the lower picnic area that doubles as a fishing pier.
Just be sure to skip fishing in Trout Brook, as trout no longer use this stream due to excess silt.
8. William O'Brien State Park
Offering a meandering hiking trail and access to the St. Croix River and Lake Alice, William O'Brien State Park is the perfect place to go fishing in Minneapolis without a license.
Catch walleye, northern pike, brown trout, and bass while savoring the beauty of the St. Croix River floodplain. Or, if you prefer, head to the fishing pier on Lake Alice for the stocked rainbow trout and largemouth bass.
Best Fishing in Minneapolis for Families
Just about any site mentioned above is great for anglers of all ages, but there are some locations well suited to families with children and teens.
9. North Mississippi Regional Park
Situated just off Interstate-94, North Mississippi Regional Park is a convenient oasis for fishing in Minneapolis. In addition to fish, you might spot deer, eagles, hawks, beaver, and even the great blue heron.
Easily access the park's bike trails and fishing pier on the north side of 57th Avenue N. You might even visit the Carl W. Kroening Interpretive Center, which provides environmental and nature education for all ages.
10. Lake of the Isles Park
Whether your family loves fishing from a pier or the shoreline, Lake of the Isles Park offers both. Fish you're likely to catch here include walleye, yellow perch, tiger muskie, carp, bullhead, crappie, bluegill, and northern pike.
What makes this park great for families is its long list of amenities. Enjoy an on-site hockey rink, ice skating rink, bike path, soccer field, and an off-leash dog park.
11. Wirth Lake Beach
Situated in Theodore Wirth Regional Park, Wirth Lake Beach is a fun place to go fishing in Minneapolis. In addition to a beautiful fishing pier, this location features a playground, floating swim dock, sand volleyball court, picnic area, dressing rooms, and restroom facilities. You can even sign the kids up for youth swimming lessons!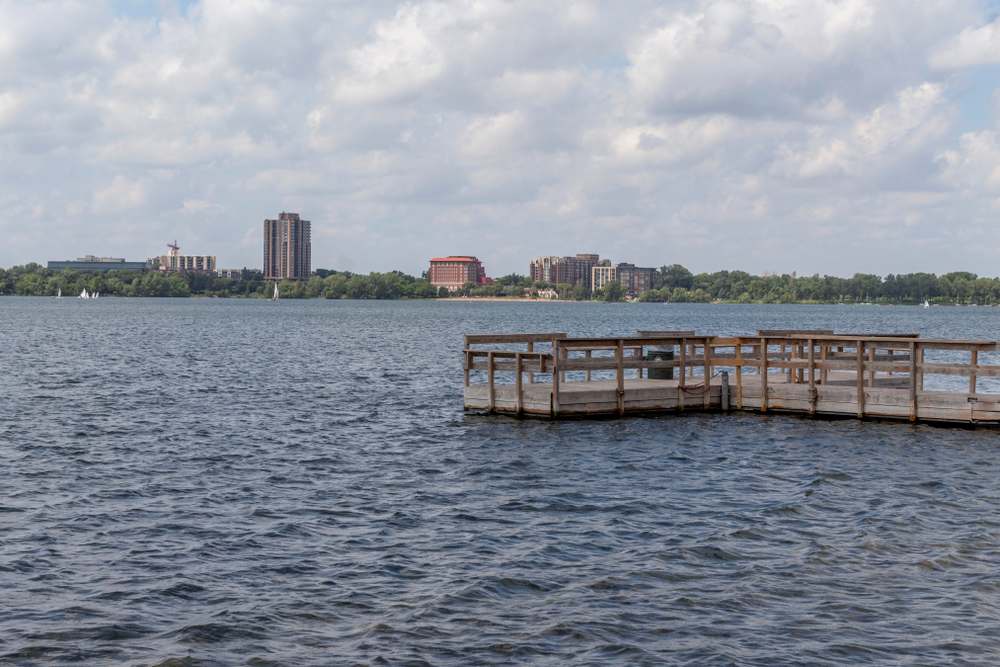 12. Bde Maka Ska Park
Another great destination with a fishing pier is Bde Maka State Park. Part of the Chain of Lakes and the largest lake in Minneapolis, Bde Maka Ska is home to numerous outdoor activities.
If you'd rather not fish off the pier, rent a paddleboat, kayak, or canoe and fish on the water! Bde Maka Ska is known for incredible fishing, which you can enjoy with breathtaking views of Minneapolis.
13. Lilydale Regional Park
The youngest anglers will enjoy a trip to Lilydale Regional Park. The waters here are home to numerous small fish that are perfect for catching with little hands. If the fish are biting, you might pull up a variety of northern pike, bluegills, and crappies.
Minneapolis Fishing FAQs
Are the fish safe to consume?
In general, yes, fish caught in the Minneapolis area are safe to eat. If in doubt, you can check Lakefinder for current guidelines.
What bait should I use?
We typically recommend using worms threaded onto a hook for fishing in Minneapolis. If you'd prefer not to use live bait, try pieces of hot dog, canned corn, or marshmallows.
Do I need a fishing license?
In most cases, you will need a fishing license if you are a Minnesota resident over the age of 16. The only exception is Minnesota State Parks, which don't require fishing licenses for state residents. All non-residents will need a license.
Time to Go Fishing in Minneapolis!
It shouldn't surprise anyone that the City of Lakes is home to some of the country's best fishing. Whether you are a seasoned angler or you'll be casting a line for the first time, Minneapolis fishing is worth experiencing.
So, are you ready to go fishing in Minneapolis? Start filling your itinerary with our recommended destinations today.
Can't get enough of Minnesota lakes? Then keep living the Minnesota lake life with the help of my info posts and guides!
Want to learn more about fishing, discover more fishing spots, and or read up on the best fishing gear? Then continue your fishing adventure with our comprehensive guides, info posts, and more!
Love spending time outside? Then discover the Minnesota Outdoors to continue learning new ways to reconnect with nature!
Still looking for more fun adventures? Then checkout all the great things to do in the Twin Cities!