---
Floating Cooler Buyer's Guide
Type of Cooler
There are two main types of floating coolers to be aware of, which include the following:
Light-duty floating coolers: These are intended for pools and calm lakes, so you don't have to worry about them coming across a strong wave or staying cool for extra-long periods.
Robust floating coolers: These are designed for rougher water conditions, where waves might be present. They also tend to have longer cooling times.
Insulation
Floating coolers are insulated in different ways, depending on the quality of the cooler. These coolers can be insulated with one of the following materials:
Foam: Low-density elastomer or polymer that provides a thermal barrier
Dual Walled: An extra wall is used to create a thermal effect
Blow Molded: Creating hollow plastics used for thermoplastic by heating and inflating a plastic tube
Double Weave: A cloth with two sides that is stuffed in with insulation to create a thermal effect
Storage Size
Most floating coolers have a storage size between 9 and 40 quarts, which includes ice and beverages. Sturdier, robust-built coolers are going to be capable of holding more ice than smaller floating coolers.
While a 9-quart cooler may be able to hold as many cans as a 40-quart, it can't hold as much ice. This means the drinks will not stay cool for long.
When considering the storage size you need, consider both a) how many beverages you need to take with you and b) how long you need your beverages to stay cool.
Cup Holders
Cup holders are a bonus that many floating coolers are equipped with. If your floating device doesn't have a drink holder, you can easily place your soda can in the cooler's cup holder without worrying about the drink tipping into the lake or pool.
You should also consider the sturdiness of the cup holders because some inflatable drink holders are not sturdy, which could result in losing your drink in the water if the floating device tips.
Linkability and Towability
You want your floating cooler to stay close by, so pay attention to how your floating device can connect to tubes and boats. You also want to make sure the cable is sturdy so it doesn't break and leave your drinks stranded.
Materials
Floating coolers are either made from hard or soft materials.
Hard Materials
Common hard materials used in floating coolers include High-Density Polyethylene (HDPE) or Synthetic.
HDPE is a level 2 plastic and known for being able to withstand extremely hot temperatures. It's also known for being incredibly durable, like our premium choice, the Cuddy Floating Cooler and Dry Storage Vessel.
Synthetic materials are created by combining plastic and different materials in a lab. These materials are versatile and more affordable than HDPE, which is what makes the CreekKooler Floating Cooler such a great value.
Soft Materials
Common soft materials used in floating coolers include vinyl and nylon.
Vinyl is commonly used as a shorthand for polyvinyl chloride (PVC), one of the most widely used types of plastics in the United States. PVC is a high-strength thermoplastic material.
The caveat with PVC is research suggests it may be toxic to human health and the environment because it uses large amounts of chlorine and dioxin (which may be the cause of the smell reported in the TRC Recreation Water Resistant Floating Drink Kooler).
Nylon is a silk-like thermoplastic, often made from petroleum. Nylon is a sturdy, durable material, but the biggest disadvantage is it easily absorbs water (which is probably the reason water sneaks into the Airhead Aqua Oasis's cup holders.)
---
Floating Coolers Frequently Asked Questions
How long is a floating cooler supposed to stay cool?
This is dependent on the cooler you choose and the weather conditions. A hard cooler like the Cuddy or the CreekKooler can stay cool for up to 48 hours. Softer materials may only stay cool for two to four hours in the hottest conditions.
Will any cooler float in the water?
You can float most coolers on top of a floating device, but most coolers are not capable of floating on their own.
If you are going to be spending an extended amount of time in a pool or water with your cooler, invest in a cooler specifically designed for floating so you don't have to worry about your cooler potentially slipping away from its floaty and sinking.
---
Wrapping up the Best Floating Cooler for the Lake or Pool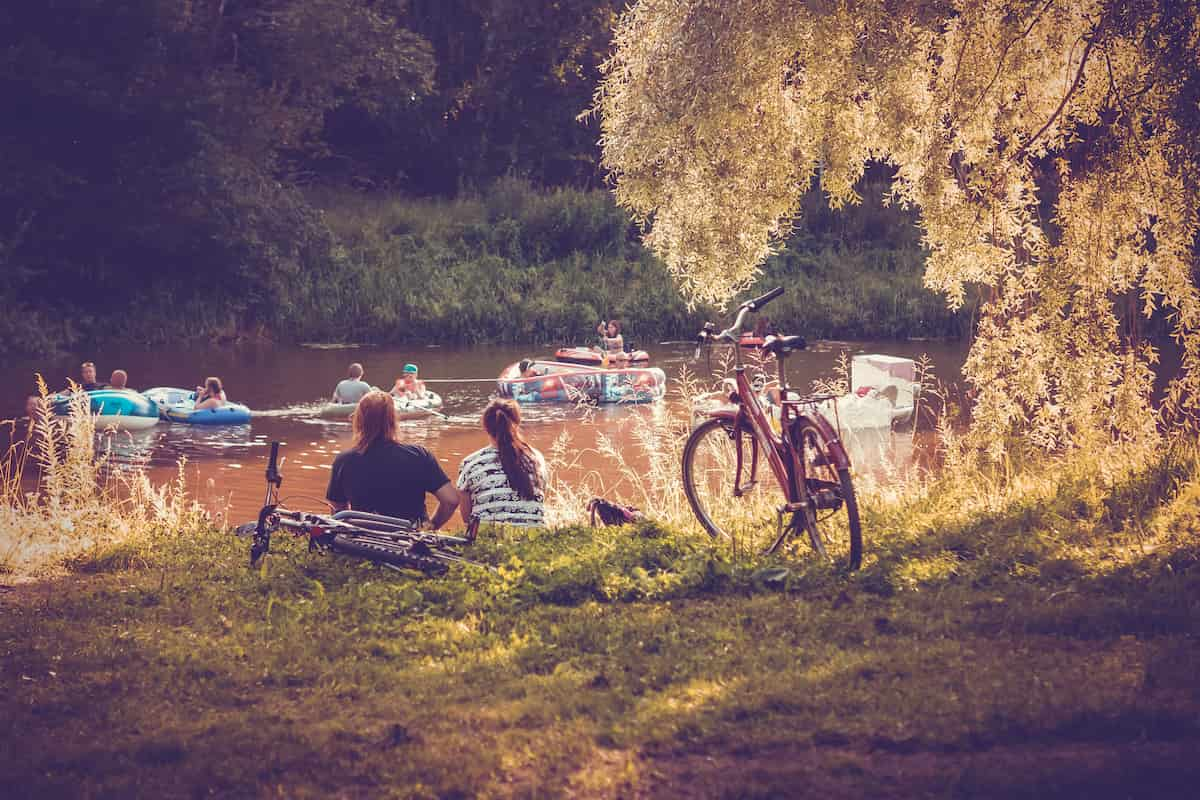 You're ready to float all summer long while staying hydrated. If you're a diehard water fan, be sure to get the Cuddy Floating Cooler.
Need to stock up on more gear to be prepared for summer? Check out the Minnesota Gear page.