Famous architect Frank Lloyd Wright is a name often synonymous with modern architecture. His "prairie style" plans are considered the basis for most residential home designs in the 20th century, and his later Usonian style was groundbreaking for modern architecture in the post-Depression era.
Thirteen of his buildings are located in Minnesota, and some can be toured today. Read on to learn more about the history and locations of some of his best-known buildings in Minnesota, as well as how his legacy endures to the present day.
---
3 of the Best-Known Frank Lloyd Wright Buildings in Minnesota
1. The Malcolm Willey House
Location
The Malcolm Willey House
255 Bedford Street SE
Minneapolis, MN
History
Sometimes referred to as "The House that Changed Everything", the Malcolm Willey House is considered the architecture project that prototyped, and then fully launched, Frank Lloyd Wright's signature "Usonian" style houses.
Built on a budget of just $8,000 to $10,000, the Malcolm Willey House was commissioned by Malcolm and Nancy Willey after Mrs. Willey read Frank Lloyd Wright's biography. Inspired by his life's story and vision, she worked closely with Wright, eventually scrapping the initial plans for a two-story home and then ushering in the plans for what would become the Malcolm Willey House.
Over the years, the Malcolm Willey House has undergone several restorative measures. The most recent was in the early 2000s when the newest homeowners kicked off a 5-and-a-half-year restoration project to save the endangered house from failing.
What emerged from that project is a Malcolm Willey House as true as possible to the design that Frank Lloyd Wright created. The home even features the furnishings designed for it by Frank Lloyd Wright himself.
Key Features and Elements
Many attractive elements remain or have been restored in the Malcolm Willey House. These include the floor-to-ceiling fireplaces, the furniture and settings being true to Frank Lloyd Wright's original design, the open concept layout, the floor heating within the home, and so much more.
One of the foremost design elements that attracts the eye in the Malcolm Willey House is the triangular feature that shapes the home's skylights, terrace, and a pair of clerestory windows in the living room. The articulate, angled style is truly eye-catching.
Other key features that stand out about the Malcolm Willey house are its red brick pavers, an open concept joining the kitchen to the living room and dining space, and the overall simplicity of the architectural plan. For all its elegance, this home challenged and inspired Wright in its need to be functional and relatively straightforward.
The results are a timeless and beautiful home that to this day is considered among Wright's best and most inspired work.
Visiting Hours and Tour Options
The Willey House provides tours on a limited basis. These tours are led by the owners of the house and are available for organized groups only. Groups must assign a designated group contact person with whom the owners can communicate.
Groups can consist of no fewer than 10 members and typically no more than 24; however, 16 is considered the ideal group size. Larger groups can contact the homeowners for consideration on a case-by-case basis.
Tours of the house last 60 to 90 minutes. Occasionally, open house events are also provided for folks to visit and tour the house for a small fee. The Willey House also opens for special events from time to time.
Visitors should be aware before booking a tour or visiting an open house or special event that the house is not handicapped accessible.
2. The S.P "Pearl" Elam House
Location
Austin, Minnesota
History
Designed by Frank Lloyd Wright for jeweler S.P. "Pearl" Elam and his wife, the Elam House is one of Wright's most unique accomplishments. He designed the home for the Elams without ever setting foot on the lot they had selected.
The Elam House is among the largest of Frank Lloyd Wright's Usonian homes and was one of his later designs. He crafted the plan of the house in his sixth decade of architecture when he was over 80 years old.
This private home continues to draw great appeal to this day, with a bed and breakfast permit now allowing guests to stay on-site in a guest house. Private tours for guests are also offered.
Key Features and Elements
The Elam House sports some of the most aesthetically pleasing of all of Frank Lloyd Wright's work. Its design has been compared to a Japanese garden, wherein every element is intentionally cultivated for the perfect view. They say no matter which way you turn, there is something pleasing to greet the eye in the Elam House!
Some of the most appealing design elements in this Wright architecture are its elements of white cypress wood, which provide a cozy, rustic interior feeling. The house also sports great limestone piers, several fireplaces which stretch from floor to ceiling, and over 100 windows.
With these and many other elements in play, the Elam House sports a perfect blend of natural and cultivated beauty. It's truly a breathtaking work of art.
Visiting Hours and Tour Options
The Elam House is a privately owned residence and is not open to public tours. However, the homeowners provide exclusive tours to visitors who rent the 820-square-foot guest house. This guest house can be reserved on TripAdvisor.
3. Lindholm Oil Company Service Station
Location
At the juncture of State Highway 33 and State Highway 45
Cloquet, MN
History
The Lindholm Oil Company Service Station was built to be far more than a mere service station. It was a glimpse into Frank Lloyd Wright's vision for a more utopian America. This historic service station was intended to, in Wright's words, "naturally grow into a neighborhood distribution center, meeting-place, restaurant … or whatever else is needed."
Although Wright's vision for a decentralized post-war America did not come to fruition, the service station that was meant to be embryonic of his vision certainly did. The Lindholm Oil Company Service Station boasts several unique architectural designs, including a glass observation lounge, skylights in the service bay area, and a cantilevered copper roof.
All of these features and more continue to make this service station popular today.
Key Features and Elements
There are several standout features that set the Lindholm Oil Company Service Station apart from other service stations both past and present. As mentioned before, the service bay skylights, 32-foot long, cantilevered copper roof, and glass observation lounge all deserve mention as unique Frank Lloyd Wright visionary elements.
The service station interior also features cypress wood prominently. This is a design element that was a favorite of Wright's and features in many of his designs, including this service station as well as the Elam House.
Equally as intriguing as the elements that made it into the final design of the Lindholm Oil Company Service Station are those that did not. Visionary Wright had the idea to attach the fueling pumps to the ceiling overhead for a more aesthetic flare; however, this idea was struck down due to safety regulation reasons.
Visiting Hours and Tour Options
Unique among Frank Lloyd Wright's designs, this service station has no need for visiting hours or tours as it is still in service as a gas station today. Now a Spur station and on the National Register of Historic Places, the Lindholm Oil Company Service Station remains in the care of the Lindholm family.
Folks can still receive service at the station and enjoy this small piece of accessible Wright history at any time.
---
Why Is Frank Lloyd Wright's Architecture So Significant?
The History of Frank Lloyd Wright's Buildings
The design and execution of Frank Lloyd Wright's many hundreds of buildings spanned over the course of decades. From the early to mid-1900s, Wright experienced many highs and lows in his architectural career as well as his personal life; but through it all, he remained determined to see his visions brought to concretion.
The early 1900s was largely the time of Wright's Prairie Style. This era featured residential buildings in particular that sported a long, low, open-concept design, with a mind toward bringing the household together. This was in keeping with Wright's philosophy on togetherness.
This time period saw the design of such private and often residential commissions as the Darwin D. Martin House located in Buffalo, NY, and the Frederick C. Robie House, located in Chicago. His public works at the time included the Lark Company Administration Building, also located in Buffalo, and the Unity Temple in Oak Park.
For several years after completing these works, Wright was consumed with writing and traveling. He also suffered some personal tragedies that shifted the focus of his work. In this time period, he worked on Taliesin, a home and refuge built for the woman he loved and lost to an early death. He also spent some time overseas in Tokyo.
During his time in Japan, Wright helped build and execute the Imperial Hotel. He also worked with oil tycoon heiress Aline Barnsdall to design both the Hollyhock House and Olive Hill in Los Angeles, CA. Besides these, however, this time period would prove a dry spell for Wright.
With the personal tragedies he had suffered, the beginnings of the Great Depression, and his own creative burnout, Wright only saw a handful of commissions over the next handful of years. He turned his focus on writing and did not fully return to the world of architecture until after the Great Depression when he began his Usonian era.
Wright's Usonian design is a simple but beautiful style. Its purpose was to capture both the community essence of the open prairie style concept while being heedful of the economic limitations that were in play following the Great Depression.
This time period was Wright's reentry into the architectural world, proving wrong everyone who proclaimed his time in the spotlight was over. The Usonian era kicked off a boom of constructs from the mind of Wright, many of which are still preserved today.
Such commissions as the Guggenheim Museum were produced in this era. With the return of many architectural apprentices from World War II in 1945, a great number of Wright's works saw rapid completion, including skyscrapers, public buildings, meeting houses, and more.
Wright remained a prominent figure in the architectural scene right up to his death in April 1959.
The Impact of Frank Lloyd Wright's Buildings
With his tenacity, vision, and lifelong dedication to his craft, Frank Lloyd Wright truly changed the landscape of architecture in the American past, present, and future. Before Wright's work, America had no tangible architectural identity; much of the country's architecture still drew from European sources.
Frank Lloyd Wright significantly altered the course of American architecture by blending ideas of communication and community with design. His penchant for open concept, interconnected rooms and sprawling floor plans encouraged a feeling of togetherness and connectivity within the very bones of the household and public structure.
Wright heavily emphasized the blending of modernism with nature, featuring limestone and white cypress wood heavily in many of his designs. This was an eternal nod to his belief in connecting people to nature as well as to one another–an enduring facet of American architecture that has remained prevalent well beyond Wright's lifetime.
When we look at many of the homes and buildings that have cropped up in the late 1900s and beyond, we can see that a large number of them bear the fingerprints of Wright's style and thought process, even if they were never directly designed by him.
The greatest impact of what Frank Lloyd Wright brought to the architectural map throughout his lifetime and beyond was his remarkable ideas. Ideas for how space, structure, furniture, and even technology could be used to cultivate harmony in architecture.
And that idea endures to this day.
---
Preserving Frank Lloyd Wright's Legacy
Preserving the Architecture
Over the years, various Frank Lloyd Wright architectures have suffered from wear and tear. Great strides should and have been taken to help preserve this architectural legacy. For this reason, many of his homes and buildings have been placed on the National Register of Historic Places.
Some of the homes and buildings designed by Wright have been preserved by the goodwill of homeowners and Wright enthusiasts nationally. Such was the case with the restoration of the Malcolm Willey House.
In other cases, greater lengths have been reached to ensure the preservation of Wright's work. One example of this is the Francis Little House. This building is a hallmark of the Prairie House style that Wright was best known for, prior to the Great Depression and the emergence of his Usonian style.
In the case of the Little House, this building was purchased by the Metropolitan Museum of Art in New York. This came about by the urging of a group of Frank Lloyd Wright enthusiasts after no buyer could be found on the market for the house in 1972.
Since then, in order to fully preserve the house, it was dismantled and shipped to the Metropolitan, where it has been reinstalled and preserved. The library from within the Little House was similarly relocated to the Allentown Art Museum in Pennsylvania, while several of the house's hallways were installed in the Minneapolis Institute of Arts.
This is only a snapshot of the lengths that have been taken to restore, upkeep, and share the legacy of Frank Lloyd Wright with future generations.
In addition, the schematics for Wright's utopian city design, named Broadacre City, can be found in the Rockefeller Center in New York.
The Frank Lloyd Wright Foundation
The Frank Lloyd Wright Foundation exists to preserve and propagate Wright's style and vision into the future. The Foundation takes part in preserving Wright's works nationally, as well as educating up-and-coming architects on various styles that Wright helped cultivate.
In addition, the Foundation helps keep Wright's legacy alive by facilitating exhibits, programs, and private events that honor and showcase the great architect's work. This is another tremendously important piece in the puzzle that helps keep Frank Lloyd Wright's legacy alive.
The Foundation provides for Wright enthusiasts who are unable to travel to the locations of his buildings by offering virtual tours. This is a great opportunity to virtually experience the beauty of Wright's architectural acumen.
For folks who are keen on Frank Lloyd Wright's style and eager to exemplify it in their own homes and even as apparel, the Foundation helps pay for its upkeep with officially licensed Wright products as well.
---
Wrapping Up A Tour of Minnesota's Famous Frank Lloyd Wright Buildings
Excited by everything you've learned about Frank Lloyd Wright and his enduring architecture? Make sure you plan a visit to one of his famous buildings and soak up the beauty of his design genius in person! And be sure to check out our Things to Do page for ideas of other adventures to enjoy while you're visiting and exploring Minnesota.
Looking for Minnesota winter inspiration? Check out our Minnesota winter guide for activity ideas, winter apparel suggestion, and endless ways to enjoy the snow!
Looking for more autumnal activities? Then visit our Minnesota Fall page to find inspiration for sweater weather fun!
About the Author
Latest Posts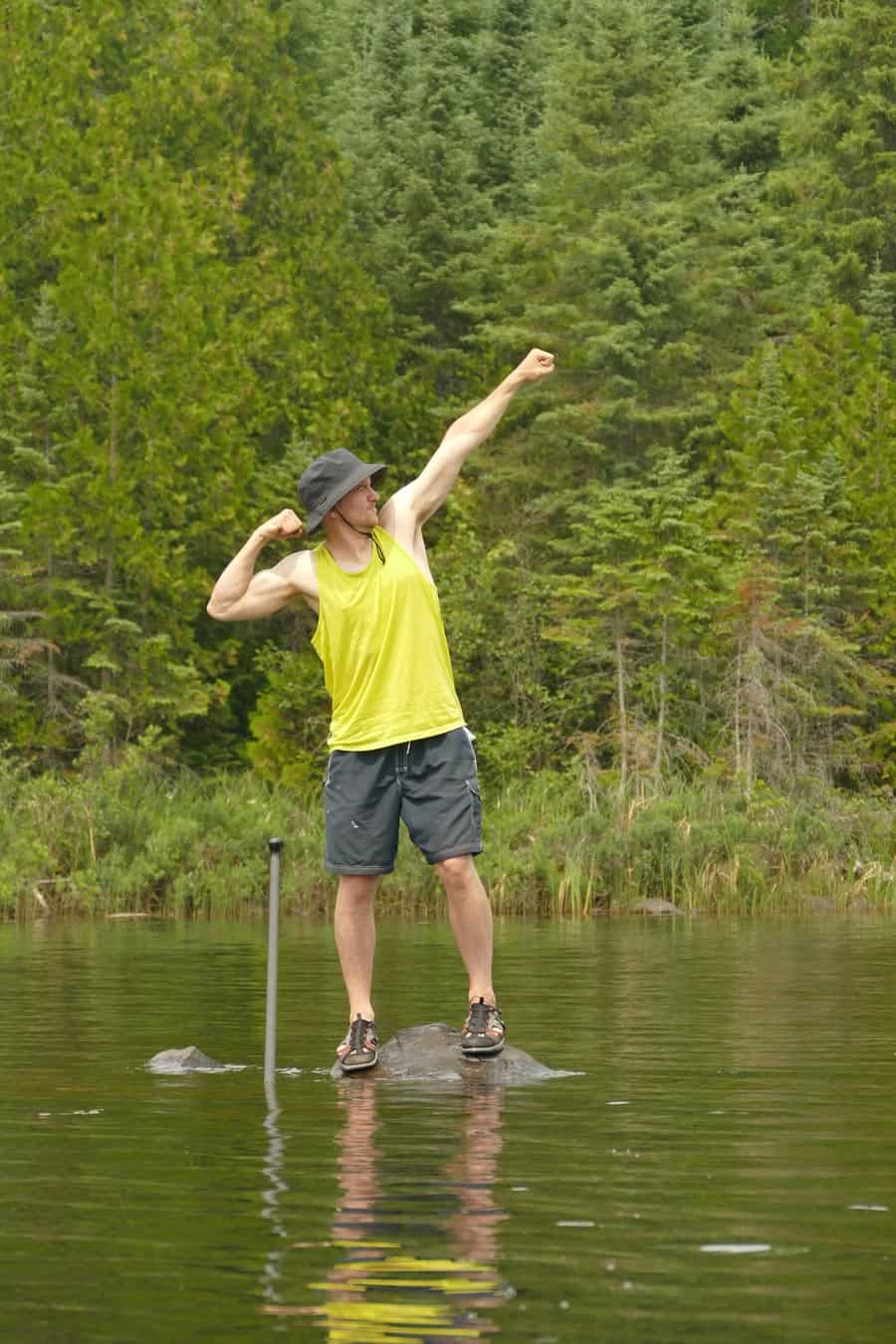 Born in Madelia, MN, to a now 5-generation Minnesota family, Ryan's MN roots go deep.
A painter by day, Ryan founded Life in Minnesota in 2013 with his wife Kelly to chronicle their musings on everything Minnesota. Ryan and Kelly are raising their 7 kiddos in Maple Grove, MN.
When he's not shuttling his kids around to hockey practice, you might find him in the shop working on his leatherwork. Undoubtedly, there will be a family trip to the Boundary Waters Canoe Area every summer, and of course weekends at Grandpa's cabin up north in the summer.