---
Hockey Shin Pad Buyer's Guide
Size
The size of your hockey shin pad will depend mainly on how you plan to wear it. Some players prefer the feel and look of a shin guard that fits over the tongue of your skate, while others prefer it to sit under the tongue.
To find the correct measurement, put on your skates and tie them as you would for a game. Now sit on a chair that puts your knees at a 90º angle. If you wear your pads under the tongue, measure from the top of the tongue to the middle of your kneecap. If you wear them over, measure from one inch below the top of the tongue to the middle of your kneecap.
You should also always round up when you measure between inches. The measurement that you find will translate directly to the size of shin pads you need if you're getting Bauer and Warrior products. For CCM, it's slightly more complicated.
Their hockey shin pads are grouped into Senior, Junior, and Youth. Each group has sizes small, medium, and large, plus extra large in the senior group. And each size has a 2-point measurement range. So a senior medium could be anywhere from 15 to 16 inches, while their large would be 16 to 17 inches.
Materials
The best materials for the shell of your hockey shin pads are either Polyethylene or fibreglass. Between the two, Polyethylene is more lightweight but fibreglass is stronger. If your play is focused more on speed Polyethylene is the better option. Defenders and more contact players should have fibreglass.
The foam materials from the three major brands each have a specific patented design and structure that is top-of-the-line. CCM's D30 tends to be a little bulkier, which makes it better for high impacts. Whereas Warrior's is the thinnest and best for players looking for a slim fit and Bauer sits somewhere in the middle.
Liners have two equally important jobs. You want something that protects you but that can also deal with your sweat and prevent any odor build-up. That's why liners should always consist of various layered materials.
Against your skin, you want a sweat-wicking material like nylon or a fabric that has a Polygiene coating. Then you want some sort of comfort padding that will act as a barrier for the harder foam that stands between you and the outer shell.
Features
Features like tap grooves are a great way to improve the overall feel and fit of your hockey shin pads. Without them, it's much harder to keep your socks from shifting without making the tape so tight that it messes with your mobility.
If you like to wear your shin pads under the tongue of your skates, be sure to get a pair of shin pads that have an abrasion guard, like the AS-580s or the Vapor Hyperlites. That way, they won't wear over time.
Removable liners are a great way to keep mold from growing in your shin pads. For players that use their hockey gear often and don't have a lot of space to dry them out, this is a worthwhile feature.
Lastly, a good strapping system is essential. You need to know that the protective foams and materials aren't going to shift from their proper spots. Something that has wider straps or secures diagonally is always a good idea.
---
Frequently Asked Questions
What is the difference between hockey shin pads and shin guards?
There are many sports that use some sort of protective gear on your shins. Each product is designed with a specific sport in mind. Due to hockey's high speeds and tough impacts, shin pads tend to have more protective padding along the inside, while the padding in shin guards focuses more on comfort.
Are smaller shin pads better?
In general, it's much better to choose shin pads that are the correct size. The only time players wear a smaller size than they should is in professional leagues like the NHL where mobility is sometimes valued over protection.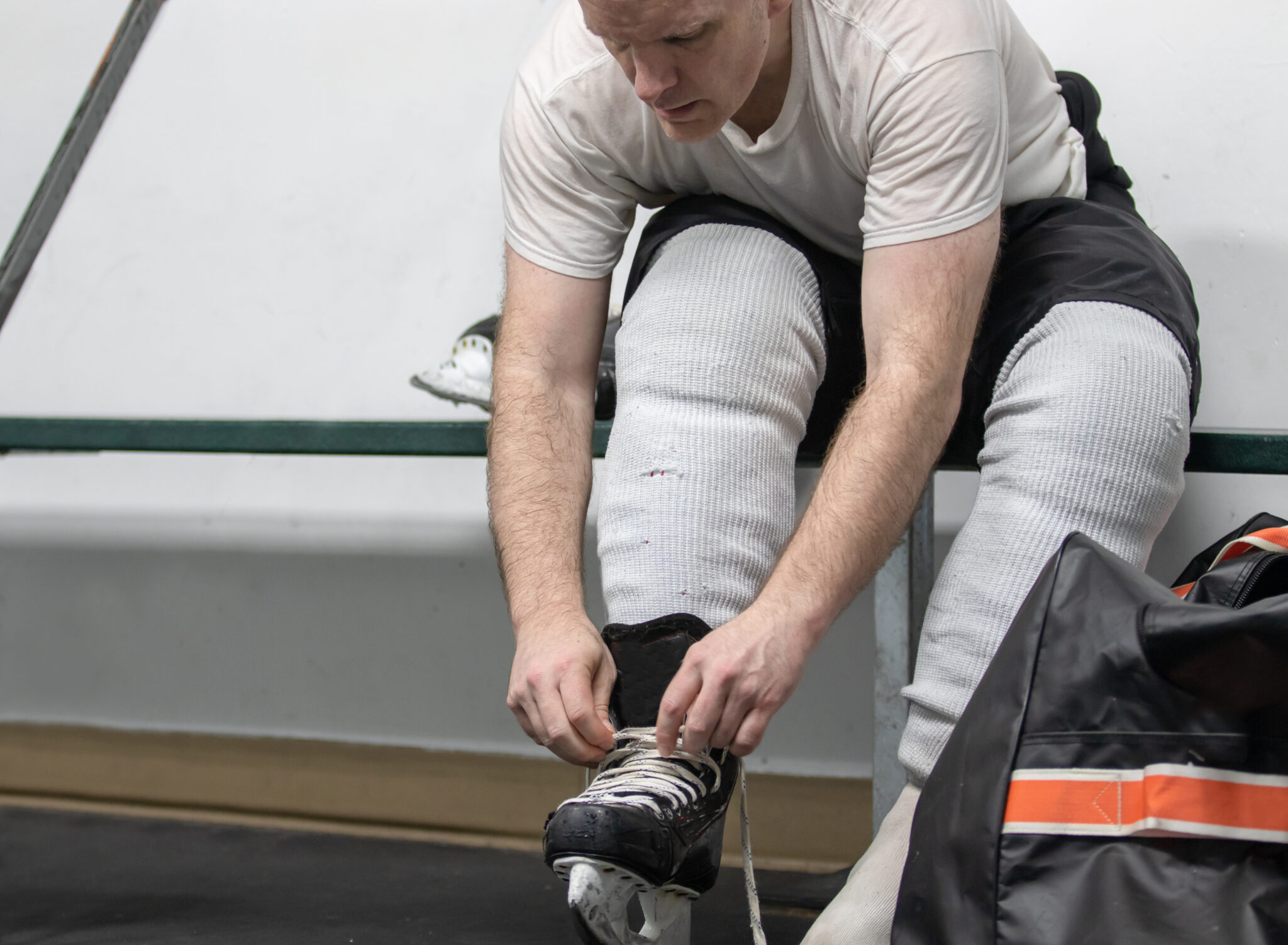 ---
The Best Hockey Shin Pads Summed Up
No matter how fast you go and how hard you play, you'll never have to worry about feeling the pain with one of these top picks of the best hockey shin pads!
Whether you're looking for a tight, agile fit or 100% comfort, this list has it all.
If you're interested in testing out your new pads – check out this online hockey training! Or, if you're looking for more information on the sport as a whole, check out our Hockey page!