---
Boots
No trek on the ice would be complete without the right pair of boots. We've got an entire list devoted to the 6 best ice fishing boots for 2023.
---
Ice Fishing Bibs vs. Snow Pants
At first glance, when shopping online for ice fishing clothing, the bibs don't look too different from generic snow pants. So why consider buying what must be another pair when you've been out in the snow with your current pair?
You see, snow pants don't have certain features and technology ice fishing bibs have. For example, like the Frabill I-3 bib, snow pants don't have flotation features. And they don't always cover most of a person's torso or have adjustable shoulder straps.
Like bibs, however, snow pants are waterproof, and their insulation is like that of bibs, going as high as 85 grams. Except bibs have higher insulation level options besides 85.
The important thing is to read the product descriptions for what activities the pants and bibs are best used for. If they're not suited for ice fishing, don't use them on the ice unless you have a flotational jacket.
---
How to Choose the Best Ice Fishing Clothing
You've read our number-one selection and other top picks of ice fishing clothing. However, you may have seen other bibs and jackets you'd like to look at first. If so, consider these factors when deciding on your source of protection when ice fishing.
Size
You want to be comfortable and move easily while you look for the best ice fishing spot. And if you're sitting or on your knees while fishing, getting up easily when the day's out is important.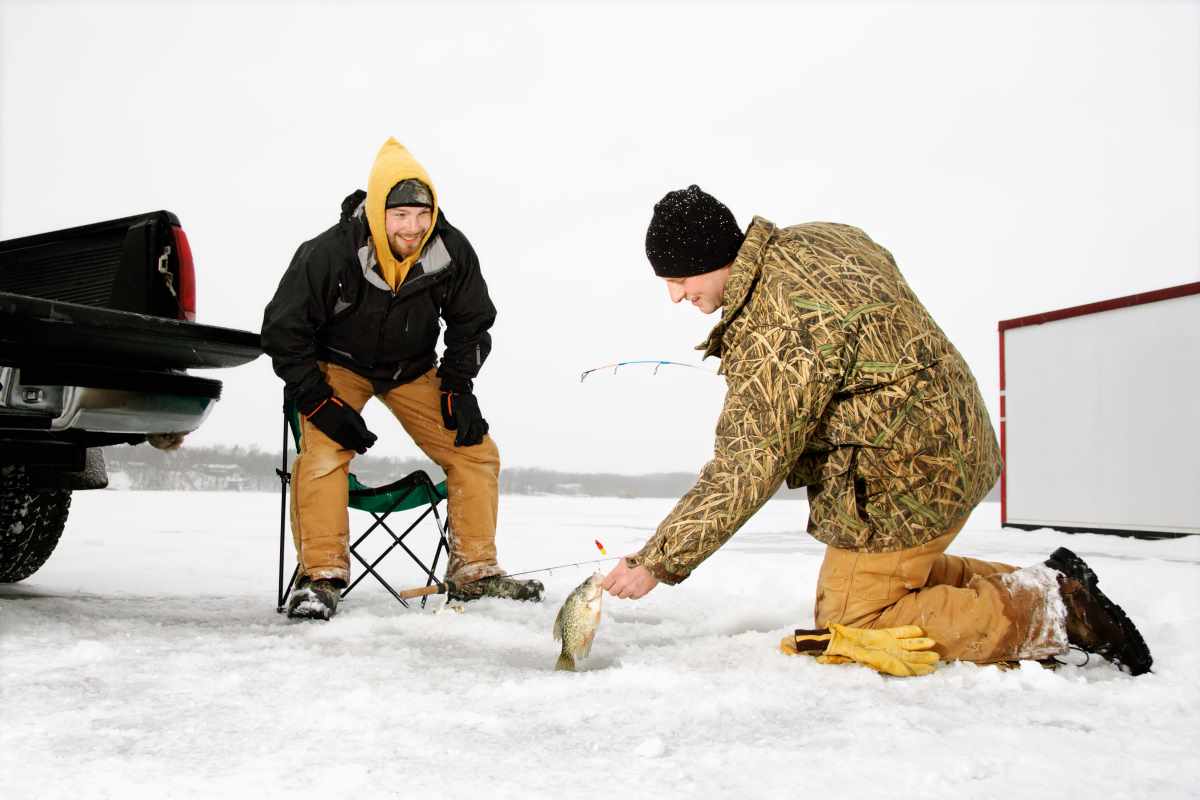 You need a size that will fit you well and keep you warm and dry. Of course, you'll need to consider adjustable shoulder straps for security and comfort and inseams for your boot size.
Floatation
Even if the ice is thick enough to fish from, the risk of it breaking underneath you is always there. So it's important that floatation assistance is included in the ice fishing clothing you purchase.
Water under the ice is absolutely frigid, and frozen muscles won't save your life. That's why you need a jacket and bib or at least one or the other to keep you afloat. Besides not ice fishing alone, don't go without a flotation feature!
If you buy a non-flotation-featured ice fishing jacket or bib, we recommend buying a jacket or bib that is.
Durability
Your ice fishing clothing must withstand anything that wears and tears the material. For example, your knees or bottom will shift on the ice as you fish. So the pads or extra layers (the clothing, in general) should be of high quality and not tear easily.
Waterproof Material
Water needs to take a long time before it can soak through your jacket or bib. For example, say you see a jacket or bib that's 16.4 feet waterproof. That means 16.4 feet of water is what it would take to soak through the material.
The higher the waterproof rating, the better you're protected from freezing water as you ice fish. And make sure the taped seams in the fabric are durable to prevent water from seeping through!
Breathability
If you sweat, your perspiration needs to be able to escape your jacket or bib. Trapped perspiration will defeat the purpose of the waterproof material of your ice fishing clothing because you'll be soaked!
A rating of 5,000 grams of breathability is acceptable if you're engaging in a static outdoor activity like ice fishing. You would be walking some and drilling holes, but you're mostly sitting. You wouldn't need higher numbers of breathability for that.
Insulation
Winter in northern states like Minnesota is brutal, especially the wind chills. You want to be able to stay outside and ice fish for as long as you can without freezing. So you need a jacket or bib that has a high level of insulation to keep you warm.
Features
Certain features of ice fishing clothing may not be a high priority when you're just going fishing. But it's always helpful to have clothing that has other functions.
For example, if you have small gear that needs to be within reach, that's where deep cargo pockets come in. Maybe you need to keep your phone and pliers close by; that's a reason for those extra zippered pockets.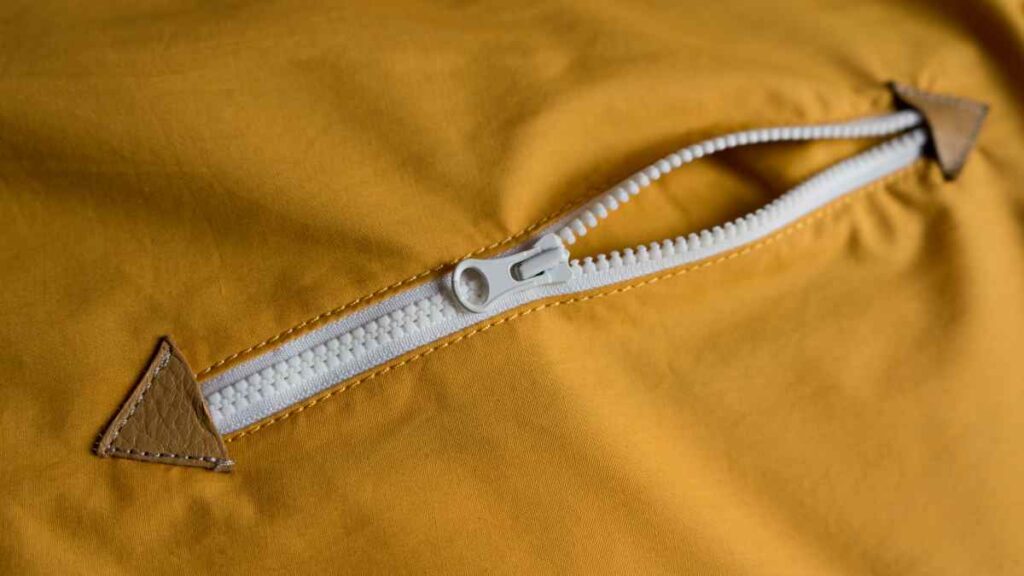 Or suppose you need to go to the bathroom but don't want to waste time trying to take the bib off. A zippered drop seat is another feature to consider if you look for an ice fishing bib.
Whatever features you need regarding storing tackle gear or additional safety mechanisms, research the clothing before you open your wallet.
Price
Heavy-duty clothing with many features can be expensive. In addition to the essential features of ice fishing clothing, look at the price tags. Depending on your budget, you'll need to balance out certain features with what you're willing and able to pay.
---
Frequently Asked Questions
1. When buying ice fishing bibs, do you also need to buy the same-branded jackets (and vice versa)?
It can be any brand you want, but we strongly recommend buying an ice fishing jacket if you buy a bib. That goes for the other way around, especially if one or the other doesn't have a flotation feature to it.
You may already have a winter coat and may just stick with that if you have a bib. But you'll have to wear a certain number of layers to stay as warm and dry as you can. That's the main concern when fishing on the ice.
2. Are all ice fishing clothing waterproof?
Most of the pieces of clothing are waterproof. After all, ice fishing guarantees you'll come in contact with some drops of freezing water.
Keep in mind, though, that some jackets or bibs aren't as waterproof as others. It depends on how high or low their ratings are in their list of features.
As mentioned in how to choose the best ice clothing regarding waterproof material, look for a high rating. And, as before, make sure the taped seams and fabric have good durability.
3. Do I need to add layers before putting on insulated ice fishing clothing?
You need to wear layers, but don't overdo it. Some of the jackets and bibs provide just enough warmth that you won't have to pile on extra underclothes. No sense in sweating profusely or complaining that you can't put your arms down!
Depending on the type and level of your ice fishing jacket or bib's insulation, you could shed at least one layer. To be safe, bring that extra layer, or two, on your ice fishing trip. Just be sure that you wear a lightweight and breathable shirt as a base layer.
4. Can you use an ice fishing bib when snowmobiling or for other winter activities?
Because they keep you warm, it seems that ice fishing bibs can be applied for other winter-related activities. You'll notice in our list that some of those bibs prove that point.
This heavily depends on the material of the bibs and what they're specifically made for. Before you purchase your bib, read its product description to see if you can use it for other things.
5. Does size really matter since ice fishing bibs are adjustable?
Adjusting straps and zippers on bibs for comfort and ease is useful. But that alone won't make a perfect fit and cover you from your ankles to your upper torso. Bibs that are too tall or short on you will make those adjustments pointless.
A baggy or tight bib is open grounds for wind chills and cold temperatures freezing you. Keep your clothing size in mind when selecting a bib, and check out the brand website's size chart for assistance.
---
Fish for Your Best Ice Fishing Clothing!
Now you know what makes the perfect ice fishing clothing! We highly recommend the Striker ICE hardwater bib for your ice fishing trip. With warmth, breathability, floatation, elemental protection, and more, ice fishing will be a thrilling breeze!
Need some more Minnesota gear? Trust our recommendations to guide your next shopping trip!
Want to learn more about fishing, discover more fishing spots, and or read up on the best fishing gear? Then continue your fishing adventure with our comprehensive guides, info posts, and more!