---
Ice Fishing Chair Buyer's Guide
If you're considering the purchase of an ice fishing chair, don't give in to the temptation to buy a regular camping or hunting chair in hopes that it will meet your needs during a day of ice fishing.
Camping and hunting chairs need to be lightweight and portable, and while those also are good attributes for an ice fishing chair, you'll typically want a more substantial chair for a day out on the ice, during which you could be sitting for long stretches of time.
Types of Ice Fishing Chairs
Beyond that basic rule, there are a number of factors you'll need to consider to ensure that the chair you choose will bring with it all of the comfort and convenience you want.
First, your choice of ice fishing chair should include padding material that is rated for use in cold temperatures, including the sub-zero range.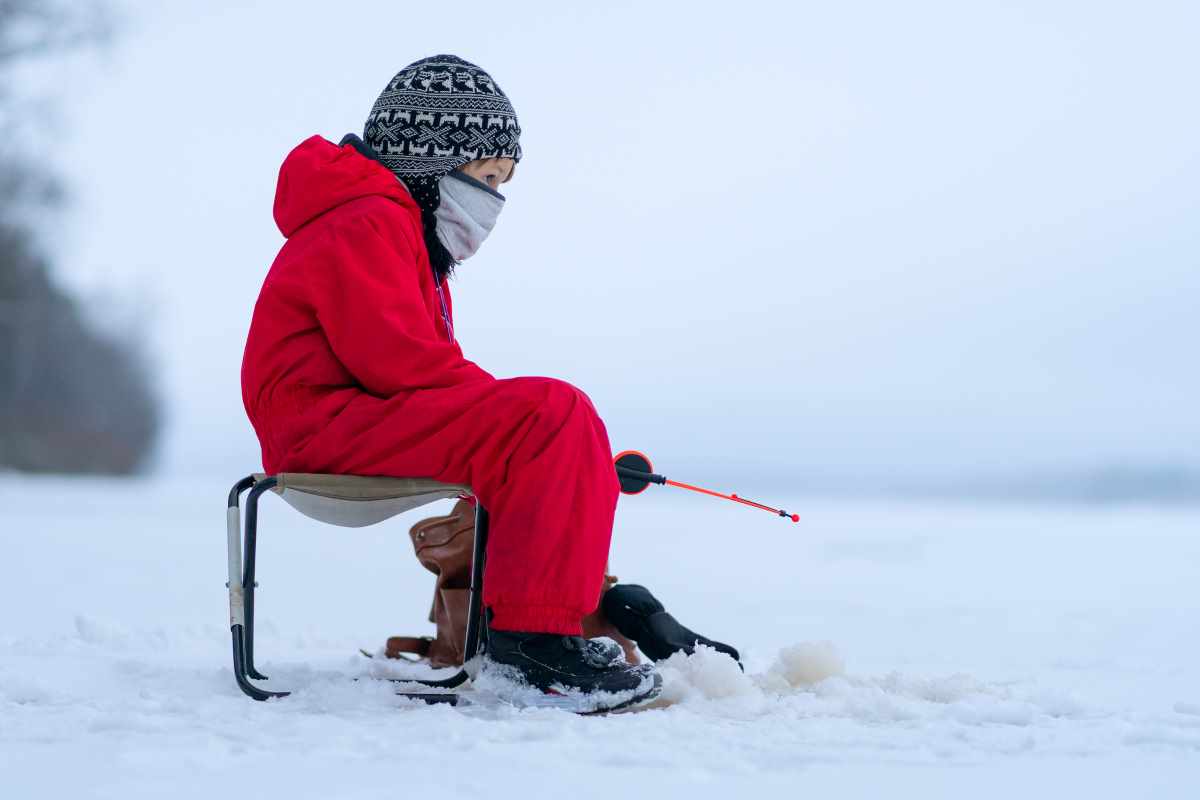 Padding should be covered in vinyl or similar material to keep your chair's insulating properties from being compromised by water infiltration from ice, melting snow, or rain.
You'll also need to decide on a director-style chair, which will provide great back support. A swivel chair, particularly helpful if you're fishing in more than one hole, a bleacher-style chair, which is easy to set up, or a tripod chair, which is easily portable.
Comparing Ice Fishing Chair Types
Director-style chairs are currently a popular choice, in part because they assist in maintaining good posture, resulting in fewer potential aches and pains after a long day of ice fishing.
Swivel chairs can be a good choice if you're going to be doing your ice fishing from inside a shelter, where space may be at a premium.
Bleacher-style chairs, like tripod chairs, are easy to transport, and if you're s sports fan, they can do double duty as comfortable seating at sporting events where other seating may be uncomfortable or inadequate.
As far as tripod chairs are concerned, you'll need to balance their light weight and convenience with making sure that they are adequate to support you. Perhaps more than other styles of chairs, you'll be better able to actually sit in a swivel chair before buying.
As a general rule, regardless of the type of chair you choose, you'll want to be sure the seat is at a comfortable height for you and that its armrests, if it has them, also are supportive and comfortable.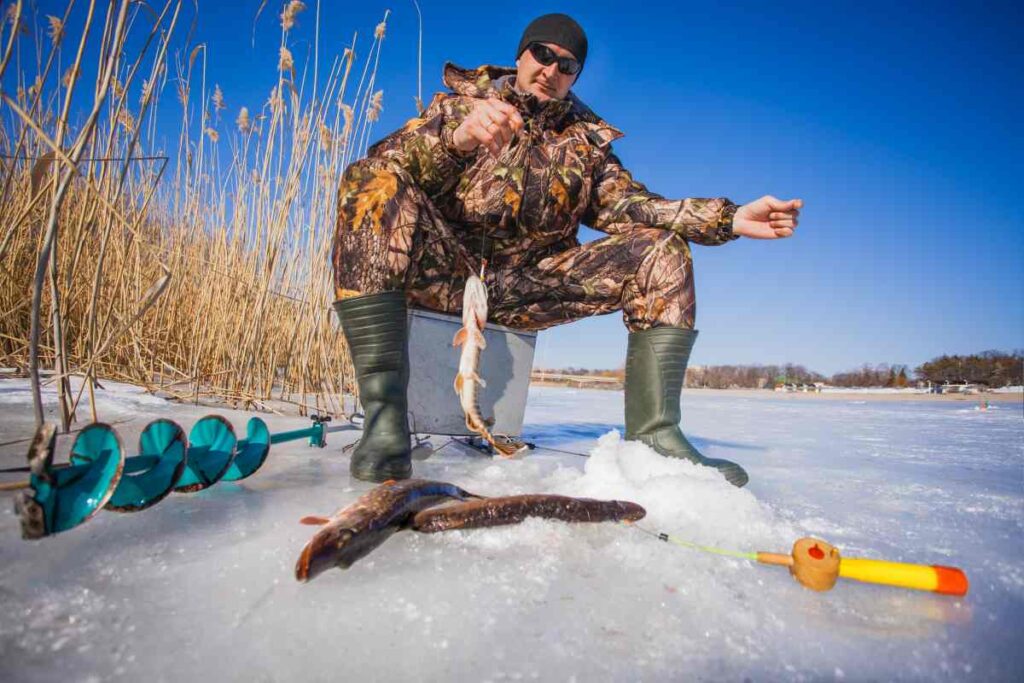 And of course, you'll want to check the weight rating of the chair. In connection with that consideration, remember to factor in the weight of the clothing you'll be wearing and of any gear you'll be storing on the chair before making your selection.
Storage Space Is Important
When choosing an ice fishing chair, be sure that you consider how well you'll be able to keep your gear and tackle close at hand. For that, you'll need to pay strict attention to storage capabilities.
The top consideration for storage is to be sure that your gear and tackle will be easy to find and reach, particularly while you're seated. At a minimum, a worthwhile ice-fishing chair should have some form of padding available for the safe storage of hooks and jigs.
Also, you'll want to find a chair that has a storage compartment that two or three inches deep, sufficient for keeping bait close at hand. And, of course, some storage capacity for keeping your catch also should be a consideration.
Other Things to Consider in an Ice Fishing Chair
You'll also want to be sure that any hinges on your ice fishing chair are well-constructed to stand up to outdoor use, and of course you'll want to be sure that those, hinges and other parts of the chair will resist rust, since you'll be using it in high-moisture environments.
Finally, you'll need to be aware that there is a range of prices for ice fishing chairs. Doing research before you make any final purchasing decision can save you from paying too much or, conversely, finding a "bargain" price for a chair that doesn't fit your needs.
---
Ice Fishing Chair FAQs
For those who wonder about the safety of using a chair while ice fishing, concentrating their weight on one spot, there is a rule of thumb for making that determination.
You should always measure the thickness of the ice at your fishing spot, knowing that five inches is about where you want that thickness to be before settling into your ice fishing chair.
Whatever Your Strategy, Have a Chair Available
In terms of fishing strategy, there is no agreed-upon answer to the question of whether staying stationary on the ice, or moving from place to place is the best way to have a productive day of ice fishing.
The best answer is to try both ways during your time on the ice, but the bottom line is that you should have an ice fishing chair available, particularly if you're planning to spend long hours in search of bites.
Think About Napping
It's a given that anyone looking to purchase an ice fishing chair will want one that is comfortable, and will likely want to include amenities like a rod holder to keep muscles from fatiguing or tightening up.
But one thing a prospective purchaser might not consider, although they should, is how comfortable the chair is for taking the occasional nap. After all, unless you're very lucky, there will be breaks in the action, during which it's perfectly acceptable to get some deep rest.
---
Wrapping up the Best Ice Fishing Chair
We hope this post has given you some guidance in selecting the best ice fishing chair for your needs. Additionally, we hope this post has educated you about our choice as the best ice fishing chair, the Hot Seat from POP Design. For more on ice fishing equipment, check out The 8 Best Ice Fishing Reels.
Need some more Minnesota gear? Trust our recommendations to guide your next shopping trip!
Want to learn more about fishing, discover more fishing spots, and or read up on the best fishing gear? Then continue your fishing adventure with our comprehensive guides, info posts, and more!