---
What Is an Ice Fishing Flasher?
The ice fishing flasher is very similar to a fish finder that you would use on a boat. The ice fishing flasher uses sonar to find important things like the bottom of the lake, the fish, the baitfish, and even your bait.
This can go a very long way when fishing below the ice because it gives you eyes on what is below you. Rather than just fishing blindly, the ice fishing flasher gives you a much better sense of what is going on under the water.
You will have a screen that will give you all kinds of information about the depth and what the sonar is encountering down there in the water. All of this data will help you decide if you are fishing in a good spot and what kind of bait to use.
---
Why Use an Ice Fishing Flasher?
The ice fishing flasher gives you a distinct advantage because you are not merely returning to a spot you were at last year where the fish were. Instead, you are going to be looking underneath the ice to see exactly what is going on down there.
The ice fishing flasher also gives you an advantage against the lake. The larger the lake the better it will be to use an ice fishing flasher. There is just so much water to cover and it is easier to cut a hole and float your transducer for a minute or so than to cut a hole and invest a few hours just to come up empty-handed.
If you can afford the technology to look under the water to find fish, baitfish, and cover, then it is well worth it, and it will save you serious time.
---
How to Read an Ice Fishing Flasher
An ice fishing flasher gives you the ability to see more than just where the fish are and what cover is beneath you. In fact, once you get the flasher dialed in, you will be able to see what the fish are doing down there and how they are reacting to your bait.
Depth
The big number in the center is going to give you the depth of the lake you are fishing. This will show you where the bottom is and how deep the water is. This is the largest numerical reading on your display.
Hard Red (Bottom)
The hard red line that appears at and below the depth of the lake is the bottom. As the sonar dies off, it will dissolve into more of a mixture of red and yellows. However, at the depth of the lake, you will see an unmoving red line, and that is the lake floor.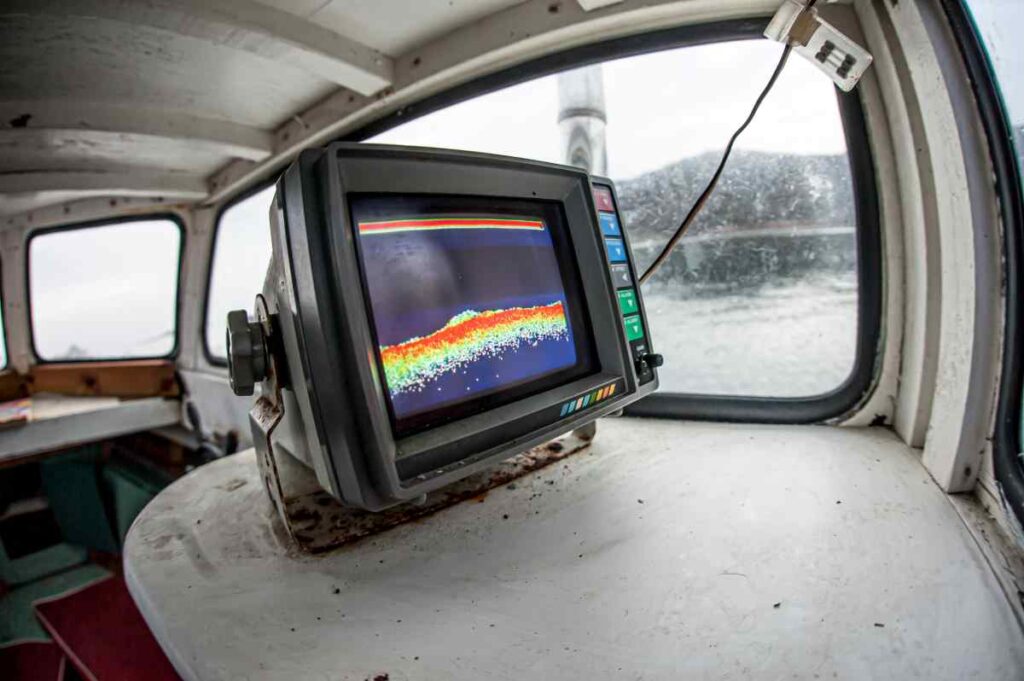 Red and Yellow Off the Bottom (Fish)
Just above the solid red of the lake floor, you will see a red-yellow segment if there are fish there. This segment will move from time to time, and when they move up toward your jig, you will actually see the yellow separate from the bottom and move up toward your fishing lure.
Yellow/Green (Fishing Lure)
When you drop your fishing lure down into the water, it will show up on your flasher as a yellow/greenish/blue line. Jig your line a couple of times to see if this is your jig for sure. That blue line should move each time you lift your rod tip.
Set your jig about 1 foot above the reading of the fish. This is the best way to use the ice fishing flasher with your bait.
When you see fish movement near your lure, remember that your sonar reading is a cone, so it doesn't mean that your bait is directly underneath the lure. It could be off to the side. Keep working your lure to see what kind of presentation they are after.
---
Can You Use a Regular Fish Finder for Ice Fishing?
Some of the ice fishing flashers that we reviewed in this article were fish finders and combination fish finders and fish flashers. If you have a unit that comes with a transducer that can be dropped into an ice fishing hole, then you can use a fish finder to look deep into the water and under the ice.
---
Wrapping up the Best Ice Fishing Flashers for This Year
The more you use an ice fishing flasher, the better you will become at reading it and using it to better your chances. Once you use one and you realize how effective it can be for ice fishing, it is hard to head out to the water without one.
To be honest, it feels like shooting at targets in the dark when you are cutting a hole in the ice, dropping a lure, and just hopping for results. Instead, use the tech we have available to us and create a whole new fishing experience.
I find the ice flasher is a great way to engage kids in ice fishing, too. They can see the fish move down there and really understand how their actions are affecting the fish and getting them to bite.
Need some more Minnesota gear? Trust our recommendations to guide your next shopping trip!
Want to learn more about fishing, discover more fishing spots, and or read up on the best fishing gear? Then continue your fishing adventure with our comprehensive guides, info posts, and more!