---
What Is Jigging
Jigs are weighted, and they are designed to sink either to a certain depth or to the bottom of the lake. This puts your bait where the fish are living. When you are jigging, you are moving a jig with live bait or a jig that presents like live bait through an area where there are fish.
You make your jigs move by jerking with your wrist, and this can make a jig without live bait look real to a fish. Playing with presentations, reel speed, and frequency of jerks is what jigging is all about.
The best ice fishing jigs will put your bait closest to the cover, weeds, or the bottom of the body of water you are fishing. That is where the fish are. It is a fishing technique that gives the angler the most control and, in my experience, has yielded the biggest fish.
---
Why Are the Best Ice Fishing Jigs So Effective?
Ice fishing limits some of your options when it comes to presentation. You cannot just run a buzz bait across the top of open water. You also cannot take long casts. Instead, you are limited to simply dropping your bait into an ice fishing hole.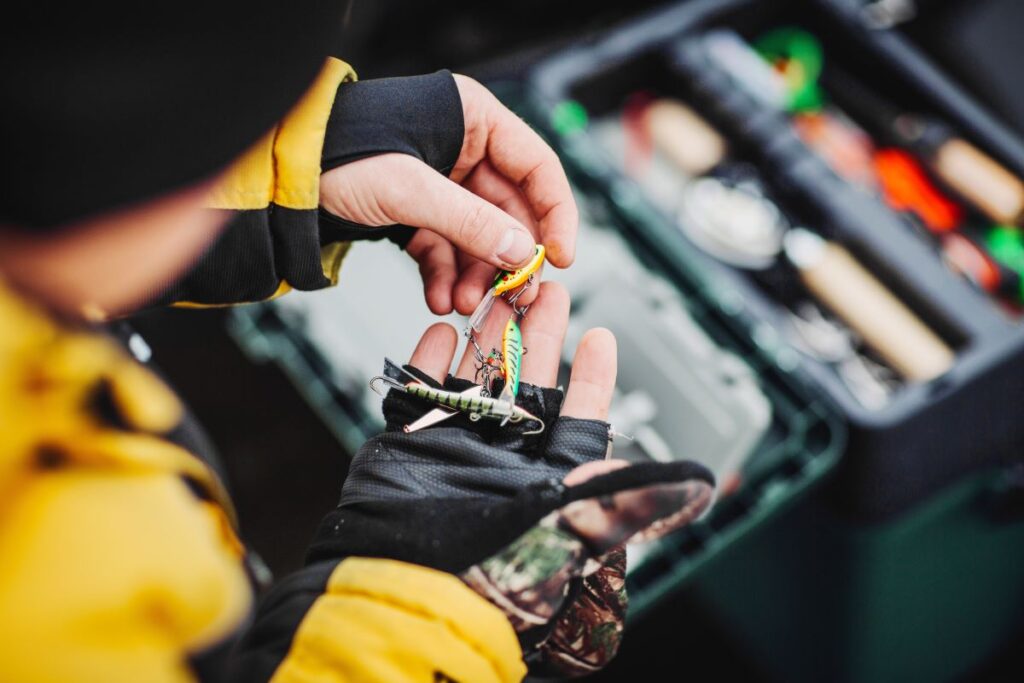 Jigging gives you the ability to make the most out of that limited situation that you are in. The best ice fishing jigs take advantage of that limitation to make fish bite.
Deep Water Presentation
The best ice fishing jigs are weighted and designed to get deep down in the water. This deep water presentation means you can work a jig with an ice fishing flasher to locate fish and keep your bait at just the right distance from them.
Being able to get to the bottom of the lake is sometimes the only way to reach the fish.
Imitates Food Sources
The best ice fishing jigs are designed to imitate species that fish are eating. It might be hard to believe, but I have seen jigs out catch live bait, and a lot of that has to do with the action.
Imitating food sources is not just about looks. The most realistic bait on the market can only do so much just sitting in the water. How you jig your bait makes a world of difference, too.
Does that minnow look like a minnow and move like a minnow in the water? That is why jigging is so important because you can make that happen, and the fish will strike.
The Best Ice Fishing Jigs Trigger Bites
A jig's color and action combined are what triggers a bite. Fish do not always bite because they are hungry. Many times a fish will strike when a fish moves into its territory.
You can get an aggravated fish to bite just as easily as a hungry one. Loud, rattling jigs will aggravate a fish, and they will strike. The Hyper Hammer has a built-in noise maker for just this reason.
Smooth jigs that are jerked consistently and then rested will give the look of a dying minnow to a fish that is easy prey. This can drive fish wild.
Each of the best ice fishing jigs that we have chosen has features that will help them trigger bites
---
Wrapping up the Best Ice Fishing Jigs
Now that you understand why and how these ice fishing jigs work so well, it is time to fill your tackle box. Every one of these ice fishing jigs is affordable, and many come with more than one per pack. So filling that tacklebox won't break the bank.
The best ice fishing jigs are going to attract fish but also be able to stand up to the conditions of an ice fishing trip. If you decide to end that trip with some fish filets over a campfire, then you gotta have enough for everyone!
Finally, do not hesitate to change. A good metric is that after you have presented a jig 10 times without a bite it is time to change something. That could be a presentation, or it could be color, or it might be to change the type of bait altogether.
This is why it is so important that you have a well-stocked tackle box and quality ice fishing gear. it is not only about the type of baits but the color variety, too.