---
Features of a High-Quality Ice Fishing Rod
Power
The power of your fishing rod is always an important feature as it brings all the force to fight a fish from the bottom of the lake up into your hands. The best ice fishing rod will be strong enough to lift a fish's chin upward as you reel it in.
This can minimize the kind of thrashing that allows a fish to shake loose. from your hook.
If you are jigging, then a strong ice fishing rod is also great for setting the hook or jerking the hook into the fish's mouth. When the hook is set, and the barb of the hook gets all the way through it becomes much harder for a fish to get away.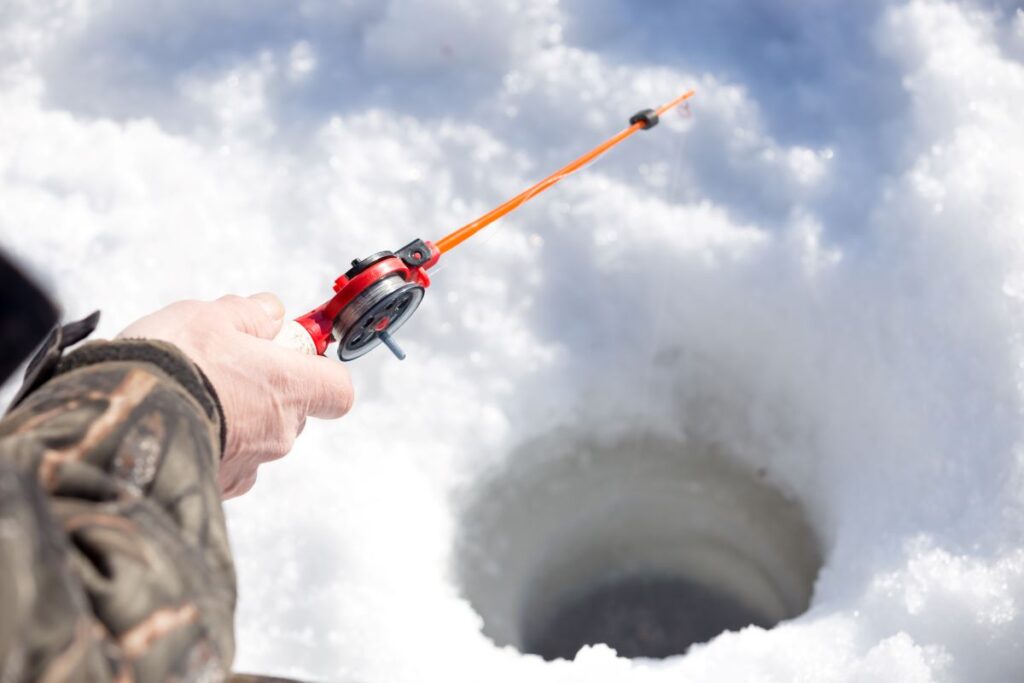 This is much easier to achieve with a stronger fishing rod.
The power of an ice fishing rod is usually spread out from super ultra light being the least powerful rod to medium, which is about as powerful as ice fishing rods go. There is ultralight, light, and medium light between those first two options.
Usually, the smaller the fish, the less power you will need in your ice fishing rod.
Action
The action of a rod is how much give is in the rod. Rod action runs the gamut and can range from:
Extra Fast Action
Fast Action
Moderate Action
Slow Action
The faster the action, the higher up the bend begins in the rod. The spine of the rod is much stronger and harder to bend. In a slow-action ice fishing rod, you will find that the bend happens close to the handle, and you lose some control. A rod with extra fast action will only bend just below the tip.
Sensitivity
There is a certain type of tap, tap, tap that occurs when a fish is biting your bait. Any fisherman knows this telltale sign. For live bait fishermen, it can mean that you might have just had your bait stolen.
When you are holding a quality ice fishing rod in your hands, you will easily be able to feel those small strikes and you will know there is a fish on. This will prevent you from losing fish and bait over the course of a day.
Some fish are cautious and hit your bait lightly. If your ice fishing rod does not have a good backbone, then you may not feel it, or it may feel insignificant.
Big Guides
Cold water running over your guides combined with cold temperatures will increase the possibility of ice forming on those guides. When ice forms on your guides, it makes your line harder to reel in.
The sharp ice crystals can also damage your line throughout the day of fishing. This could result in line breakage when you are reeling in a fish. You do not want to lose that big fish over icy guides.
Look for an ice fishing rod with nice large guides. Remember, these are the highways for your ice fishing line. You want big open lanes so your line can go out and come back smoothly.
---
Size Matters for Ice Fishing
Ice fishing rods are much smaller than the usual freshwater fishing rod. This is because you are pulling fish straight up from an ice fishing hole instead of fighting the fish over a large body of water.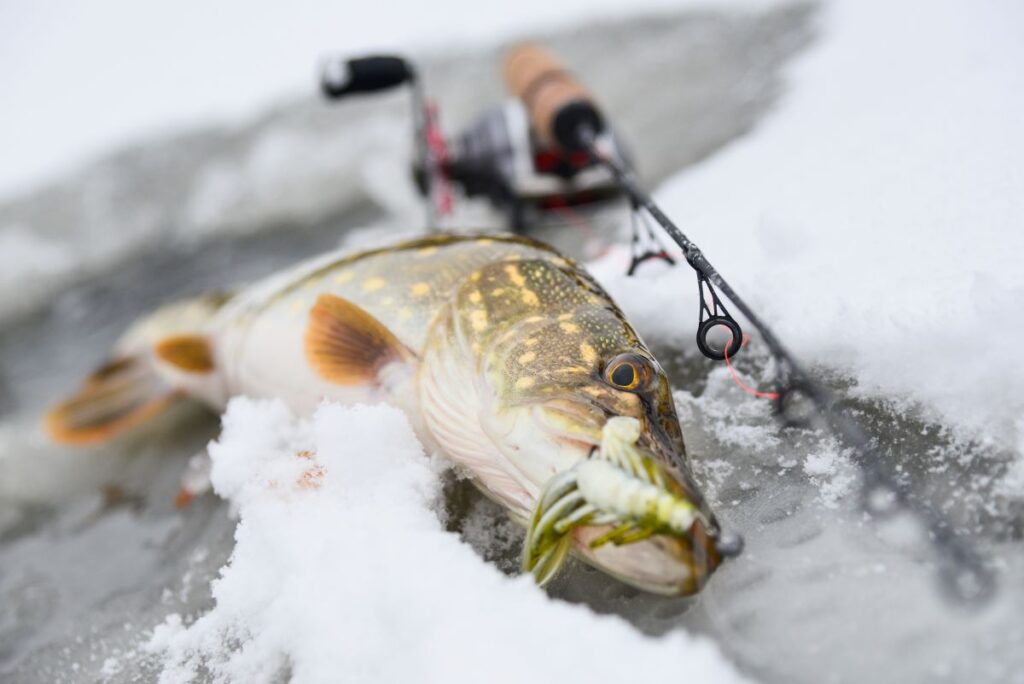 The smaller size can also help when it comes to ice fishing in a confined shelter or ice fishing tent. You simply cannot fit a 7′ fishing rod into some of these spaces.
Size matters when it comes to ice fishing.
Short Ice Fishing Rods
A 24″ fishing rod is perfect for panfish anglers. It's a great size rod for those after smaller fish. The short ice fishing rods are usually the ones you can get the super ultralight power and slow action.
Longer Ice fishing Rods
The 30+" ice fishing rods are designed for larger fish. If you like taking large walleye and lake trout then these are the size rods that you want. These are more common to get in the medium power and faster action for reeling in larger and more powerful fish.
Best Size for All Ice Fishing
If you are after an ice fishing rod that is sized to do it all, then go for the 28″ models. This sized rod is right in the middle and perfect for all kinds of fish species and ice fishing adventures.
---
Wrapping up the Best Ice Fishing Rods for 2023
Knowing your quarry is essential when you are picking out the best ice fishing rod. Whether you are trout fishing or after panfish, the rod makes a big difference. Our top 3 picks are all very special rods. If you pick the right action and power for the fish you are after, you will have success.
However, any of the selections above would guarantee that you can land quality fish time and time again.
Take the information we have provided you, and don't forget to add your own personal preference. Sometimes it can be something as simple as how a rod looks that gets you to make the purchase. That matters, too.
For more ice fishing information, check out our Ice Fishing Gear posts.