It is completely unacceptable to be freezing cold while you are trying to enjoy a day of ice fishing. Now, the conditions required might make you assume that the cold is unavoidable but there are quality ice fishing suits on the market built for just this kind of weather.
Dealing with the cold is one thing, but cold and wind – that is something else altogether. The windchill can be downright brutal. What about cold water and precipitation? All of these things can affect your ice fishing experience.
Luckily, people have been ice fishing for a very long time, and modern ice fishing suits are built to take tremendous punishment from the elements and keep you warm and dry beneath them. These might be insulated waterproof bibs, or they could be two-piece suits that protect both top and bottom.
We have collected the very best ice fishing suits, and we will review them below. Names like Norfin, Nordic Legend, and Windrider are all featured below. I hope we find you the one you have been looking for.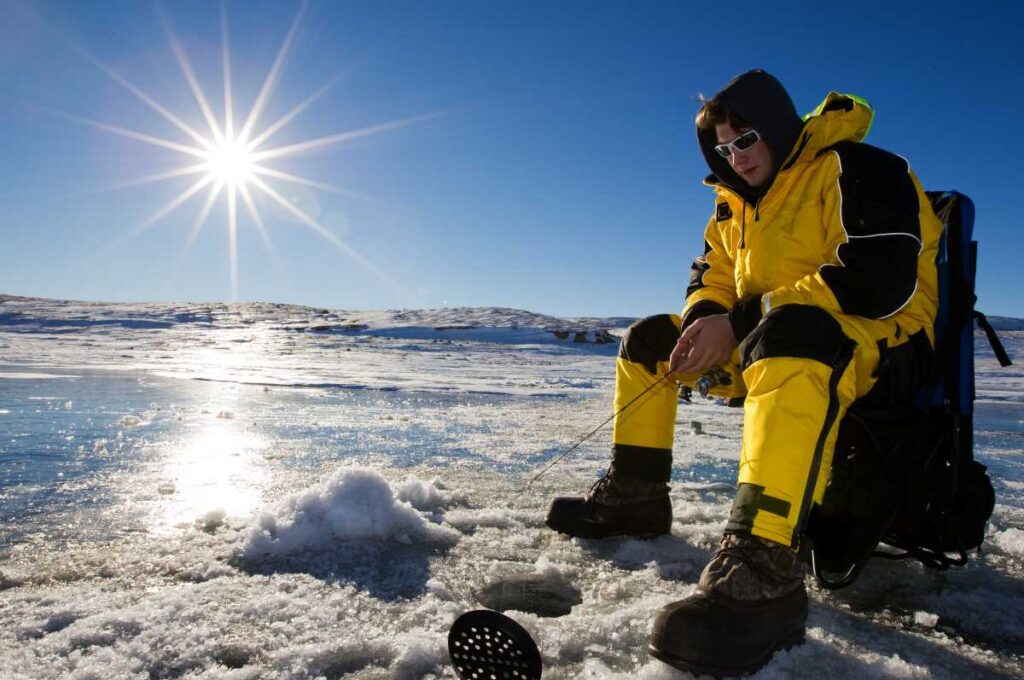 ---
Our Top Picks
Best Overall:
Windrider Ice Fishing Suit
Runner Up:
Nordic Legend Aurora Series
Best Budget:
Piscifun Ice Fishing Bib
---
1. Best Overall: Windrider Ice Fishing Suit
There is a special place in my heart for 3M thermal insulation. Which is the core insulative material in the Windrider Ice Fishing Suit. The hood even features removable insulation.
The Windrider Ice Fishing Suit is also built with double zippers to ensure that you can open the inside zipper and let a little cool air in. Yes. These ice fishing suits are so effective that you could overheat inside them.
The Windrider's internal foam flotation is designed to insulate but also to save your life should you fall through the ice. This foam does add bulk to the bib, but you will not have to pull your weight up out of the icy waters plus the weight of soaked clothing.
Instead, the foam will add to your buoyancy which will help you get out of the icy waters.
Any fisherman knows that storage is a key element in the sport. The bib and the jacket have a collection of pockets. Hand-warming pockets are featured in the jacket, while the bib pockets can be accessed from the inside.
The Windrider has all the details and all the functions, and that's why it's our overall pick for the best ice fishing suit.
Pros
3M Insulation
Double Zippers
Built in Flotaion
Multiple Easy Access Storage Pockets
Cons
No Instructions for Tightening the Inseam
---
2. Runner Up: Nordic Legend Aurora Series
The Aurora Series by Nordic Legends has created one of the most incredible ice fishing suits for your next ice fishing adventure.
This suit is built from 100% Nylon Oxford Fabric that is PU coated and features a Polyester tricot lining to keep the cold and wet outside while keeping you warm and dry inside.
These suits are filled with foam inserts that make the outfit bulky but help with insulation and provide flotation should you wind up breaking through the ice. This foam flotation is standard in high-quality suits and is as much for safety as it is for warmth.
The bib and the jacket have fleece-lined hand-warming pockets. You are going to get a total of 11 pockets which is a ton of storage for the average fisherman. Another bonus feature is the YKK zippers which are top-tier zippers on all types of gear.
This suit is built to stand up to the cold weather and is a quality piece of ice fishing gear.
Pros
11 Fleece Lined Pockets
YKK Zippers
Built for Comfort and Adjustment
---
3. Best Budget: Piscifun Ice Fishing Bib
This is one of the most affordable ice fishing suits on the list. The Piscifun fishing bib does not include a jacket. This is the bib only. Of course, you can include another piece of outerwear to combine with this bib.
It's made of DWR-coated polyester, which makes the suit waterproof. The seams are also taped and glued to ensure no water gets into this ice fishing suit. Piscifun has its own unique fabric that is breathable but keeps the water out.
The Piscifun Ice Fishing Bib will keep you insulated and afloat, should you fall in the water, with 120 g thermal insulation, its own flotation technology, and a mesh hem design that allows the water to come out of your suit quickly. This is a critical piece of all the best ice fishing suits.
If are wearing a suit without flotation, then the materials are going to get soaked and weigh you down so much that you might not be able to get up out of the cold water.
Beyond the base materials, you are also going to get high-level knee protection, top-quality YKK zippers, snap-fastening oversized pockets, zip-open pant legs, and even two handwarmer pockets in the breast of the bib.
Pros
Best Value
High Quality Materials
Effective Hand Warming Pockets
---
4. Norfin Element Ice Fishing Suit
How about an ice fishing suit that is rated for protection as low as -5 degrees? The Norfin Element Ice Fishing Suit is designed for just that. The waterproof outer shell of the coat is made from Nortex and the insulation is thermo-guard polyester microfiber.
The Norfin Element also has built-in foam for insulation and flotation. This is a priority in any ice fishing suit that you choose.
This suit also features two-way zippers and stormproof pockets that keep your most important items dry in the worst conditions. I really like the high collar that is lined with fleece.
The Norfin also features quick drain technology in the hems of the parka and the bib cuffs, which allows water to flush out of the suit if you fall in or step into the water by accident. This is a built-in blessing that will help keep you dry.
The bib offers fully adjustable straps and oversized outer pockets. It also has large flaps that zip on either side to keep you from overheating. Finally, the bib also features two cargo-style pockets on the front of the bib.
The Norfin is a great value and one of the best ice fishing suits that will keep you warm and safe out there on the ice.
Pros
Great Price Point
Nortex Outer Layer
Two Way Zippers and Storm Pockets
Cons
Lacks Reflective Safety Strips
---
5. Norfin Nordic Floats Bib
Ice fishing suits are bulky even for men to deal with. When you slip a smaller body into even a small suit it can be like floating around in the suit. Sure, it will keep you warm but it might not be functional.
That is why Norfin makes the Nordic Float Bib which is an ice fishing big designed for women. This suit is designed to keep you warm in temperatures down to -15 degrees!
The shell is 100% waterproof and made from Norfin's high-quality Nortex material. Further insulation and float come from 170g hollofill along with closed-cell polyurethane insulation.
This suit is highly adjustable with staps, ankle gaiters, and leg zippers to maximize comfort. This will ensure that you are not just sitting there like a lump of material keeping warm, but you can actually be effective and helpful on the ice.
There is a long list of performance features on the ladies' Norfin Noridc. The bib features a two-way YKK zipper in the front that is covered by a storm flap.
All of the waterproof seams are leakproof and glued, just to be sure. You have two spacious outer pockets and a very convenient front chest pocket.
Also, if you are worried about this suit getting stinky or stained, it is machine washable. This is by far one of the best ice fishing suits for women.
Pros
Fit for Women
Adjustable for Comfort
Protection to -15 Degrees
---
6. StrikerICE Ice Fishing Suit for Women
Another one of the best ice fishing suits for women is made by StrikerICE. The outer shell on this bib is breathable but waterproof and made from 320 Denier nylon. It's designed to warm you with a premium 133g Primaloft Silver Lightweight insulation. This is layered with a 150g Surefloat float assistance technology.
The StrikerICE Stella bib is designed to keep you warm and safe. Hydrapore waterproofing is another way it can keep good on that promise. This suit is also outfitted with reflective materials on the outside for an added layer of safety in low visibility conditions.
This is another bib that is easy to adjust so that you can deal with the bulkiness of ice fishing suits but still be functional. The suspenders are adjustable, but so is the inseam.
This bib is outfitted with YKK zippers, 1680D snakeskin knee panels, and even a built-in zipline line cutter. Also, who wouldn't want insulated hand-warming pockets? These pockets are magnetically sealed, which makes them much easier to access even with cold hands.
The Stella bib is designed for women and offers some great features.
Pros
Highest Quality Waterproofing
Surefloat Technology
Built in Zipline Cutter
Snakeskin Knee Panels
---
Things to Consider When Choosing the Best Ice Fishing Suit
Your ice fishing suits are all that stand between you and the elements. A bad suit means that you are probably going to call it quits earlier.
If you don't have those nice hand warmer pockets, then maybe your fingers go numb, which makes tying on lures and taking off fish much harder.
Then there is preference. You need to know what is important to you and what you need in the best ice fishing suits. Here is our list of things to consider when choosing your own.
Versatility
The most important quality you can look for in an ice fishing suit is versatility. Can your ice fishing suit work for you when the weather makes extreme changes? Can your fishing suit carry a variety of baits? Are you able to adjust the suit to your body type and size?
Sometimes the sun comes out during an ice fishing trip and warms you right up. Its nice to be able to unzip a few zippers and let some cool air in.
Whether you are standing, kneeling, or sitting, your ice suit should be comfortable and functional no matter which position you are in. Look for that versatility.
Breathability
With all the waterproofing, insulating, and flotation materials built into ice fishing suits it is important that these suits do not overheat the person wearing them. That might sound silly to someone who hasn't used one before, but they are very effective.
Breathability keeps you from sweating, which only serves to make you even colder should the weather turn very nasty or if your fishing trip run into the night. It also makes for a more comfortable experience overall.
Water Resistance
It doesn't matter how much insulation you have working for you. if your suit is not water resistant, you will be cold. Soaked materials not only make you cold, they also put you at risk of hypothermia.
The water resistance of ice fishing suits is what keeps you dry, and that is deadly important.
There is a good chance that you will get wet during your ice fishing trip. You want to be prepared with a suit that wicks that water away so you an keep on fishing.
Another feature to look for in your ice fishing suit is the ability to rapidly drain water should you accidentally step or fall into the water. While this is not necessarily water resistance, it is still a very important feature.
Thickness and Insulation
There is such a thing as too much insulation. Ice fishing suits that are too bulky will make it hard to move around and spoil your fishing trip. You need a suit with just the right amount of thickness and insulation to keep the cold out but not enough to make it hard to move.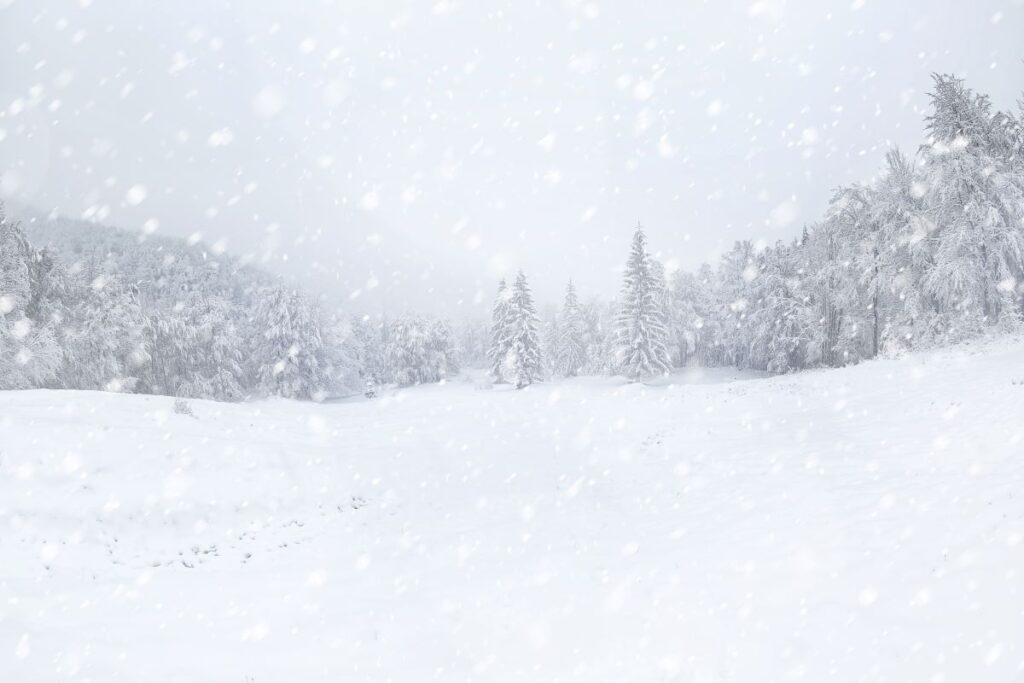 Sometimes, the insulation is not the culprit, but you might be in a suit that is just a little too big for you. Adjust the size down, and you might find that you can move a little better.
Comfort and Support
Of course, comfort is important in ice fishing suits. The modern ice angler should expect an insulative suit to be comfortable and have some semblance of support.
Whether we are talking about a hemmed waist and suspenders or comfortable internal materials, there is lot an ice fishing suit can offer by way of comfort and support.
Durability
These are not single-use fishing suits. When you come in after a hard day of ice fishing you are going to take your ice fishing suit off and stow it away for the next fishing trip.
These suits are an investment, and some of our very best suits cost hundreds of dollars. You are not going to want to shell that out every single ice fishing season.
You need an ice fishing suit made of durable materials that can follow you out onto the ice for years at a time. Cheap materials tear easily, bad zippers break, and you will need both of these things to keep you warm in the worst conditions.
---
Wrapping Up the Best Ice Fishing Suits for 2023
When it all goes well, a good day on the ice is about as much fun as an angler can have. One of the ways an ice fishing trip can go bad is the onset of unrelenting weather.
A quality ice fishing suit gives you the ability to endure some of mother nature's toughest weather while still reeling in those wide-bodied crappy, and mouthy perch. The insulation is going to hold your body heat, and the shell will keep moisture out.
From our collection above, there are really no bad choices. Consider your preferences and bring home the suit that is right for you and your next ice fishing adventure.