---
Things to Consider When Choosing the Best Ice Fishing Tent
While it is important, price isn't the only criterion to determine which ice fishing tent you should buy. You'll also want to carefully consider the size and type of tent you'll need, along with factors such as the warmth it will provide, and how you'll get it to your fishing site.
Read on here for some more specific discussion of the things you'll want to think about when investigating the purchase of an ice fishing tent.
Portability
Depending on size, the materials out of which it is made, how compactly it can be stored, and other factors, an ice fishing can weigh from a couple of dozen pounds to 60 pounds or more.
While you may be able to carry some of the lighter tents to your fishing site, heavier tents will be more easily transported on a sled or in an all-terrain vehicle.
Size and Weight
Ice fishing tents come in configurations that can accommodate anywhere from a single angler to five or six people eager to get hooks under the ice. As a rule of thumb, you should figure 30 square feet of space for every two people in an ice fishing tent.
As already noted, ice fishing tents can weigh anywhere from around 20 pounds to more than 50 pounds, so if you're fishing with a group of people, you might want to consider housing yourselves in more than one tent to make it easier to get to and from your fishing site.
Material
As a practical matter, most ice fishing tents are constructed with synthetic materials and are most often comprised of some combination of nylon and polyester.
There's a good reason for that, in that both materials are relatively inexpensive, and each complements the other in terms of how they protect you from the elements. Nylon is very wear-resistant, and polyester sheds water, an obvious advantage in snowy conditions.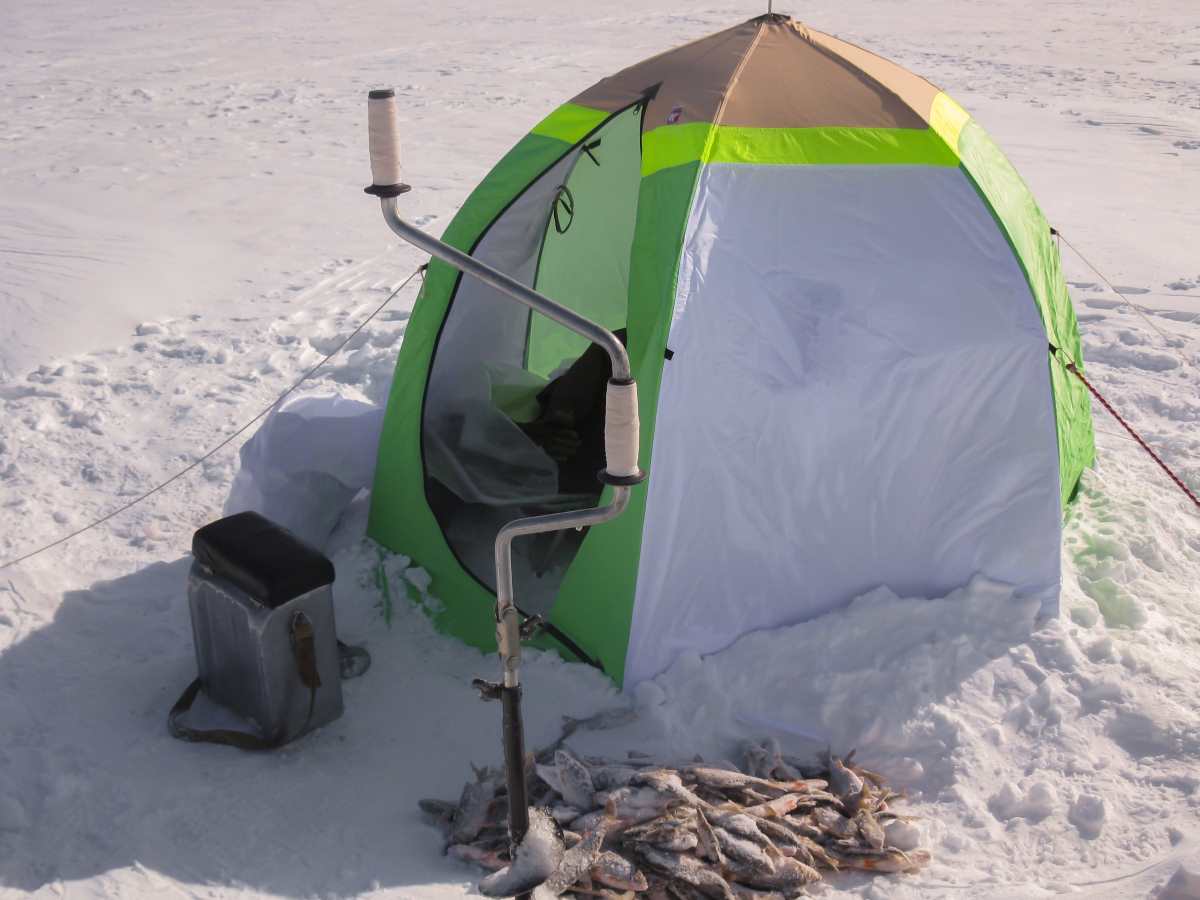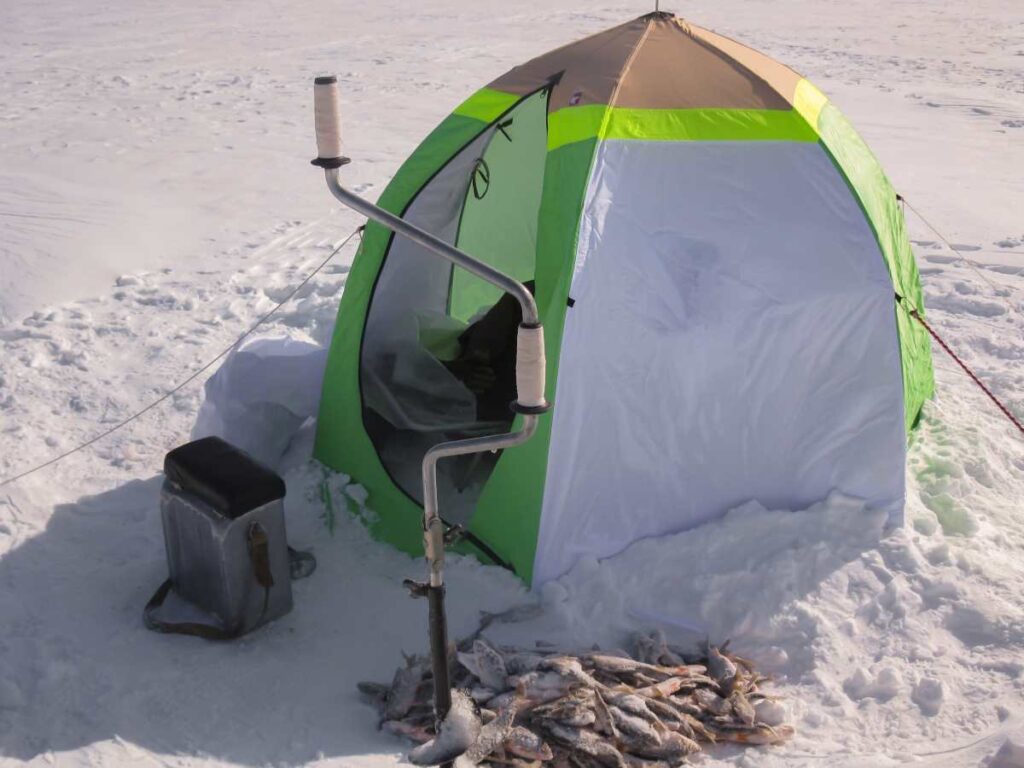 In addition, nylon and polyester are relatively quick-drying, and they also are more resistant to ripping and other problems, like mildew, than tents made of other materials.
Type of Tent
There are two types of tents used for ice fishing, the pop-up and the flip-over. Pop-up ice fishing tents are easily transportable, including some that can be carried by hand and others that are easily transportable by ATV or other vehicle.
Once at the ice fishing site, you'll simply extend the pop-up tent's internal supports, which will force the tent into a dome shape that sits on the ice.
Flip-over tents, on the other hand, are contained within sleds that can either be pulled manually to the fishing site or towed behind a vehicle. Once at the fishing site, a set of bars is pulled up and over from the sled, and some internal bars are added to the structure.
Once the flip-over tent is open, the sled in which it was carried can be used as storage space, a handy feature for long-term fishing.
Thickness and Insulation
In considering the purchase of an ice fishing tent, you'll have the opportunity to choose between insulated and non-insulated options. One of the first things you'll notice is that insulated ice fishing shelters are more expensive, due to the cost of insulating materials.
Beyond the cost differential between insulated and non-insulated ice fishing tents, any prospective purchaser also should understand that insulating materials add weight, which in turn can create issues with regard to transporting the tent to an ice fishing site.
In terms of thickness, the synthetic materials used in ice fishing tents are measured in deniers, a unity of measurement for density. Most ice fishing tents are comprised of materials measured at 300 deniers to 600 deniers.
A 300-denier ice fishing shelter may be perfectly acceptable for anglers who are well-seasoned on the ice, but if you're new to the enterprise, you 'll want to have a 600-denier shelter shielding you from the elements.
---
Frequently Asked Questions About Ice Fishing Tents
Particularly if you're new to ice fishing, or if it's been a while since you've spent time angling over frozen water, you'll almost certainly have questions about the shelter you'll use during your adventure.
Read on for exploration of some of the questions you may have about ice fishing tents, both before and after you decide which one is the best choice for you.
Do ice fishing tents have floors?
Ice fishing tents do not have floors, in part because anglers often fish from inside their tents, and a floor would cover exactly the spot where they would auger through the ice to get at the fish.
There are, however, any number of options for installing floors in ice fishing tents. Most manufacturers provide ice fishing shelter floors as an option. These manufactured floors will routinely attach to the shelter with hook-and-loop-style fasteners.
Other options for installing a floor with your ice fishing tent include do-it-yourself options like taking interlocking foam or vinyl tiles onto the ice with you and arranging them in a way that provides both insulation and access to the ice.
Interlocking foam or vinyl tiles are available online, and may be in stock at your local big-box or home-supply store.
Can heaters be used in ice fishing tents?
It is possible to heat ice fishing tents, with both propane-powered and electric-powered heaters being options for staying warm atop the frozen waters.
Some propane heaters attach directly to the bottled propane fueling them, while others can be fueled from a propane bottle placed outside the ice fishing shelter. There are also propane-powered camp stoves that can do double duty as heaters in ice fishing shelters.
There are, however, some potential dangers in using propane-powered heating devices in ice fishing shelters. Propane produces toxic and potentially fatal carbon monoxide, so you'll need a carbon monoxide detector, and also ensure the tent is well-ventilated.
Electric heaters are an option for anglers who ice fishing shelters are set up within extension-cord range of an electrical outlet, but as with propane heaters, some care must be taken in their use, because they can easily overheat and cause a fire.
How can I ensure my ice fishing tent is waterproof?
While some manufacturers may claim their ice fishing tents are waterproof, the experiences of many ice anglers contradict assertions that the structures will unfailingly keep water from infiltrating.
It's true that the majority of ice fishing tents are made with water-resistant materials, but the seams in most, if not all, tents will develop leaks as a result of repeated setting up and usage stretching the tent's seams.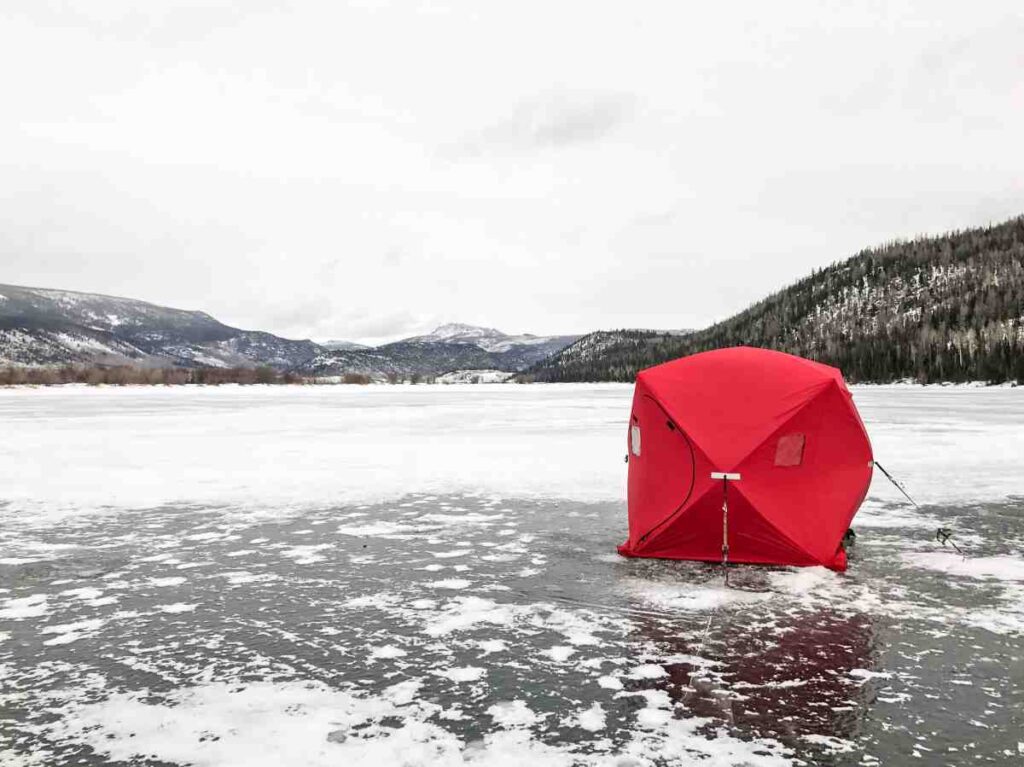 That's why it's a good idea to keep a close watch on your ice fishing tent, and to take action at the first signs of leakage. The first step is to set up your tent and clean the seams with a dry brush, or with warm soapy water if the seams are particularly dirty.
Next, apply rubbing alcohol to the seams, to prepare them for an application of seam sealer. Seam sealers are readily available online or at camping supply stores.
Apply the seam sealer on both the inside and outside of your tent, and leave the tent set up for 24 hours to allow the sealer to dry completely.
---
Wrapping up the Best Ice Fishing Tents for 2023
We hope that this post has provided you with all of the information you need to make an informed decision on which of the ice fishing tents reviewed here will best meet your needs.
Need some more Minnesota gear? Trust our recommendations to guide your next shopping trip!
Want to learn more about fishing, discover more fishing spots, and or read up on the best fishing gear? Then continue your fishing adventure with our comprehensive guides, info posts, and more!